Harry & Larry's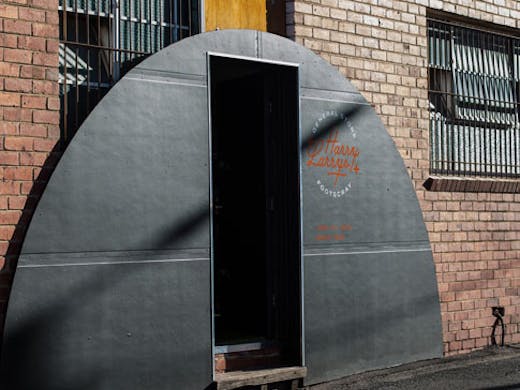 The Verdict
Seriously, Jerome Borazio, when do you sleep?
The guy that brought you St Jerome's (RIP), St Jerome's Laneway Festival, Back Alley Sally's, Slice Girls West and the upcoming Reunion Island Pool Club has opened yet another venue.
Welcome to Harry & Larry's.
This isn't just some dime-a-dozen bar though. It's a sustainable and ethical general store, stocking everything from Jonny condoms and Who Gives A Crap to locally-produced veg and Meredith goat's cheese. The store's motto is "Not too fancy, but better than you think."
You'll find Harry & Larry's sandwiched into Jerome's warehouse space on Yewers St, between Slice Girls West and Back Alley Sally's. The aim is to stock everything a discerning Westsider could possibly want, as long as it's delicious, handy, ethical and locally made (where possible).
It's probably the only place you can pick up 'Franco Cozzo' toasties, milk, canned tomatoes and loaves of Dench bread under the one roof, which, incidentally, is hung with a giant rotating mirror ball.
They're doing coffee here too—a strong-as-sin brew from the guys at Allpress. Grilled sangers are named after famous Footscray royalty like Doug Hawkins, Julia Gillard and Katie Brennan. Most of the produce comes from producers in the West, or a few growers down on the Mornington Peninsula.
Don't expect any plastic either. Harry & Larry's is going to bring in hand-sewn Boomerang Bags, made by volunteers. Or you can always bring your own, like normal (they're also handing out free paper bags if you forget, which you completely 100% will do).
The feel in here is classic Westside. The sort of place you come for a natter, see familiar faces, swap stories and pick up a few TP rolls. Community is big out here, and it's nice to see new venues keeping the magic alive.
Tell you one thing: they don't make 'em like this in the East.
Image credit: Harry & Larry's
---