Heroes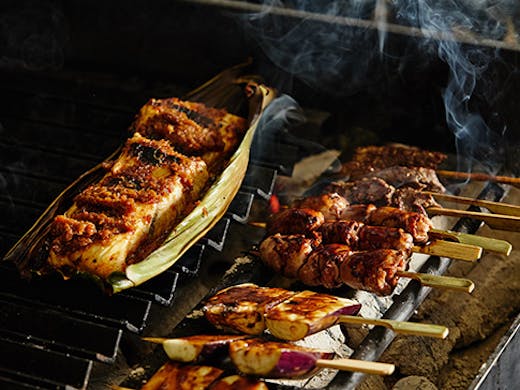 The Verdict
As soon as the lift doors open, you know you're in for a good time. Pupils dilate just trying to fit it all in: hanging red lanterns, a dragon climbing across the ceiling, smoke, flame and faded Malaysian rock posters. Welcome to Heroes, you're going to love it here.
Heroes (if you've been living under a rock) is a new split-level eatery and karaoke parlour in the CBD. It's the latest project from the crew behind Fancy Hanks—Alicia Cheong, Myles Munroe and Kent Bell—spanning three stories above Nitro Lab on Bourke St (you have to enter through the lift). Ambitious might be an understatement. We're racking our brains for anything else like this in Melbourne.
Let's start at the top, with the rooftop beer garden. Open to the sky, with views over China Town. The guys actually knocked out the old roof to create this space, stacking it with multicoloured high top fibreglass tables, custom-built in Malaysia (for that authentic, shiny hawker look).
It'll be pumping up here in summer, but for the colder months, Alicia has put out some blankets and heaters to keep everyone snug.
Down the stairs we go...to the smoky Heroes dive bar. The owners literally hopped in a van and drove 'round Malaysia for 10 days to stock this place—they hit up every jumble sale and antique shop they could find, grabbing old posters and knick-knacks, lanterns, umbrellas...right down to the tiles in the bathrooms.
The end result is bloody awesome, and the food ain't bad either.
"I was tired of cooking American BBQ," says Alicia. "Didn't want to smell like smoke all day." She pauses, aware of the big custom-built charcoal grill they've installed in the kitchen. This is Heroes' nerve-centre, where Alicia and the chefs grill chicken satay and duck hearts and eggplant with black bean paste, Tingling lamb with Szechuan pepper or tender sambal stingray.
It's hawker Malaysian with the smoke-factor cranked. Alicia is going back to her roots with this menu, and everything was bloody good (the BBQ chicken wings with chilli vinegar were probably our fave).
Wash it all down with some tropical cocktails and you're doing just fine. A little Dutch courage to tackle the third level: a downstairs karaoke parlour (Alicia says they're still tinkering with this space, but it's technically open for private bookings).
This place is the Heroes we deserve, but also the one we need right now. We can't wait to go back.
Image credit: Griffin Simm
---
You May Also Like