Jan Chi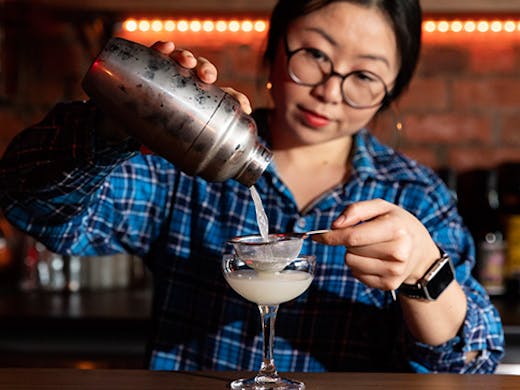 The Verdict
It's Friday night on Bridge Rd. Where do you go?
A couple of years ago, you went to Swan St. Because Bridge Rd was a strange black hole of happiness, full of car dealerships and abandoned takeaway joints.
Now there's a bunch of good options for dinner—and take it from us, Jan Chi might be the best of the bunch.
This is a new Korean cocktail bar and eatery from owner (and head chef) Steven JH Ryu and venue manager SJ Min. These two have some serious pedigree. Steven worked at Spice Temple, Lucy Liu and Momofuku Ssam in New York, while SJ cut her teeth at Gordon Ramsay's Maze, before moving on to stints at Chin Chin and Kisume for The Lucas Group.
This is their first bricks and mortar project, and we fucking love it.
The fit-out in here puts a lot of Melbourne's 'contemporary design' to shame. Rough rendered concrete walls, a neon vampire's kiss on the wall, custom illustrations of Somaek (a Korean beer & soju cocktail) and Gochujang chilli paste. A few glowing orbs hang down from the ceiling, and the back bar is old-school Richmond brickwork.
When it comes to dinner, we recommend the $40 Feed Me menu. The food's designed to share anyway, but this is your best value bet. You get a couple of smaller plates, maybe Gochujang-glazed pork ribs or kimchi fries with Yuja sour cream, then it's on to the mains.
Jan Chi's 'Bigger' dishes are the stuff Korean dreams are made of. Big fk-off 350g bulgogi flank steaks, topped with chilli chimichurri and Asian slaw. Or the Twice-cooked Bossam pork belly and Ssamjang and rainbow beetroot.
If you hadn't guessed already, this place goes way beyond kimchi, fried chicken and banchan. It's more experimental, less stuffy, and you can get some wicked cocktails from SJ behind the bar. Our pick is the Soju Negroni with applewood red okar omaro.
The bevvy list runs from Korean soju to imported beer (try the Makgeolli Korean 'cloudy rice' beer), and there's even a Korean sake on there (along with some hot and cold Japanese staples).
More venues like this please, Melbourne. Now pass those kim chi fries.
Image credit: Mel Desa
---