Lesa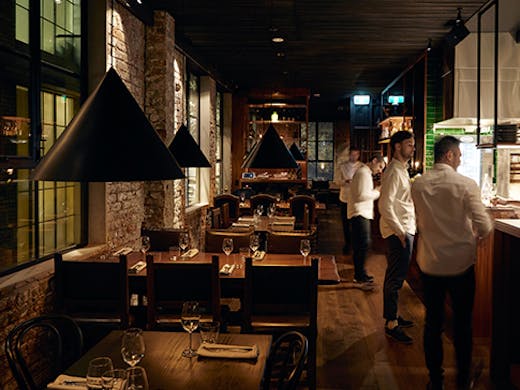 The Verdict
It's been a long wait, but the Embla team can finally say, "Have you seen upstairs?"
This is Lesa, the city's hottest new fine dining institution. We feel like we say that every week, but Melbourne runs a chronic fever when it comes to restaurant 'hotness'. This one is genuinely very exciting: it's a moody, red brick, 50-seat charmer that's been 'in the works' since 2016.
New Zealand architect Allistar Cox is back to handle the fit-out (he did Embla back in the day, as well as The Town Mouse—RIP). And you'll be happy to know, there isn't a Scandi-blonde table in sight.
Cox has gone for muted tones instead: black steel window frames, rustic tables, antique French bistro chairs. The cone-shaped pendant lamps hover over your meal like very stylish alien dropships.
The whole point is, while Embla is somewhere you come for life and noise and movement, Lesa is where you come to unwind, slow down, breathe. In a lot of ways, it doesn't feel like a typical restaurant at all (apart from the two-week wait list, that's about as Melbourne restaurant as you can get).
Now the important stuff—dinner. Lesa is doing four courses for $78pp. But you've got some flexibility. Just pick something delish from the various course menus. Maybe raw flounder with hazelnuts and green almonds for starters, then a silky smooth chicken porridge. Follow that up with aged pork loin, spiked with buckwheat miso. And for pudding? Salted bergamot parfait with koji and sweet nashi pear.
Most things at Lesa are cooked over fire—they come out smoky and hot, charred and sizzling. Flames are definitely on point right now. You're technically not allowed to open a Melbourne restaurant without a Josper oven, flame pit and half a forest worth of Red Gum in the pantry.
The wine list is a bottomless pit of potential, stuffed with off-beat local and international drops (plus some retro reds from the 1980s). Victoria, South Australia, France and Italy claim most of the honours. Best bet is just to ask your waiter—they've tasted (and remembered) every drop.
Dave Verheul and Christian McCabe have created something pretty special here. It's taken a few years, but Lesa was worth the wait. Now if we could only scrounge up a table...
Image credit: Kristoffer Paulsen
---