Long Story Short | Brunswick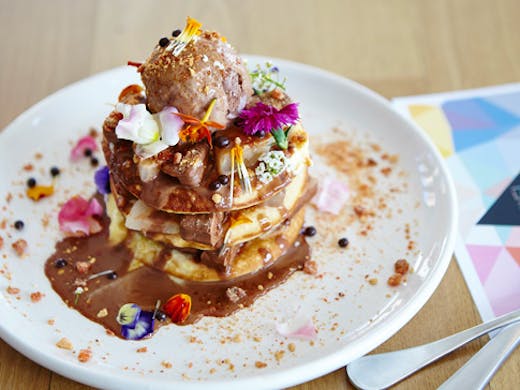 The Verdict
Melbourne's most Instagrammable cafe has swapped lycra for flannel. What does that mean? It means Long Story Short just opened a second cafe in Brunswick. Get the hell excited.
Is the northside ready for Long Story's theatrical food style? That's the big question. Our hunch says yes. You don't have to live south of the Yarra to appreciate fairy floss dessert burgers that melt in front of your eyes, Tim Tam pancakes or activated charcoal fish and chips (yep, those are all real things).
Co-owners Ly Nguyen and Dario D'Agostino have wanted to expand the Port Melbourne fusion concept for a while; they were just searching for that perfect space. They finally spotted one in Sparta Place, Brunswick. A tree-lined European piazza, surrounded by heritage buildings and specialty food stores.
The space inside looks a lot like the Port Melbourne digs: bright interiors, white-washed brick walls, squishy sofas and hanging greenery. A clean backdrop to some of the weirdest and wackiest food in Melbourne.
The menu has stayed pretty true to the original, but there's a couple of fresh faces on there. Try the Arturo's Corn Fritters with poached eggs, riso venere salad, paprika-spiked baba ganoush, Crème Fraiche and smoked almond kimchi popcorn. Believe it or not, that's one of the more modest things on the menu.
If you want to go all out, it's gotta be the signature Fairy Floss Dessert Burger: a giant pink cloud that floats to your table alongside a pitcher of coconut milk. Pour the milk over the top and the whole thing melts away, revealing a Sicilian brioche stuffed with honeycomb gelato, fruit salad with white choc matcha sauce, fairy floss popping candy and 'magic dust'. What the actual...
Brace yourself, Brunswick. Brunch will never be the same again.
Image credit: Michelle Jarni
---