Magnum + Queens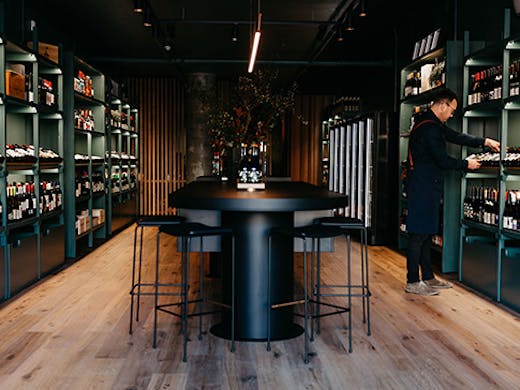 The Verdict
Magnum + Queens has quickly become one of our favourite online brands.
If you haven't heard of them before, they're basically a vino delivery service: the best wines in the country, handpicked by expert somm's, packed up and sent straight to your door (or the door of a very lucky loved one). A bit like Vinomofo without the 'mofo'.
Well, now Magnum + Queens have entered the bricks and mortar business. They just opened their first ever wine emporium on Coventry St in South Melbourne...and it's everything we could have hoped for.
"We are in such an exciting era for wine," says co-founder and sommelier Virginia Selleck. "Our
store will be a reflection of our online offering: a carefully-curated selection of the finest and most interesting wines from Australia and around the world."
So what can you expect? From the wine, a bunch of new varietals, plus old favourites like Burgundy and Pinot Noir. Very food-friendly stuff (perfect for dinner parties) plus some more experimental bottles. But Magnum + Queens aren't stopping at vino—they're also stocking a range of premium spirits, craft beer and cider. You can even pick up some glassware and pantry items.
The store itself is a drop-dead stunner. You'll spot it from the other side of Coventry St. Studio Studio handled the fit-out and design, and Ivy Muse provided the abundant greenery. It's half magic forest, half wine cave. The idea is to host regular wine tastings and food matching events in here as the concept rolls out.
If you're looking for something interesting, we recommend the aperitifs. There's a Rosso Vermouth from Adelaide Hills Distillery. Melbourne Moonshine is also on-board (keep an eye out for their famous Sour Mash Shine). Beer-lovers will be happy with a boutique selection from brands like Sample, Balter (niiiiice), Hitachino Nest, Custard & Co and Bress.
There's even an appearance from Seedlip, the world's leading non-alcoholic botanical blenders (you can learn a bit more about that booming field over here).
Opening a high-end wine boutique is a no-brainer, but there are some serious brains behind this project. If Magnum + Queens translates half as well in-store as it does online, Coventry St is in for an absolute treat.
Image credit: Andy Vukosav
---
You May Also Like