Meatsmith | Balwyn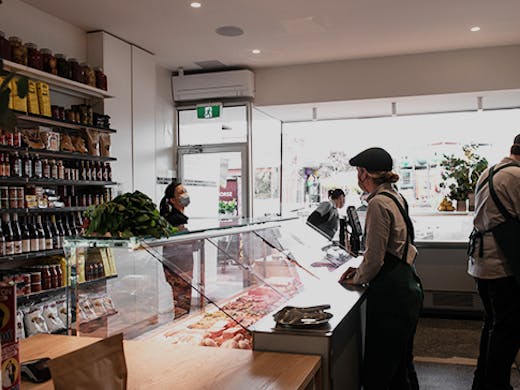 The Verdict
Andrew McConnell's speciality butcher has graced several regions of Melbourne and its selection of high-grade cuts, cured meats, prepared meals, and speciality condiments have set a new standard for the local meat shop. Alongside top tier butcher Troy Wheeler this is the fourth Meatsmith operation that the McConnell organisation has opened alongside their Fitzroy, Brighton, and St Kilda outposts.
Balwyn being a community hub of the south-eastern suburbs of Melbourne made a natural fit for the new Meatsmith, and the new site has plenty of lineage in the neighbourhood as it formerly housed two family-operated butcheries for over 40 years, so it's a continuation of their legacy. "Andrew and I are thrilled to have the opportunity to continue in the tradition of operating a local neighbourhood butcher in Balwyn and we look forward to getting to know our new customers in the community," said Troy.

You can expect to walk into the instantly recognisable aesthetic of Meatsmith with its sleek simplistic design, and minimalistic fit-out. The selection on offer will be at the impeccably high standard of the chef/butcher duo with a range of locally produced options such as house-made sausages, Bannockburn Farm chicken schnitzels, dry-aged O'Connor Farm rib-eyes, and Gippsland lamb. The carefully curated shelves will also have a range of specialty condiments including hot sauces, pickled vegetables and seafood, as well as pantry staples like pasta, olive oil, and vinegar.
One of the most popular features of Meatsmith has been its pre-prepared meals, the restaurant quality goods will be in thick and fast at the Balwyn store with Lasagne, braised beef cheeks, and the ever-popular Cumulus Inc. slow-cooked lamb shoulder or 12-hour pork roast that are ready to roll for when you walk through the door.
There's nothing quite like a Meatsmith visit to take your meat-based dining up a notch, drop in when it opens from Thursday 17 June and get expert advice from the crew or simply nab a ripper pre-made meal to take the pressure off.
Image credit: Supplied
---