Mrs. Hopper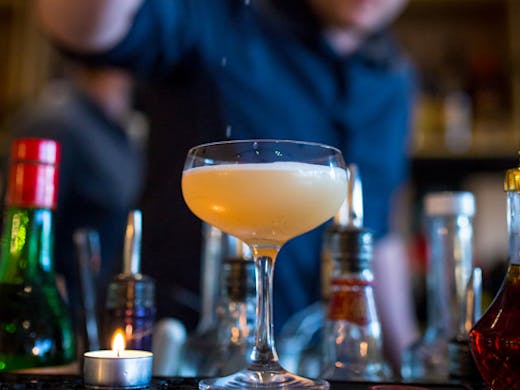 The Verdict
Mrs. Hopper is Araliya's louder but (equally loveable) Sri Lankan aunty, a new cocktail den inside the famous Fitzroy St restaurant. And if you haven't guessed it already, Mrs. Hopper is all about hoppers…and Bombay-ass cocktails.
Headed by Asher Spitz (ex-Cookie Manager) and Ryan Agar, Mrs. Hopper wants you to get your hands dirty, with street-food favourites and short-eats, like the ultimate shredded Koththu Roti with vegetables or duck. This is a definite roll-up-your-sleeves sort of night, so leave the white tee at home.
If you're unfamiliar with hoppers, they're basically rice flour and coconut batter, pan-fried and used as the base for a Sri Lankan red beef curry or fresh barramundi. In short, it's a savoury, bowl-shaped pancake.
There are plain hoppers, string hoppers (Sri Lanka's alternative to rice noodles) and the hotly sought-after egg hopper, with a sprinkle of spice. There are also hopper teasers—bite-sized but flavoursome punches of confit duck or pork belly. The latter combines tamarind, pepper, rockmelon and pickled papaya.
The food may be classic Sri Lankan street eats, but the interior is Melbourne as they come, with neon lights, matte black chairs, and timber table tops.
Bombay Sapphire Gin appears in three of Mrs. Hopper's seasonal cocktails, and if you really want to celebrate Fri-Yay, add a Death Row to your tab: Armagnac, egg white, lemon juice, dark rum, roasted pumpkin bitters, and vanilla sugar. Can you feel the hangover yet?
And if you're keen to go a step further, undo that top button—they're serving a homemade Love Cake for dessert.
Mrs. Hopper's doors are open daily at 5pm for dinner, and lunch on weekends.
Image credit: Mrs Hopper
---
You May Also Like