St Kilda's Fitzroy Street has welcomed a spicy new addition with one of Melbourne's best Sri Lankan restaurants, Araliya, opening a second outpost. Founding owners Sam and Dee Wedande arrived in Melbourne in 1981, opening the Hawthorn Araliya four years later, bringing their contemporary take on the delicious flavours of their native cuisine, embracing an abundance of fresh vegetables and plenty of coriander, cumin, fennel, cardamom, cinnamon and cloves. Yum!

Araliya St Kilda will cater for a slightly younger crowd, with plenty of small dishes and finger food, as well as larger shared plates, so people can grab a quick bite or graze away at their leisure. With a snappier feel than the Eastern suburbs original, the new Sri Lankan restaurant and bar is all polished stone floors and pale wood furniture, with big shared tables and a row of bar seats where you can perch and enjoy some of mixologist Anton Turco Bertolotti's refreshing cocktails, including a jasmine green tea mojito and a chili and grapefruit margarita.

Araliya's smartly designed menu of modern Sri Lankan dishes includes a stack of thosai – rice and lentil pancakes with curry leaf and mustard seed-infused veggies – served up with green coconut chutney and a herb salad, as well as scallops delivered on a coconut roti. The slightly bigger ambul thiyal is a fresh fish fillet crusted with tamarind, gambodge and crushed black pepper. Amongst the sharing plates, the stand out dishes are a curried duck leg with pineapple chutney and jaggery beef – Blackmore wagyu brisket slow-cooked in spices and the sap of the kithul palm flower.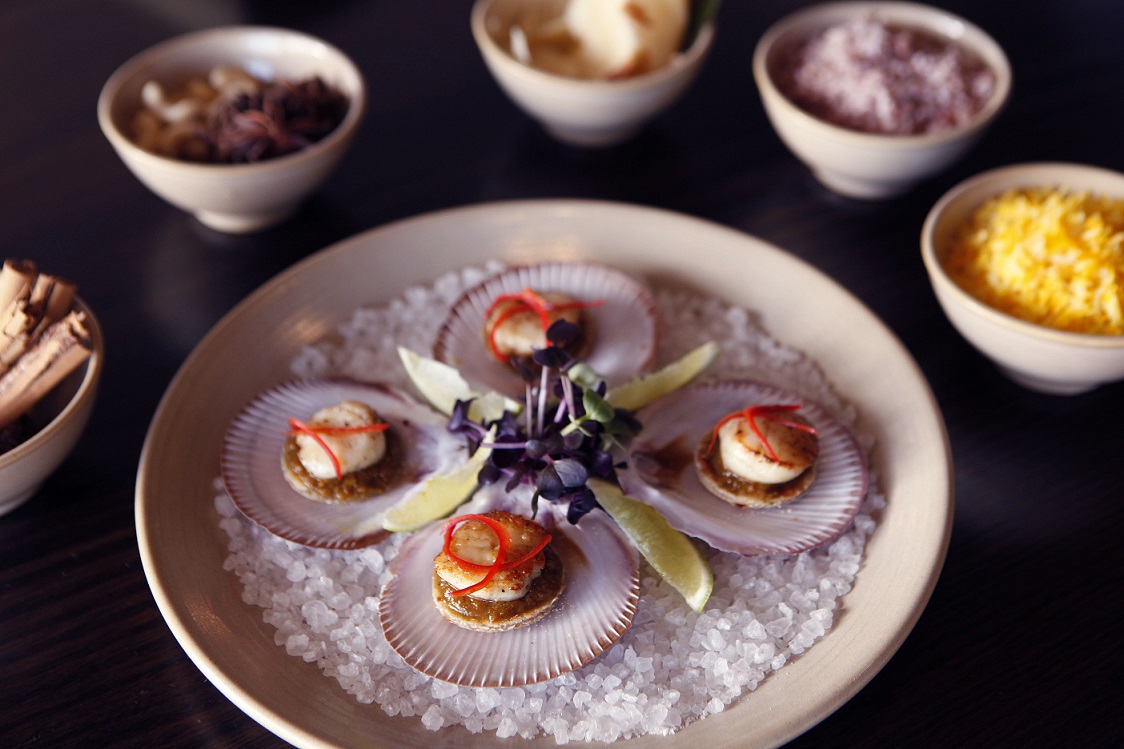 There are heaps of veggie options on offer at Araliya too, largely due to the influence of Sam's gran on the young man 50 or 60 years ago, he reveals. "Sri Lanka is a very Buddhist country. When I grew up, my grandmother wouldn't even eat fish. She was a total vegetarian and wouldn't allow anyone to bring meat into her home."

At Araliya, you get to choose one way or the other, but Sri Lanka's island status means veggies and fish are a big part of Sam's heritage. Unlike more traditional Sri Lankan restaurants in Melbourne, there's more of a finger food take within the St Kilda Araliya's offering, and a big focus on the bar.

"We wanted to make it a little bit more modern," Sam says. "We're offering something a little bit different for the area. There's a great cross-section on Fitzroy Street and it's quite exciting. Anton's a very good barman and we'll be doing nice cocktails with a lot of finger food if you're not hungry, or the sharing plates are perfect if you want a big sit down meal."

Sam has left his trusted head chef running Hawthorn, while he'll be feeling the heat in the St Kilda kitchen. While the original Araliya Hawthorn may be forced to move, with the building recently having changed owners, they'll be looking to stay in the area as well as maintaining the new bayside joint.

Araliya | 157 Fitzroy Street in St Kilda