My Mama Said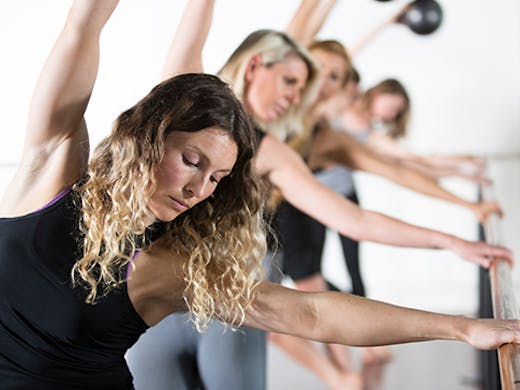 The Verdict
My Mama Said is a bit like what would happen if someone went out and built a fitness studio immediately after watching Flashdance.
It's set in a two-storey warehouse on the corner of Albert and Victoria streets in Seddon (just look for the giant mural of the Bulldog with the Footscray scarf flapping in the breeze).
Inside is...well it isn't really a gym. What do you call a space that does everything from pilates and barre to Zumba fitness, dance classes, Hollywood yoga and prenatal fitness routines? 'Fun', probably. Let's go with fun.
Lisa Minett is the owner and director here. She started My Mama Said to help people get active, sure, but also to break down some of the stigmas around fitness centres. This isn't just a place you come to look better, it's where you come to feel better.
There's a cute lounge/bar area out the front where you can chill after class, drink tea, watch telly and chat to fellow Bulldogs supporters (Hawthorn fans are strictly prohibited...or at least mildly discouraged).
The classes are grouped around pilates, yoga and barre, but there's also sweat-pumping Zumba classes, barre-ballet fitness, dance sessions and workshops for pre and postnatal mums. The instructors are all friendly, and each specialises in a different discipline.
Pricing packages vary, depending on what you're after. Newbies can get five classes for $45, which is pretty damn good value really. There's also a range of memberships and multi-session passes, as well as private sessions (if you're looking for 1-one-1 attention).
The really nice bit about My Mama Said? You've got all of Seddon's best cafes right on your doorstep. Want our advice? After class, hop in the car and drive just around the corner to Kingsville. Willow Wine Cafe is an absolute blast.
Image credit: My Mama Said
---