Polepole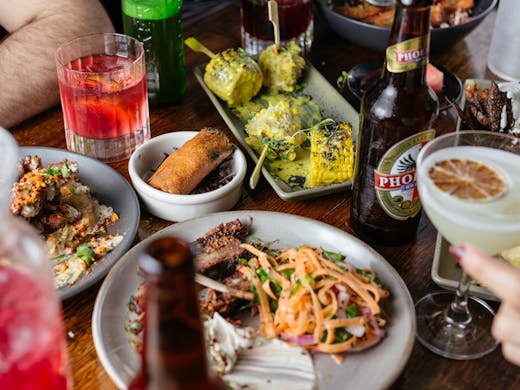 The Verdict
African food is hot on our culinary radar right now, and if you're looking for a venue that's packed full of mouth-watering plates and African vibes, you can't go wrong with CBD restaurant—polēpolē. This daylight-filled Little Collins Street bar-restaurant is all about serving up incredible flavours, whether creative cocktails, game meat or vegetarian dishes are your bag.
First appearing on the Melbourne food scene in 2015 alongside its sister safari bar, Glamp—polēpolē specialises in African style food and drinks, largely thanks to the venue's head chef, Michael Stolley, who has travelled the world, spending time in South African and Macau, before settling in Melbourne. Stolley's recent reworking of the polēpolē menu has resulted in some drool-worthy new dishes that cater to vegos and gluten-intolerant diners, as well as traditional African game meats and slow-cooked ribs.
The drinks menu has also been tweaked, meaning that alongside African beers, you'll find sparkling cocktails, rooibos infused Negronis, and Moto Moto!, a Swahili-inspired concoction that uses tequila, Ardbeg whisky, lime and habanero chillis. Beers, ciders and wines are $6 before 7pm, with cocktail jugs a mere $25, so you've no excuse not to stop by on a warm summer's evening!
Stuck for which nibbles to order? The polēpolē cardamom honey chicken ribs are seriously impressive (you'll want a second serving, guaranteed), and the Tsire peanut spice lamb ribs are perfect for sharing. As for vego options, the sweet potato, ginger and coconut milk bake with a pumpkin seed crust is next-level, and would convert even the most die-hard meat-eater in Melbourne.
You'll still find polēpolē's renowned goat curry on the menu, along with traditional flatbreads, goats' cheese, tomato and chilli topped fries, and dry-rubbed pork belly. New lighter options include a kale, pear and pomegranate salad, and pickled watermelon served with whisky salt and sesame seeds, both of which make for a cracking spring-summer bite.
Finding it hard to choose? Every Tuesday AND Wednesday night, polēpolē serves up all the meat you can muster for only $39, and special game meat dinners are available for group bookings, ensuring you can spend a whole evening dining on delicious, unique dishes.
Maybe you're an African food convert. Maybe you're a veggie-lover who's sick of settling for the spinach and ricotta pasta. Or maybe, you're keen to find out just how good the cocktails in those photos taste. Either way, rest assured that polēpolē will knock your culinary socks off and have you begging for more.
Image credit: Griffin Simm
---