Princes Pies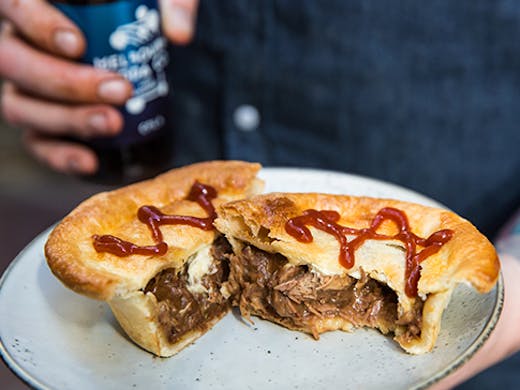 The Verdict
Matti Fallon really likes pies. But not your regular, gristly, hope-that-thing-was-a-tendon variety. He likes New Zealand-style pies, baked with love, from recognisable domesticated animals.
"New Zealand's pie culture is amazing," he says. "They take extra care over there. It's all about the love." He laughs, "Their pies are almost as good as ours."
'Ours' refers to Princes Pies, Matti's new pie shop, tucked into Howey Place, just off Little Collins St. It's a tiny, handcrafted pie emporium, serving a growing army of frothing CBD regulars. Seriously, good luck rocking up at 2pm and getting a pie here. They sell like hotcakes...or like home-baked lamb truffle and goats cheese.
Yeah, we've got your attention now.
Matti's family are all Kiwis (he was the first one to be born in Aus—major rivalry). He was also the old head chef at duNord (RIP). After duNord shut up shop, Matti was chilling in Queenstown when he stumbled on a pie that changed his life. The idea for Princes was born.
Now obviously Matti isn't the first guy to chef up the humble Isle of Skye. Matt Wilkinson and Steve Rogers have been pie-baking like mad since opening The Pie Shop last year. There's also Dinkum Pies, just 'round the corner (although they're not quite in the same league), and Raymond Capaldi's Wonder Pies.
But the pies at Princes are a little different—deeper dish, a slightly less crumbly pastry, and kicked up with a range of Changz hot sauce (the guys from Changz have actually collab'd the produce the house tomato sauce, which tastes like a tomato made love to a supernova). At the moment you can get Classic Mince, Mince & Cheese (a Kiwi classic, appaz), Steak & Cheese, Chunky Steak, Beef & Blue Cheese, Mushroom Risotto (for the veggos), Pepper Steak and Lamb, Truffle + Goats Cheese.
There's also some handmade pasties and a wicked range of sausage rolls. Matti is in here every morning at 5am, hand-rolling the pastry, stewing the fillings, baking everything just right. "I'm bloody tired," he laughs.
Feeling the sweets? Princes are serving up Matti's mum's cakes (literally) and a select mix of house-made cookies and slices. You can wash it all down with coffee or bottles from Melbourne Soda Co.
Our tip? Plonk yourself down on one of the 70s bar stools and order up the Beef & Blue Cheese. We were sceptical, but the flavour is a banger: tangy, cheesy, meaty, with pull apart hunks of real Aussie beef. Bit of sauce on top from the Bob Hawke's Head sauce dispenser—fair dinkum it's a good life.
Image credit: Jenna Fahey-White
---