Sable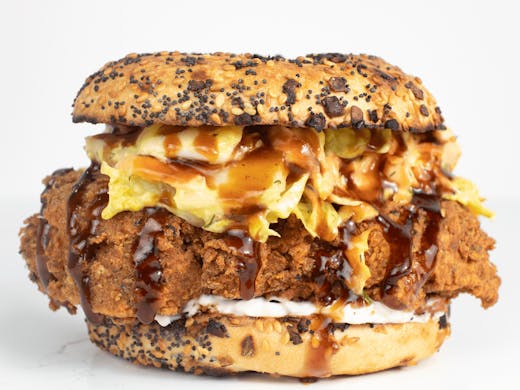 The Verdict
Sable is tucked away in Cremorne just a few steps away from Swan Street, it's a long shop front that looks out onto the railway and is easily missed unless you know where to find it. With a completely plant-based menu, Sable is setting a new standard for vegan cafes in Melbourne—specialising in the core food groups of bagels, cookies, and cake.
There's something refined and raw about this place. Expect to wrap your hands around bagels stacked with fillings and absolutely dripping with cheesy saucy goodness. The menu offers a range of breakfast and lunch options—from your early morning '1800 Avocado' bagel with smashed avo, cream cheese, beetroot relish, feta, and chilli jam to your lunchtime naughties with Big Kev's fried chicken with slaw, cream cheese, and bbq sauce (with gluten-free option versions available).
Alongside the top-notch bagels, Sable excels in the sweets department with a daily range of insta-worthy baked goods. The inside glass cabinet is stacked with some of Melbourne's best cookies—from the vegan loaded Notella to a crumbly cookie pie covered in house-made caramel sauce, and a rotating array of inventive and sugary specials.
The friendly team behind Sable are building a community around the possibilities of plant-based dining, proving you can still make ultra-rich and deliciously decadent goods using non-animal products. The small shop is a must-try, with Proud Mary pouring from the coffee machine and an absolute stack of tasty things inside to try.
Image credit: supplied
---