Saving Grace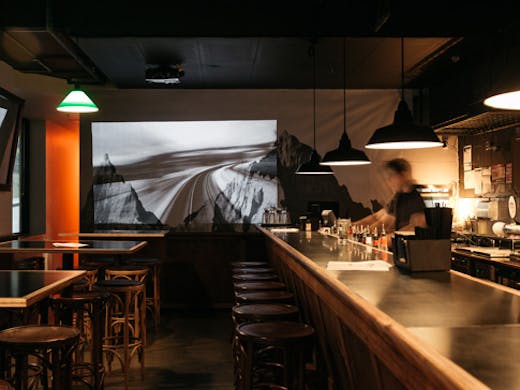 The Verdict
At the foot of an unassuming office block, just off Little Collins St, you'll find one of our favourite new bars in Melbourne.
It's called Saving Grace, a pared-back dive bar from hospo pros Dene Lockwood and Simon Alexander. In an age of highfalutin concept venues, it's refreshing to find a place whose spin (if it had one at all) would probably be: a bar you actually want to drink in.
Simon and Dene designed the space themselves, roping in Julian Beattie (the hammer and nails behind Little Andorra and Joe's Shoe Store) and Gerard Kelly (Kings & Knaves Espresso) for consultation and technical nous. The result is, frankly, gorgeous. Understated and classy—a satin-black mix of pre-loved timber, forest green leather, industrial shades and dirty lighting. The kind of spot you could drink a dry martini, and mean it.
The kitchen's been taken over by the lads from Burger Boys, which means fried chicken, double-cooked chips and some of the best stacks in town. You can swing by here on your lunch break and grab 12 wings and buffalo sauce, or settle in for a post-work session, lining your tum with a Rushmore: 150g beef patty, American hi-melt cheese, onion rings, streaky bacon and Sweet Baby Ray's BBQ sauce. (Trust us, it's a doozy.)
The drinks list focusses mostly on local beers, well-traveled whiskies and classic cocktails. The spiced rum Old Fashioned is a particular standout: infused with orange zest, cinnamon, vanilla and star anise, and served the old fashioned way (naturally). The signature Saving Grace is also well worth a look: a well-balanced sour made from Ardberg, Amaretto, Maraschino, Bitters and a hint of vanilla.
"It's a space to be a getaway for CBD locals who want a no gimmicks counter lunch or a relaxed drink in the evening," Dene says. "Our back bar has a focus on whiskies and gins, and we rotate out six taps depending on the season with a focus on local craft beers."
Image credit: Brook James
---
You May Also Like