Smith & Chips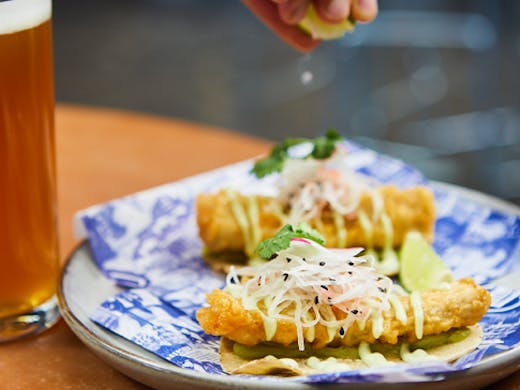 The Verdict
It took a while, but the last part of The Smith puzzle just fell into place. Following on the back of its multi million dollar refurb, everyone's favourite Prahran drinking den just opened its own in-house fish & chippery.
It's called Smith & Chips, and it's a little fancier than your standard "flake and a minimum, thanks". Chef Brad Simpson, along with partners Michael Lambie and Scott Borg, have designed a casual takeaway-style menu...with a few upmarket flourishes.
You've got your fish of the day and flake of course, fried in a light batter and served up with well-seasoned crinkle-cut chips. But there's also spit-roasted chilli chicken (available in quarter, half or whole birds) plus gourmet street eats like spicy snapper ceviche tostadas, or house-made salmon and prawn dumplings with black vinegar.
If seafood is your thing, check out the 'Shell and Tentacle' menu: a sustainably caught feast of crispy soft-shell crab, salt n' pepper calamari (served on a wicked tangy green papaya salad) and a whole bucket of blushing school prawns with Japanese tartare sauce.
The flavours are punchy, without being pretentious, designed to appeal to the UberEATS crowd as well as in-house regulars. In fact there's a narrow dining area as you walk in: a handful of timber tables, set beneath The Smith's new, state-of-the-art retractable glass roof.
"So many Australians grew up with a fish and chip shop close to their homes, and we have taken that bit of nostalgia, and created a really interesting addition to our business, adding some fun and sophistication at the same time," Simpson says.
With its new takeaway shop in place, The Smith has become a kind of hospitably octopus: a bar slash restaurant slash diner slash chippery slash music venue, all in one slick, spray-painted package. Give it a try. You'll be hooked.
Image credit: Michelle Jarni
---
You May Also Like