Sonny's Fried Chicken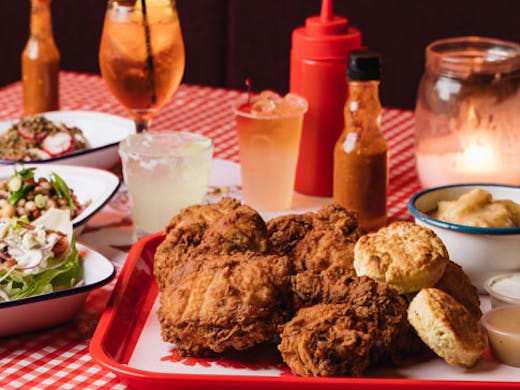 The Verdict
The latest John Curtin Hotel takeover is here, and it's fried to crispy perfection. Sonny's is the last in a great chain of Curtin kitchen residents (first there was Huxtaburger, then Bluebonnet Barbecue, then Leonard's House Of Love got in on the action) and it might just be the best of the lot. We're talking 24-hour brined chicken, pressure fried and crispy AF.
The level of chook-tailoring in this place is kind of crazy. You can order white meat by the breast, or dark meat by the leg. Quarter chickens, half chickens, whole chickens, chicken burgers...don't even get us started on the sauces and sides. Sonny's makes all their condiments themselves. There's the special Comeback Sauce (definitely try this first), a creamy ranch, tongue-scalding hot sauce and (best of all) house-made gravy. F*ck yeah.
Sitting down to a big table of chicken is fun, but potentially sketchy on the digestion front. Better load up on a couple of healthy sides. Sonny's potatoes and gravy comes out creamy, well-spiced, with just the right level of stodge, or there's mac n' cheese, corn on the cob, loaded chips and fried pickles to break up the grease-fest. Your basic food groups, really. If you have any stomach space that isn't wall-to-wall chicken, keep an eye out for the revolving dessert pie (think cherry, apple or peach).
Best fried chicken in town? Hard to say. But it's definitely part of the conversation. Your move, Gami.
Image credit: Brennan Lukav, AKA Burgers Of Melbourne
---