Stoned Pizza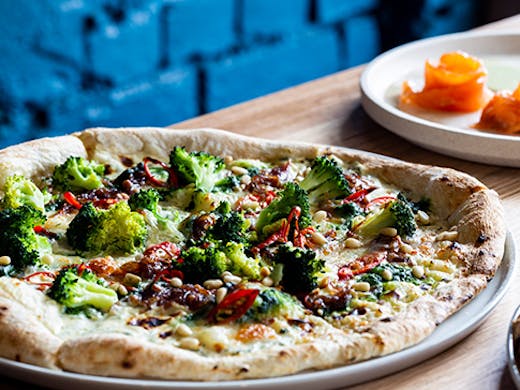 The Verdict
There's a new kid on the Chapel St block, and it's not another fine-dining restaurant (or American dive bar). Praise be.
Nope, it's a super chilled, laid-back, rustic little pizza joint called Stoned Pizza, and it's about to be your next go-to for a casual night out and a damn good feed.
You may already be familiar with the guys behind this place. They're the same ones that gave us Mr Mister, Little Mister and Mister Sister (if you haven't paid these guys a brunch visit yet, ain't no time like the present). It'd be an understatement to say that this team have been pretty busy this year. They've opened up five restaurants over the last four months. Stoned Pizza was built in just three days. God knows how.
Co-owner Tyson Chambers believes the best part about this new pizza joint is the vibe. "It's just a super casual place where people can come for pizza and a drink" he says. "We don't want to make anything difficult for anyone, including our staff, so the menu is simple, but the food is hearty and pretty delicious".
The menu is split into two pizza sections: 'red' (tomato base) and 'not red' (no tomato base…makes sense). They've got something for everyone, from veggo options like eggplant pizza (we recommend), a 'shrooms' pizza, which is all about them good mushies, a zucchini pizza and a 'from the sea' pizza.
If you're wanting to chow down something a little meatier, we recommend the meatball pizza. With beef and pork meatballs, pickled green chilis and smoked cheese, it's hard to beat. The bases are Neopolitan style—blackened and bubbling crusts, droopy, thin bases. Just fold and stuff in your gob.
The drinks menu is pretty sweet too. They've got a bunch of crowd-pleasing ales in the fridge. On the taps are Young Henry's and the Kiwi boys from Garage Project. Keep an eye out for their special offers as well. Wednesday is $12 pizza day, and on Friday's you can get your hands on a free pizza.
Pro tip: save an extra stomach for dessert. There's only three sweet options, but they're all deadset winners. We're talking New York baked cheesecake, apple pie (with a twist) and pecan pie. Friday night sorted.
Image credit: Sammy Green
---
You May Also Like