Stretched Pizza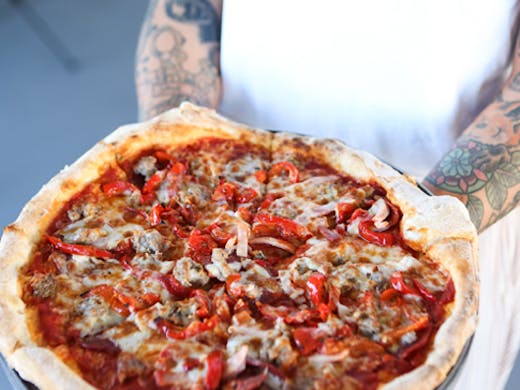 The Verdict
This place will strrrreeetch your idea of what makes a good pizza. Stretched is a new Coburg pizzeria from husband and wife duo chef Dario D'Agostino and Ly Nguyen, along with ex-banker turned pizza-maker Joe Codespoti, and it's making waves with some very unorthodox flavour combos.
Ever wondered what pho would taste like in pizza form? Wonder no more—these guys actually made one. Sliced sirloin steak, Sriracha sauce, hoisin, onion and Vietnamese basil combine for a surprising Vietnamese banger. Or there's the Hangover: a cheeseburger pizza topped with lean ground beef, bacon, gherkins, American cheddar, ketchup and mustard. Sounds weird, but we promise it works.
But Stretched isn't just counting on toppings to set it apart. The chefs here stretch each dough base by hand (hence the name). No rolling pins in sight. The result is a fluffier, crustier base—still that thin, Neapolitan style, just taken to the next level.
It's also a very accessible pizza joint, with gluten-free bases on request (no extra charge either), plus five vegan options on the menu. Our pick is the Trik o Treat: a tasty mix of pumpkin, caramelised onion, almond feta, pesto and pumpkin seeds.
Coburg residents, you should be extra happy, because Stretched is running special delivery deals, plus a takeaway alcohol license. If you CBF getting off the couch this Friday, order up the Netflix & Chill package: two pizzas, and a bottle of wine (or a six pack of craft beer).
Dario, Ly and Joe are already running the iconic Pizza e Birra in St Kilda AND Long Story Short (the home of the fairy floss burger). They're getting a rep for pushing boundaries, but really, Stretched is more about pushing buttons. It certainly pushed ours.
Image credit: supplied
---