Universal Practice | Fitzroy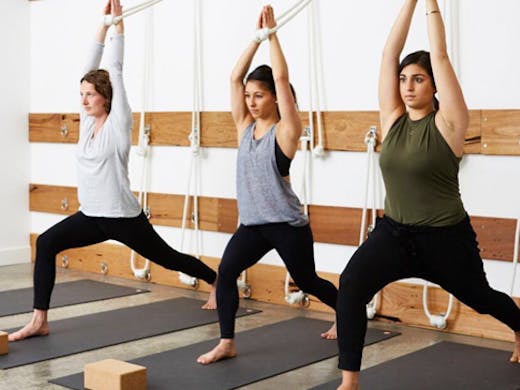 The Verdict
Need to get inspired to get moving? Well Universal Practice are here to show you the ropes (literally). Just one year on from the launch of their first store yoga and pilates studio in Richmond, Universal Practice have officially opened a second space, this time in Fitzroy.
The Fitzroy studio has been designed based around the idea that a calming environment helps maintain well-being. And after one look at the new space, we have to agree. The floor is smooth, polished concrete. The walls white-washed and serene. The ceiling is built from massive blonde timber beams running the length of the room, and each of the finishes has been chosen with an eye for sustainability. It's even lit by special LED bulbs to keep the footprint small.
Genevieve de Campo, of de Campo Architects says that, "The design is all about returning to what is already there. Less is more." Big, north-facing windows allow natural light to flood in, creating a beautiful and relaxing space for clients to bring strength and motion to their mind and body."
In terms of classes, the Fitzroy studio offers a good mix, including Ropes Yoga, Yoga Asana, Yin Soundbath, Reformer Pilates, Ante & Post Natal Pilates, Clinical Pilates and Meditation. You can even choose to roll solo with a guided individual class.
And like we said, they've got the ropes. Universal's yoga room includes a ropes wall where guests are encouraged to modify and vary their poses – gaining access to alignment that may be otherwise impossible – and focusing on specific body parts. All in all, it's a beautiful operation. If you're looking for a new yoga studio with some serious style cred, give this new northside gem a try.
Image credit: Universal Practice
---