Life is like a roll of toilet paper…and season of The Bachelor. The closer you get to the end, the faster it goes. We're down to our final three girls with home visits just around the corner (tbh we're mostly excited to meet Lily's family). This week we said goodbye to Hannah and Sarah (dammit our money was on her) in two action-packed (read: boring) episodes. Here's what we were thinking as we tuned into The Bachelor NZ this week.
1. Khao Lak looks dreamy. Where's our bachelor when we need him?
2. Cathedral Cove and Hahei aren't "up north", Viarni…
3. These banana boats look less than ideal.
4. This deep and meaningful ALSO looks less than ideal. Ain't nothing like a third and fourth wheel to kill your vibe.
5. The group date is over? Sucks to be Viarni.
6. Hmmm Sarah's not really opening up in the way Zac wants her to.
7. A single date for our gal Lily. You go, Glenn Coco!
8. These bamboo rafts are a million times better than the banana boat situation.
9. Zac: "I'm not asking for love because that's not fair." And that's fair enough, Zac!
10. Love The Notebook reference, Lil! Allie and Noah < Lily and Zac.
11. A candle-lit dinner by a waterfall? Swoon!
12. Far out, Lily is wise beyond her years.
13. "For someone who's just turned 20 years old, she's such an incredible girl." … Looks like Zac's thinking the same.
14. Zac: "My heart's telling me you'd be a fool not to let her go." Yep, pretty much!
15. Ohemgee is Sarah gonna leave?!
16. And we have our first cocktail party kiss!
17. … And we have our SECOND cocktail party kiss!
18. "I've always said I'd never kiss a girl at a cocktail party and tonight I've kissed two." Oopsie daisy, Zac.
19. Sarah did the right thing. You go you, girlfriend!
20. Hannah is waaay too stoked Sarah's leaving.
21. Claudia needs to go home and attend to her roots…
22. Zac is such a smitten kitten around Claudia.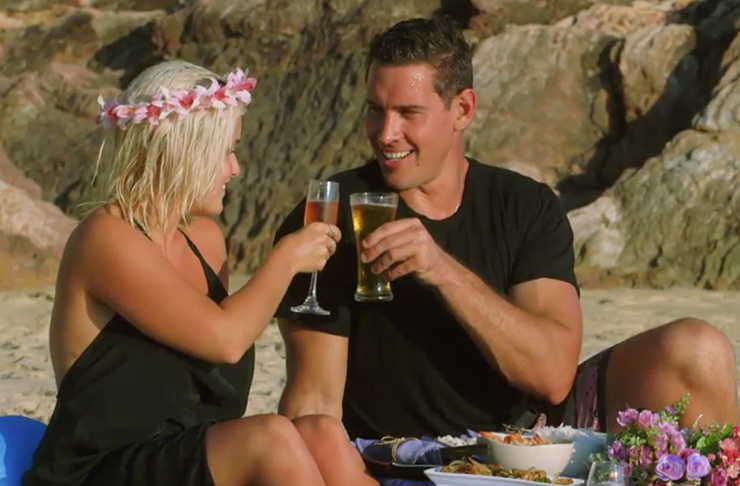 23. Zac certainly loves his beersies.
24. "The relationship Claudia and I have is like fireworks and there's this undeniable physical attraction…" See! Smitten kitten.
25. "…Sometimes I'm a bit curious to know if that does cloud my judgement a little bit. Am I missing something?" Or not? Are Claud's days numbered?
26. At last! We have our first piece of bling…but it's not from Michael Hill. Say what?
27. Does this mean we won't have a guest appearance from Michael himself?! What is The Bach without Mike's solid relationship advice?
28. Hannah and Viarni are on the last group date everrr. Shit's getting real.
29. They've spend nil time in New Zealand this season. Is this The Bachelor NZ or The Bachelor Thailand?
30. Yet another private island date. Not jealous at all.
31. Claudia and Lily are like chalk and cheese.
32. Claudia: "I don't know what's more stressful: this game or the rose ceremony." The knives are out in this chess game.
33. "She got a little distracted in the game and I stole her king." Will fiction imitate reality?
34. This one-on-one time with Viarni has got us thinking she's going to win it…
35. Just like that, it's the final cocktail party.
36. Viarni: "Speaking of the ground. Do you want to go walk on it?" Greeeat segue.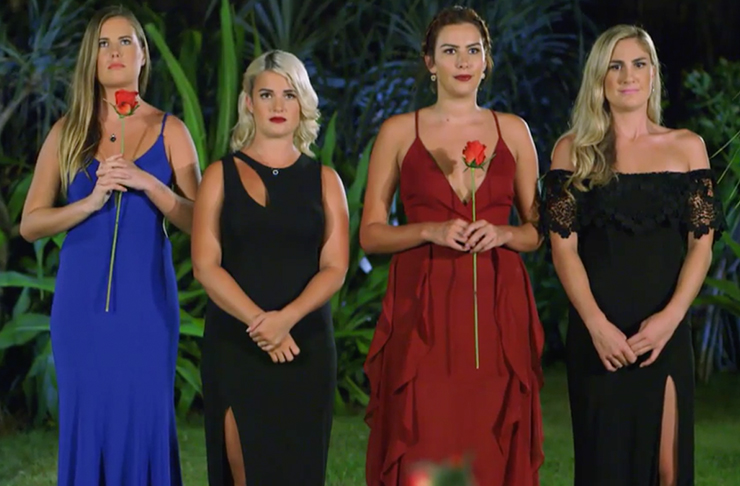 37. It's gotta be Hannah going home tonight.
38. … We totally called it!
39. BUT WHO WILL BE THE TOP TWO?! Zac, you've got us thoroughly stumped.
40. Bring on next week. Two words: home visits!
Want more?
Image credit: MediaWorks
SaveSave