So you've finally plucked up courage to ask your crush on a date, but don't want to overcommit. Did you know that a good first date should last no longer than two hours? Yeah we didn't either. If things are going well, why not push on into the evening for more opportunity to get to know them? Equally though, what if, horror upon horror, your date is not at all what you expected and you need to exit stage left, stat? Forget going to the cinema—why would you want to spend precious getting-to-know-you time sitting in the dark in silence? And the theatre is hardly the choice should you need to make a polite (but well timed) getaway. We feel your pain, and we've got you.
Whether you pulled them, picked them or swiped them it's time to test their mettle. Here are the best places in Auckland for that awkward first date.
Fed Deli
CBD
Nice and central, it's always a good time at The Fed. Grab a booth or bar seating amidst the low-key kitsch of a New York Deli and use the guaranteed buzzy atmosphere as a handy filler for any uncomfortable first date silences. A couple of casual early drinks (carafe of wine, anyone?) can easily morph into a few snacks and before you know it, you could be enjoying dinner with the person of your dreams. If that's the case, rest assured that everything on the menu is amaze and easily shareable. Equally, if things aren't going so well you can drop a mention of your early appointment with your dog sitter and GTFO.
Hoppers
Ponsonby
The all-weather, al-fresco set-up of Hoppers Garden Bar makes for a fun and buzzy first date venue. Portrait paintings of animals sporting their Sunday best adorn the walls and Hawaiian shirt-wearing bar staff just add to the quirk. Expect a beautiful selection of craft beers and also artisan gins as well as moreish snacks such as bao and truffle fries to fuel first date conversation.
Woodpecker Hill
Parnell
The reverse of the tardis, Parnell's Woodpecker Hill is both spacious yet snug. The polished dining room and bar with its metal and wood aesthetic, is softened by contemporary tartan furnishings and fur throws. Elevated dining without starchy service, the dishes are designed for sharing (in this case with your special date) and there's an encyclopedic whisky menu with which to lubricate proceedings.
Ortolana
Britomart
Inside, this high-ceilinged beauty is all elegant Scandinavian flair with timber, bare brick, glass and softened with cream upholstery. As delightful as that is, the terrace at Ortolana is where you want your first date—the romance of dusk falling and shimmering fairy lights with snuggly alpaca throws (should it get a little chilly) makes for a winning first date formula.
Annabel's
Ponsonby
Adorably chic and grown-up, Annabel's ticks all the boxes, with cosy tables inside dotted along a leather banquette and an impressive bar. Intimate and unpretentious with easy to navigate first date food (cold cuts and cheeses… only a maniac goes for spaghetti on a first date) and a small but perfectly formed wine list. If you're feeling really unsure, you can plump for a seat outside in the sun where you might possibly spot that old school friend that you've been meaning to catch up with for AGES. Phew.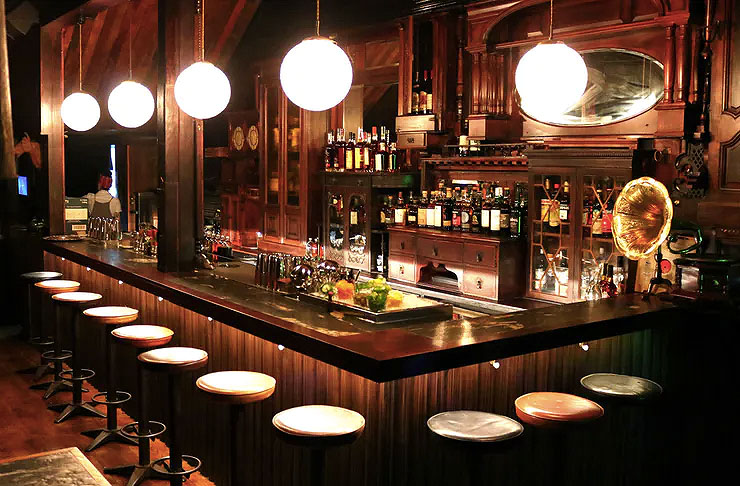 Deadshot
Ponsonby
Elevated mixology which will impress; served in snug booths with hushed tones. No need to waste precious getting-to-know-you-time with anything as dull as surveying a menu and decision-making, just let your bar server know your taste preferences and they'll craft something personalised. Sultry and spot-on, the very low-lighting at Deadshot is perfect for a clandestine date (or to hide a newly formed zit—they have a habit of appearing when they're not wanted).
The Churchill
Queen Street
Take an elevator up to the highest gin bar in New Zealand, grab a pew and take in the view at The Churchill, the fancy rooftop bar at the Four Points by Sheraton at the top of Queen Street. The luxurious Art Deco interior, the panorama of the city from the 20th floor and the epic 160+ gin menu are all jaw-dropping. Impress your date by ordering the to-die-for beef tatatki. If you wanna go big, pick this sophisticated jewel in the crown.
Fitzroy Lounge Bar
Ponsonby
The carefully curated mish-mash of eclectic, slouchy sofas and furnishings make this chilled bar an ideal place to lounge and while a way hours of conversation as you get to know each other. Tucked away just off the beaten track, Fitzroy is not overly-trafficked with people or distractions and the crowd are easy-going. A hip idyll.
Coco's Cantina
K' Road
Straightforward, honest and pretty damn tasty—if you want your food like you want your partner then Coco's Cantina's no-nonsense Italian fare is going to deliver. You may want to avoid spaghetti or, heck, go for it if you're thinking of recreating Lady and The Tramp style seduction.
Scored that second date? Check out Auckland's best restaurants.
Image credit: Lexscope, Deadshot, Jaiden Bhaga