Despite all the doom and gloom surrounding the retail and publishing industries at present, Auckland remains pretty well-off when it comes to bookstores. Having said that, we definitely shouldn't take these literary nooks for granted. Get out there and support your local bookshop, or discover a new one! We've tracked down the best independent book stores for new books Auckland for your bibliophile happiness. You're welcome.
The Women's Bookshop
Ponsonby
In prime position on Ponsonby Rd, The Women's Bookshop has been celebrating female writers and the diverse interests of women since first opening in Mt Eden in 1989. They relocated to Ponsonby Road in 1999 and have continued to be an independent store that celebrates fine words in an area recognised for its fine food and specialty stores. Don't let the name deter you—the Women's Bookshop's selection of books suits all genders and interests.
Unity Books
High Street
Tucked away on High Street is a slice of heaven for book enthusiasts. It's no surprise that Unity Books in an award-winning bookstore, with shelves stacked to the ceiling you're sure to find exactly what you're looking for—but if you can't, the Unity Books team will order it in for you. They pride themselves on being able to track down even the trickiest of reads, and no ocean is too far. Now that's what we call service.
Time Out Bookstore
Mt Eden
We already mentioned Time Out as one of the top 50 things you should have done if you live in Auckland and, with numerous awards in the bag, this book boutique has remained its own eclectic self since opening in 1988. They are well-known for their unique and quirky window displays and extensive selection of new releases and classics. When you're in the area, grab a coffee and free your afternoon—it's easy to lose track of time as you lose yourself in the world of the written word.
The Dorothy Butler Children's Bookshop
Ponsonby
Ditch the iPads and get your kids into some books this winter. At Dorothy Butler Children's Bookshop, you'll browse specialist books that stand the test of time, along with the latest selection of quality children's books. The staff know their stuff about reads suitable for juniors and young adults, so even if you don't practice what you preach they'll be able to point you in the right direction.
The Village Bookshop
Matakana
Next time you trip up to the Matakana markets, pop your head into the Village Bookshop. The store has something for everyone with an extensive coffee table book selection that will add kudos to any living room. The Village Bookshop is the perfect location for an en-route holiday read or last minute, yet thoughtful 'thanks for having us' gift. They've even got a comfy couch where you can relax and sample what's on offer—the only problem is you'll never want to leave!
Dear Reader
Grey Lynn
This independent bookstore is recognised Auckland-wide for its hand-picked selection of contemporary fiction and older titles that have earned their place on the shelves. Dear Reader's non-fiction selection is extensive, and suits the green fingered, fashion lovers and design enthusiasts. The children's corner has activities and comfy couches to keep any kiddies you have in tow entertained so you can browse in peace.
Cook the Books
Ponsonby
Cook the Books opened to celebrate the love of food, and the inspo that comes from beautifully curated cook books. The décor is inviting, and the comfy chairs and music encourage you to stay a while as you peruse through the extensive array of cookbooks. If you're passionate about food and dining this is your one stop shop and the knowledgeable team are on hand to suggest alternative menus, or recipes to make your dinner parties an instant success.
Novel
Ponsonby
Located in the heart of Herne Bay is the ultimate community bookstore, Novel. Known and loved by locals for its extensive offering of unique coffee table books—Novel is the perfect Sunday morning pit stop on a winter's day. They have a selection of contemporary literary fiction as well, and the staff are always friendly.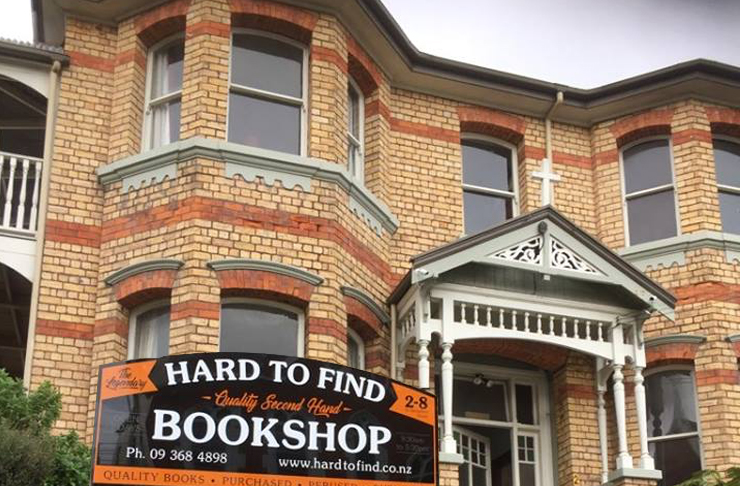 Hard To Find Books
Eden Terrace
Started from the streets of Ponsonby in 1983 inside a little humble garage and moved to a larger space in Onehunga just one year later. Well they have just made another move to St Benedict Street in Eden Terrace and they still remain strong. The founder, Warwick Jordan's love for literature transcends throughout the bookshop and collection of over 500,000 different titles. Hard To Find really do stock the gems as their selection also includes signed books and ancient finds.
Dominion Books
Ponsonby
Another gem located in Herne Bay is second-hand bookshop Dominion Books. Constantly getting new books to add to their collection of wide variety and local cafés located nearby, Dominion Books has become a shop that is loved by the people of Ponsonby. A morning visit to Dominion Books and reading it while sipping on a hot cup of coffee at one of Ponsonby's many cafés is the ideal daily routine for many.
BookMark
Devonport
Located in the quaint neighbourhood of Devonport, BookMark has over 20,000 different books up for selection and have an impressive collection of New Zealand and Maori titles. The bookshop itself is warm and welcoming, even browsing is an enjoyable experience. Purchase one of the many books they have on offer and take it up to Mt. Victoria so you can read with a view and have a moment of pure bliss.
On the hunt for a self help book? We read a couple so you don't have to.
Image credit: Radu Marcusu