Beer—it makes the world a better place and, lucky for us hop lovers, Auckland's craft beer scene is absolutely booming. Bars, free houses and breweries stocking some of the best international and New Zealand-made beers are popping up on the reg and it's got us frothing with excitement.
Gone are the days of cracking open a can of Double Brown. These days it's all about wrapping your taste buds around the latest hoppy, malty, carbonated creation.
And, if you thought craft beer was just for the bun wearing, beard growing hipsters, you were wrong. More and more people are jumping on this bandwagon and getting educated in all things beer.
Whether you're a lager lover, an ale advocate or an IPA enthusiast, you better believe there's a brew out there for you. And, if you're not the biggest fan of beer at all, then maybe you should try a sour beer, you might be pleasantly surprised.
But whatever it is that floats ya boat, you'll be sure to find it in one of these spots. So read on to find out our top picks for the best craft beer bars in Auckland.
Oh hoppy days.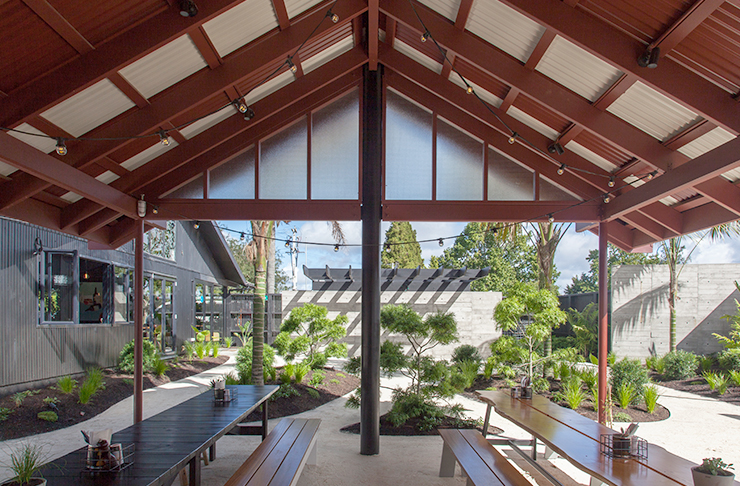 Hallertau Brewery
Riverhead
There's no denying that Hallertau Brewery is one of Auckland's craft heavyweights. Hallertau's founding 2, 3 and 4 beers have been their staple brews with the family then expanding to accomodate 5 and 6. But the beer doesn't stop there. They've also got their "Heroic range" which includes the Maximus beer, a much loved IPA among the locals. Then there's the sour beer range—which, for all you non-beer lovers, might just surprise you. If you can get your hands on the Funkonnay beer, we highly recommend you give it a whirl. Finally, they've got their seasonal range which are styles of beer made to compliment the changing seasons—think light and crisp for summer and dark and complex for winter. So how's now for a Hallertau?
Vulture's Lane
CBD
Humming away on Vulcan Lane, this craft beer bar is serious about brews. With a cool English pub vibe and a team of bar staff ready to share their crafty knowledge, the Vulture's Lane crew have 22 rotating taps and more than 75 bottles chilling out in the fridge. Its popularity with this city's beer-loving punters make it one of the best craft beer bars in Auckland.
16 Tun
Wynyard Quarter
Clueless about craft? 16 Tun can help with that. This North Wharf bar has room for up to 80 different craft beers, hand-picked from the best breweries around the country—Garage Project, 8 Wired Brewing and Croucher, to name but a few. If you're popping in for a post-work bevvy, you may as well order some 'half tun' nibbles—paua fritters, tacos and hot wings are beers' best friends.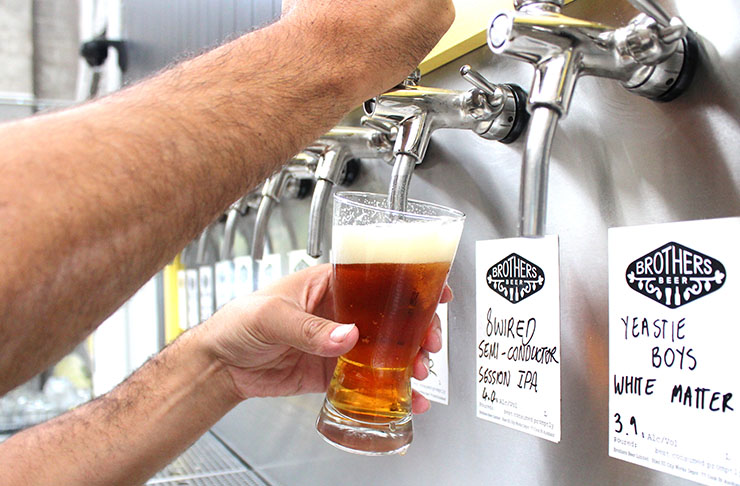 Brothers Beer
City Works Depot, Mt Eden & Orakei
When the 3pm beer cravings kick in, Brothers Beer is where we want to be. You'll find these dudes at City Works Depot, Brothers Juke Joint BBQ in Mt Eden or or in the more recent addition Orakei Bay Village—a spot for meat, beer and lazing about in the sunshine. Their City Works Depot lounge has 18 rotating taps and a whopping 200 bottles of beer, many of which are lined up on a DIY beer wall. Order a tasting paddle, and they'll walk you through what your tastebuds are in for.
The Lumsden
Newmarket
The Lumsden is a 'free house'—free from the shackles of big breweries. You'll find only quality, local craft beer being poured from their 15 taps, and with more than 120 canned and bottled brews, even the most loyal of 24 box drinkers will find something to get hooked on.
Brew On Quay
CBD
Three friends, affectionately dubbed 'the brew boys', are behind the awesome craft brew bar, Brew On Quay. They've drunk their way around the globe, sourcing the best craft beers the world has to offer—all of which you can try at their inner city bar. Brew On Quay has a sweet rooftop bar, an excellent selection of grazing platters, and is a short wander to the bus station, in case you have a few too many.
Sawmill Brewery
Matakana
A wee way from Auckland CBD is the ultimate roadie pit stop, Sawmill Brewery. This brewery makes a damn fine pilsner, packed with fruity flavours, and the extra pale ale is a welcome refreshment during summer. If you happen to live close to the brewery and enjoy a beer or two, why not sign up to become a beer taster at the brewery #dreamjob.
Galbraith's Alehouse
Mt Eden
This iconic Mt Eden pub has an epic beer garden, hearty nosh and a great selection of craft beer. Galbraith's makes their own brews as well as stocking an impressive number of bottled brews. We'll take a pie and a pale ale, thanks.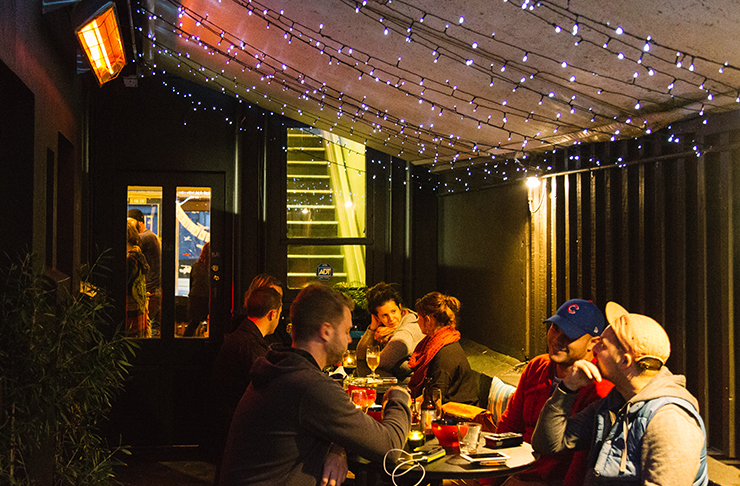 605 Morningside Drinkery
Morningside
Housed in a small, feels-like-home space off New North Road and pouring a brilliant range of craft beer, 605 Morningside Drinkery (formerly Flight 605) is the place to go for a few weekday casuals. Their beer list is updated on the reg, and the team are more than happy to make suggestions. Oh, and we've said it before but we'll say it again—605 have free popcorn. Sold.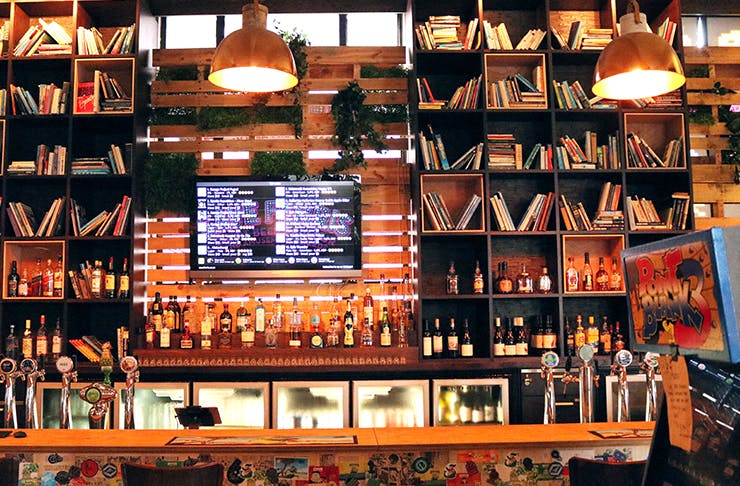 Save Ferris
Uptown
Formerly the Uptown Freehouse, Save Ferris has been transformed into an 80s haven complete with all those arcade games from your youth. This cool spot has 12 ever changing taps for the best of the best NZ brewed craft beer as well as a fully stocked fridge if you're after a can or a bottle. But one thing that sets this bar aside from the rest is the fact that the pinball machines and arcade games are all faithful to 80s pricing so you can get more button-smash for your buck whilst supping the cool amber nectar on offer.
Brewers Co-operative
Auckland CBD
Brewers Co-operative couldn't get any more Kiwi. Pairing the classic fush'n'chups with some seriously delicious brews. This eatery stocks tried and true labels they know beer enthusiasts will love. Fork, Epic and Garage Project, just to name a few. Pair your brew with some good old fashioned Kiwi tucker with dishes such as ginger scallops, salt and pepper squid and of course, ya beer battered fish and voilà! You've got the perfect place for a Kiwiana kinda date and a way to tick off another on the list for the best craft beer bars in Auckland.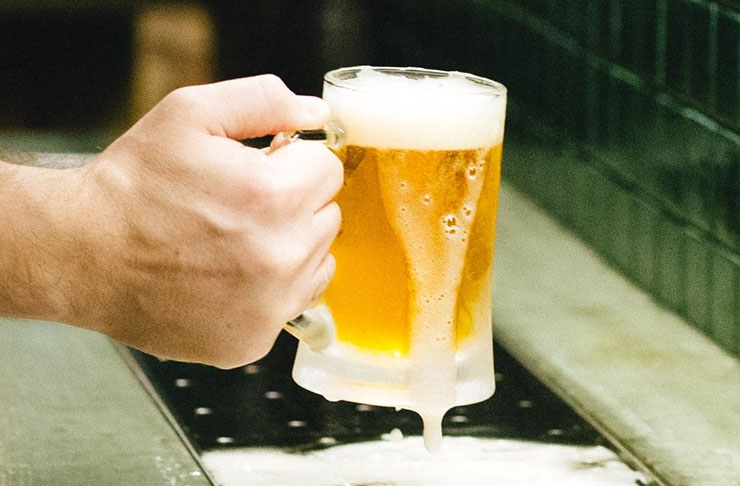 The Chamberlain
Britomart
Parked up in the old TSG. The Chamberlain has 14 different tap beers that change faster than you can say beer. With tap takeovers from local breweries and super delicious food on the menu. This is a trendy spot for anything from after work drinks to a hopping good date.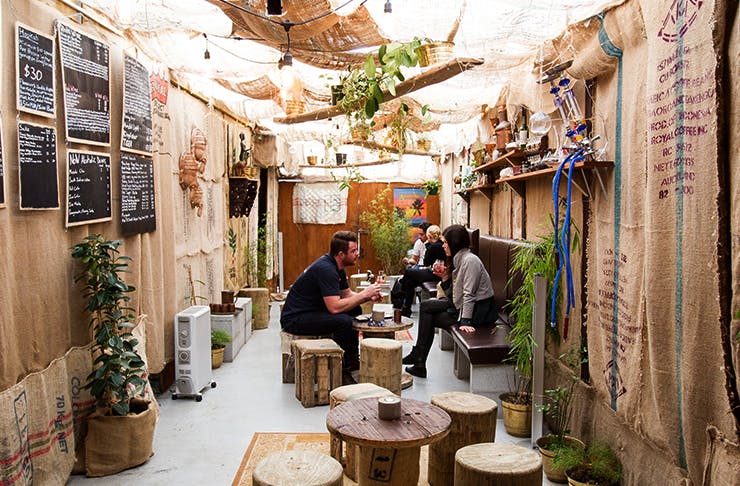 Satya Chai Lounge
Sandringham, K Road
Lastly and by no means least, if you're after something a bit different from your beer drinking experience—you can't go past the Satya Chai Lounge. Longtime purveyors of pretty addictive South Indian cuisine, the Chai Lounge offers Indian street food with a side of over 220 different beers. Just don't try them all at once.
Image Credit: Andrew Wilson, Jaiden Bhaga, The Chamberlain
Want more great places to enjoy a drink or two? Check out our 30 Bars You Should Have Been To If You Live In Auckland