If you're one of those folk who likes adventures but can't be faffed travelling far and wide for them, Auckland is the best place to live. An outdoor playground lies—quite literally—just beyond our doorstep, waiting for us to explore it.
There are a few hidden adventures that are guaranteed to quench your wanderlust and send you back to your desk on Monday morning with an ear-to-ear grin of satisfaction.
Here are 10 of the lesser-known adventures to do near Auckland.
Frolic At Mercer Bay
We included this west coast spot in Auckland's Best Beach Day Trips, but as far as hidden adventures go, Mercer Bay is a winner. Situated down the Te Ahuahu turnoff towards Piha, Mercer Bay offers adventures of every kind. In these times of Kauri Dieback there's no off-roading, but you can take the one-hour loop walk, taking in the impressive coastal views along the way.
Explore The Whatipu Caves
Considered one of the hidden adventure jewels on the wild west coast, the Whatipu caves track is thankfully still available to visit amid the sad times of the scourge of Kauri Dieback (we'll conquer you one day, Omanawanui Track.) It's located in the Waitakere Ranges Regional Park, an area made up of sand dunes, rocky cliffs, wetlands and a black-sand beach—perfect for some casual adventuring. Park at the Whatipu public carpark and follow the track along the base of hill through the back dunes and fill your exploring boots. Oh, and this is all just a (basically, stunning) one-hour drive from the big smoke.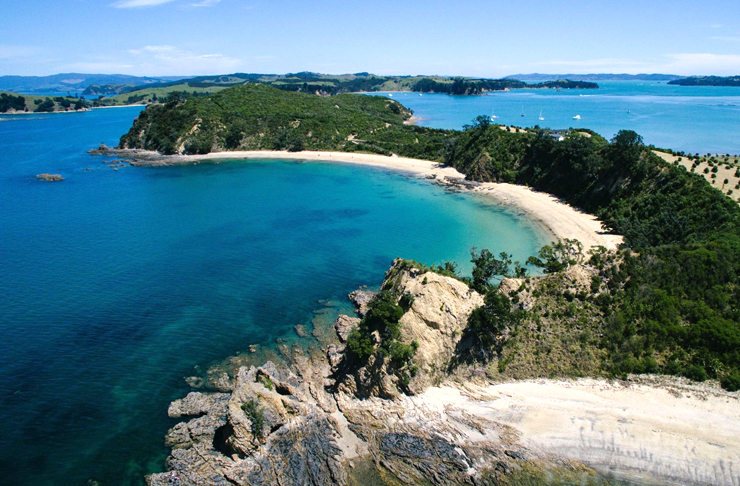 Explore Rotoroa Island
For more than 100 years, Rotoroa Island was a place for recovering alcoholics and addicts. It doesn't sound the most appealing place to visit but now, Rotoroa Island has reinvented itself as a stunning spot for bush walks, lounging on golden beaches and soaking in the scenery—just an hour's ferry ride from downtown. There are no shops, limited places to stay and usually very few people, so you'll really feel like you've stumbled upon a secret island. Be sure to visit the museum for an adventure and history trip rolled into one.
Splash About At Kendall Bay In Kauri Point Centennial Park
A hidden adventure…in Birkenhead. It may be the unlikeliest of places but this corner of North Shore suburbia is home to a truly epic area to channel your inner explorer. Kauri Point Centennial Park is dotted with trees and pristine walking tracks, which will lead you to shelly, sandy Kendall Bay. Set up a picnic and go for a dip before continuing on the track for some great harbour views.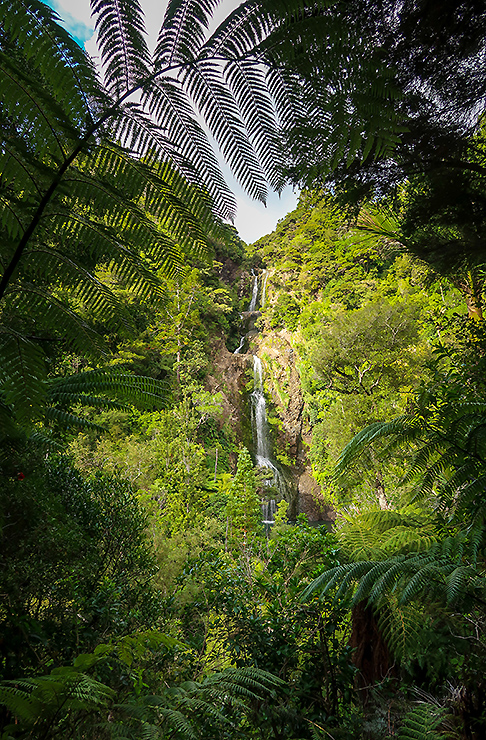 Hike To Kitekite Waterfall
Next time you find yourself in Piha, do yourself a favour and head to Kitekite falls. An easy 60 minute round trip will have you walking through virgin forest and bird spotting like a pro. The path has now been upgraded so that you can explore without harming the Kauri trees. Unleash your inner Bear Grylls and skip over boulders in the lake to take on the steps to the falls. The falls themselves are spectacular and so worth the effort.
Bike Through Woodhill Forest
Get on ya bike and hoon through the trees in Woodhill Forest. With more than 100km of tracks and jumps, this is a mountain biker's paradise just outside of Auckland. Not a speedster? Not to worry. Woodhill Forest has several scenic walking trails, or if you're after something different, Tree Adventures will have you soaring through the treetops on their 18 flying foxes, not to mention the option to jump on a horse for a scenic tour of the forest.
Kayak Down The Puhoi River
Secure those life jackets and meander down the Puhoi River in a kayak. Just 35 minutes from Auckland, Puhoi River is a tranquil place to switch off from life's woes and cruise for 8km. Don't have your own gear? Puhoi River Canoe Hire has everything you need for an un-guided kayak adventure.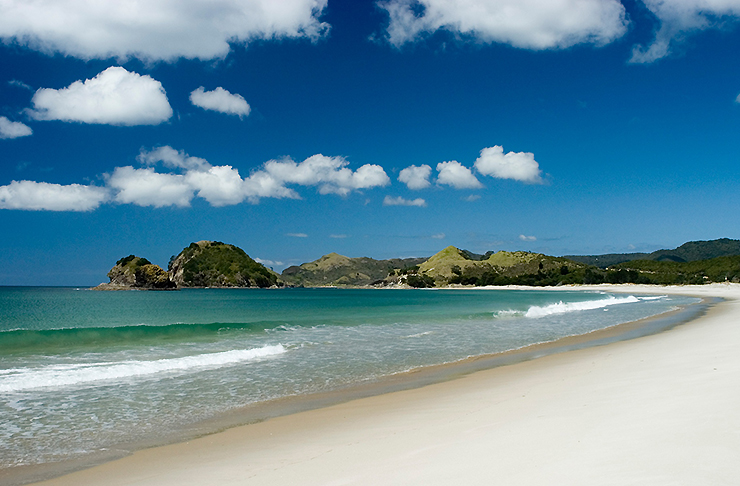 Soak In Kaitoke Hot Springs On Great Barrier Island
A trip to Great Barrier Island requires a weekend and trust us, you're going to need it. A four-hour ferry (or a swift 35-minute flight) from Auckland, Great Barrier Island offers a wealth of adventures. From tramping through the beautiful native forest to snorkelling, fishing and—our personal favourite—soaking in the Kaitoke Hot Springs, the Barrier is an explorers' mecca.
Take On The Te Ara Tahuna Estuary Cycleway and Walkway
Located just 35 minutes north of the Harbour Bridge, Te Ara Tahuna Estuary Cycleway and Walkway is a tranquil escape within easy reach of the city. Head to Red Beach for relaxing and adventure fiends can fish, swim and run around. Make sure you head around the rocks towards Orewa, or via Jacob's Ladder if the tide is high, to access the hidden cove.
Hike Around Panmure Basin
For a little getaway that feels a world-away from the hustle and bustle of Auckland proper, head to the Panmure Basin. A 3km loop around the water on a mostly-flat gradient it's ideal for all abilities. If you want to up the ante, be sure to pump some iron and try your hand at the various workout stations around the lake. Winning. To celebrate its completion, be sure to drop in at Peach's Hot Chicken, one of the best fried chicken purveyors in Auckland.
Want more to explore? Check out Auckland's best walks.
Image credit: Mercer Bay by Oliver Strewe, Rotoroa Island, Kitekite falls by Sylvain Cleymans, Kaitoke Beach by Scott Venning