Wellington prides itself on its café culture. This city truly runs on good coffee and well-poached eggs.
We know that choosing which café to go to can be overwhelming. Lucky for you, we've put together a list of the best places to head so that you don't have to fret.
So get the gang together, put on your stretchy pants (you're going to be eating a lot) and try out some of these bad boys. Trust us, you're going to love them.
Without further ado, here are the best cafes in Wellington.
Scopa
Wellington Central
Since its inception in 2006, Scopa has remained a well-known fixture of Cuba Street, and for good reason. Cosy and classic, it's the perfect place for comfort food. For a cheap and delicious lunch, you should definitely pop in for a serving of their freshly made pasta of the day—for just $12 we might add. If pizza's more your thing, then swing by on a Tuesday between 11am and 3 pm and treat yourself to an $8 Margherita pizza. Finally, a trip to Scopa isn't complete without a cup of their legendary Gusto Cioccolato—Italian hot chocolate. Made with Italian chocolate powder, the drink is world-famous in Wellington and, once you've had your first sip, you'll see why.
Fidel's
Wellington Central
Since 1996 Fidel's has been providing the people of Wellington with the goods. Now an iconic Cuba Street café, it's hard to imagine Wellington without it. Similar to other cafés on Cuba Street, Fidels has a comfortable, relaxed vibe, and a way of making you feel incredibly hip just by being there. Sit inside in front of bright red walls adorned with black and white photos of Cuba and Fidel Castro, or have your food al fresco and take a seat in one of their two courtyards. A winner for vegetarians, Fidels has a solid range of veggie options, as well as some mega meaty meals. For a classic Fidels experience, try the nachos, the fish tacos, or one of their many pizzas—all hearty, fresh and at prices that definitely won't break the bank. While you're there, make sure to get yourself one of Fidels' famous thick shakes. Flavours include Snickers, Oreo, and salted caramel. Trust us when we say they are unmissable.
Prefab
Wellington Central
Prefab has mastered the art of a chic, modern interior, with a laid back, not-taking-themselves-too-seriously kid of vibe – which to us is the perfect blend. Their staff are seemingly unflappable, despite the fact that Prefab is almost always full. Seriously, if you're wanting to head there for Saturday brunch, be prepared to wait for a table, as Prefab really is loved by every man and his dog in Central Wellington, and once you see the menu, you'll see why. Simple dishes made with fresh ingredients (and bread baked on site) are what Prefab does best. Grab the eggs on sourdough and customise your meal by adding a side of bratwurst sausage and Zany Zeus halloumi. Enjoy bottomless ACME filter coffee while you eat, and make sure you try to get a seat outside—it's a perfect spot for dog-spotting opportunities.
Baobab
Newtown
Loved by Newtown locals, Baobab's laid back, bohemian style is not to be missed. Sitting pretty on Riddiford Street, Baobab is the perfect spot to visit for a coffee and a bite after perusing Newtown's op shops and record stores. With an ever-changing seasonal menu full of fresh feasts, and a well-stocked supply of cabinet food, you're spoilt for choice. If you're there in the morning, it's hard to go past the Eggs Baobab—their own take on a classic eggs benedict, with the option to include avocado or halloumi, which are, as we know, possibly two of the best things in the world. For an afternoon visit, you really can't go wrong with a good coffee and one of their cakes or slices straight from the cabinet—their caramel slice is second to none. Then take your treat outside and sit back and relax in their courtyard. Absolute bliss.
Maranui Cafe
Lyall Bay
Maranui is a Wellington institution. Loved for its eclectic interior, classic menu, and its unbeatable views of the beach, there's a multitude of reasons why it's a go-to Sunday brunch spot for locals. Located above the Maranui Surf Lifesaving Club, Maranui Café is perfectly positioned by the sea, giving you primo views of the sand, the ocean, and the surfers attempting to catch a wave while you chow down on your brunch. Speaking of brunch, in our opinion, it's what Maranuni does best. Their classically Kiwi menu is simple and delicious, just what you need before or after a day at the beach. For a sweet start to the day, we can't go past their house-made sourdough crumpets, served with orange and vanilla whipped ricotta and honey. For a cheeky morning wake up, you've got to try one of their "Post Swim Tipples"—take your pick from Mimosas, Cherry Bellinis, or a Bloody Mary for a pretty perfect start to your day.
Neo Café & Eatery
Wellington Central
Neo does a modern twist on a classic really, really well. Located on Willis Street, they're great for a lazy Sunday brunch, a cheeky working lunch, and everything in between. Blonde wood tables and cute little house plants give the space a modern feel, and the light wood and white walls help to make the small space feel much larger. While their interiors are pared-back, their dishes are anything but. From pumpkin buttermilk pancakes to chilli parmesan fries, they know how to take your all-time fave and transform it into something even better. For a drink, why not step away from your usual flat white comfort zone and try one of their superfood lattes? Take your pick from matcha, turmeric or red velvet flavour. They're super pretty and super delicious.
Scorch-O-Rama
Seatoun
Situated across the road from Wellington's Scorching Bay beach, Scorch-O-Rama is the perfect beachy café. With pastel painted weatherboards and a surfboard-shaped sign, Scorch-O-Rama screams nostalgia—think a jazzed-up version of a classic Kiwi bach. If you're blessed with good Wellington weather, you should definitely take a seat outside and enjoy your eats right by the sea. Seriously, in those seats, you couldn't be closer to the sea unless you were actually in it. For a big breakfast that will hit the spot and some, you'd be mad to go past the 'Scorch-O-Rama Lama Ding Dong'. With a name that good, how could you resist?!
Comes and Goes
Petone
If you're one to take photos of your eggs benny and pop them on the 'gram, then you have got to pay Comes and Goes a visit. Light and airy with Scandi-inspired interiors, Comes and Goes has the look of many other Wellington cafés. Where they really stand out amongst the crowd though, is with their crazy aesthetically pleasing dishes—think bright colours, beautiful crockery, and edible flowers. Since their inception in late 2016, Comes and Goes has earned quite the rep for having some of the most Instagrammable dishes in the region. But their meals don't just look good—you have to try their pork belly eggs benedict—absolutely life-changing.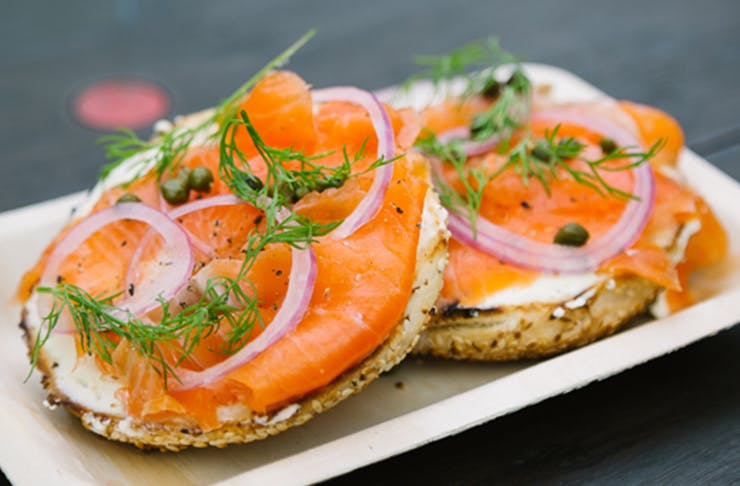 Best Ugly Bagels
Wellington Central
The brainchild of chef Al Brown, Best Ugly Bagels is the new-ish kid on the block, sitting pretty on Swan Lane, just off Cuba Street. Industrial-style with a homey vibe, one of the coolest parts of their setup is the huge open kitchen behind the front counter, which gives you the perfect view of your bagels being chopped, rolled and baked. For something simple and fresh, we recommend the T.A.B (tomato, avocado, and basil). If you're feeling a little dusty from a few too many bevvies the night before, then go for the Boss Hog (free range bacon, rocket sauce, cheddar cheese, and a free-range egg). As for a drink to go with your bagel? You can't go past their iced maples. Good coffee + ice + maple syrup = game changer.
Midnight Espresso
Wellington Central
For delicious eats that don't break the bank, look no further than Cuba Street's Midnight Espresso. Midnight's interior is almost what you would picture a cool Cuba Street student flat to be—think graffitied walls, mismatched retro chairs and tables, and a pinball machine. Open from early in the morning till late—like, past midnight late—the café is the perfect place to stop for breakfast, lunch, or a late night snack. Highlights of the predominantly vegetarian/vegan menu include dishes such as Eggs Midnight: a chickpea and veggie patty topped with poached eggs, spinach, green salad, red pesto, and hollandaise. For lunch, you can't go past their nachos (and you're going to want to get the large option because they're so damn good). As for drinks? Besides their coffees (which they do really, really well), they have a range of other goodies to try. If you're on a health buzz then definitely opt for one of their freshly made juices – either pick from one from the menu or create your own. For those of you wanting to treat yourself, go all out and tackle a Snickers thick shake, it won't disappoint.
Loretta
Wellington Central
Loretta is the cool-girl of the Wellington café scene. She's effortlessly stylish, timeless, and pretty damn popular. In terms of interiors, Loretta has nailed it. The long, narrow space is minimalist and natural, with simple, no-fuss styling. Their natural, no-fuss style is also reflected in their menu; with wholesome, classic meals made from locally sourced ingredients. While everything on their menu is delicious (trust us, we've tried almost all of it), their woodfired pizzas are in a league of their own, so while you're there, make sure to try the potato, rosemary, parmesan, buffalo mozzarella, and parsley sauce combo. Life changing. As well as a fantastic food menu, Loretta also has an impressive drinks menu, so whether it's a turmeric latte or a kombucha punch that tickles your fancy, you're in for a treat.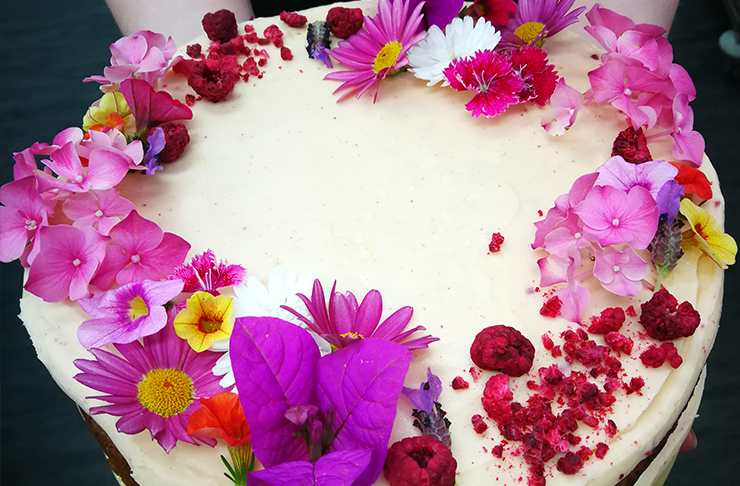 Betsy
Island Bay
It's not just central Welly that's home to the hip cafés. Beachy suburb Island Bay is now home to Betsy, a modern deli that prides themselves on their fresh, wholesome takes on classic meals. The vibe in Betsy is unbeatable—funky, fresh and ever so friendly. Pop in for a lazy weekend breakfast (try the toasted cinnamon brioche with salted caramel butter and lemon vodka marmalade!) or if you're short on time, treat yourself to something to-go from their insane selection of homemade cabinet food. The best part about Betsy? Free coffee Friday. Every Friday their chalkboard sign outside is updated with a different name—if it's yours, pop inside and you'll get a coffee on the house. How lovely is that?
Seashore Cabaret
Petone
Seashore Cabaret is an eclectic mix of a bunch of really awesome stuff. Vintage signage, retro furniture, and pinball machines give the space a quirky vibe, while a horse (that looks like it may be from a merry-go-round) hangs from the ceiling over a large central table, adding a touch of carnival magic to the café. Wildly popular, especially on the weekends at the brunching hour, the café is always buzzing. Get in early to get a table and enjoy a meal, or grab some cabinet food, go for a Lime down the esplanade, and enjoy it outside by the sea, picnic style. If you're famished, go for their truckers breakfast of sirloin steak, fried eggs, and hand-cut chips smothered in gravy. Their coffee, made with Good Fortune coffee beans (that are roasted in-house) goes perfectly with a sweet treat from the cabinet, including cakes, doughnuts, pies, and tarts, take your pick of any and you won't be disappointed.
Ti Kouka Café
Wellington Central
Somewhat of a hidden gem in central Wellington, Ti Kouka sits in an upstairs location on busy Willis Street. Pop up the stairs and into the warm, homely space and you'll immediately forget you're in the middle of the city. Ti Kouka places a big emphasis on sustainability and aims to compost all their food scraps, as well as recycling everything they possibly can. The café also make an effort to use organic and local produce where possible, which means that you already know that their food is going to be fresh and tasty. For food, we can't resist their dry cured bacon sandwich with lettuce, tomato, and avo—it's the perfect breakfast option, especially paired with a coffee (they serve Flight Coffee, keeping it local). They also serve their own kombucha, so if hot drinks aren't your thing, then sit and sip on that. Through a metal straw of course.
L'affare
Wellington Central
Ever since they first opened their doors in 1990, L'affare has been a go-to spot for Wellington visitors and locals alike. There's just nothing quite like wandering down College Street on a Sunday morning and popping into L'affare for brunch and a strong coffee. The huge, industrial-style space is always buzzing no matter which day of the week it is because Wellingtonians really do love it that much. One of L'affare's defining features is the fact that they do coffee REALLY well, and they have been for 29 years now. The café is also a roastery and the L'affare brand supplies coffee to cafés all over, so you know they know their stuff. For something a little different from your regular cup of joe, why not give their coffee soda a go? Cold brew, steeped for 24 hours, then carbonated. Pair it with their green eggs and ham (rocket pesto scrambled eggs and ham on toasted sourdough), and you can't go wrong.
Image Credit: Scopa, L'affare, Betsy, Best Ugly Bagels, Scorch-O-Rama