Whoever came up with this cunning way of eating cake for breakfast (or any other meal, for that matter), we thank you for your service to society.
Carrier of berries, bacon, or pretty much anything you darn well please, pancakes are peerless and are usually the first thing we learn to whip up in the kitchen. This is no coincidence—if you can make pancakes, you're set for life, so as we're celebrating our 10th birthday we would ask you, our audience, who slings the best pancakes in town.
So wave goodbye to waffles and au revoir to French toast—because today we're talking pancakes, here's where to find Auckland's 10 best, according to you.
The Federal Delicatessen
Auckland CBD
If you can tear yourself away from The Fed's dinner menu—even just the once—make sure you order some of their moreish American-style griddle cakes. Made from a buttermilk batter that's next-level soft, these have doubs the blueberries (blueberries in the mixture and as a compote on the top), as well as cinnamon butter and a strudel nut crunch. Suddenly we're not missing that Reuben sammie quite so much... Audrey loves the fact that they're so soft, fluffy and delicious and states they're a must-try, while a certain Canadian Kiwi appreciates that they use genuine Canadian maple syrup!
Twisted Tomato
Point Chevalier
Pt Chev hot spot Twisted Tomato has been reliably dishing out the goods for years—one look at their menu and it's easy to understand why this spot has legions of fans—including their dedicated vegan menu. But their customisable caramelised pancakes are where it's at, served with banana, toffee sauce, nut crumbs, fruit, berry glaze and passionfruit mascarpone you can add bacon or even a dollop of ice cream for the ultimate indulgence. And the best part? It's available all day long. Georgia particularly stans their pancakes' nice and crispy edges.
Bambina
Newmarket
When it comes to hotcakes, Bambina doesn't do things by halves. Their blueberry ricotta hotcake is served with fresh berries, mascarpone, seeds, millet puff, maple AND edible flowers. They don't skimp on toppings here—this hotcake is stacked high. It's pretty, tasty and oh-so Instagrammable. A great spot for pancakes in Auckland, fans applaud the fact that their beautifully presented hotcakes are not too sweet. Life-changing.
Ozone Coffee
Grey Lynn
You already know that Ozone Coffee make a mean brew, but did you know that they also make killer pancakes? These guys chuck any pancake preconceptions you have right out the door and instead offer a moreish gluten-free version topped with caramelised yoghurt, white chocolate, rhubarb & mandarine praline with the option to add bacon (wait, what?). While the next-level toppings change seasonally, for peak pancake-eating pleasure, you should of course devour this alongside a cup of their top-notch coffee. Sheridan applauds their varied menu full of plant-based options (like the pancakes of course).
No. 1 Pancake
Rosedale
Having upped sticks from their legendary CBD kiosk to Rosedale, fan fave No. 1 Pancake now continues to sling their cheap and delicious Korean-style pancakes. Here the pancakes are stuffed with fillings (anyone for ham, cheese and pineapple?) and cooked to crispy perfection. P.S: their potato and cheese pancake has recently been named one of the 100 Auckland Iconic Eats. Ange recommends their potato and cheese if you're in a savoury mood and red bean for sweet, but we say why the hell not get both?
Supernova
Milford
Warning: your jaw may actually hit the table when you're presented with Supernova's showstopping lemon hotcake, which is as much a feast for the eyes as it is for the stomach. Arriving in a mini cast-iron skillet, this vision of a dish is piled high with yummy goodies like seasonal fruits, tangy lemon curd and a generous whack of maple butter that you'll be dreaming about long after your visit. Kathy loves their hotcakes and makes it a point to order them on every visit.
Little Bird Kitchen
Ponsonby
Bringing the fermented food trend to pancakes is Little Bird Kitchen. This Ponsonby eatery serves a savoury pancake made with a delicious (and healthy) combination of chickpea and kimchi. The pancake is then topped with leafy greens, radish salad and wait for it... a sweet chilli and cashew aioli. You can also add avo so of course, you should. While it's a lil different to the traditional pancakes we all know and love, we promise it's very VERY tasty. Liv loves that they're delicious and filling.
Circus Circus
Mt Eden
If the thought of pancakes with marshmallows and fairy floss has your tastebuds tingling, you've come to the right place. Circus Circus doesn't mess around when it comes to breakfast and these cakes—make from a delicious ricotta-laced batter—are no exception. Novelty ingredients aside, you can also expect vanilla yoghurt, strawberry compote, maple syrup and—if you're feeling extra gluttonous—streaky bacon and vanilla ice cream. Go on, you know you want to... Dale says Circus Circus never disappoints.
Marua Road Cafe
Ellerslie
Listen up team, because these three words are going to change your life forever—carrot. Cake. Pancakes. Yes, the clever peeps at Marua Road Cafe have whipped up a plate of fluffy cakes that taste just like the popular Kiwi treat and yes—that means cream cheese frosting. You're welcome. Angelica raves about their 'perfect' pancakes.
Honey Cafe
Takapuna
Sweetening up the North Shore is Honey Cafe, which serve a super tasty gluten-free orange ricotta pancake. This bad boy is topped with vanilla ice cream, fresh seasonal fruit, honey orange blossom syrup, seeds, strawberry coulis, chocolate soil, raspberry sugar and vanilla maple syrup. We recommend adding on bacon—because everything tastes better with a few rashers and Daniel loves that they're light and fluffy.
That's The Top 10, But These Legends Are Also Top In Our Book
Woolfy's
East Tamaki
The butterscotch hotcakes at Woolfy's are a must-try. You'll want to bring along your best sweet tooth though because there's a lot to work through—think fluffy sticky date cakes topped with grilled banana, vanilla mascarpone, candied walnuts and the pièce de résistance—a splash of housemade butterscotch sauce.
Jam Organic Cafe
Takapuna
Just because you're competing in NZIFBB needn't mean you have to give up pancakes. Jam Organic Cafe serves figure-friendly protein hotcakes in a glorious fashion. Made with vanilla whey, these hotcakes will go straight to your biceps. They're topped with spiced poached pears, maple, berry coulis and thickened yoghurt. Protein shakes have nothing on this.
Honey Bones
Grey Lynn
Honey Bones' ricotta pancake is indeed very cakey (aka dense) and, for this reason, it's one of our faves. Topped with tangy lemon curd, creamy Greek yoghurt and luscious poached fruit (and a bit of bacon if you fancy), the news just keeps getting better.
Domain & Ayr
Parnell
Looking for pancakes in Auckland? While we're sure Domain & Ayr has an extensive breakfast menu, we wouldn't know because we're too caught up in their fluffy 20-minute pancake. It's soft, it's fluffy and it's bigger than any pancake you've seen before. Served with seasonal fruit, mixed berry compote and mascarpone and drizzled with maple syrup, this famous pancake is worth every minute of the wait.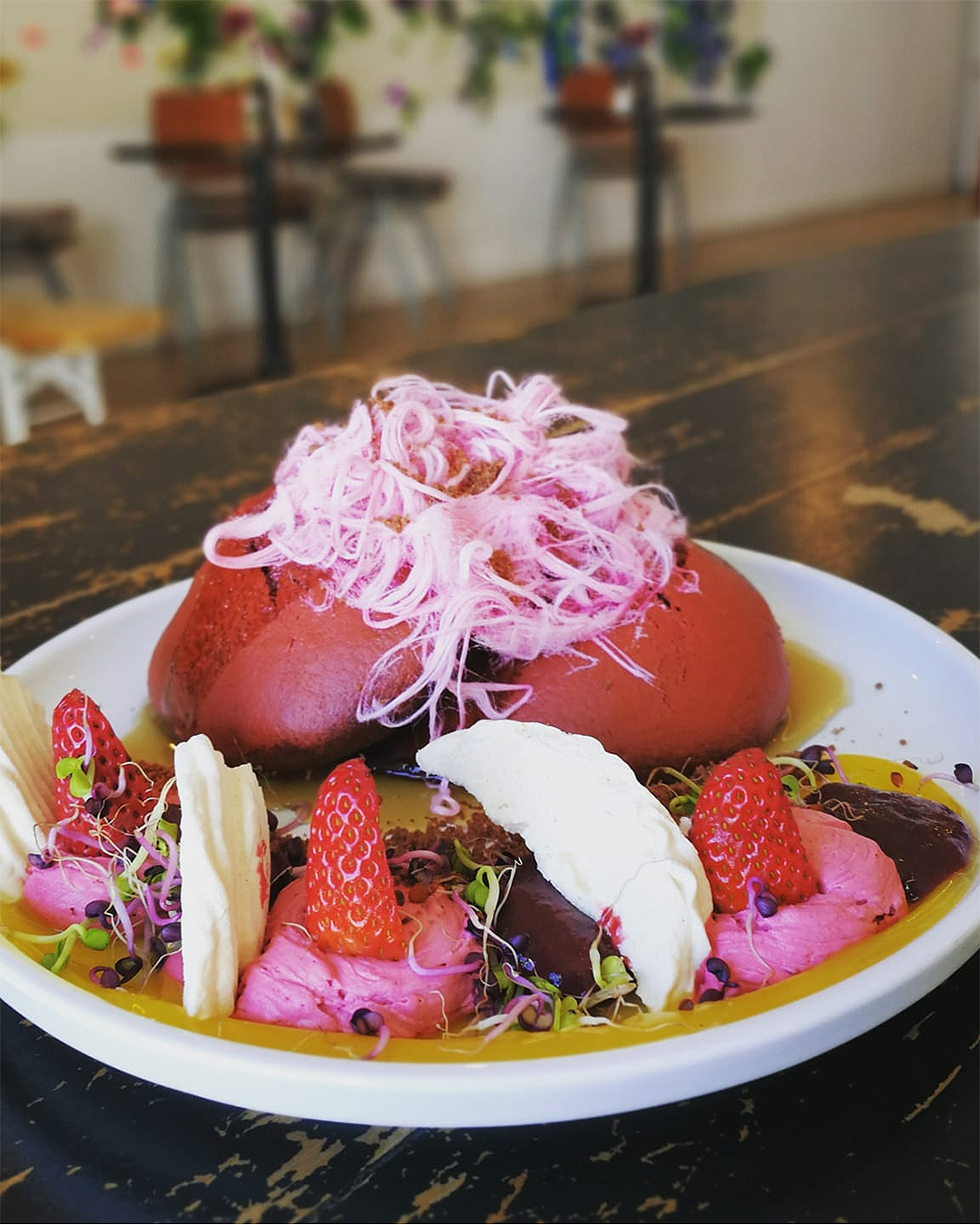 Hello Friends + Allies
Epsom
If you haven't had the pleasure of smashing back a plate of red velvet hotcakes from Hello Friends + Allies yet, the time is nigh. These ruby-hued beauties not only look the part, but they're also seriously tasty and that makes them some of Auckland's best. Yes, as much as we love Hello's French toast and mermaid yoghurt bowls, it's the hotcakes that keep us coming back: think pretty red cakes topped with cherry mascarpone, lemon curd, berry coulis, meringue, chocolate soil and Persian fairy floss. Woof.
Dutch Delight
Birkenhead
Dutch Delight is a North Shore icon, having served up pancakes in a range of wild flavours for as long as we can remember. Tiramisu pancake? Check. Baklava pancake? Check. Rum and raisin pancake? CHECK. And we haven't even started on the savoury options... from the humble ham and cheese through to pannies inspired by the flavours of Indonesia and Greece, these guys know what's up.
New Flavour
Mt Eden
If you thought New Flavour was only good for dumplings, think again. The iconic Dominion Road eatery also knows a thing or two about pancakes. There's a pancake to satisfy every taste but personally, we can't go past their sweet red bean-stuffed offering. It sounds weird, we know, but we promise it's jolly tasty.
Keep up the breakfast of kings with a tour of Auckland's best waffles.
Image credit: Main image Bambina, Bambina, No 1 Pancake, Little Bird Kitchen, Honey Bones, Hello Friends + Allies.