If you're after a summer of sun, sea, sailing, sightseeing, spectacular sights—okay you get the picture—then New Zealand's very own northern paradise, Bay of Islands, is the prime destination for you.
Located in New Zealand's north island, the subtropical micro-region is known for its jaw-droppingly postcard-worthy views, crystal clear waters, golden beaches and thrilling land and sea adventures. We don't know about you, but we're packed and ready to go. With over 140 Islands to explore, it's a playground of activity that is waiting to be discovered.
With that said, let's get planning your trip, shall we?
Dive on in—we've rounded up the top activities to do in New Zealand's wonderful Bay of Islands.
Cruise Along The Bay & Visit The Hole In The Rock Attraction

If you like big boats then take in the picture-perfect sights, cruising along the bay on a luxury catamaran. With over 144 Islands for you to explore, feast your eyes on secluded hideaways, hidden coves, stunning golden beaches and discover the famous Hole in the Rock at Motukokako Island. The natural sculpture was created from centuries of sea and wind erosion, and is one of the most popular attractions in New Zealand. Fun fact: Maori warriors used to paddle through the Hole in the Rock in their canoes before departing for battle. Drops of water from the cave were seen as a good omen. So, if you do get dripped on, count yourself lucky! If gliding across the crystal clear waters hasn't got you hook line and sinker, then why not take it up a notch and get up close and personal with the aquatic creatures—keep your eyes peeled for dolphins, whales and other marine life.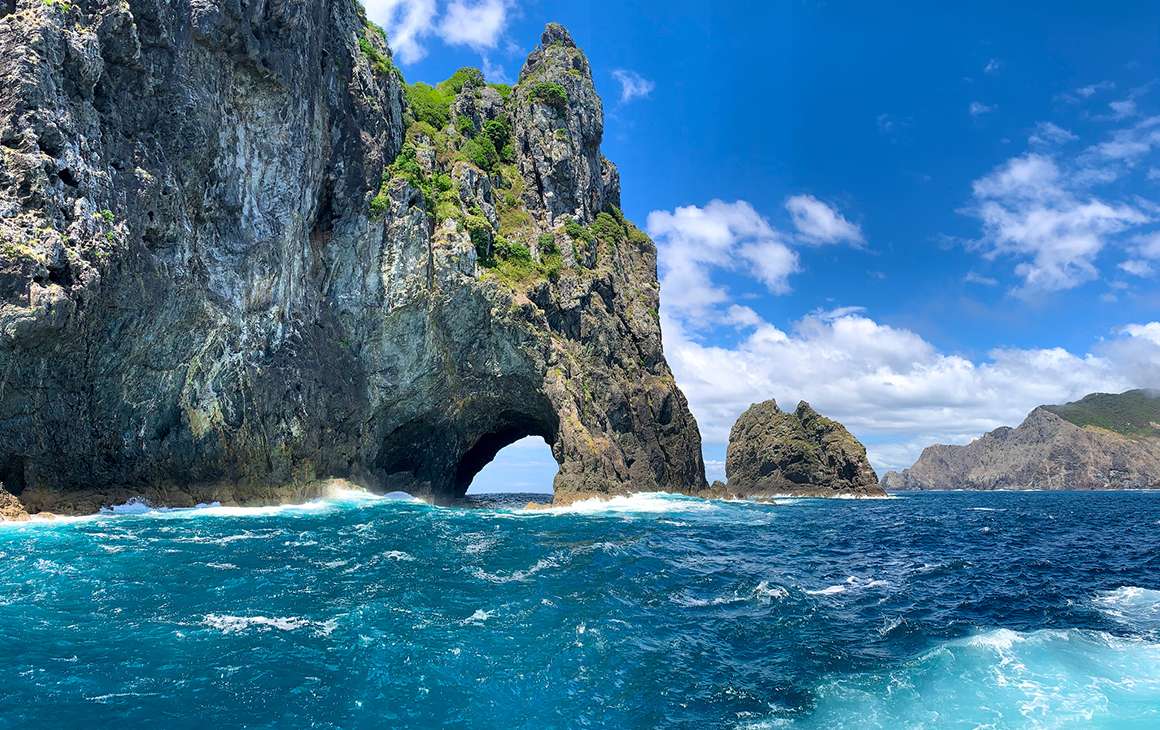 Kayak Haruru Falls
If a catamaran isn't really your style and you're looking for something more hands-on, then a kayaking adventure will certainly float your boat (pun intended). Get amongst the fun with a two-hour kayaking tour to the stunning Haruru Falls, where you can bask in the sun, say kia ora to the native wildlife and feel the spray from the impressive horseshoe-shaped falls. New Zealand is home to some of the most breathtaking waterfalls, but few with the history of Haruru. As you glide along New Zealand's first river port, you'll learn about local history and Maori legends, while getting lost amongst the enchanting mangrove forest. You don't need to be a pro kayaker to get involved, so there's no stopping you soaking in the low tides and lagoon vibes. We don't know about you, but this is how we row!
Island Hopping Sailing Cruise
Explore the beautiful Bay of Islands the kiwi way on an epic six-hour sailing adventure. Get your much-needed fix of sun-kissed skin, windswept hair and salty smiles as you soak in the views from a 33-foot catamaran, that's built for speed. She's a beauty! Sit back, relax and travel in style or you can unleash your inner Popeye and lend the crew a helping hand. Hop off the boat for a two-hour island stopover in a stunning bay, where you can dig into a delicious picnic on the beach, explore the island by foot, go for a dip and even test out your paddleboarding skills where you can spot stingrays, fish and if you're lucky even penguins and dolphins.
Explore Underground At The Kawiti Glowworm Cave
As much as we love a good boat trip, It's not all water adventures in the bay. It's time to take this trip underground and pay a visit to the Kawiti Glowworm Cave. Just a short 15-minute drive from Paihia wharf, a magical excursion awaits. Picture this—a hidden chamber filled with a galaxy of glow worms, that replicate the starry night sky. Fight the urge to get that insta-worthy shot and simply just take in the magnificent views as you follow the wooden boardwalk through the 200-metre limestone cave. Learn all about worm life and if you're feeling brave, get close enough to see the actual body of the glow worm and its stunning tail light.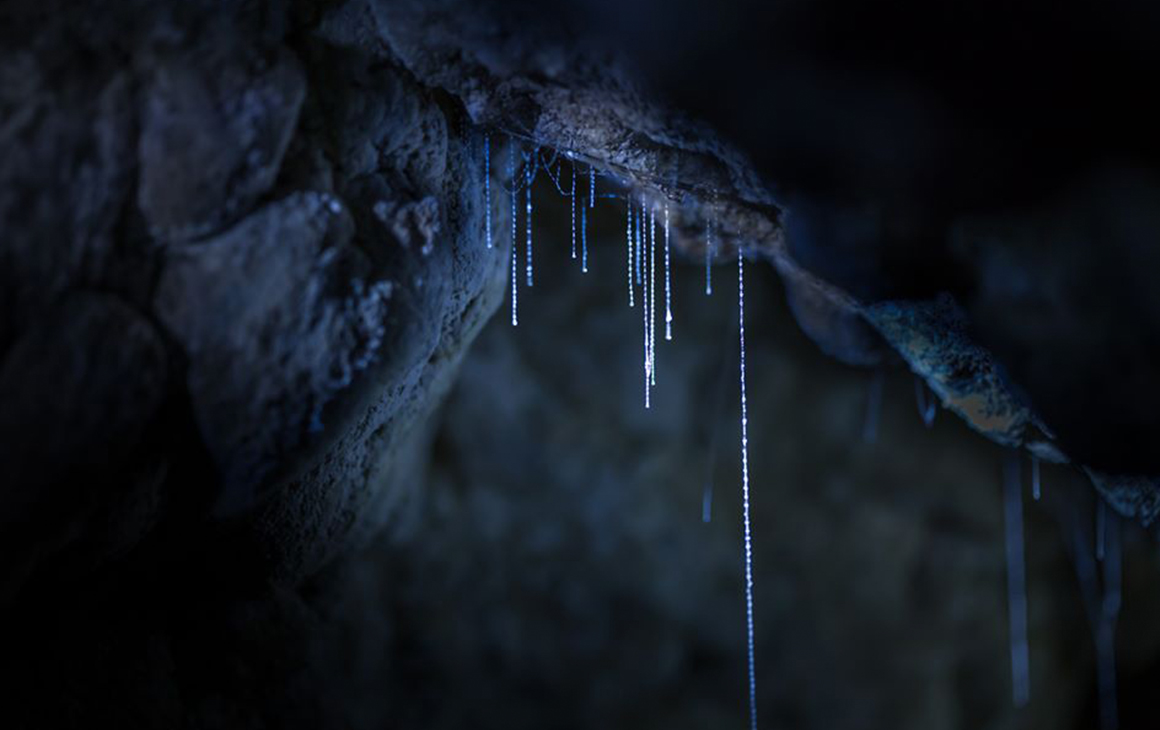 Soar To New Heights With A Helicopter Tour
Experience the Bay of Islands and all it has to offer from new heights with a helicopter tour. Hold on tight as you hover above sandy beaches and glide over clear turquoise waters. We mentioned earlier about sailing through the famous Hole in the Rock—well how about landing on the iconic landmark instead? Soaring 150 metres high, take in the panoramic views of Cape Brett, the Poor Knights Islands in the South, the Cavalli Islands in the North and views over the Bay of Islands to Paihia and Russell. Hold onto your jaw as you take in the views for days.
Soak Up The Views At 20,000 Feet
Explorers at the ready! If you're an adrenaline junkie then you can chase your next fix of adventure with a Skydive in the Bay of Islands. Fly up to heights of 20,000 feet and soak up the views, before tumbling through the clouds at 200 kilometres per hour. Taking you higher than Mount Kilimanjaro—that's right Mount Kilimanjaro is 19,341ft. It's not quite outer space, but it's certainly out of this world. With an 85 second free fall, your body will be pumping with pure adrenaline, so much so that you'll be buzzing long after your feet touch the ground.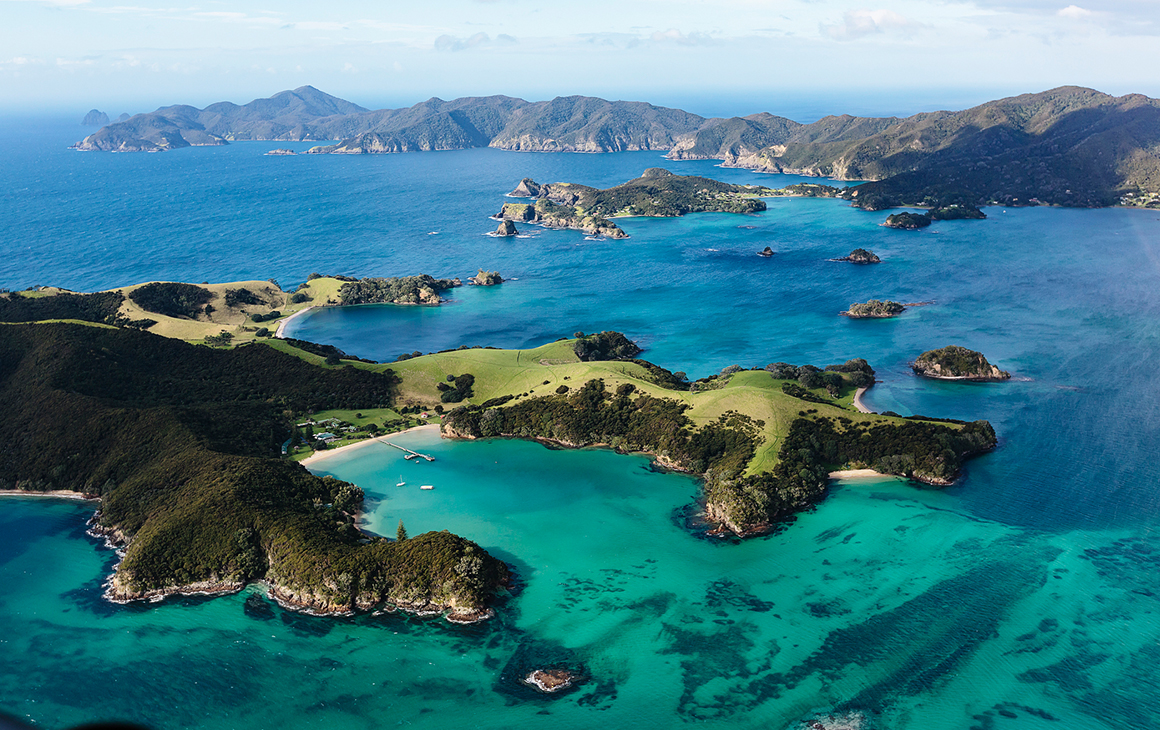 Explore Down Under
So far you've seen the islands by boat, helicopter and skydiving, but check out what the oceans have to offer by exploring the incredible diving sites below. For an up-close encounter with relics of New Zealand's history, dive among the ruins of the Rainbow Warrior vessel. Sunk in the Cavalli Islands in 1987, the wreckage still sits there today some 27 metres below sea level. Make friends with the fish during a scenic reef dive, along with tropical fish, cast your goggles on the largest stingrays in the world. With plenty of caves and caverns to explore, make sure you swim through all the crevasses.
Sip On Vino At A Private Wine Tour
Home of the first vine plantation, Northland is the birthplace of viticulture and winemaking in New Zealand—so we think it's only fair to pay these wineries a visit. What better way to do so than with a four-hour wine tour, where you can learn all about boutique wineries and vineyards, whilst sipping on your favourite tipple of choice during an eclectic wine tasting experience. Visit Ake-Ake, a producer of organic wines, for the first of your wine tastings, next up will be the Marsden Estate, which has a wide range of different beverages and finally Cottle Hill to provide that perfect finish.
Want to explore on land? No worries, we've put together some of the best beaches in the Bay of Islands for you to sink your toes into.
Image Credit: Rod Long, Kawiti Glowworm Cave Tours, Jason Young, Martin Barraud