Long and unjustly discriminated as the smuttiest of spirits, vodka is both the queen of classy and the king of trashy—and we should know—here at Urban List we are fine connoisseurs of the occasional vodka vocation. We're not not saying we're a bunch of Ab Fab's Patsy Stones shouting vacuous trends at an empty meeting room, but what we are saying is that we enjoy a tipple to a topple of some sharp 'Voddy D' (vodka Diet Coke and loose confidence). So before we crank into the boom of summer, we've rounded up 12 of New Zealand's best vodka brands—from RTDs to ones for the purists, it's all here.
Spiritual Vodka
If you're after award-winning vodka then look no further than Spiritual Vodka. With over 12 international awards, Spiritual Vodka seems like it's the new kid on the block, but has in fact been snatching trophies since as early as 2016. Served in a French decanter with a glass stopper, this vodka aims for the higher plane. They've also paired up with local brands like No Ugly to create some truly cool-as-a-cucumber cocktails.
Part Time Rangers
Do you love to pound the libations but worry about the growing existential dread over the plight of the endangered Rhino? Then look no further than Part Time Rangers! What started as a part time, post uni exploration with gin and juice parlayed into a philanthropic mission between two pals. The duo have pledged ten percent of profits from every drink headed straight towards the animal emblazoned on the can. That means you can basically smash through most ecosystems while saving on calories too.
VDKA 6100
When a brand straight-up refuses to include an ever important vowel in their name you know they mean business. What is an 'o' anyway? Who needs the letter 'o' when you have Oscar winning actor Robert De Niro designing the packaging? That's right—according to VDKA 6100's story, De Niro "helped design" the packaging branding and positioning of the product so you know it got plenty of 'Oooooohs!'. In a perfectly innocent pairing of Australian boutique spirits company (ASM) and indie start up, fresh-faced, nubile young things 'Lion Co. NZ' there is nary a worry you're getting the creme de la creme of vodka—times 6100.

Famous Vodka
If you thought that last brand was too tarnished by The Fame Monster, clamouring for cool points in a crowded industry, then look this way because 'Famous Vodka' is here to destroy the competition. Case in point: their signature 'Marshmellow Vodka'. What exactly is 'Marshmellow Vodka'? As they put it: "Like melted ice cream dripping off the end of your elbow. But in a vodka." Count ourselves down for getting sticky-icky-icky because a concoction like that could very well ruin an otherwise balanced lifestyle, and we are well-prepared to invest billions, nay, trillions into a brew that bewitching.
Pals!
As New Zealand's version of 'Friends', Pals may be sorely lacking in the punch of a Monica or the sting of a Chandler, but what it does pack is a tight crew of some serious summer flavours. Breathed into creation by the infamous influencers Anna and Jay Reeve (alongside heavy hitters Mat Croad and Nick Marshall), Pals! has fast become the RTD of choice amongst most humans. Now famous in beachside locals like The Mount, Pals is sure to show up amongst the stomping grounds of the youth this summer (you've been warned, Gisborne).
42 Below Vodka
What needs to be said about 42 Below, honestly? The OG of Kiwi vodka, 42 Below is certifiably the most world-famous vodka. But in a cruel twist to the global masses, it's only us Kiwis who know the true heavenly taste of Le Feijoa. Who doesn't remember a cheeky Feijoa Vodka and Pineapple at Galatos after work chucking ice-cubes off the balcony? (Okay most, and we are aging ourselves here). It is every New Zealander's duty, once the world is open again, to smuggle a bottle of sweet, sweet Fiona Feijoa into every country possible (minus the Americans because they can't have nice things).
Scapegrace Distillery
What kind of insane people go into business with their in-laws? Scapegrace Distillery to be exact. Daniel McLaughlin and Mark Neal, are on a mission to chuck a vodka into all our mouths. Originally starting out in the gin business, 'Scapegrace' (which is a play on 'scoundrel', 'tallywacker', all that stuff) has been slowly taking over the distillery scene. And in July 2020, the scamps unleashed a new vodka they claim is serving notes of 'Pavlova'. That's a mighty big swing to take in the NZ market, and it's sure to dominate if their gin is anything to go by. Why not knock up these memorable Scapegrace vodka recipes at home and impress all friends, passers-by and neighbourhood animals.
'Finery' from The Fine People
Noticing the alarming trend and resurgence of RTD's here? Gone are the days of chugging a Smirnoff Black in the car park behind The Viaduct. 'Finery' (from The Fine People) are here to prove that the 'ready-to-drink' days are back, minus the men's low-lights. Sporting fruity but light flavours like Vanilla and Elderflower, Lemon Myrtle, Lime and Black Tea, and Grapefruit, Cucumber and Mint, 'Finery' has fine-tuned their recipes to bring cocktail hour to the liquor store. In particular we've tasted the Ginger Green Tea, Honey, Mint and Lemon Vodka Soda and can attest it ratched up our class and sass to unbearable levels of showboating.
Haku Vodka
We'd write a haiku about Haku if they paid us in vodka, but alas, they don't. Nonetheless, Haku Vodka, a Japanese import is starting to make the rounds on the New Zealand Spirits scene. Their Suntory Haku vodka distilled from white rice and then blended and filtered through bamboo charcoal in Osaka, Japan—so checkmate, competition. If you only knew how much we wish everything was filtered through bamboo charcoal (okay fine, it's a small list... mainly fish).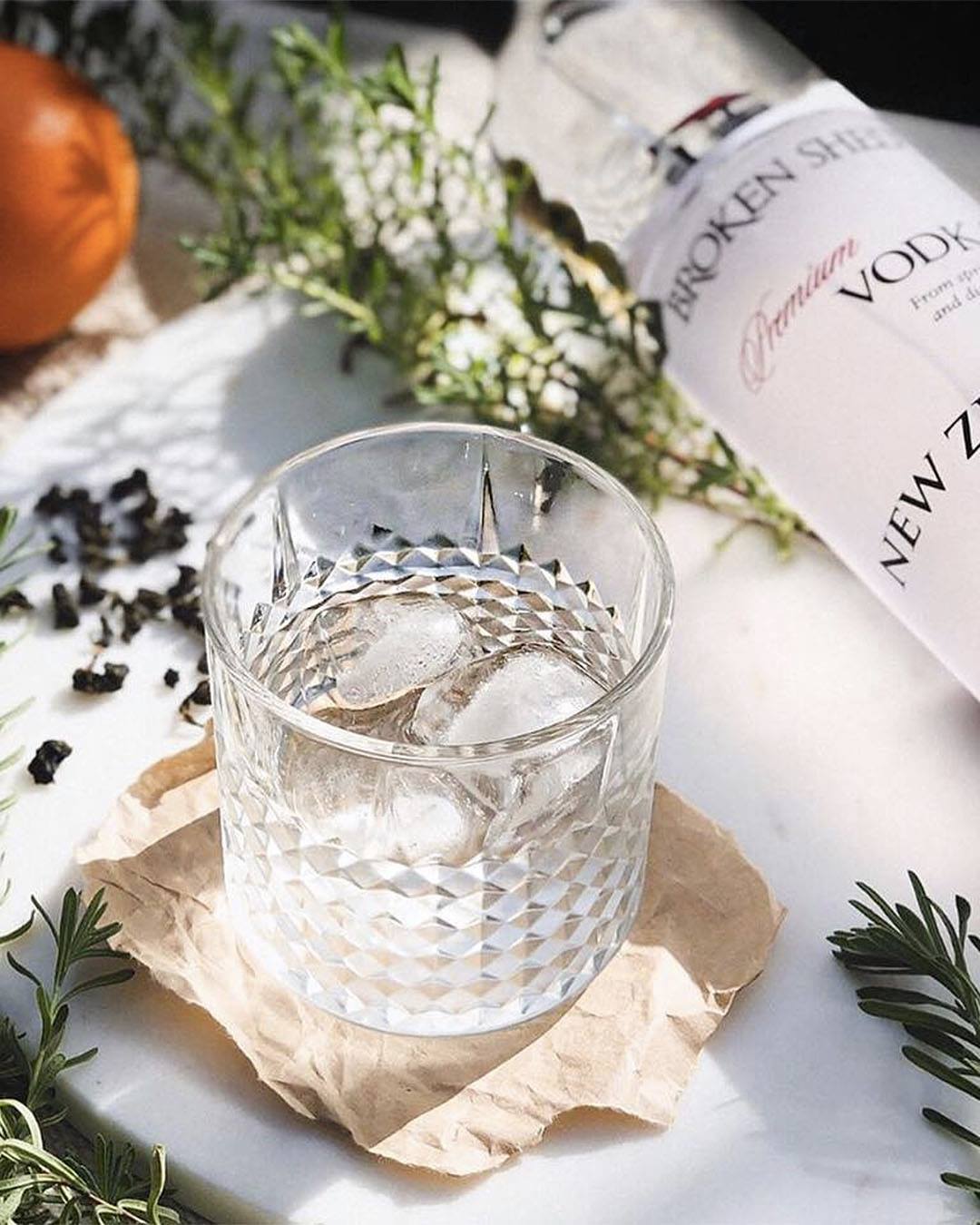 Broken Shed Vodka
Perhaps you're keen to try what Broken Shed Vodka has to offer. This Wanaka-based vodka company was founded when two Americans living in New Zealand, were sitting in a broken shed on the banks of Lake Wanaka, and dreamed of making the world's best vodka. As their slogan suggests, they want to "break free from additives and other compromising stuff". And that is just what they did. This premium NZ vodka has everything a vodka enthusiast could want. It's naturally smooth with the spring water from southern alps helping to create the perfect vodka. Plus, the beautiful bottle will look great in your kitchen. Get your sip on and set your spirit free.
Black Collar Distillery
Distilled in the heart of the Bay of Plenty, Black Collar Distillery is pumping out some of New Zealand's best, all from the tiny tummy of a singular copper pot named 'Frankie'. Over the years Black Collar has carved out a niche for themselves in the growing spirits industry. Not to say that labels are everything but we can still remember the sensual pull we felt as we floated toward the brutal, typography slewn bottle at our local bottle-o. 'Hipster', yes, but somehow science says it goes down smoother. Go on—look it up, we'll wait.
Cardrona Distillery
Deep in the Cardrona Valley in Queenstown, just south of Wanaka, distiller Desiree Whitaker has been perfecting the art of distillery thrillery and collecting that skrillah-ry. Having founded Cardrona Distillery in 2015, they've since become notable for perfecting a single malt vodka, 'The Reid', a rare success in the world of vodkering that elicits 'pear drops, toffee and biscuits' on the nose and palate to an insane flavoursome finish. Big yes.
If you're struggling to choose from the enticing list above, why not pop over to COVE 27 where they've curated a unique list of the best, independent small-batch producers, both local and imported. Here you'll find a vodka to tantalise every tastebud—from the newly initiated to the connoisseur. Delivery across New Zealand.
Is gin more your thing? Level up your G&T with New Zealand's 9 best artisanal gins.
Image credit: Mae Mu, Famous Vodka, Scapegrace, Broken Shed Vodka by Society Liquor