Leisha Rae makes up the sweet 1/2 of Bowl & Arrow with her bestie and partner in crime, Hannah Bryan. After meeting at a cafe Leisha was working at and bonding over the best bread for french toast, they realised they had the same career passions.
It was then in Bali, where they fell in love with smoothie bowls. Fast track an Instagram page that was tracking followers, and opening up their first store in Orakei, to now having opened three stores, and partnering with the likes of Uber Eats, Bees Up Top and more. We spoke to Leisha to find out what has happened since history started writing itself.
How did you start Bowl + Arrow, take us on the journey of how you came up with the idea?
Bowl and Arrow started as something to do while we found ourselves a 'proper job' and it has now become exactly that! After travelling to some of the world's most tropical and trendy countries - Bali, Hawaii, Australia, Brazil - we saw that smoothie bowls and Acai bowls were a super popular healthy breakfast, lunch and snack item and came back to NZ to find there was nothing here like it. So we opened up a little market stall and gained interest from some of the biggest players in the wellness industry, and a year later opened our first store in Orakei Bay Village. Our philosophy with Bowl and Arrow is to make healthy 'fast-food', and make it accessible for everyone - no scary ingredients you don't recognise, just delicious but healthy foods everyone will love. The only similar concept to us when we started B&A was Little Bird who we love, so its been cool to see the wellness industry grow so much in the time we have been in business, and especially to see younger people getting passionate about eating well!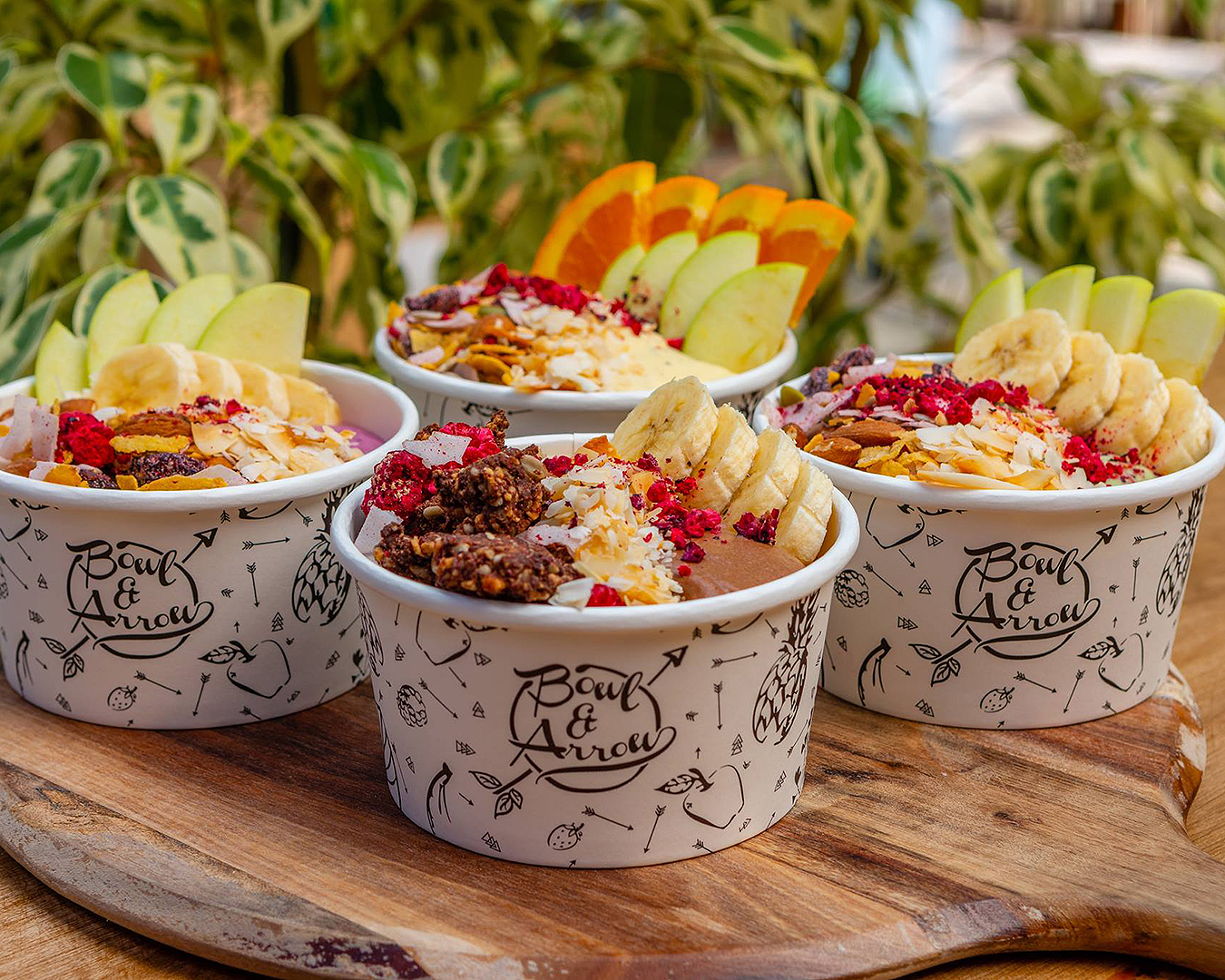 What has owning the business with your best friend taught you about yourself and your friendship?
When you start a business with someone that is either a friend or a family member, you definitely have to think about what strengths you will each bring to the table and if you will actually work well together in business—rather than just thinking that because you enjoy each other's company! It's definitely very full-on, and Hannah is more like a sister now than a friend because we have spent so much time together over the last few years, but the most important thing we learnt from the beginning is to keep work and play very separate. We decided to never flat together, and although we are socialising together all the time, we never talk about work and we know when we need to spend some time on our own!
What are some of the most exciting things you have achieved so far?
When I look back on the last five years, every milestone seems like such a great achievement. Opening each of our three stores has been such a process in itself and I feel so proud of how much we have learnt through that. You learn to negotiate leases, deal with suppliers, constantly troubleshoot problems, become a project manager for contractors and for design, all the while managing staff and your own work—but its so much fun! Personally I also love all the partnerships and events we've done and the people that we have been able to meet and work with through the business, I love connecting with other like-minded people and creating something amazing.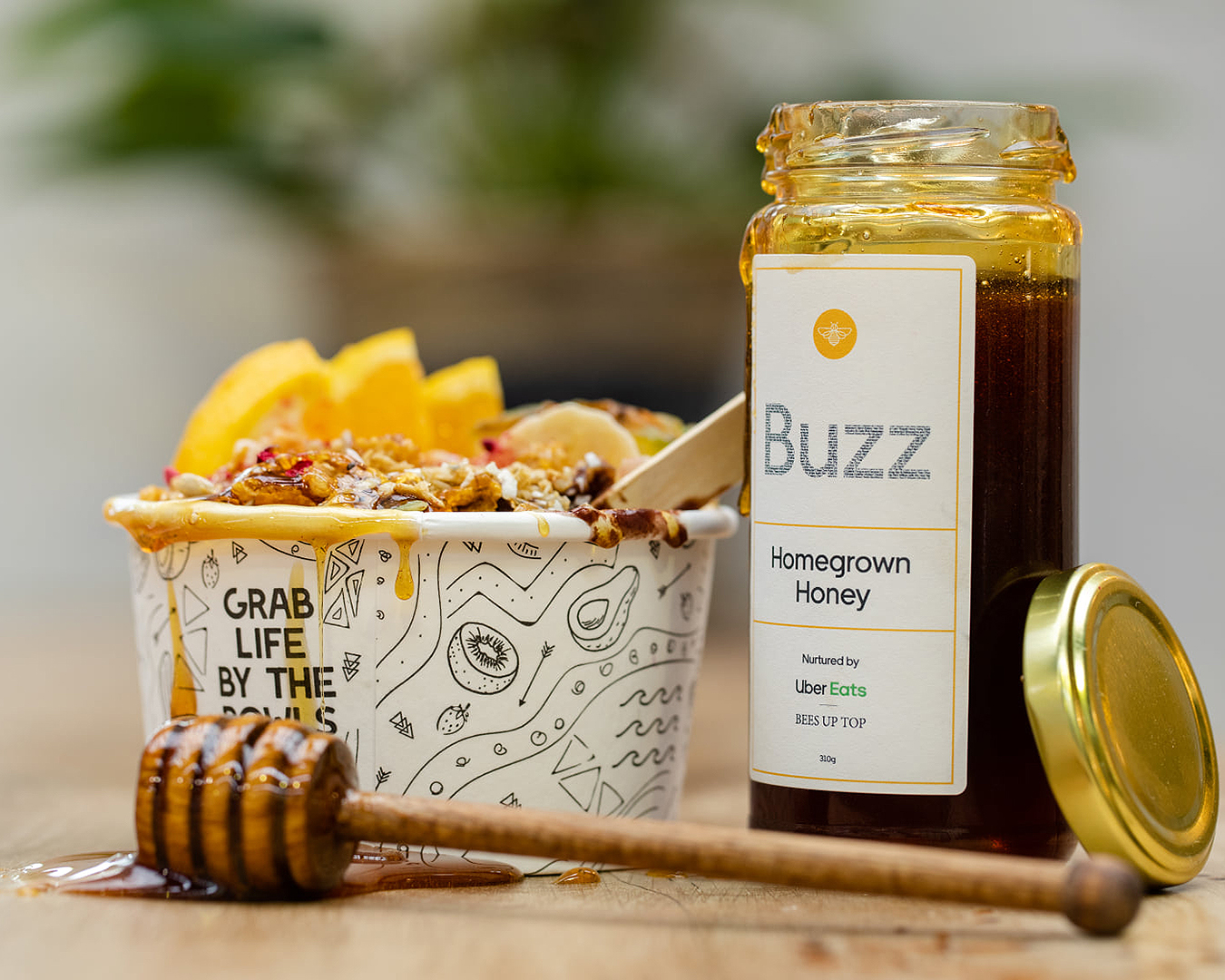 You worked with Uber Eats and Bees Up Top recently, tell us about this collab?
So I've become a beekeeper in the last couple of weeks… I have a beehive with (literally) 50,000 pet bees in my front yard. We are working with Bees Up Top to create more awareness about the decline in the bee population around the city. I never realised how important bees are—everything with a seed or a pip can only grow with the help of a bee so thats 1/3 of our foods… and pretty much every single ingredient that we use at Bowl and Arrow, so its pretty important to us. We have a delicious honey drizzled Acai bowl on our UberEats menu for a limited time, and you can do your bit and purchase a jar of the honey my little friends worked hard to make, which comes with a little pack of seedlings so you can plant a bee-buffet for Bee-yonce (that's my queen bee) and her workers to find in your garden.
What's next for Bowl + Arrow?
Excellent question.. not sure! The world is very uncertain at the moment, and we are just super grateful to have survived through the hard year that 2020 was, and to have had such incredible people—our team and customers—all supporting us so this year is about getting our stores to where we want them to be, planning some epic events and partnerships for our community to get involved in, and enjoying being back behind the blenders… and then maybe once things get a bit more grounded you might see a few more B&A's popping up! Watch this space…
We caught up with Jessie from Bees Up Top to learn more about how we can support our buzzy friends.
Image credit: Supplied, Bowl & Arrow