Summer is in full swing and what better time to break out of the confines of the city for a few days. Score a refreshing hit of nature and pitch a tent for a bit of peace and quiet. Camping allows us to get that good one-on-one time with our old friend Mother Nature and revel in all her grace, plus there's something really liberating about swimming in a river and calling it a bath. In the pursuit of serenity, we've found some of the best camping spots in and around Wellington.
Whether you're a tent-pitcher or glamping-only type, there's something for you, so without further ado, check out these epic Wellington camp grounds.
Catchpool Valley
Orongorongo Valley
If the idea of no phone reception for a weekend makes you want to cry, stop reading now. If you can pry yourself from civilisation for a few days, the remote and scenic Catchpool valley campsite provides the peace we've all been searching for. Just a short drive from the city, you'll find yourself in the Rimutaka forest park surrounded by nature—the birdlife is abundant, the rivers are flowing nearby, and there are a number of great bushwalks close by too. There's everything here you need to make your stay comfortable including free gas BBQ's, flush toilets, and hot showers. The best part—as long as they're on a leash, your doggo can join in on the fam camping trip too.

Lake Ferry
Lake Ōnoke
Another of Wellington's best camping spots is Lake Ferry, which looks like every picture-perfect camping holiday we've ever seen. The cute-as-a-button cabins, the driftwood scattered beach and a perfect spot for a couple of camp chairs in the sunset. Load up the car with some good company, some good food, a chilly bin full of coldies and head out to spend a couple of long balmy evenings in a place that's definitely our idea of a great Kiwi summer. It might even be the start of a summer tradition. Lake Ferry Holiday Park is located an hour and a half out of Wellington on the coast of Palliser Bay, and if you're looking for things to do during your stay, Cape Palliser lighthouse isn't too far away and is definitely worth a visit too.
Battle Hill
Battle Hill Farm Forest Park
This one's for those campers keen to get immersed in nature. Without power, you'll have an uninterrupted date with mother nature. No sirens, no traffic, just you, the birdsongs and the trickle of the stream running nearby. It really doesn't get much calmer than that. Don't worry you won't have to go full-on camper—there is drinking water and flush toilets on-site and as it's a DOC campsite, the $8 per person a night price tag is a steal. Battle Hill has wide-open spaces and plenty of room for you to pitch a tent or two for yourself and your friends. We recommend making a makeshift rock pool in the stream to keep you (and your drinks) cold. Shake the dust off the gas BBQ that's been in the back of the garage for years, spark it up and get those sausies sizzlin'.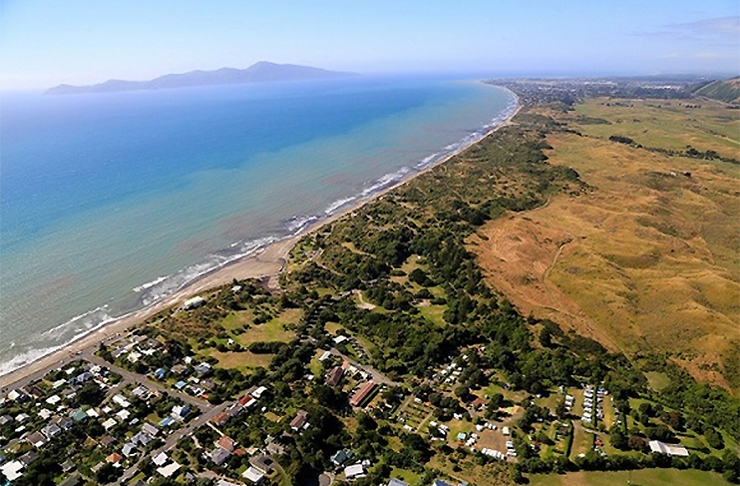 Paekakariki Holiday Park
Paekakariki
The sheer hills of Paekakariki are something to be marvelled at on the drive in and out of Wellington. Spend your weekend nestled below them just moments from the beach at Paekakariki Holiday Park. If you don't fancy facing the tent life they've got cabins for hire—bunk beds and nostalgia included. Oh, and just to relive that childhood a little more, they've got one of those jumping pillows we all used to be obsessed with. The kitchenette means you won't have to pack the barbie, you can even opt for a weekend of full relaxation and visit one of the small eateries close by. One of the best camping spots in Wellington, why not make the most of what the coast has to offer and take on the fantastic and popular Paekakariki embarkment walk, where you'll find yourself high above sea level and at one point, suspended on a swing bridge.
Kaitoke Forest
Pakuratahi River
Round up the crew and drive only 40 minutes from the city where you'll find yourself amongst the lush greens of Kaitoke Forest. You may feel as though you're far off the beaten track but with BBQ and toilet facilities, power sockets and covered seating, you'll be set up for days of easy as summertime living. With a generous amount of space, pitch your tent in the shade for an afternoon nap after a full day's work relaxing by the river. Fires are permitted on the river bed and we can hear the sizzle of smores are calling our name. Top Tip: Don't forget the mosquito spray, you may need it.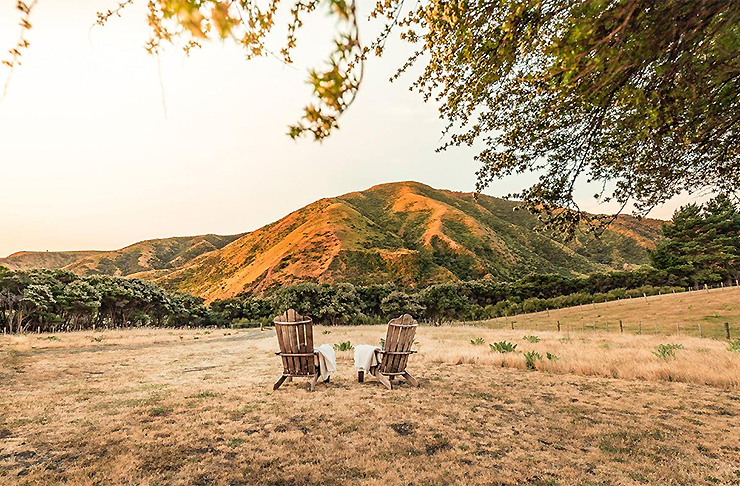 Kawakawa Station
Cape Palliser, South Wairarapa
If airbeds, tinned food, tents and camp chairs are not your idea of a good time, glamping definitely will be. A mere two-hour drive from the city will take you to one of Wellington's finest camping spots—Kawakawa Station—where you'll find the glamping set up of your dreams. Think a beautiful bell tent, a hammock to laze the day away in, and a secluded, candle-lit outdoor bath with views of the surrounding hills and bush. Light pollution here is non-existent, so the stargazing will take your breath away—it's the perfect weekend getaway with the loved one in your life. The popular Putangirua Pinnacles walk is only a short drive away, and if you're wanting your wildlife fix whilst you're out of the city, close by is Ngawi, home to a fur seal colony year-round.
Matiu/ Somes Island
Wellington Central
Ever wondered what happens on that island in the middle of the harbour? Ever wondered if you can go over to it? Sure can, and you can sleep there too. One of the most untouched camping spots on our list, pitch your tent between the old buildings in the open space sheep paddock on the island and take in the views of the city whilst being so distant from its bustling streets. There will be no packing the car up for this trip, pack a big backpack instead and take the ferry over for a unique camping experience. Somes Island is a scientific, historic and predator-free reserve so do the Kiwi thing, be tidy and protect what we've got.
Corner creek
REmutaka Forest Park
Waking up just moments from the beach without any surrounding civilisation really is camping off the beaten track at Corner Creek. Find a friend with a 4x4 or plan to go when the weather's been fine as the road crosses a few river mouths on the way over. The isolation is what makes this place so wonderful and is definitely worthy of closing out our list of Wellington's best camping grounds. The small and scattered spaces to pitch your tent means you'll have your own little oasis by the beach. We say take ingredients for a cheese board and make use of the covered picnic table, where you can snack and chat till the sun goes down. We're sorry to tell you there is one downside. Yep, we're talking long drop toilets, sorry. But if that doesn't scare you off, you'll be in for a fantastic weekend of peaceful camping at the beach.
Can't get enough of the outdoors? Check out our guide to Wellington's best walks and hikes.
Image credit: Camping in Wairapara by New Zealand Transition, Lake Ferry, Paekakariki Holiday Park, Kawakawa Station