There's a lot to envy about the Nordic folk. Top World happiness rankings, cutting-edge design, and ridiculous good looks—it seems they've got it all. Add cinnamon buns or Känelbullar as they're formally known into the mix, and point proven.
In a love letter to what might be their greatest export, we've collated Auckland's finest cinnamon buns including this new store. Get ready for the sticky fingers, doughy bellies and warm fuzzies, as you eat your way through our list of Auckland's best cinnamon buns.
Hill House Cafe
Manurewa
What could be better than a peaceful stroll around a beautiful heritage home? Having a cinnamon bun in tow, that's what. At Manurewa's Nathan Homestead, you can do just that in the company of what can only be described as Auckland's most delicious and gooey cinnamon buns—or cinnabuns as they call them here at their resident Hill House Cafe. Like the much loved American-style buns, these ones are baked together to form a gooey pull-apart, are cascading with cream cheese frosting and then topped up with a heap of chopped nuts. Hell yes.
Got Baked Good
Various Markets & Online
North Shore darling Got Baked Good takes everything we thought we knew and loved about these treats and absolutely turned that on its head with their fully loaded buns. And when we say loaded, we mean heaping buns with every (delicious) flavour known to man including, but not restricted to blueberry, snickers, Nutella smores, PB&J, Maltesers and our fave, cinnamisu, if you can't decide, a box of six will do ya, and be sure to include the classic cinnamon as those are the bomb. With flavours changing on a regular basis the bun you loved last time may not be available the next time, but you know that whatever replaces it will be absolutely next level. Score.
Lot Nineteen
Onehunga
Lot Nineteen's legendary cinnamon rolls have been declared the tastiest in the land by many a cinny fan. Gloriously fluffy and slathered in glossy frosting, we wish we could smoosh our faces with one of these every day (sadly, they are only available Wednesday through Saturday). Furthermore, Biscoff and cookies-and-cream versions have been known to make the menu (gasp), while an assortment of other treats—think brownies, pepperoni rolls, and almond and raspberry croissants—and of course, coffee, are also available from this itsy bitsy trailer on Church Street.
Butter Baby
Various Markets & Online
Pastry Chef Matilda Lee's Butter Baby burst onto the baking scene in June 2021 with her range of incredibly delicious treats from West Auckland. Not least of these are her hugely popular cinny buns. Light, fluffy and moreishly decadent, we challenge you to stop at just one. Her original cinnamon bun is topped off with a super smooth vanilla cream cheese frosting that is just the right amount of sweet but the pink bun and *gasp* apple cinny are also up there in terms of blow-you-away delight. Run, don't walk.
CinnfullyNZ
Grafton + Online
Scandi-style buns may have been the originals in the bun craze, however, American-style buns are the icing on top of it. Literally. CinnfullyNZ (formerly Cinfully Delicious) cinnamon buns are coated in lashings of sour-cream frosting that'll have your mouth watering from the first bite. Underneath, you'll find perfect spirals of dough, caramelised with sticky and cinnamony goodness. Each and every bun is made lovingly by a family of American ex-pats, so you bet your bottom dollar that these buns are the real deal. Pay a visit to their brick-and-mortar store in Grafton and prepare to take your taste buds straight to the US of A.
Scandibunz
Various Markets And Online
With a Swedish ex-pat at the helm, you can bet your bottom dollar that Scandibunz makes the Swedish bee's knees of cinnamon buns. So much so that they are, without a doubt, some of the absolute best cinnamon buns in Auckland. Sink your teeth into their traditional cinnamon bun or take things up a notch and indulge in a saffron marzipan bun, complete with a decadent almond paste surprise in the centre. The fun doesn't stop there, coffee caramel, lemon blueberry and gooey chocolate all make appearances. Catch them at local markets, at a select few Auckland cafes—but get in quick, they sell out in a snap. And then there's our favourite—online delivery. Buns to your doorstep? Yes, please.
Messy Kitchen Bakes
Online
This new kid on the block, Auckland baker Amaya Jane has amassed a legion of loyal followers since starting her online baking business Messy Kitchen Bakes at the tail end of 2020. Specialising in, of course, cinnamon buns, or scrolls as she calls them, you'll find a stack of savoury options amongst their drool-worthy offerings (we're looking at you chorizo and mozzarella) as well as vegan choices. With flavours changing on the reg look out for the strawberries and cream, Marmite and Cheese and the vegan-friendly blueberry custard.
Bunzanza
Online
A bang-on bun-to-icing ratio makes a good cinnamon bun. So when we got an eyeful of Bunanza's generously-frosted goodies, we couldn't keep our jaws off the floor. A dozen box from Bunanza will treat you to three kinds of spins on the doughy staple: orange cream cheese, browned butter with salted almonds and classic vanilla. Consider it a sticky, doughy, delicious degustation in the comfort of your own home.
Amano
Britomart
Among Amano's luscious cabinets and shelves of baked goodies, you'll find some of Auckland's best cinnamon buns. Grab a buddy, a bun, a warm brew, a spot in Amano's rustic dining area and you've got the making for a perfect little Fika. Not just any way of enjoying a coffee date, Fika is the Swedish urban ritual of taking time out to enjoy good conversation, coffee and a sweet treat (cinnamon bun is the go-to, of course) and all of the cosy vibes that follow suit. Our pro tip? Ask the kind stuff for the buns to be gently warmed, and brace yourself for next-level comfort snacking.
The Pie Piper & Doornuts
Karangahape Road & Mission Bay
Trust us when we say that Pie Piper's cinnamon buns are out-of-this-world delicious. We're talking impossibly doughy pastry, gooey cinnamon filling, all swirled up in generously sized buns. The decadence doesn't stop there, in fact, you're spoilt for choice when it comes to variations on this classic. Choose between chocolate chip-filled buns, ones topped with caramelised pecans or stick to good old vanilla glazed (with lashings of the sugary stuff).
Vondel
Devonport
Dough lovers of Devonport, did you know that some of the best cinnamon buns in Auckland are on your very doorstep? Scandi-style buns, to be precise, and you'll find them in Vondel's wonderful cabinet of edible curiosities. Baked fresh daily, these buns are glorious knots of dough, filled with layer upon layer of sticky cinnamon sugar and then sprinkled with pearl sugar. The result? A textural journey for your tastebuds at each and every bite.
Hare And The Turtle
New Windsor
Hare and the Turtle know how to do comfort food. That's a fact. From their decadently doughy sandwiches through to their wholesome brunch food, they've got our carb cravings covered. The range doesn't stop at their savoury offerings, because let us tell you, their sweet treats are every bit as moreish and decadent too. The stars of their treat cabinet are of course their cinnamon buns—they're golden, doughy, sweet, lightly glazed, and spiralled to perfection. They're the perfect addition to a morning coffee, or as a sweet accompaniment to their legendary sammies but you'd better get in quick—they sell out fast.
Daily Bread
Point Chev, Newmarket, CBD, Ponsonby, Belmont
If you needed another reason to fall in love with Point Chevalier, Newmarket, CBD, Ponsonby and The North Shore's darling bakery, Daily Bread, then their cinnamon buns are it. Not just any old buns, the ones you'll find here boast cardamom alongside the usual spice subjects as a key ingredient. The result? An ultra delicious bun simply bursting with flavour and complexity, as well as a healthy amount of deliciousness thrown into the mix. If that hasn't convinced you to throw a couple into your order during your weekend baking run, then quite frankly, we don't know what will.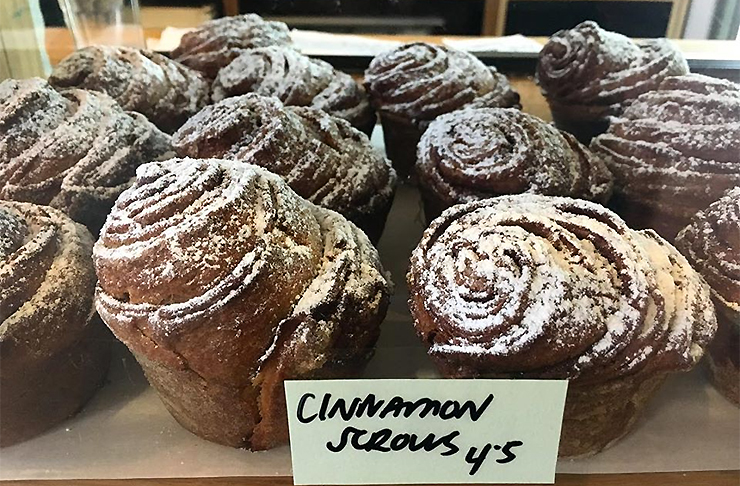 Bestie Cafe
Karangahape Road
We can always count on Bestie to have our belly's best interests at heart. Naturally, cinnamon buns count as part of the equation. Trust us when we say that their buns are the stuff dreams are made of and are easily some of Auckland's best cinnamon buns. They're crafted from layer upon exquisite layer of pastry, all rolled to perfection and lightly dusted in a veil of powdered sugar. To top it all off, the filling and edges are oh so perfectly caramelised, making devouring one of these bad boys an absolute sensory journey.
Ozone
Grey Lynn
Not only is Ozone one of the best places in Auckland to get your hands on great brews and brunches, but it's also home to some of Auckland's best cinnamon buns. Next time you pop into their Grey Lynn cafe, take yourself up to the treat counter and set your sights on their impressive buns. Doughy, delicious and absolutely massive, these are easily the biggest and baddest buns known to Aucklanders. Whether you're simply popping in for a grab-and-go cup of coffee, or settling in for a weekend brunch, their cinnamon buns will be the perfect addition.
Honourable Mention: Safka
Take the cosiness and warm fuzzies that come with enjoying cinnamon buns up a notch, and snack on them in the comfiest place of all: your very own home. We're not talking about simply taking them home to dig into alongside your favourite homebrew, we're talking about baking the buns yourself. Swing by Pitt Street's Safka and peruse the freezer section, you might get lucky to come across a pack of frozen buns to take home. Better yet, keep an eye out on their website to see if there are any buns lurking there—we've got our fingers crossed for you. Handpicked from Europe by the Finnish folk at the helm of this boutique, you can rest assured that these buns are the real deal. Simply pop them in your oven, and get ready for fresh, doughy bun goodness—and the smell of cinnamon taking over your house. That's right, the best cinnamon buns in Auckland may just come out of your oven.
Pick up a coffee from one of the best coffee houses in Auckland and complete the luxe experience.
Image credit: Got Baked Good, Hill House Cafe, Got Baked Good, Butter Baby, Scandibunz, Messy Kitchen Bakes, Bunzana, Pie Piper & Doornuts, Hare And The Turtle, Bestie Cafe.