Could Devonport be Auckland's most charming suburb? Its old-fashioned villas, picturesque gardens and character buildings are straight out of a storybook, while it also happens to be located right beside the sea and beneath the watchful eye of not one, but two volcanic mountains. Add to that a slew of boutique shops, eateries, and other things to see and do (plus the fact it's a mere ten-minute ferry trip from the CBD), and we reckon it's not only a contender for Auckland's most charming suburb—but its best. Here's the lowdown on the best restaurants and cafes, bars, things to do and shops in the small but mighty village of Devonport.
Devonport's Best Restaurants And Cafes
Dulcie
King Edward Parade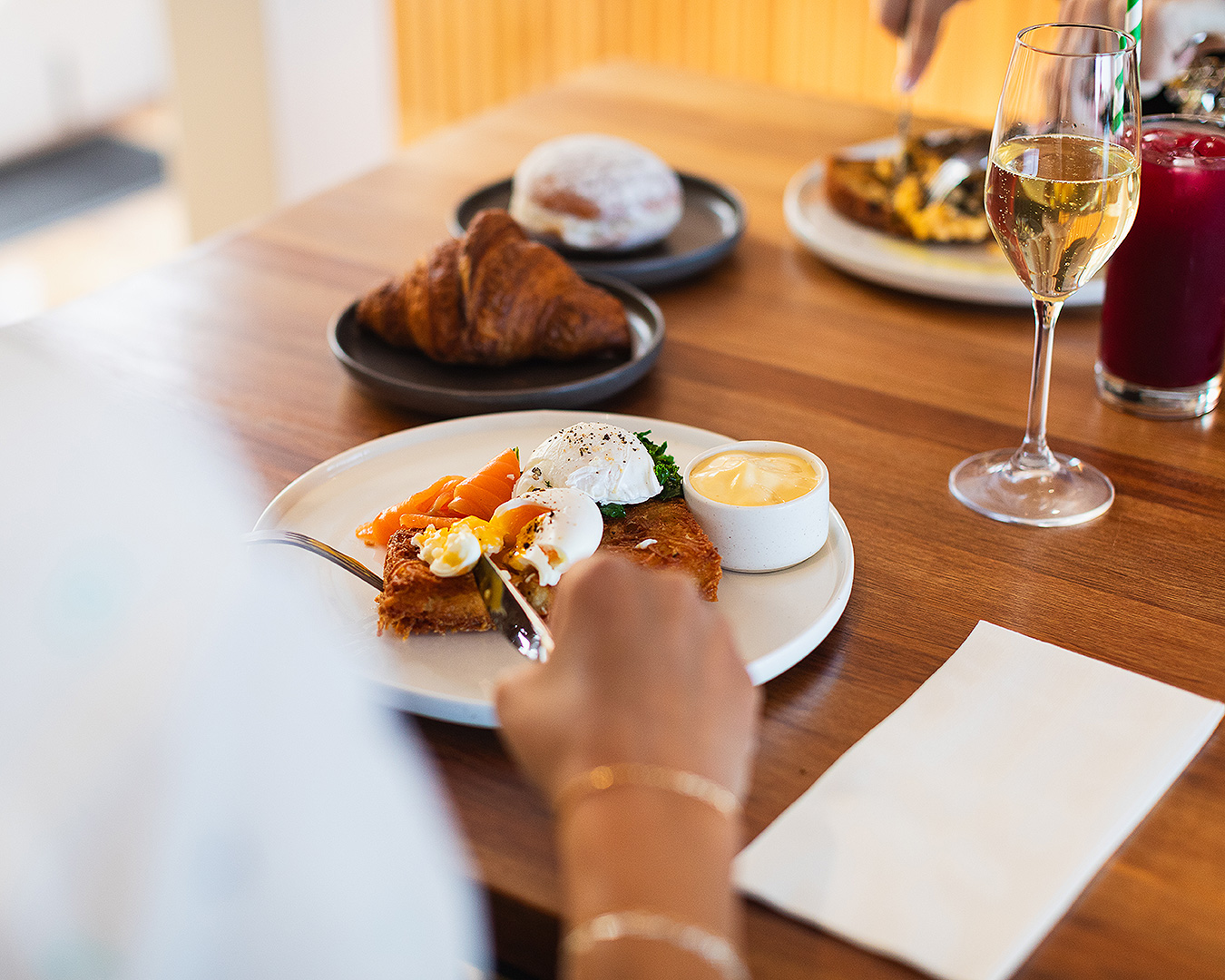 Elevated daytime dining meets sprawling harbourside views at Devonport's new darling, Dulcie. You don't know scrambled eggs until you've had their version, topped with Canterbury truffle shavings or perhaps Saag-style creamy spinach and curry leaf—all on top of Daily Bread sourdough. Which, might we add, you'll find their pastries and doughnuts at Dulcie's pastry counter. More of a sweet tooth? They make—hands down—the most pillowy stack of pancakes that absorb the blueberry compote and whipped coconut like it's nobody's business. The cherry on top? There's a neat little wine list to enjoy, because let's face it, a glass of bubbles in hand is a must when staring out over the Waitematā Harbour.
Danryu
Victoria Road
If you're a lover of all things seafood then add Danryu to the top of your must-eat list. Translating to warm current in Japanese, this Devonport-based eatery specialises in Japanese Seafood—think fresh sashimi, oysters, nigiri sushi and heaps more.
Signal Hill
Victoria Road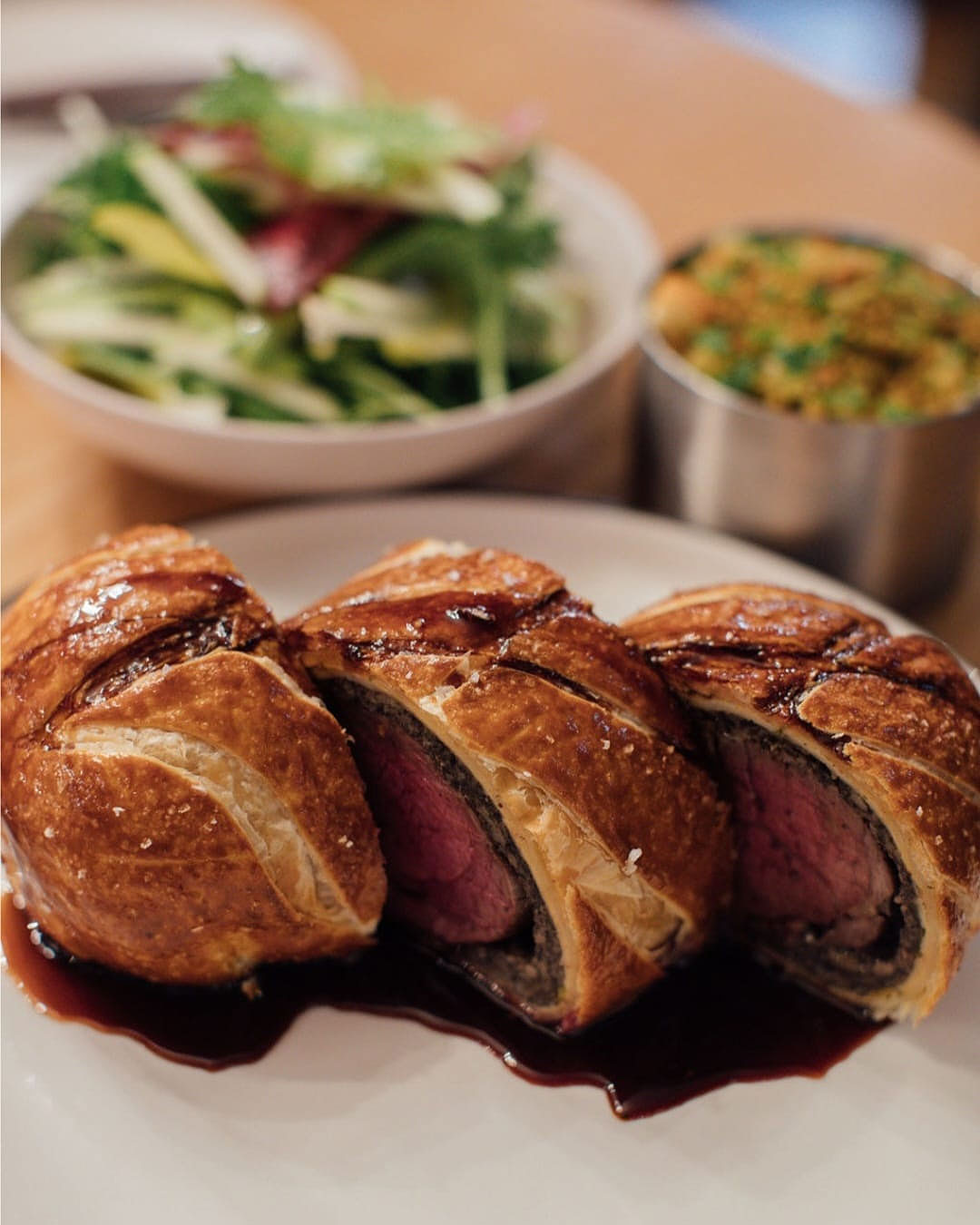 Great food and wine come together at Signal Hill, which is located inside Devonport's oldest existing house and one of the area's most-loved landmarks (pretty cool, no?). It's as steeped in deliciousness as it is history, dishing up everything from oysters and edamame to charcuterie boards and churros.
Vic Road Kitchen
Victoria Road
Known for its excellent service and high-quality eats and drinks, Vic Road Kitchen should definitely be on your Devonport to-do list. The talented chefs change up the menu on the reg, but expect the likes of whole wood-roasted flounder, squid ink spaghetti, and wood-fired green-lipped mussels. Yum.
Lily Eatery
Wynyard Street
Tucked down a tiny side street you'll find Lily Eatery, a charming café that's taken up residence inside an old brick merchant's warehouse. And it's not just the setting that has us seeing hearts, there's Eighthirty coffee, killer sweets and sammies, and a seriously good brunch offering (we like the house crumpets with honeycomb, mascarpone, bacon jam, and prosciutto).
The Kestrel
Queens Parade
If you like the sound of traditional pub food served with a side of absolutely stellar views, make a beeline for The Kestrel. With a banging atmosphere, great wine list and a range of craft beers you'll enjoy pulling up a pew inside the historic Devonport ferry terminal.
Devon On The Wharf
Queens Parade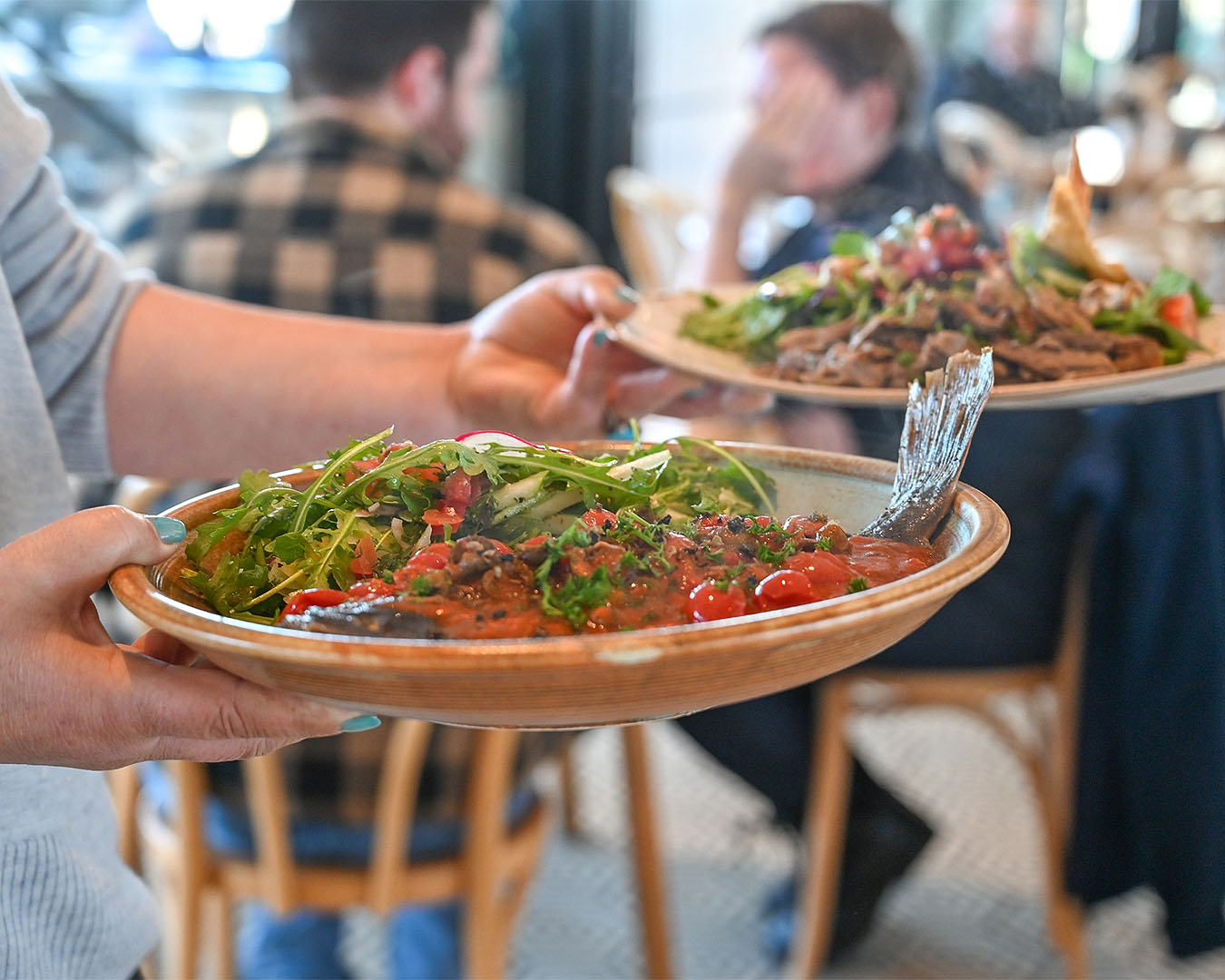 Located right on the Devonport waterfront, Devon On The Wharf is held in high regard by locals. The modern atmosphere and beautifully presented dishes make for a great spot to eat out. Head here for brekkie or dinner, you won't be disappointed. We recommend the halloumi chips with apricot honey sauce... they have a special place in our heart.
Devonport Gelato
Victoria Road
Scooping up some of the area's best treats is Devonport Gelato, which you'll find at The Vic cinema (more on that later). Their choc tops are indeed tops, but there's more icy cold goodness to be had than that and it's gelato in flavours like cherries and cream, cappuccino, Italian choc chip, tiramisu, and pistachio. Heavenly.
Corellis
Victoria Road
Here you will find a down-to-earth, vibrant atmosphere and the best cheesecake (and carrot cake) ever made. Seriously. From food served on delightfully cool homemade pottery, to cheerful service, everyone loves Corellis.
Chateaubriant French Cafe And Deli
Vauxhall Road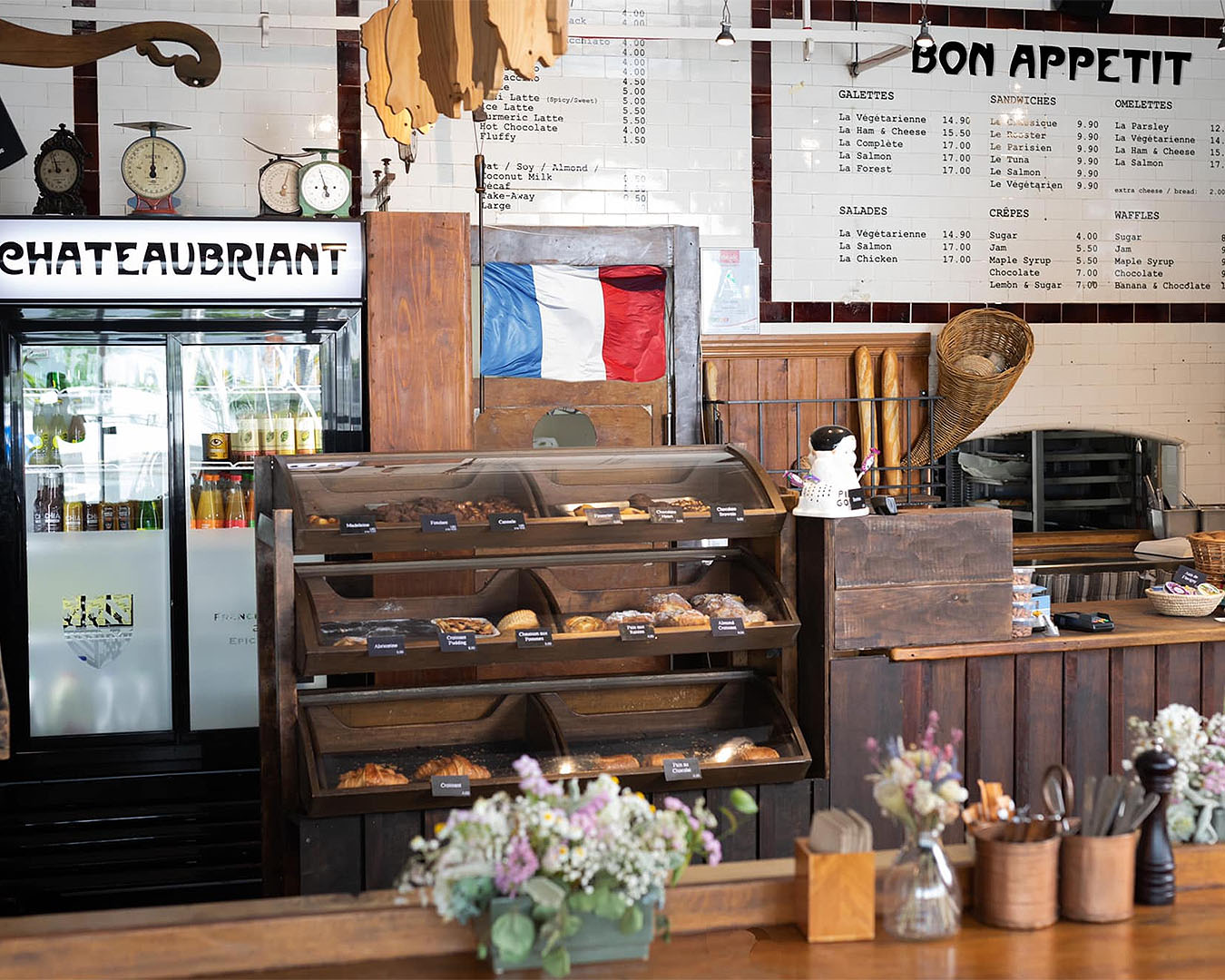 The elegance of its name tells you all you need to know about this spot. Here, you'll find mouth-wateringly good pastries and the most delish eats, because #treatyourself. You haven't been to Devonport if you haven't tested out what the Chateaubriant French Café has to offer.
Nicolino Restaurant
Victoria Road
A hidden gem in Devonport, Nicolino Restaurant is where you'll find the most indulgent pasta dishes and moreish sauces. From the tortellini to the mussels, we're big fans. It's also a hot spot for a fun night, so, sign your name on the wall alongside the hundreds of others or get up and dance on a live music night.
Cafe Hung Viet
Victoria Road
Feelin' like Asian fusion? Not a problem, Cafe Hung Viet has you sorted. Get your deserving tummies some mouthwatering Vietnamese eats at Hung Viet. We recommend the fresh spring rolls.
Devonport's Best Bars
Vic Road Wine Bar
Victoria Road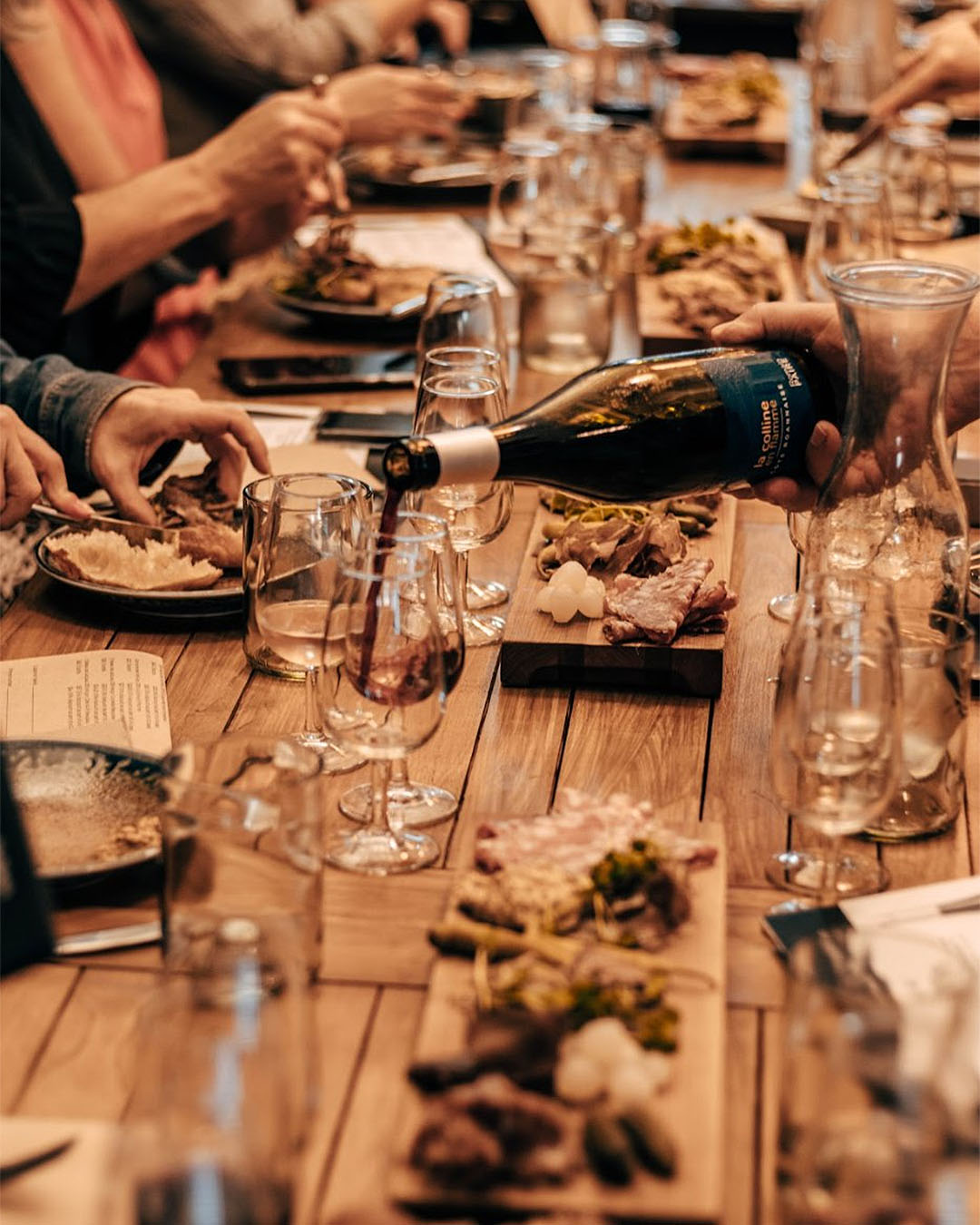 Also from the owners of Vic Road Kitchen comes the newly-opened Vic Road Wine Bar—an old-school shoe shop that's been transformed into a stylish bar where you can get amongst an ever-changing array of wines and tapas. Keep the party going by buying a bottle of wine to take home.
Vondel
Victoria Road
Vondel is one of the hippest and happenin' places in Devonport. The sun favours this courtyard so it acts as the perfect spot to touch up your tan. Soak up those rays and sip on a glass of sangria. Yes, please.
Esplanade Hotel
Victoria Road
The vintage vibe of the Esplanade Hotel is what Devonport's all about. This bar is the go-to joint for happy hour, although we are a firm believer in wine-o-clock being every hour after 5 pm. Watch the Devonport scene pass by from a table outside and sip on your choice of bevvy, ah heaven. If it's a bit nippy, grab a blanket or cosy up to the outside fire.
The Best Things To Do In Devonport
Catch A Film At The Vic
This seaside 'burb has the oldest theatre in the Southern Hemisphere. Yup, you read that correctly. The Vic movie theatre has been around for a longgg time and its vintage look makes for a super cute date night. Keep the nostalgia vibes going with a choc top from Devonport Scoops, located onsite.
Jump Off The Wharf
Adrenaline junkies, this one's for you. Join Devonport's youth at Stanley Bay Wharf where, during the right hours, you can jump off the wharf right into the ocean. Fun and free = a go-to activity in Devonport on a sunny day.
Explore The Local Mountains
Feel like getting some exercise in? Head to North Head and explore the dark tunnels (be sure to bring your s/o for support) or check out Mount Victoria. If you wanna soak up all that true Devonport spirit, bring some fish 'n' chips with you and have a picnic.
Take A Magic Broomstick Segway Tour
Sadly, magic broomsticks don't really exist, so surely the next best thing for zipping around Devonport is a segway? Enter Magic Broomstick segway tours, which will see you effortlessly gliding around the pretty seaside township—and yes, that includes its volcanoes—on two wheels, whilst learning more about its fascinating history along the way.
Sightsee With Bikes And Beyond
Prefer to get around town by bike? Then let the team at Bikes And Beyond sort you out. They offer a range of self-guided e-bike and mountain bike experiences throughout Devonport. Choose from a leisurely cruise around the area's beaches or a climb up its two legendary volcanoes, amongst other offerings.
The Best Shops In Devonport
Miller Road Fragrances
Queens Parade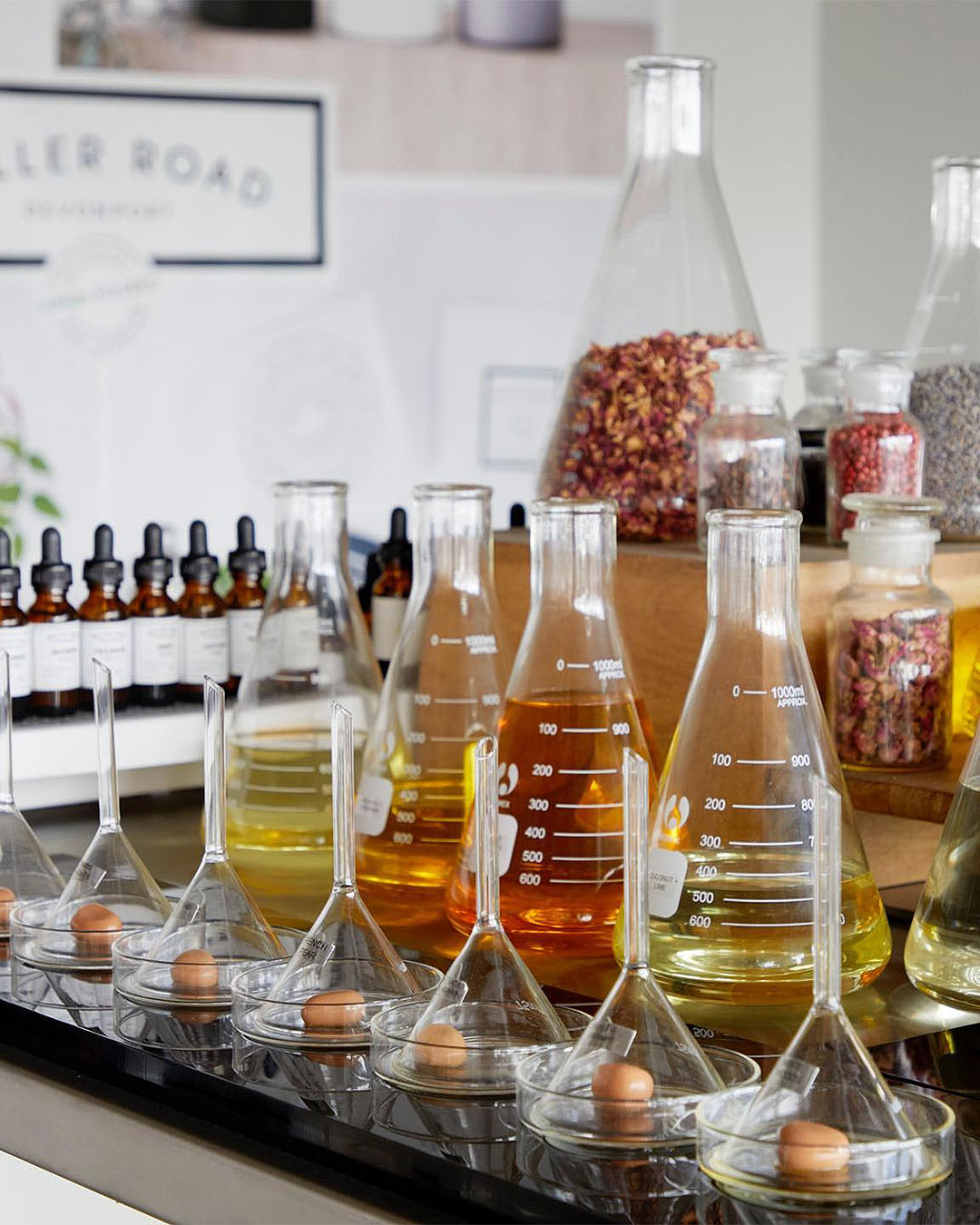 Prepare to be intoxicated, in the best possible way, by Miller Road Fragrances. This gorgeous boutique, which also has a sister store in Queenstown, is where you'll find hand-poured coconut and soy candles, aroma stones, pillow mists, and more. You can even create your very own bespoke fragrance at one of their popular perfume-making workshops.
Fitzgerald Taylor
Queens Parade
If you appreciate stylish stationery, then have we got the shop for you. Fitzgerald Taylor is a treasure trove for all things writing-related, whether it's calligraphy you're into, journalling, or sending letters with embossed wax seals (it's what all the cool kids are doing). You'll know you're in the right place by their noteworthy window displays, which change on the reg and are always a talking point.
Cosi Fan Tutte
Victoria Road
Easily the cutest shop in the village, Cosi Fan Tutte is where you can find vintage pieces that are completely unique. From clothes to beautifully designed cards, exploring this store is utterly dreamy.
Devonport Chocolates
Wynyard Street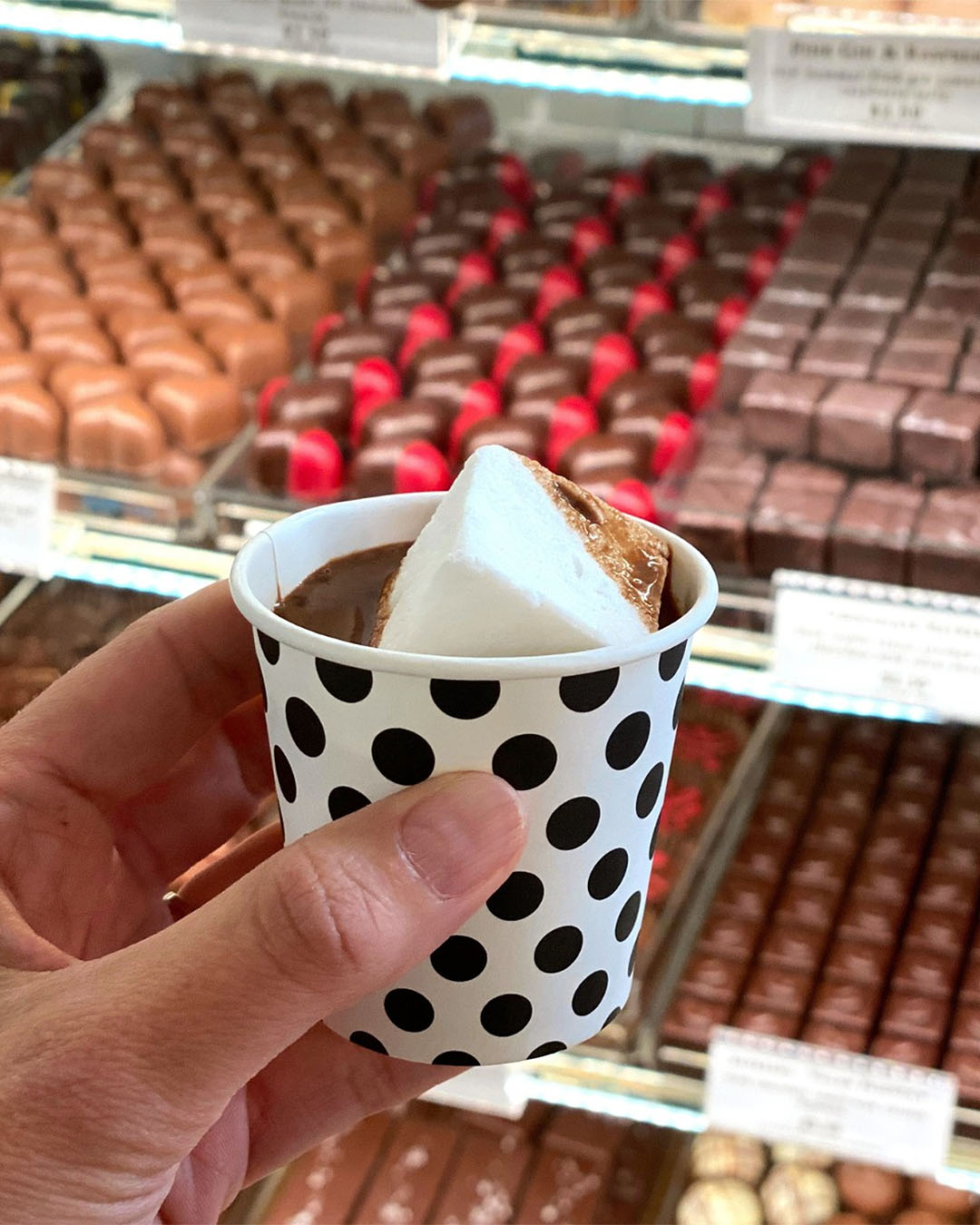 You haven't properly experienced Devonport until you've visited Devonport Chocolates. This boutique chocolate shop stocks luxurious chocolate treats, that are made right in-store. Grab yourself some chocolate pieces to go and of course, try out the tester chocolate of the day to tide you over.
Sills + Co
Clarence Street
Sills + Co is one of our fave spots in Devonport to splurge. Home to fashion labels Caroline Sills and Sills, you'll find no shortage of fashionable goodies to top up your wardrobe, along with carefully curated accessories, homewares, and even plants.
Toti
Victoria Road
Looking to update your jewellery collection? Head to Devonport's Toti and check out their stunning range. Known for its unique pieces, you'll also find some rather cool ceramics and art. Hand-sourced from Turkey and other spots around the globe, you're guaranteed originality and beauty with every purchase.
Get the lowdown on what we thought of Vic Road Wine Bar & Cellar.
Image credit: Veronka & Cia, Signal Hill, Lily Eatery, Devon On The Wharf, Chateaubriant French Cafe And Deli, Vic Road Wine Bar, Auckland Council, Miller Road Fragrances, Devonport Chocolates.