Ahhh toast, the humble food that just keeps on giving. It's the perfect brekkie companion, a great lunch option and even makes for a crackin' dinner too.
When it comes to comfort food you simply cannot go wrong with a good old slice of toast and one eatery that is going against the grain (excuse the pun) and proving that anything is possible when it comes to our fave carb is Fluff Cafe, a cute spot that is serving up the fluffiest bread in town.
Partners Kayla Nong and Michael Nguyen have created a toast empire that's nestled onto Khyber Pass Road, which was born out of a passion for whipping up soft, squishy bread. Now the sweet spot may be small, but don't let that fool you, the food is anything but.
Move over sourdough, there's a new bread around and we're not talking about your average spread on toast, no siree! We're talking about some boujee mouth-watering creations that'll make you go mmmm.
The menu features some of our fave Kiwi brunch classics, mixed with some Asian-fusion inspired flavours all dished up on a thick fluffy slice of toast (wholemeal, vegan and gluten-free options available.) They've got everything from smashed avo, slow-cooked pork, crumbed mushroom and even a granola version.
If your taste buds are on team savoury, then the Chick Flick will hit the spot—fried chicken, sriracha mayo, radish, fried basil and microgreens all served on a seriously soft gluten-free slice. If chook ain't your thing, then sink your teeth into the Gogi— we're talking about Korean bulgogi beef, kimchi, mixed slaw, candied sesame with fluffy bread. Get in our bellies.
You can't go wrong with the ol' classic eggs bene with smashed avo on (you guessed it) fluffy toast, with your choice of bacon, salmon or crumbed mushroom. We opted for the bacon and boy it didn't disappoint—it was thick, juicy and gave us our much-needed salty fix.
If you're looking for a bangin' vegan option, then listen up! Wrap your chops around the Shroom – a completely vegan dish that'll have you pining for more with every mouthful. Think crumbed mushroom, vegan garlic aioli, candied pumpkin seeds, oregano and sliced chilli to add a little kick.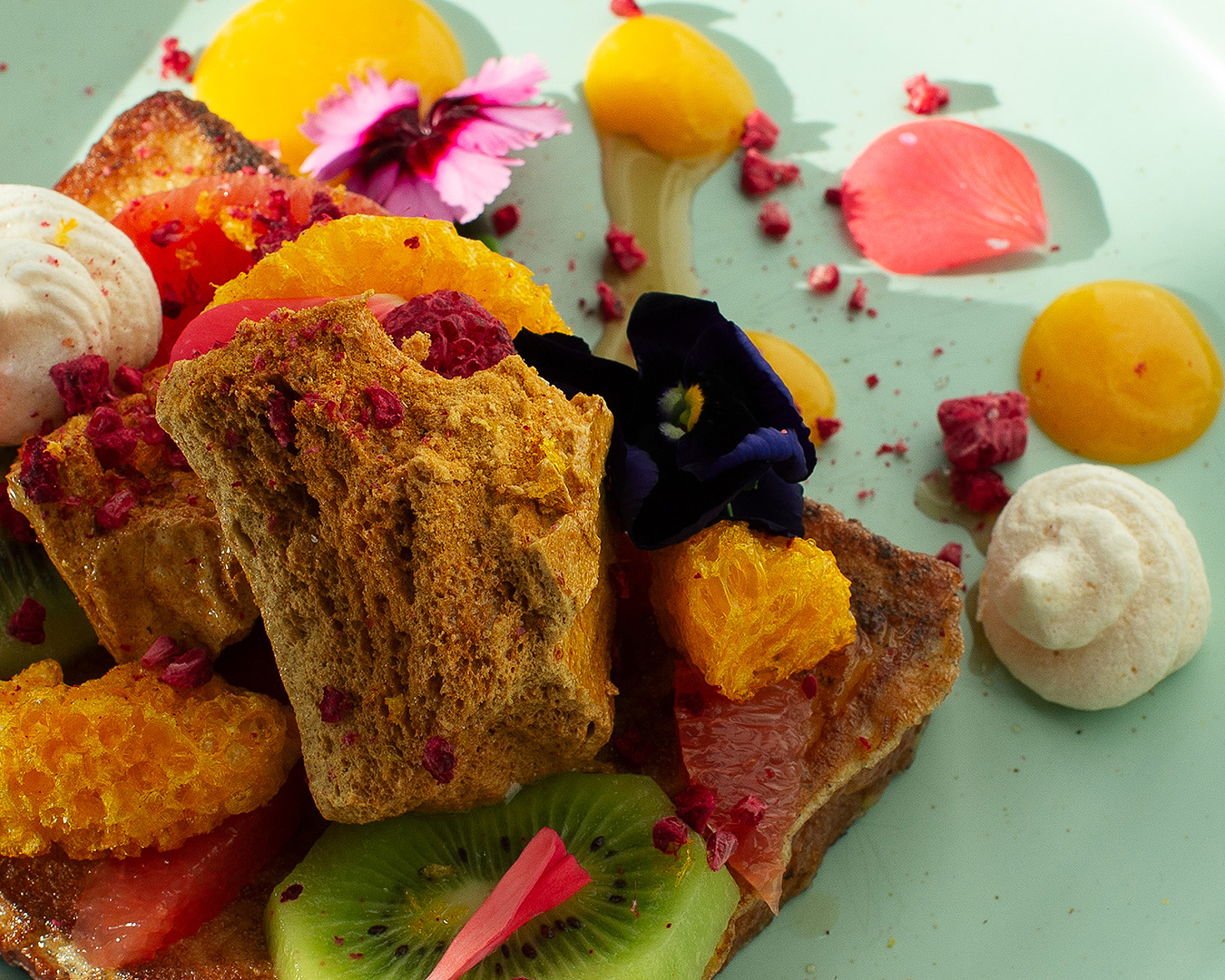 Sweet tooths can chow down on the fluffy French Toast, a deconstructed delight made from lemon curd, seasonal fruit, chunks of hokey pokey and smothered in maple syrup. So, if you like them sweet then breakfast just got a whole lot more interesting.
And if that hasn't left your mouth watering and your belly rumbling, then they've got what can only be described as a cabinet of dreams for you to choose from—think mango and peach muffins, grapefruit and raisin scones and a banana cake that's to die for.
Wash it all down with a morning brew, made with Kayla's and Michael's very own roastery beans or if you're looking for something to quench your thirst then we'd highly recommend an iced tea – choose from peach or lemon, they're seriously refreshing.
So, if you're looking for a tasty bite to kickstart your morning then Fluff will have you buttered up in no time.
For more images and information, including opening times, click here.
Image credit: Wono Kim