Receiving gifts never gets old, but when you're the one trying to come up with something new and exciting to give—it kinda can. Enter the following companies, who together offer a slew of unique and thoughtful goodies to show that someone spesh that you care. No matter what the occasion, these guys are here to help and the best bit is, they'll do it all without you having to lift a single finger (well, other than to scroll through their expertly-curated websites, that is).
So crank up the internet and grab your card, because here are the best gift deliveries available in New Zealand.
We Love Local
Most Kiwis are now well-acquainted with the idea of 'supporting local' but if you're not, let us introduce you to a gift company that's championing this movement in a major way. As their name suggests, We Love Local are passionate about local businesses—in fact, they've worked with more than 60 of the country's finest artisans to create a selection of boutique gift boxes that are guaranteed to impress. Their regional offerings are a stroke of genius—simply pick a region (they have seven and counting), and the lucky recipient will get a gift box packed with the absolute best foodie products from that area (think craft beer, honey, nut butter, handcrafted chocolate, wine, olive oil, fudge, organic tea... basically, everything you could ever want in a pressie). We love that you can also shop by diet (a godsend for the vegan and gluten-free peeps in your life), while they also have some great seasonal gift boxes up for grabs.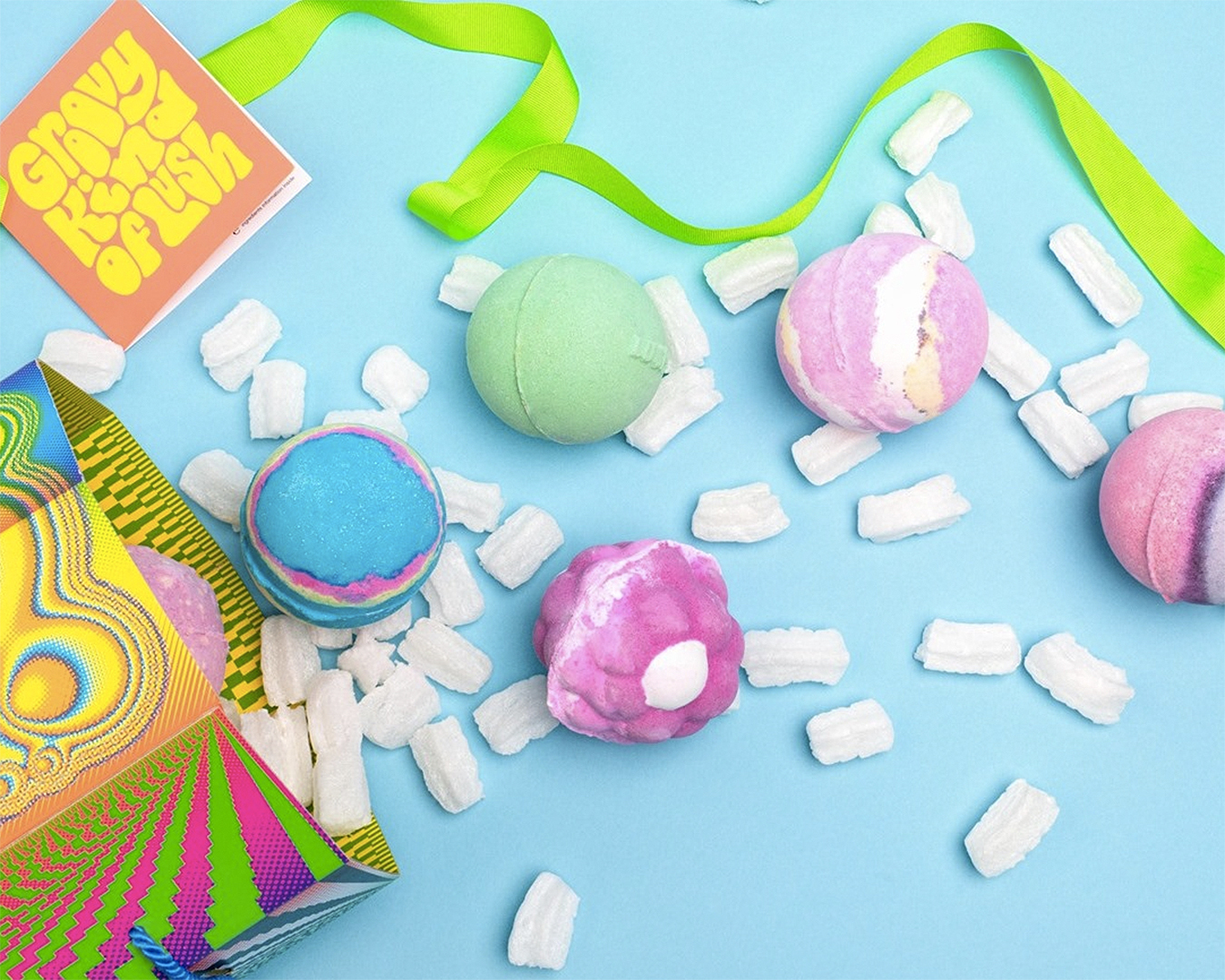 LUSH
Personally, we can't think of anything more fabulous than receiving a delivery of colourful, cruelty-free cosmetics. And LUSH is where you'll find them—in fact, their selection of gorgeous gift sets, packaged in equally gorgeous, eco-friendly packaging, is nothing short of exhaustive. Make someone's birthday with their Happy Bathday Box (complete with 'party balloon' bubble bar,' llama piñata' bath bomb, and DIY party decorations, made from said box)—send a stressed-out mate their Blissful gift, filled with wonderfully relaxing goodies like pink peppermint foot lotion and 'sleepy' shower gel—or for the ultimate brownie points (in our book, at least), opt for one of their epic Halloween or Christmas gift boxes (we have just two words for you: Snow Fairy).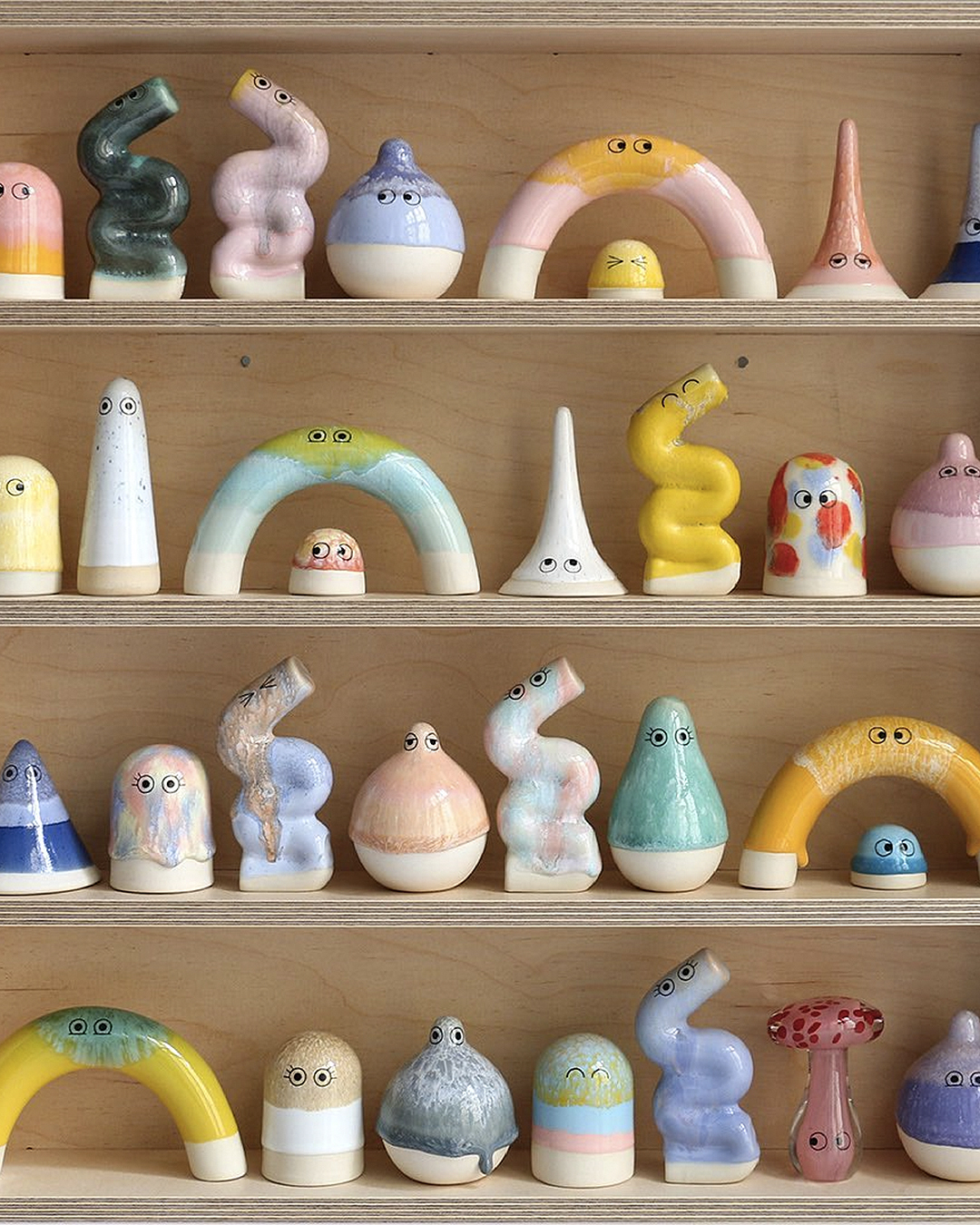 Iko Iko
Iko Iko is a local legend—something you'll know if you live in Wellington, where they've had a store since the '90s (Aucklanders may remember they also had a branch on Karangahape Road). But did you know that you can grab their offbeat brand of goodies—complete with free gift wrapping—online? Trust us when we say, there's no shortage of gift inspo here. Whether it's a stylish poster or art print for your beau—a funky candle for the flattie—or a quirky game, book, or puzzle for the little one in your life, you'll find it all for sale at the wonderful, colourful emporium that is Iko Iko. Heck, they've even done the hard yards for us by sorting things into categories, including price point and yes—locally made. Plus, they can include a note with your gift or fill out a purchased greeting card on your behalf.
Whitestone Cheese
Some people are into wine, others like chocolate... then there are those who can't live without cheese. For those people, a Survival Pack from
Whitestone Cheese
is like the greatest gift idea, ever. This is a legit cheese-lover's dream, packed with an assortment of 20—yes, 20—cheeses from the award-winning Oamaru brand. Send someone you love one of these, and you'll be on their gouda side indefinitely. P.S. For those with a slightly smaller appetite, a wooden gift box and cheese tin is also available.
Shut The Front Door
It's gifts galore at Shut The Front Door, the unofficial place to go for quality gifts with an eclectic edge. Know someone with a penchant for indoor plants? Send them a stylish planter or plant pot. Have a friend who's into saving the environment? Gift them an eco-friendly coffee cup or even better, an eco-friendly wine tumbler. Got a kiddos birthday coming up? Send them a replica catapult or an old-fashioned flower press, duh. And if after all that you're still stuck for ideas, know that they also have an extensive range of homewares, fashion, and stationery to choose from, with the option of free gift wrapping. Shut the front door, indeed.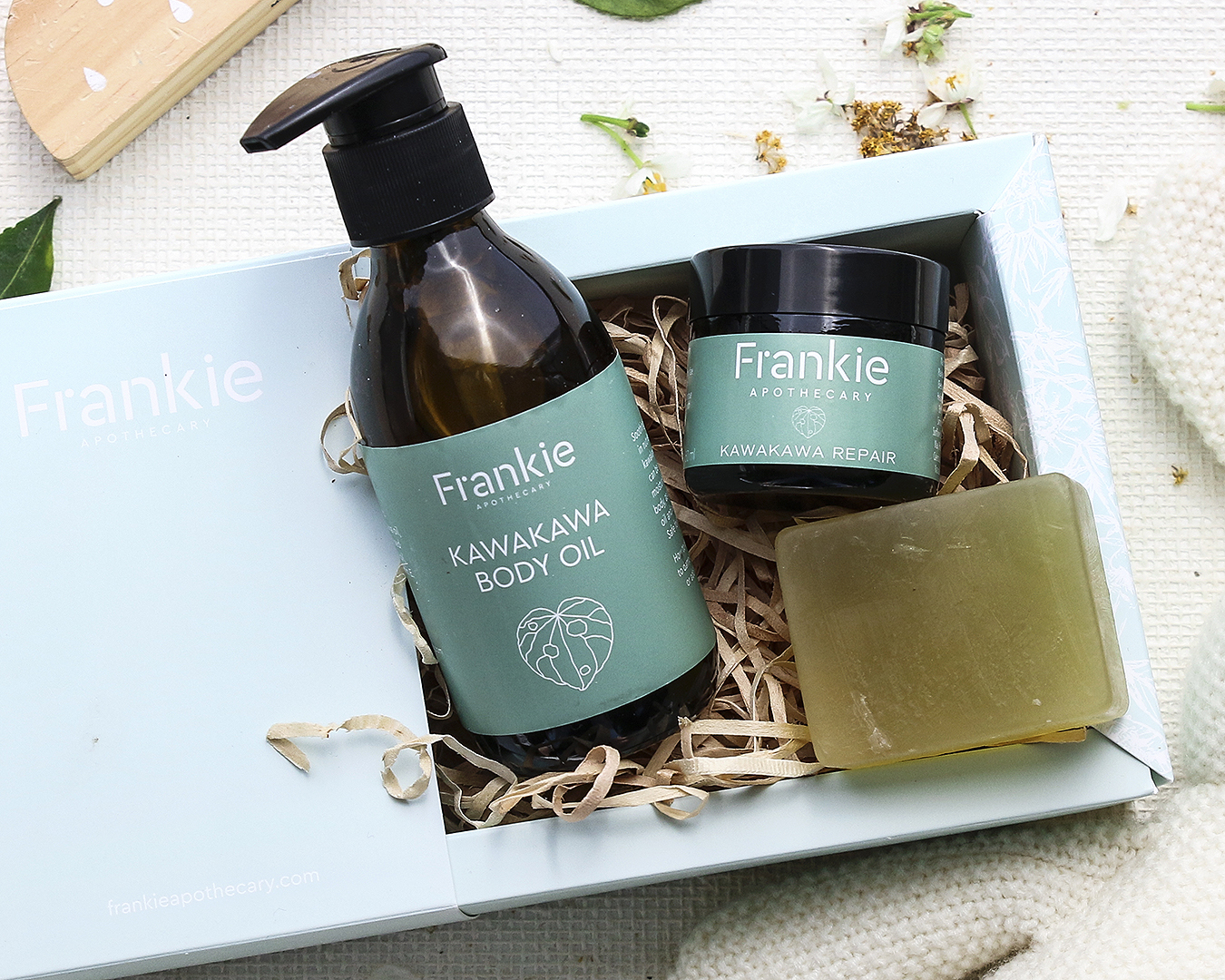 Frankie Apothecary
Fans of natural skincare will love a gift box from local brand, Frankie Apothecary. Their beautiful products, infused with hand-foraged native plants full of medicinal properties, have become a huge hit with those suffering from eczema and sensitive skin, and are sure to be equally loved by anyone looking for an alternative to mainstream skincare. Their Kawakawa Repair Balm is particularly popular, and you'll find this, alongside a kawakawa cleansing bar, sunscreen, and body oil as part of their Kawakawa Deluxe Minis Gift Box. Alternatively, choose from one of their other themed gift boxes, or even create your own.
Tea Pea
A visit to Tea Pea's online store is a little like falling down the rabbit hole, into a world where everything is cute, whimsical, and TOTALLY your cup of tea. However, this is a story about giving (not receiving!) and that said, we're confident you'll still find something totally enchanting for that upcoming birthday or other special occasion. The children's section is especially adorbs, but don't forget that this is also the home of famed international stationary house Rifle Paper, funky fashion and homewares label Sage + Clare (their bathrobes and dressing gowns are the best!), and a host of other beautiful brands. Of course, a present isn't a present without a spot of gift-wrapping, so they'll sort that out for you, too.
Father Rabbit
Hop online and check out Father Rabbit for customised gift boxes filled with gorgeous goodies that have been designed to please even the fussiest recipient (because we all know one of them, right?). Indeed, we can't imagine anyone being disappointed with a delivery from these guys, who sell some of the most beautiful pressies we've ever seen. Creating your gift box is super easy, with each category featuring a range of pre-selected items from which you can choose. Take the popular For Her category, for example, where you can pick up to six items that include everything from perfume and a personalised necklace, to stemless wine glasses and stationery. Finish up by choosing one of three boutique box designs, then have their team write up a special message inside one of their coveted greeting cards.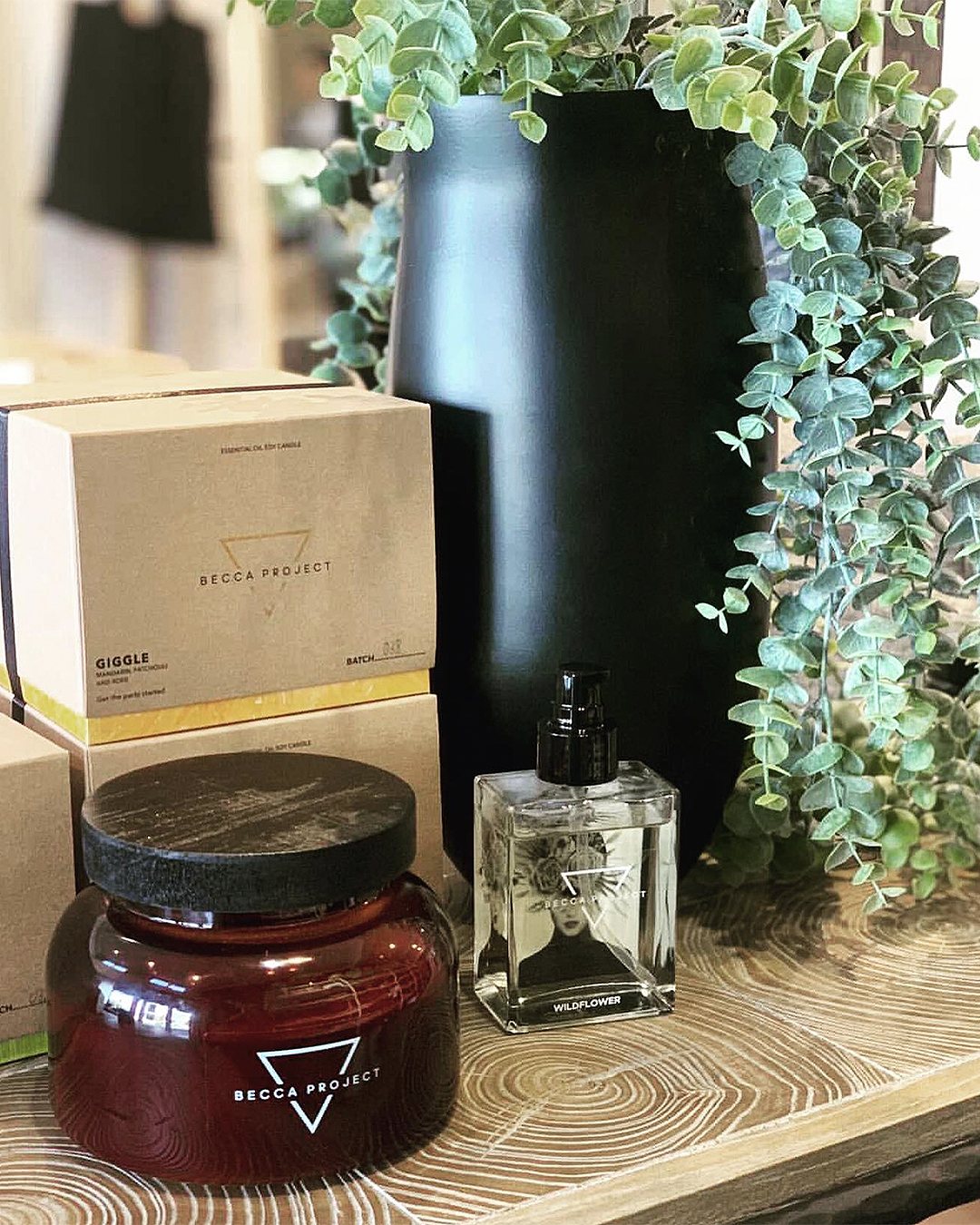 Becca Project
Rest and relaxation is totally a gift, right? If you know someone in your life who could do with just that, then why not send them a li'l something from Becca Project. This local company specialises in beautiful handcrafted candles, diffusers, and balms that not only smell amazing, they're also packed with the amazing health benefits of essential oils (certified organic ones, no less). If you purchase only one pressie from here, make it a candle—available in a range of yummy fragrances, they combine said oils with all-natural coconut soy wax and even a wooden wick that crackles when it burns, just like a real fire. We're particularly partial to their Toffee creation (with notes of vanilla, caramel, and cinnamon) and are stoked to see they also have a couple of unisex products up for grabs. So what are you waiting for? Get ordering and light up the life of that someone spesh, stat.
Give Plants
Fresh flowers will always make a lovely gift, but for something a little different (and longer-lasting), how about opting for an actual plant? Give Plants are just one of several companies now offering our leafy friends as an alternative to the traditional bouquet, and here they come in a wide range of options, from natives and indoor plants through to their best-selling Meyer lemon (and yes, there are even flowers). Arriving carefully boxed in recyclable packaging with a personalised card, these make an especially on-point housewarming gift.
ECOYA
Brighten up their day with ECOYA's ultra-luxurious candles, diffusers, and body care products. These beauties are designed right here in NZ then made in Aussie with the help of leading perfumers and fragrance experts in a range of dreamy scents, including French Pear, Vanilla Bean, and Sweet Pea & Jasmine. They also do some lovely seasonal offerings, including an epic pine-scented candle at Christmas (the next best thing to having a real Christmas tree). Treat your loved one to the lot by purchasing an ECOYA gift set, which they can even wrap in tissue and ribbon for the ultimate gift-giving feels. Would it be sad to send one to ourselves?
Gift Saint
Praise the pressie gods for Gift Saint. You'll find only the very best gift boxes here, which come in either pre-packaged or customised options, finished with some seriously divine packaging (we're talking tissue, ribbon, AND a sprig of greenery). Pamper your bestie/girlfriend/mum to their What A Girl Needs box (featuring chocolate, Therapy body care, and a bottle of Moet), send well wishes with their Toast to Good Health pack (complete with artisan honey and a bottle of limoncello, naturally), or treat the dad/brother/mandem in your life to their For Him box (featuring chocolate, cologne, and craft beer). Hallelujah, we think we have our gift-giving sorted for at least the next year with this one.
Oh Natural
While Oh Natural doesn't do a huge number of ready-made gift boxes, they'll happily put one together for you with products of your own choosing (and for just $3 extra, we might add). The hardest part will be deciding what to include, as this website is an absolute treasure trove of goodies—all-natural, eco-friendly, and cruelty-free (they have over 700 items in their vegan category alone!). From skincare and makeup—to pet care and baby care—to food and drink, there's something here for absolutely everyone in your life—sustainability-minded or not. We'd certainly be stoked if a parcel from them landed on our doorstep.
Boxsmith
It can be notoriously hard to find pressies for the blokes in our lives, no matter what the occasion (sorry, boys!). Say hello to Boxsmith, who've done the groundwork for us and come up with a range of stylish wooden gift boxes, available in such options as The Man Pack, The Fisherman, and For The Hunter Adventurer Man—all packed with super mod, man-appropriate gifts. But make no mistake, this ain't a boys-only affair—Boxsmith also have gift packs for the ladies, babies, and every other person in your life who deserves to be celebrated. Again, you can add your own greeting card and are welcome to get in touch with their team, should you want to build your own gift box.
Waiheke Hamper Co.
When a trip to Waiheke is off the cards, here's the next best thing—a beautifully curated hamper filled with the island's finest artisanal goodies. Waiheke Hamper Co.'s gift baskets are the ideal pressie for the foodie in your life, chock-a-block with everything from coffee, honey, and chocolate through to olive oil, cheese, nuts, and of course, wine. There's also an option to design your own hamper and in true Waiheke style, you can even add your own cute handmade note pebble. Whether you want to introduce someone from afar to Waiheke's many edible blessings or simply reacquaint a fellow Aucklander, these guys should be your first port of call.
Honest Chocolat
And finally, for the choccy fan in your life (other than yourself, that is) this last one is going to go down a real treat. Boutique local chocolate-makers, Honest Chocolat has developed seriously drool-worthy gifting options that also includes a Hot Choc Care Package—a 'hug in a mug' that has everything the recipient needs to take their HC to the next level. Packaged inside a gift box they'll find hot chocolate powder, hot chocolate sticks, homemade chocolate, orange, and blueberry marshmallows, and a stylish Leach Studio Ceramics tumbler to enjoy it all from. And you needn't worry about any special dietary requirements—these treats are gluten, dairy, soy, AND palm-oil-free. Boom.
Honourable Mention: Scarecrow
You may already be familiar with Scarecrow, the cafe/urban farmers market/florist with two locations in Auckland. However what you may not know is that they also have some rather glorious gourmet gift hampers up for grabs, that are sure to be a hit with your food-loving family and friends (though we'd like to point out they do some non-food options, too). As a company, these guys are all about promoting local and organic goodies and that's exactly what the lucky recipient will get with one of these beauties, which come packaged in a smart, ribbon-wrapped cardboard gift box (or wooden crate box, should you choose to upgrade). There are too many options to list here so we'll just tell you about our fave: the Pollinate Bee Box, which showcases the many wonderful treats bees provide us with (think honey, beeswax candles, and manuka-honey chocolate). And guess what? They offer same-day delivery. Scarecrow gift baskets are available in Auckland only.
Need some goodies of your own delivered? Check out the best alcohol delivery services in New Zealand.
Image credit: Main image Shut The Front Door, Lush, Iko Iko, Shut The Front Door, Frankie Apothecary, Becca Project, Give Plants, Oh Natural, Boxsmith, Waiheke Hamper Co, Honest Chocolat.