Lockdown may mean no events, no eating out, no seeing our buddies, but it certainly doesn't mean we have to miss out on healthy and hearty grub. It's time to whip out your apron and rustle up some delish recipes using fresh, locally sourced produce from some top-notch businesses who are delivering groceries right to your door—while keeping a safe distance, of course.
Not all heroes wear capes—we've rounded up businesses that are working day and night to make sure you get your weekly shop. Here are the businesses delivering fresh (and pre-prepared) food to Aucklanders.
Restaurant Quality Food At Home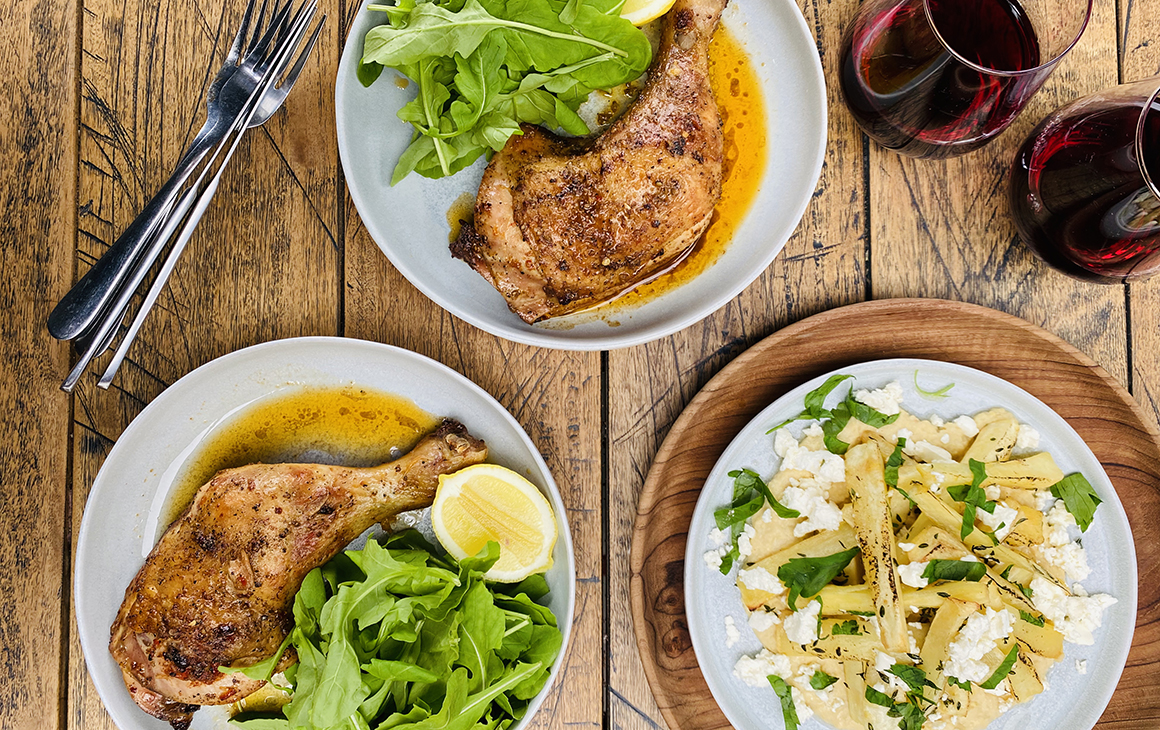 Cookalong
Brought to you by celebrated chefs Nic Watt (MASU, INCA, Akarana Eatery) and Darren Johnson (INCA), new gourmet food delivery service Cookalong has got your back. Offering a variety of options from gourmet dinners and fancy date nights to crowd-pleasing family heat and eat options there's minimal prep required in the kitchen so you can spend more time resting on your laurels. With mouth-watering choices such as Big Glory Bay salmon fillet, confit pork belly and Indian spice prawn curry on the weekly-changing menu you can even order a Strawberry or pineapple daiquiri for you to add your fave tipple to at home.
The Foodies
Brainchild of Auckland chef Ed Le Goff (Owner of Le Chef and founder of the French Festival) The Foodies is one of only a few ghost kitchens that exist in Auckland. The idea is simple, bistro-quality meals delivered to homes within a 10km radius of the downtown kitchen. With four menus on offer—Seafood and crayfish, Jars—for eating on the run, Platters and co for that long lazing grazing and our personal fave, French sensations. This features everything from crunchy baguettes and truffle duck terrine to honey mustard-glazed, slow-cooked pork ribs, puy lentils and dijon dressing, and the vegan mushroom ravioli in coconut and lemongrass soup, we'd also advise opting for some cheeky macarons to finish, you'll be in gastronomic heaven.
My Nourish Kitchen
Established during the last lockdown, My Nourish Kitchen is bringing a bit of fine-dining to your kitchen. On the menu you'll receive some of the most loved dishes from Euro, SOUL, Jervois Steakhouse and Andiamo. All of the dishes are prepared by Executive Head Chef Gareth Stewart and his team with care for you to then cook in your own kitchen. So if you fancy being Chef for the evening, impress your Bubble with five-star dishes such as Andiamo's famous mac 'n' cheese and Taupō scotch fillet, potato rosti, creamed spinach, peppercorn sauce from Jervois Steak House.
FED.
FED. offer a variety of delicious, healthy and freshly cooked meals by a team of chefs delivered to your door. Forget about food preparation or the cleaning up and select what meals you like from a seasonal and frequently changing menu. The meals are seriously good and include dishes like courgette and ricotta cannelloni, and mint and mustard lamb with root vegetables. There's even the option to order freezer-ready meals so you can stock the freezer and eat as and when it suits you. Saving for a rainy day? Yes please.
Meal Delivery Kits
HelloFresh
Not only is HelloFresh super convenient, but their recipes are also incredibly easy to follow. So if like us, you're not quite the seasoned chef, then you've got nothing to worry about. The recipes may be simple, but the food is anything but, from Parmesan and mustard-crusted chicken with roast veggies to Mexican burrito bowls, the dishes are flavoursome and full of fresh ingredients. Whether you're a meat or a veggie-lover, HelloFresh has plenty of meal packages to choose from. With eight meals to pick from, you can opt for the mix, where you can choose three meat dishes and two veggies dishes. You can also order a family pack, which feeds up to four people for five meals a week. Add some shazam to your dinner—after all, HelloFresh is only a click away and can deliver healthy bundles of joy direct to your doorstep.
The Kai Box
For those of you who are plant-based, The Kai Box offer plant-fueled boxes to help people create delicious botanical meals at home. Even if you're not veggie or vegan, now might just be the perfect the time to try new recipes and explore new flavours. From a couples box, a family box to a low-carb option—you name it they've got it. They've even got your morning cravings sorted with their breakfast box, filled with glorious green smoothie recipes, almond bircher and dragonfruit smoothie bowls. Running low on pantry staples? No worries, The Kai Box have you sussed with their pantry necessities. Simply just add them to your chosen box and you're good to go.
My Food Bag
Who needs fancy restaurants when you can have My Food Bag's insane meal boxes delivered straight to your door? My Food Bag is all about well-balanced, high quality meals made from fresh, local, free range produce. You choose what kind of meals you're keen on, how many meals you need, and how many mouths need to be fed, and it'll be delivered straight to your door ready to be whipped up in your kitchen. How does peri peri lemon chicken or Chinese ginger fried rice sound?
Woop
It's super important to maintain a healthy mind, body and soul during lockdown and Woop can give you a helping hand with that. Using 100% natural locally sourced ingredients to fill our plates and our bellies with healthy well-balanced recipes to rustle up at home. Think honey mustard pork with rosemary roasties or a classic chicken parmi with balsamic roasted veggies. Anyone else drooling? Take on the challenge of cooking something new each day and you'll be a Michelin star chef in no time.
Food Box
Food box is a family-run business bringing you the freshest seasonal produce that New Zealand has to offer. Husband and wife duo Peter and Jen have made it their mission to deliver high-quality, fresh produce straight to your door. They even have healthy recipe ideas based on your box hosted on their website under Jenny's Kitchen and weekly suggestions to help you make the most of your Food Box. Think homemade lamb rogan josh, eggplant pizza, spinach and lentil curry and plenty of dessert ideas. You can completely customize your own box, so you've got all your much-loved goods or leave it up to the team to sort you out.
Fresh Grocery Delivery
Ooooby
Ooooby is an acronym for out of our own back yards. Their mission is to rebuild local food economies. So, not only are you getting a hearty dose of fruit and veg delivered straight to your door, but you become part of a global movement that is putting small scale food producers back at the heart of our food systems. Take your pick from small or large organic fruit and veggie boxes or choose the big mix box, which is jam-packed with seven to nine healthy vegetables and two to three fruit varieties each week. They also have a selection of free-range meats, dairy and eggs, freshly made breads, pantry options and tasty treats.
Service Foods Home
For over 35 years, Service Foods has been known as the family-operated, Kiwi company behind every great chef, and now it's getting behind New Zealand families during these extraordinary times. They usually would supply the country's leading hotels, restaurants and caterers with the best, freshest produce, but are now delivering the goods straight to your door through Service Foods Home. From the most basic home essentials to gourmet ingredients, they have everything you need to keep your household running, without leaving your house.
The Humble Canteen
If it's fresh food you're after then look no further as The Humble Canteen have got you sussed with their feel-good food and the best part is it doesn't cost you and an arm and a leg. They're also helping the planet by working to zero waste to landfill by 2025—sustainability at its finest. If you loved their tasty fare then you'll love that they have opened up an online grocer to help people access their weekly produce and other essential items while the country is on lockdown. The Humble Grocer has everything from fruit and veg to alcohol— yes that's right, your gin and tonic needs are sorted.
Eco-organics
If you're looking for organic quality garden-fresh fruit and vegetables then look no further. Eco-organics have got you sussed delivering produce straight from the grower to your door—can you get any fresher? Get your five-a-day with one of their eco boxes, filled to the brim with delicious goodies. As to be expected they are in high demand at the moment, so best to get your order in by Monday and your lovely little package will be delivered to you on Thursday.
Harvest 2 Home
Built from a passion for good food and a love for cooking, Harvest 2 Home is a family-owned business that focuses on creating environmental sustainability, starting with locally sourced food. There are three different sizes of fruit and veg boxes to suit the size of your family. Fruit and veg vary to provide locally grown produce that are in season. Delivery is free and your box will be delivered every Monday. The best part is you can change out items if you really don't like them and let them know if you have any permanent dislikes and replacements.
Huckleberry
A fave with the locals, you'll be pleased to hear that your organic grocer Huckleberry is running as usual. Delivering all of your high-quality organic goods to your door—ranging from food and drink, skin and body care, homecare and even natural health remedies. Huckleberry is your one-stop-shop for all things organic, so be sure to get your fix.
Sabato
While their Mount Eden store may be closed, you can still get your fix of delicious Italian grub such as cheeses, breads, charcuterie and meats at Sabato as they're now delivering nationwide. So get your virtual shopping basket ready and fill it with beautiful Italian treats and while you're there be sure to check out their website for heaps of foodie inspiration and yummy recipe ideas. If you're after frozen goods and meats then pick up the phone and give then a call for these orders.
Need some foodie inspiration? Cook away your boredom with 8 delicious recipes from creative Kiwi Chefs.
Image credit: The Foodies, Cookalong, My Nourish Kitchen, HelloFresh, Ooooby, Harvest 2 Home, Sabato