La Bella Italia! Sophia Loren once famously said 'Everything you see I owe to pasta' and we here at TUL couldn't agree more. We can think of no cuisine that's better for sharing with a group of friends or (or a hot date) and Auckland's Italian restaurants are up there with the best.
Whether it's pizza, pasta or anything in between, some restaurants hit the spot every single time with their authentic Italian food. Simple combinations of quality ingredients, and it would be remiss if we didn't share them with you.
Here are our top picks of the best Italian restaurants in Auckland.
Baduzzi
Wynyard Quarter
Pasta for life! If there was one thing we could eat forever, this would probably be it. And we know we're not alone there. For hands-down the best pasta in Auckland, this is where you go. Baduzzi makes their own pasta fresh daily, and it's stunning. Duck ragu, fried paua, snapper crab, and tuatuas… we don't blame you if you're drooling right about now. If pasta ain't your thing, you must try one of their meatball dishes. Guys take note, this is an impressive romantic destination, so get yo' spaghetti on.
Prego
Ponsonby
Ponsonby Road seems to get a new "must-eat" place every couple of weeks, but Prego is like that ex you can't get out of your head. You think this hot new thing will be bigger and better, and it might seem so at first, but you'll always go crawling back to the tried and true…the pasta, the pizza, the service…Prego really is one of the best Italian restaurants in Auckland. The fairy light-filled courtyard is pretty damn dreamy for a summer night's meal—and it's romantic to boot. Your date is destined for a happy ending with the amazing desserts. Our pick? The Dolce Di Datteri (sticky date with poached pears and ginger ice cream) is a must.
Coco's Cantina
Newtown
In terms of staff and vibe, Coco's Cantina is pretty hard to go past. The team treat you like their best mate and will show you a bloody good time. The food more than matches the ambiance, which has an old-school Italian trattoria buzz about it (but without all the mafia uncles everywhere). The spaghetti meatballs are a must-have. Simple but delicious, it's a testament to Coco's quality that they get this staple just so damn right. Not to mention the polenta fries...They're reason enough to ditch the diet and devour what we may be dubbing the best Italian in Auckland.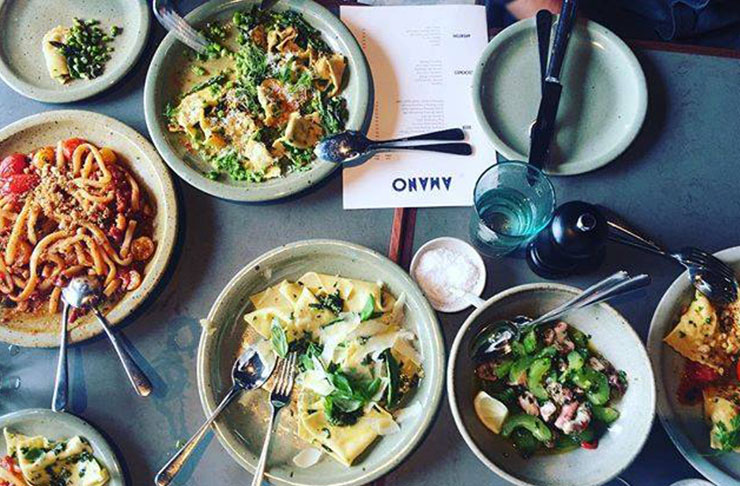 Amano
Once a bakery, we're not overly surprised that Amano has a wheat mill located out back. But when the bakery opened its doors to what is now one of Auckland's best Italian restaurants, right in the heart of the CBD, we screamed a lil' inside. That wheat mill now churns out the tasties homemade pasta you could dream of. Our favourite thing about this bustling restaurant is that the menu changes daily. Yep, one day they're serving up ravioli and the next it's linguini. Trust the chefs on this one, they know what they're doing. If you thought it couldn't get better, an entire selection of the menu is dedicated to dairy. Meaning every single Italian cheese you've ever dreamt of is at your fingertips.
Farina
Ponsonby
Never one to shy away from a good food pun, Farina's Italian spin on the Sunday brunch classic is right up our alley. Available weekday lunchtimes, their Yum Ciao offers perfect little bites of Italian beauties. You know you're in good hands as it's owned by Auckland's godfather of pizza, Sergio Maglione and his business partner Mike Ross. The main menu is fantastic, and offers an amazing array of salumi, pastas, gnocchi, and those ginormous pizzas, made famous at Sergio's other restaurant, Toto.
Pasta & Cuore
Mt Eden
Pasta & Curore is the essence of Italian. You'll spot this gem—if you don't smell the aromas first—as you're driivng through Mt Eden Village, brightly lit through the glass exterior. Inside you'll find high bar stools offering the ability to enjoy a pinot noir while people watching the busy bodies outside. The perfect balance, as further inside are quaint tables soon to be lined with plates of homemade pasta. Yep, the talented chefs are rolling, flattening and cooking pasta from scratch right in front of your eyes. Paired with a sauce of choice and perhaps a bruschetta to start, this may be Auckland's best Italian.
Poderi Crisci
Waiheke Island
Waiheke could (almost) pass as a Mediterranean destination, with its myriad wineries and amazing places to eat bellisimo food. Poderi Crisci is possibly the most gorgeous of the lot, with its picturesque vineyard overlooking the water. Make a gluttonous day of it and go for the Sunday long lunch—a multi-course extravaganza finished with dolci or fromaggio, perfect for that special occasion, or if you just want to treat yo'self. Make sure you pray to the weather gods for sunshine so you can dine al fresco, and, after enough Pinot Grigios, you might just believe you're in Tuscany.
Gusto at the Grand
Auckland CBD
Led by head chef extraordinaire Sean Connolly, after he was inspired by his time spent in Italy, you're in for an authentic Italian experience at Gusto at the Grand. It is family-style, with a simple menu of rustic share plates in an opulent (but not OTT) setting. The wine list is predominantly Italian, which makes sense–and the staff are really happy to guide you in the direction of a vino that will match your food perfectly.
SPQR
Ponsonby
If you haven't huddled around a bottle of rose in a bucket chiller, or nursed an espresso martini at one of the street-side tables at SPQR, then do it. Now. This is the go-to spot for people who list their occupation as 'socialite' on official forms. Anyone who's anyone comes here for a drink, but those in the know come here for the food. The platters and tasting plates are fabulous for an afternoon in the sunshine—the classic platter, the oysters and a large caprese salad are an absolute must. SPQR is easily one of the best Italian restaurants in Auckland.
The Refreshment Room
Titirangi
Fresh Italian food straight from the garden! For what feels like a treehouse, The Refreshment Room serves up superb and rather sophisticated Italian food. Making the best of what is fresh and in-season, the menu changes every week. Of course that means you can't always bank on what will be there, but rest assured, you're eating the best of what's available. One thing that never changes is the chickpea and parmesan chips—thank goodness, 'cause they're amazing. Check out their Facebook page for the week's offerings.
Pane & Vino
Ponsonby
Setting itself up with high expectations, Pane & Vino means nothing less than 'Bread & Wine'. Two delights that compliment any meal. But when alongside a creamy carbonara pasta, well, we may have hit the jackpot. Ponsonby locals rave about this joint, as it's not only delicious, it is BYO. Yep, arive with a bottle or two in-hand and make your way through a menu boasting the finest of Italian fare. Whether it's bruschetta to start, pizza as a main or tiramasu to finish, this restaurant lined with fairy lights is totally angelic.
Non Solo Pizza
Parnell
Without a doubt, Non Solo Pizza offers some of the best Italian food in Auckland. The outdoor courtyard with its olive trees is the perfect spot to enjoy a pizza and a Peroni (or four) in summer. Speaking of pizzas... their woodfire pizzas are insane. No surprises there though, as NSP is owned by the same pizza-genius-crew as Toto. Their extensive menu offers all your pasta favs like cannelloni, gnocchi and spaghetti, or choose from one of Non Solo Pizza's set menus.
Want more of the best Italian restaurants in Auckland? Why not check out our list of Auckland's best pizza.
Image credit: Supplied, Amano, SPQR, The Refreshment Room, Gusto At The Grand