Oh cannoli, what did we ever do to deserve you? The Italians truly knew what they were doing when creating these sweet little parcels of perfection. Fried pastry dough filled with a creamy smooth filling—cannoli are sweet and crunchy and quite literally heaven in a mouthful.
We knew we had to scope out the finest cannoli in the city for your enjoyment (and our own) so without further ado, here's where you'll find Auckland's best cannoli.
Baduzzi
North Wharf
Baduzzi is an impressive place—the food, the atmosphere, the beautiful interior, the service, it is all pretty spectacular. As far as Italian food goes, the talented team really know what they are doing. Authentic flavours with a modern twist, the usual classic dishes are filled with pizzazz, and that includes the decadent cannoli. Ricotta filled with a citrus confit and bitter chocolate. The crunchy shell oozes with the creamy filling with each bite and it is the perfect way to finish off an amazing meal.
Amano
Britomart
Found opposite the Waitemata Harbour in the beautiful Altrans and Quay buildings is one of Auckland's favourite gems. Amano is a bakery and restaurant that serves incredible Italian-inspired food in a stunning location. With hand-crafted pasta, fresh seafood and locally sourced produce you know the dishes served are going to be no less than exceptional. To finish off your meal the right way, the dessert menu dons an out of this world cannoli that is a must try for your next visit. The white chocolate and tamarillo flavour combination is the perfect balance of sweet and tart and is guaranteed to be devoured very quickly.
Barbarino's Spaghetteria
Avondale
New kid on the block Barbarino's have entered the Italian cuisine game strong. Not least because of their deliciously large cannoli which are made fresh on the premises every day. Owners Aaron Carson and Fran Mazza (who, being half Italian really knows her stuff), frustrated with not being able to find good, down-to-earth Italian food without paying through the nose decided to give the gift of good home-cooked Italian food to the people of Avondale and gosh do we love them for it. But back to the matter in hand—the cannoli fillings change on a daily basis, but one thing's for sure, all flavours you're lucky enough to land is guaranteed to be all kinds of delicious. Shown here is a mascarpone, dark chocolate, fruit and pistachio creation with the perfect amount of crunch. Bellissimo!
Farina
Ponsonby
A Ponsonby favourite, Farina is the street corner Italian joint with true traditional inspiration straight from the streets of Napoli. Owner Sergio Maglione arrived in New Zealand as a fresh faced pizza chef from Italy wanting to bring with him the street flavours he grew up with in Napoli. Farina is beautifully kitted out with sea-green and pearly white tiles, shelves stacked with house-made pickles and the speciality pasta machine taking pride of place in the open kitchen. Of course, the dessert menu features an extra indulgent cannoli which is what we are all about. The Sicilian treat is filled with sweet ricotta, orange candy and chocolate and is a stand out on this already beautifully curated menu.
Gusto At The Grand
CBD
Gusto at the Grand is a rustic Italian restaurant that celebrates simple food, traditional flavours and fresh seasonal ingredients. The beautiful interior screams Italy—white marble, timber floors, rich colours and tan leathers bring a European flare to the cosy restaurant. Sean Connolly created the amazing menu which is full of dishes with punchy flavours and delicious combinations and taking pride of place on the dessert menu is their decadent sweet ricotta-filled cannoli. They are simple, crunchy, creamy and absolutely perfect.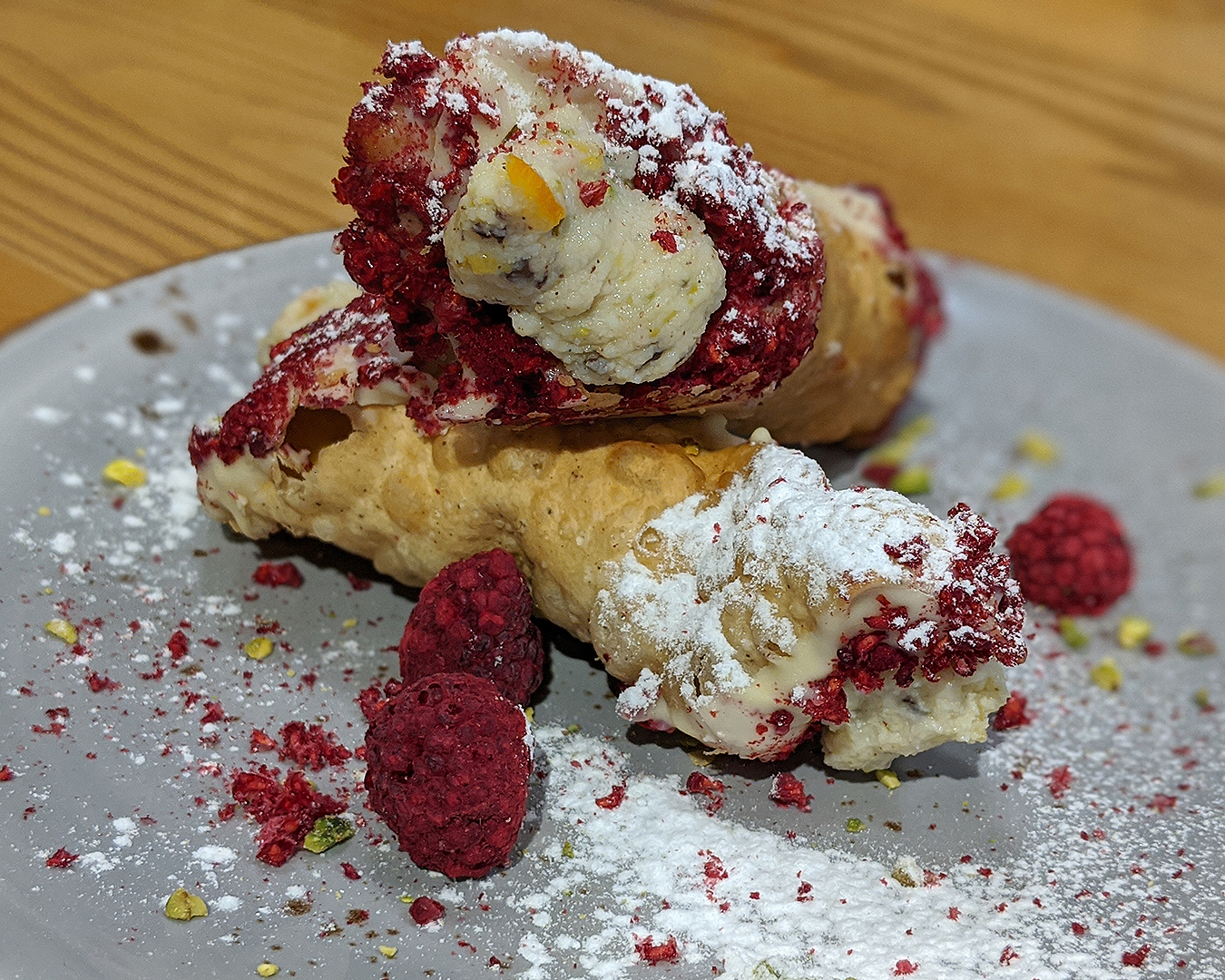 Toto Pizza
CBD
Inner city Italian gem, Toto Pizza may have downsized after shifting to Hardinge Street but their food is still as authentic as ever, just like Nonna used to make. Not only have they made it onto our list of Auckland's best tiramisu but their long-term menu dessert of cannoli has garnered legions of fans over the years. Here you'll find the treat made with ricotta, candied orange, chocolate, pistachio and sweet ricotta, and with a crunch that will send your experience stratospheric. You have been warned.
Non Solo Pizza
Parnell
In the heart of Parnell you'll find Non Solo Pizza, a long-standing Italian restaurant that is a favourite for locals and travellers alike. The eatery is authentically Italian and has a range of seating options including a beautiful courtyard, private dining rooms and a sophisticated main bar. The extensive menu is full of traditional dishes including delicious wood-fire pizzas and handmade pasta. The dessert menu also offers plenty of options, but the cannoli cannot be missed. Crispy coffee and passito dough filled with ricotta, candied peer and chocolate. Yes please.
On the hunt for more sweet treats? Here are Auckland's very best desserts
Image credit: Mel Desa, Barbarino's Spaghetteria's cannoli by Wono Kim, Toto Pizza's cannoli by Armelle Frimpong