Not familiar with the origins of the faithful Italian dessert tiramisu? Well, strap yourself in for a history lesson. Though no one knows exactly when or where in Italy the original recipe came from—some say it's centuries-old and was served in brothels no less—in the '60s a restaurant called Le Beccherie in Treviso, Veneto (about a 40-minute drive from Venice) repopularised the dessert. The recipe is credited to the owner's wife Ada, who wanted a re-energising treat after the birth of their child. And why not indeed.
Made with ladyfingers dipped in espresso, carefully layered with whipped mascarpone and dark liquor, dusted with the all-important cocoa, this decadent dessert is nothing short of irresistible. Coffee, cream and a dash of booze—what's not to love?
Translated as 'pick me up' in English, let the indulgent dessert do exactly that at these spots with some of Auckland's best tiramisu. Buon Appetito!
Giapo
Auckland CBD
Did you know the masters of the most inventive ice creams in town also make one of Auckland's finest tiramisu? A hangover from their original Giapo pastry shop years ago, this delectable treat has never been off their menu due to popular demand, and with one taste you'll see why. The classic components of their tiramisu are homemade ladyfinger biscuits, Vivaio mascarpone cheese and of course, coffee. They use Miller's coffee and infuse it with JK14 Tagliatelle—a beautiful aromatic liquor to give it an extra kick. What makes their tiramisu a little different is that it is gluten-free—probably the first of its kind. This tiramisu is the perfect after-dinner treat, but you may want to plump for eating this at lunchtime since the generous lashings of coffee and booze will absolutely make themselves known—in the most pleasant of ways, of course.
Toto
Auckland CBD
Yes, the purveyors of the legendary metre-long pizza—Toto Pizza—also dole out a pretty amazing tiramisu. The tiramisu has been a closely-guarded family recipe since co-owner Sergio Maglione's uncle opened Totò restaurant in 1993. Comprising a beautiful combination of silky zabaglione with free-range eggs and mascarpone, classic savoiardi biscuit soaked in good strong coffee and all topped with beautiful Dutch cocoa powder—one taste and you'll be in seventh heaven, guaranteed.
Prego
Ponsonby
We wouldn't expect any less from the Italian stalwart on the Auckland dining scene but top-notch tiramisu. Staying true to the classic we all know about love, Prego's tiramisu might seem small on arrival but trust us—you'll be more than ready to unbutton the pants once you polish off the rich layers. Served in a glass, Prego doesn't shy away from generous layers of delicious mascarpone cream and espresso-infused ladyfingers.
Aldo's Restaurant
Warkworth
Think Warkworth is all pretty beaches and farmland? Think again, because if you make the trip up north from Auckland you'll be rewarded with Italian fare that'll have you transported right to a family-run trattoria in Italy. Aldo's family is from Veneto so you can rest assured that their tiramisu has been perfected to a fine art. They keep it simple here, with a generous portion of sponge cake, light and fluffy whipped mascarpone, Italian Lavazza coffee and enough chocolate to satiate even the sweetest tooth—no bells and whistles, but classic Italian at its best.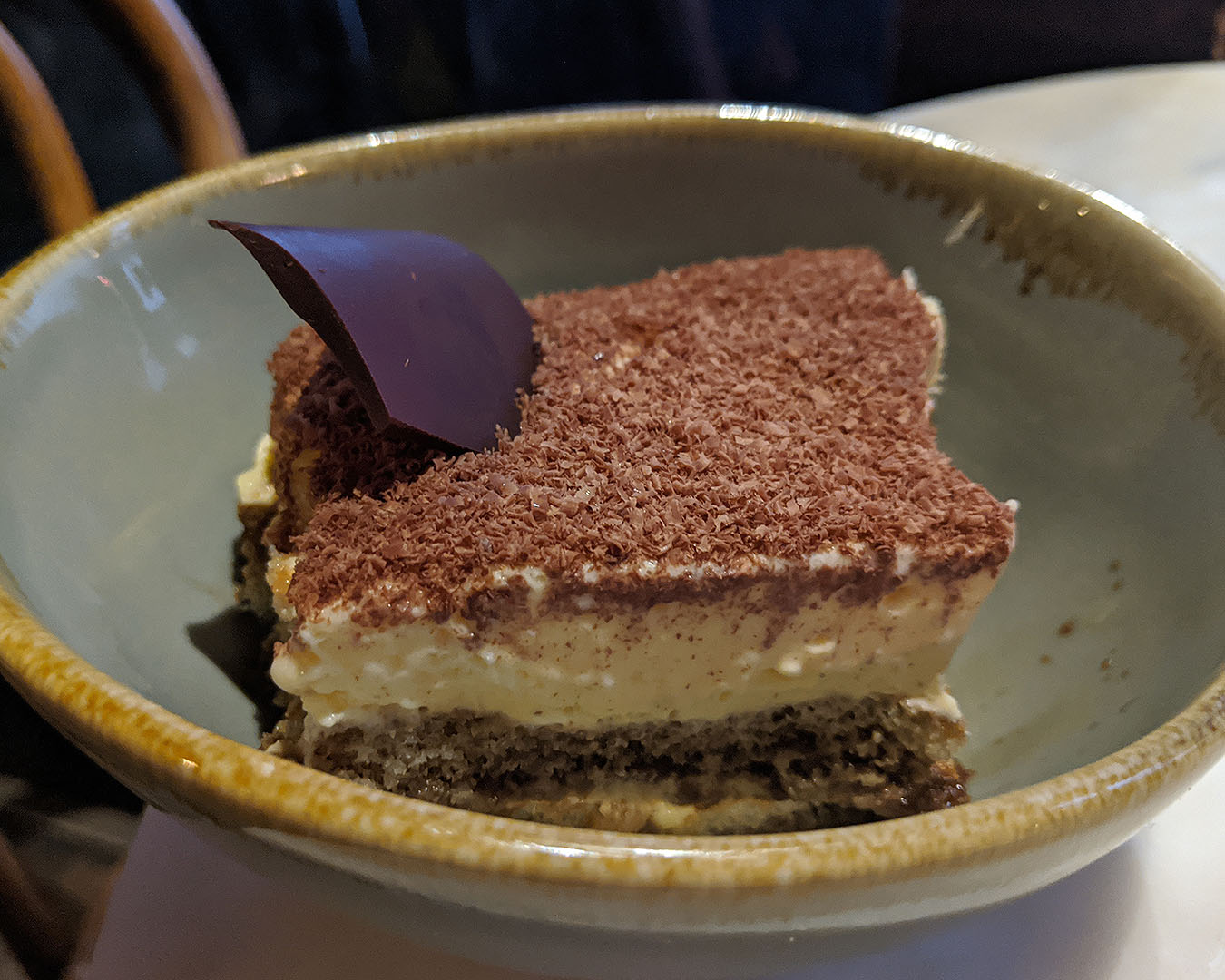 The Oyster Inn
Waiheke
So you're living your best life on the island haven of Waiheke and you're suddenly struck with the desire to smash a tiramisu (happens to the best of us). Well good news for you, one of Auckland's best tiramisu can be found at local fave The Oyster Inn. Helmed by celeb chef Josh Emett —who's a big fan of tiramisu, naturally—the version here is simple and classic. Being very precise with the soaking of the lady's fingers is key to ensuring the right amount of moisture and therefore the success of the dish. They also use great cocoa that brings the perfect amount of bitterness. Ready to have a bash at home? A similar recipe from Italian-trained American chef Marc Vetri can be found in Josh Emett's well-regarded new cookbook The Recipe.
Baduzzi
Wynyard Quarter
Head to the water for a tiramisu made for the eyes as much as for the stomach. Baduzzi's tiramisu is nestled in a crispy biscuit, served with chunks of meringue and a hearty dose of chocolate cream for good measure. Big enough to share (not that you'll want to) and infused with Baileys and amaretto, this is as rich as tiramisu gets. It'll be just enough to push you over the edge into a full-blown food coma after your big Italian dinner—just as it should be.
Coco's Cantina
K' Road
It might as well be considered an Auckland-wide travesty if you leave Coco's Cantina without ordering the tiramisu. As much 'dinner at your Italian Nonna's' as everything else at Coco's, the tiramisu is soaked in Eight-thirty coffee, with perfectly even layers of mascarpone, ladyfinger, mascarpone and on and on, that feels like a party in your mouth. A very boozy Italian party… just the way we like it.
Miann Chocolate Factory
Morningside
Step outside your Tiramisu comfort zone with a modern take on classic flavours at Miann Chocolate Factory in Morningside. Brian and the team have done it once again, whipping up this sweet surprise—the 100% edible Tiramisu Coffee Cup. Made to look like your average takeaway cup, we can promise it's anything but, consisting of their house-made artisanal dark chocolate and caramelised white chocolate. Smash it open and you'll find layers of crunchy biscuit crumb, cocoa nib gelato, Marsala and espresso-soaked sponge and coffee mascarpone. We're telling you, Willy Wonka would be jealous.
Mezze Bar
Auckland CBD
Hidden just off Queen Street, come for Mezze Bar's cosy atmosphere and stay for the tiramisu. If you're usually going straight for the coffee-soaked ladyfingers, this one's for you. Heavy on the espresso and served with zabaglione, a sweet Italian custard with egg yolks, sugar and wine, the dessert is a cure-all for the sweet tooth. Though it's a step away from the classic, it's undoubtedly what sweet Nirvana tastes like.
Gina's Italian Kitchen
Eden Terrace
If you want food made with love, then Gina's Italian Kitchen is where you'll find it. While their tiramisu doesn't have the fanciest presentation, you can taste the heart put into every layer. With authentic Italian sponge, strong Italian espresso, whipped mascarpone cream, rich marsala wine, and a dusting of cocoa so thick you lose sight of the sponge, this dessert will have you reaching to loosen the buckle of your belt just to make more room.
Dante's Pizzeria
Various locations
You might know Dante's Pizzeria for terrific wood-fired pizzas, but it's about time their tiramisu takes the spotlight. Elevating the tiramisu experience with their homemade Savoiardi biscuits dipped in Segafredo coffee, Dante's nails the not-too-soggy biscuit experience. The final layer of light mascarpone is dusted with chocolate, a welcoming riff on the traditional unsweetened cocoa.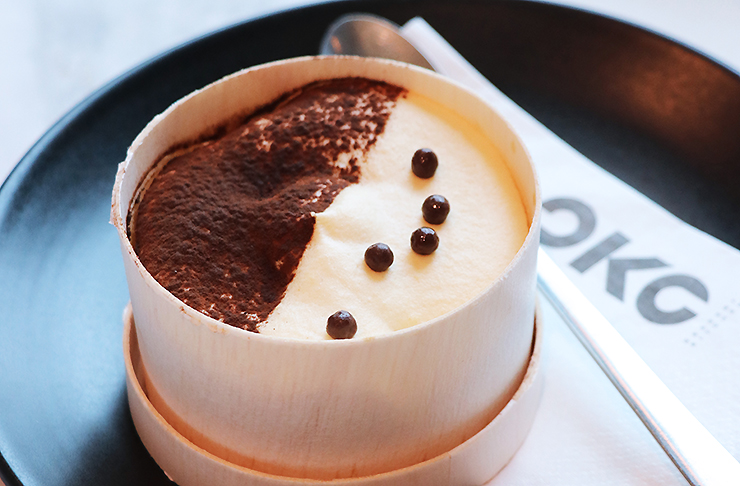 OKO Dessert Kitchen
Auckland CBD
One for the tiramisu lovers who think they've tried them all, OKO Dessert Kitchen's Tiramisu Cake is art meets dessert. Reimagining the Italian classic, crack the outer layer to reveal a sweet whipped mascarpone mousse, layered with marsala wine and rum-soaked ladyfingers. Topped with chocolate-coated wafer chunks and feuilletine, or crunchy crushed crepe, the dessert kitchen nails the components of the tiramisu and adds a unique twist.
Calimero
Saint Heliers, Sandringham
Known for bringing Saint Heliers and now Sandringham a slice of Italy with their authentic Italian pizza, Calimero brings that same passion into their dessert menu with a homemade tiramisu that is as delectable as it is hearty. Think thick layers of mascarpone layered with chunky sponge fingers and a generous helping of chocolate shavings—this is one dish that you'll want to leave room for. If you're worried about your tiramisu keeping you up all night then fret not, because Calimero's is conveniently made using decaf espresso—all of the taste with none of the insomnia.
Pane e Vino
Ponsonby
You know your dinner's going to be good when the restaurant's catchphrase is 'It is not a table without bread and wine'. The folks at Pane e Vino don't take making food lightly, adding a touch of fine detail to every dish they serve—which makes their tiramisu one not to be missed. They get their savoiardi (ladyfinger biscuits) from Italy, then soak them in freshly brewed espresso, sweet Sicilian marsala wine, and dollops of rich mascarpone cream to top. While their serving is big enough for two, trust us when we say you're gonna want to ask for one spoon only.
More of a doughnut fiend? Here's where you can find Auckland's best doughnuts.
Image credit: Alev Takil, Giapo, The Oyster Inn by Armelle Frimpong, Miann Chocolate Factory by Hayley Watters, OKO dessert Kitchen.