Doughnuts are having a moment—and that's totally fine by us. Whether you like them dusted with sugar, oozing with chocolate custard or stuffed with cream, there's something for everyone in this doughnut lovin' city of ours. We've rounded up the top places to get the best doughnuts in Auckland. Dough-not delay, try one today.
Little & Friday
Belmont and Newmarket
The number one spot is, of course, reserved for Little & Friday's signature doughnuts. These decadent morsels are the cream of the crop—literally. We're talking giant doughnuts encrusted with icing sugar and oozing with creamy fillings. We often find ourselves tossing up between our two faves—order the classic cream doughnut with crème diplomat and raspberry coulis or try the delectable banana and caramel combo?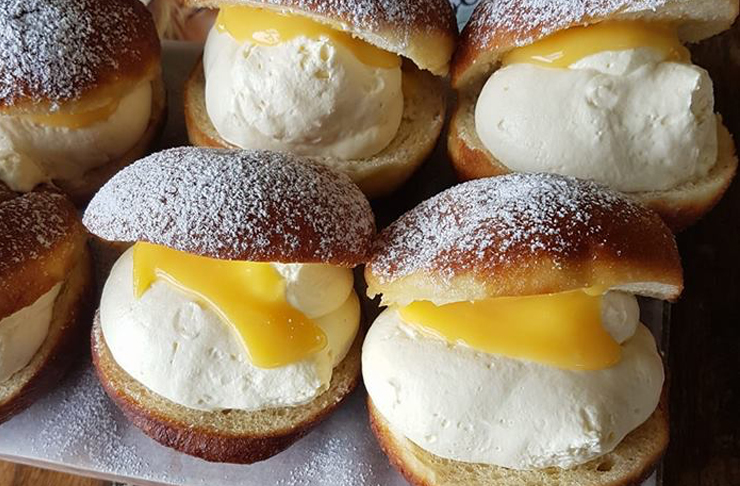 Little Sister Cafe
Henderson
These guys take the cake (or should we say doughnut?) for the best cream to dough ratio. Seriously, the doughnuts at Little Sister Cafe are absolutely bursting with cream. They're also filled with a generous dollop (or two) of jam and coated in icing sugar. Keep your Tinder dates away because there's a high chance you'll end up with cream on your face and icing sugar on your nose. Don't say we didn't warn you­—you're going to find some of the best doughnuts in Auckland.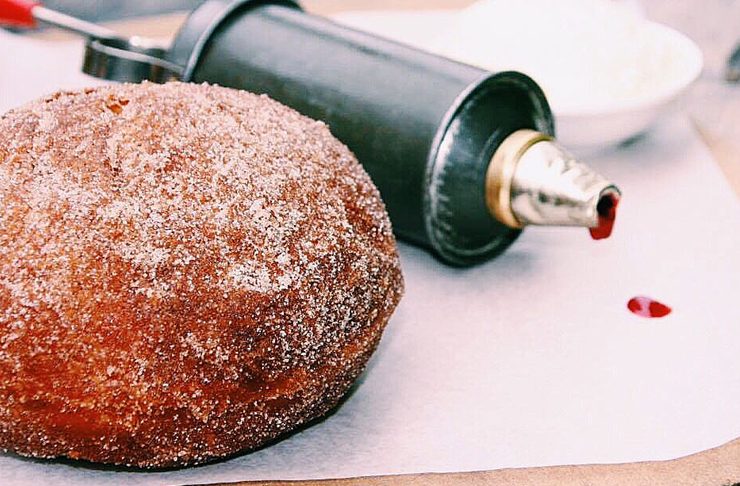 Foxtrot Parlour
Ponsonby
Your parents' nags of "don't play with your food" can be ignored at this Auckland café. Here, the practice is encouraged, as they serve their signature doughnuts alongside a vintage syringe packed with your filling of choice. All hands are on deck as you IYO (translation: "inject your own") doughnut with either caramel, berry, chocolate or custard filling. Oh, and it's totally okay to lick your fingers clean at Foxtrot Parlour.
Boy & Bird
Ponsonby
Dutch doughnuts (aka olibolen) are in Auckland and we couldn't be happier. You'll discover the morsels of happiness at Ponsonby's very own Boy & Bird. Showcasing apple and sweet spices, they're served piping hot and dusted with icing sugar. Better yet, they also come with a side of salted caramel dipping sauce. Talk about heaven on a plate.
Devonport Stone Oven Bakery & Café
Devonport
Sweetening up the North Shore is Devonport Stone Oven Bakery & Café. Their generously sized doughnuts are rolled in icing sugar and loaded with either custard or cream. Work your way through fluffy mouthfuls of bliss to reach the creamy custard in the middle. Be sure to have multiple napkins at the ready because things are bound to get messy.
The Pie Piper And Doornuts
K' Road
Famous for delivering doughnuts to doorsteps all around town, The Pie Piper And Doornuts is among the best. Head into their physical store on K'Road for chance to witness them whipping up scrumptious creations in their kitchen, it's everything a sugar addict and doughnut-loving Aucklander dreamed of. You'll be treated to their vast and whacky selection of doughnuts, like the Blueberry Berliner that's wrapped in golden crumbled awesomeness or the wild Rocky Road and oh-so much s'more.
Bluebells Cakery
Hillsborough & Kingsland
When it comes to doughnuts, Bluebells Cakery keeps things old school. Think long, doughy delights filled with cream and dusted with sugar. The classic cream doughnut will remind you of trips to the bakery on your way home from school. They taste just as good as they did when you were eight years old—if not better. Grab a traditional raspberry jam doughnut or stay on trend with salted caramel. They're available from their Hillsborough café from Friday to Sunday or at their Kingsland café on Friday and Saturday.
The Baker's Cottage
Kingsland
Last but not least on our hunt for the best doughnuts in Auckland, when you're short on dough (the monetary kind) and want some dough (the doughnut kind), head to this humble Kingsland bakery. The Baker's Cottage serves up all the Kiwi classics on the cheap. Your standard cream doughnut will set you back just $2.40—leaving you with change for a sausage roll and a lolly slice.
Doughnut Haus
Online
The tasty sourdough treats at Doughnut Haus are 100% vegan and in our opinion, just as delish as their cookie counterparts (Doughnut Haus' sister company is of course Kookie Haus). Choose from 12 next-level flavours, including Ferrero rocher, blueberry cheesecake, s'mores, apple pie and our current fave, summer berry glaze (pictured above).
Rosebank Coffee & Kitchen
Avondale
One thing's for certain, Rosebank Coffee & Kitchen don't do sweet treats by halves. We're talking s'mores tarts, Italian-style carrot cake, salted caramel slice and—of course—doughnuts. They have two delights available for the taking. Their cream option is packed with diplomat cream and raspberry compote, while their sugar-dusted number is dipped in brown butter before being rolled in cinnamon-spiced sugar with a hint of salt.
Hello Friends + Allies
Epsom
When it comes to doughnuts, Hello Friends + Allies has an exceptional cream-to-dough ratio. These scrumptious morsels are absolutely bursting with silky cream. They're also filled with a generous dollop of jam and coated in icing sugar. Eat with caution—there's a high chance you'll end up with cream on your face and icing sugar on your nose.
Scratch Bakers
Auckland City
For an inner-city doughnut fix, look no further than the creative folk at Scratch Bakers. They're known for creating a doughnut-of-the-week, with previous creations including almond butter with raspberry, hokey pokey with macadamia brittle crunch as well as peanut butter jelly. Is your mouth watering yet?
Bestie
K' Road
K Road's Bestie café and is sure to become your, err, bestie. The hip café serves up ricotta doughnuts (yes, plural) in exceptional style. You'll be served five doughy balls fried to perfection and dusted with cinnamon sugar. The best part? These are then served with a white chocolate whip, perfect for dipping the morsels of happiness. We can confirm, they're as amazing as they sound.
The Mustard Kitchen
Morningside
Perched on a corner in Morningside, The Mustard Kitchen has a reputation for the best pies in Auckland. But today we're talking doughnuts and the café is equally pro at baking these. They have four options: cinnamon sugar, chocolate ganache-filled or jam with cream (available in both long or round form). The latter is brimming with fresh, fluffy cream and dusted with icing sugar. Have napkins at the ready coz things are bound to get messy.
Deputy Donuts
Online
Push your health kick back to next week, because you're gonna want to sink your teeth into these hand-rolled artisan clouds of sugar-coated goodness. Made from scratch, Deputy Donuts will have you forgetting all about #cleaneating when you taste the love injected into these curd, cream, and jam filled delights. From salted caramel and raspberry vanilla, to lemon meringue and honeycomb flavours, you'll be lucky to choose just one—don't say we didn't warn you. Make an appointment to pop in and see them or place an order online for delivery. Happy munching.
Grownup Donuts
Henderson and online
Grownup Donuts are sure to put a smile on your dial with their signature doughy treats, which are some of the best in the west (and beyond). These market darlings offer an ever-changing array of flavours (around 45, we're told!), all equally delicious—think vanilla cream with butterscotch, raspberry cheesecake, and espresso with dark chocolate cream. Hell, yes.
If you can't get enough of those sweet treats, you need to check out Auckland's best cheesecakes, stat.
Image credit: Kellie Blizzard, Jaiden Bhaga, Little Sister Cafe, Foxtrot Parlour, Doughnut Haus, Hello Friends + Allies, Deputy Donuts