Doughnuts are having a moment—and that's totally fine by us. Whether you like them dusted with sugar, oozing with chocolate custard, stuffed with cream or even an impressive doughnut tower, there's something for everyone in this doughnut lovin' city of ours. Thanks to your very passionate input, we've rounded up the top places to get the best doughnuts in Auckland. Dough-not delay, try one today.
Here's where to find the best doughnuts in Auckland.
Doe Donuts
Grey Lynn & Online
Innovative, drool-worthy flavours are the order of the day at Doe Donuts. With everything on the menu from carrot cake to lemon meringue and fairy bread, all iced to perfection, their doughnuts have truly got it all—you just know those things are made with love. You just can't go wrong with their moreish rotating flavours. We should mention that we're more than a little partial to their tiramisu and their chocolate creme with a generous slab of honeycomb sticking out of the top, but basically, anything you plump for will be outstanding—no wonder they sell out on the daily.
Doubleshot
Muriwai
Slinging insane doughnuts right out of a food truck is Muriwai Beach fave, Doubleshot. Small and mighty definitely go together when it comes to these guys who are always whipping up some of the most creative and delicious flavours out there. Although their everchanging options are "always mean", their delectable doughnuts don't get much more special than their OG Kiwi classics such as hundreds and thousands and pink lamington (which are certified bangers). Update: It looks like the Doubleshot boys have shut up shop until next summer, so we're afraid you'll have to stick to daydreaming about their delicious doughnuts (or checking out the other spots on this list!) in the interim.
Mama's Donuts
Botany, Hillcrest & Online
Like many of the best things in life, Mama's Donuts are made the old-fashioned way and that means by hand and with a whole lotta love. Created by two mums—with 12 kids between them, no less—these beauties have the kiddie seal of approval, so you just know they're gonna be good. So soft and fluffy every time, smash into the classics like their OG glazed, sugar-cinnamon and chocolate custard options—check out one of their rotating Flavours of the Month—or get amongst some of their melt-in-the-mouth Doboys aka glazed doughnut holes.
Wen & Yen
Rosedale, Titirangi & Markets
Wen & Yen are shaking up the doughnut scene with their delightfully fluffy creations, pumped full of homemade fillings and sauces. Hit up their brick-and-mortar stores in Rosedale and Titirangi or find them doing the rounds at local markets and get fed on gorgeous flavours like Nutella, Boston cream and Snickers. And the best part? No doughnut-lover gets left behind, because they also provide for the vegan and gluten-free fans amongst you—as they cater for allergies and don't skimp on the flavour.
Doughnut Haus
Ranui & Online
The tasty sourdough treats at Doughnut Haus are 100% vegan and in our opinion, just as delish as their cookie counterparts (Doughnut Haus' sister company is the hugely popular Kookie Haus). Choose from an array of next-level flavours, including Ferrero Rocher, blueberry cheesecake, s'mores, apple pie and our current fave, summer berry glaze. Made fresh daily, with vegan options and delicious flavours are just some of the reasons they're one of the best doughnuts in Auckland. What's not to love?
Grownup Donuts
Auckland CBD, Devonport, Henderson, Manurewa, Wairau Valley, Markets & Online
Grownup Donuts are sure to put a smile on your dial with their signature doughy treats, which are some of the best in the west (and beyond). These market darlings offer an ever-changing array of flavours (around 45, we're told!), all equally delicious with the perfect ratio ofrich filling and soft dough. Think vanilla cream with butterscotch, raspberry cheesecake, and espresso with dark chocolate cream. Basically, you can call them little pillows of perfection. Hell, yes.
Just Jess Boujee Bakery
Huapai & Online
Winning the award for cutest bakery is undeniably Just Jess (one look at their pink-themed IG and you'll get what we mean). From pretty pastel glazed to sparkling with cinnamon sugar, Just Jess's delectable doughnuts are passionately adored by many. Try one of their famous "long bois", which are essentially doughnuts shaped like hotdog buns that are filled with toppings like banoffee pie or strawberries and cream—they're the stuff of our sweet doughy dreams.
Deputy Donuts
Fridays and Saturdays at Farro Fresh & Online
Push your health kick back to next week, because you're gonna want to sink your teeth into these hand-rolled artisan clouds of sugar-coated goodness. Made from scratch, Deputy Donuts will have you forgetting all about #cleaneating when you taste the love injected into these curd, cream, and jam-filled delights. With amazing flavour combos from salted caramel and raspberry vanilla to lemon meringue and honeycomb flavours, you'll be lucky to choose just one—don't say we didn't warn you. Make an appointment to pop in and see them, place an order online for delivery or go to Farro Fresh on Fridays and Saturdays. Happy munching.
Little & Friday
Newmarket, Ponsonby
Little & Friday's signature doughnuts are the cream of the crop—literally. We're talking giant doughnuts encrusted with icing sugar and oozing with creamy fillings. We often find ourselves tossing up between our two faves—order the classic cream doughnut with crème diplomat and raspberry coulis, or try the delectable banana and caramel combo? Either way, you're guaranteed a trip to cloud nine upon your first bite.
Bluebells Cakery
Commercial Bay, Hillsborough, Kingsland & Online
When it comes to doughnuts, Bluebells Cakery keeps things old school. Think long, doughy delights filled with cream and dusted with sugar. The classic cream doughnut will remind you of trips to the bakery on your way home from school. They taste just as good as they did when you were eight years old—if not better. Grab a traditional raspberry jam doughnut or stay on trend with salted caramel. They're available from their Hillsborough café from Friday to Sunday or at their Kingsland café on Friday and Saturday.
The Pie Piper And Doornuts
Karangahape Road, Mission Bay & Online
Famous for delivering doughnuts to doorsteps all around town, The Pie Piper And Doornuts is among the best. Head to their physical store on Karangahape Road or Mission Bay for a chance to witness them whipping up scrumptious creations in their kitchen, it's everything a sugar addict and doughnut-loving Aucklander dreamed of. You'll be treated to their vast and whacky selection of doughnuts, like the blueberry berliner that's wrapped in golden crumbled awesomeness or the wild rocky road and oh-so-much s'more.
Scratch Bakers
Auckland CBD
For an inner-city doughnut fix, look no further than the creative folk at Scratch Bakers. They're known for creating a doughnut-of-the-week, with previous creations including almond butter with raspberry, hokey pokey with macadamia brittle crunch as well as peanut butter jelly. Is your mouth watering yet?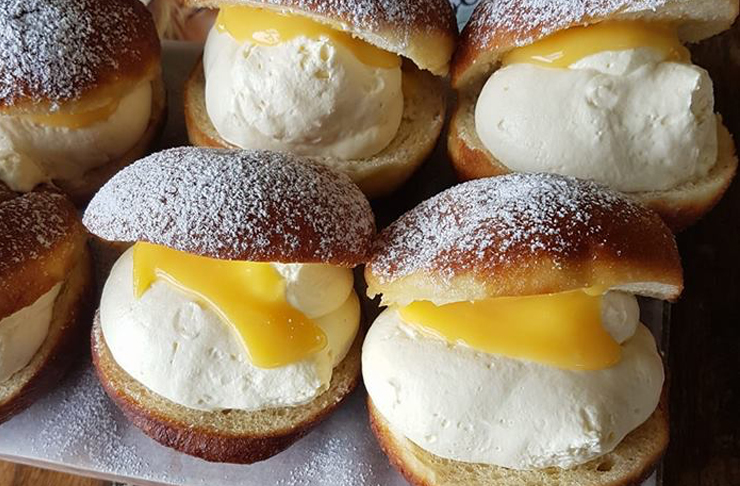 Little Sister Cafe
Henderson
These guys take the cake (or should we say doughnut?) for the best cream-to-dough ratio. Seriously, the doughnuts at Little Sister Cafe are absolutely bursting with cream. They're also filled with a generous dollop (or two) of jam and coated in icing sugar. Keep your Tinder dates away because there's a high chance you'll end up with cream on your face and icing sugar on your nose. Don't say we didn't warn you­—you're going to find some of the best doughnuts in Auckland.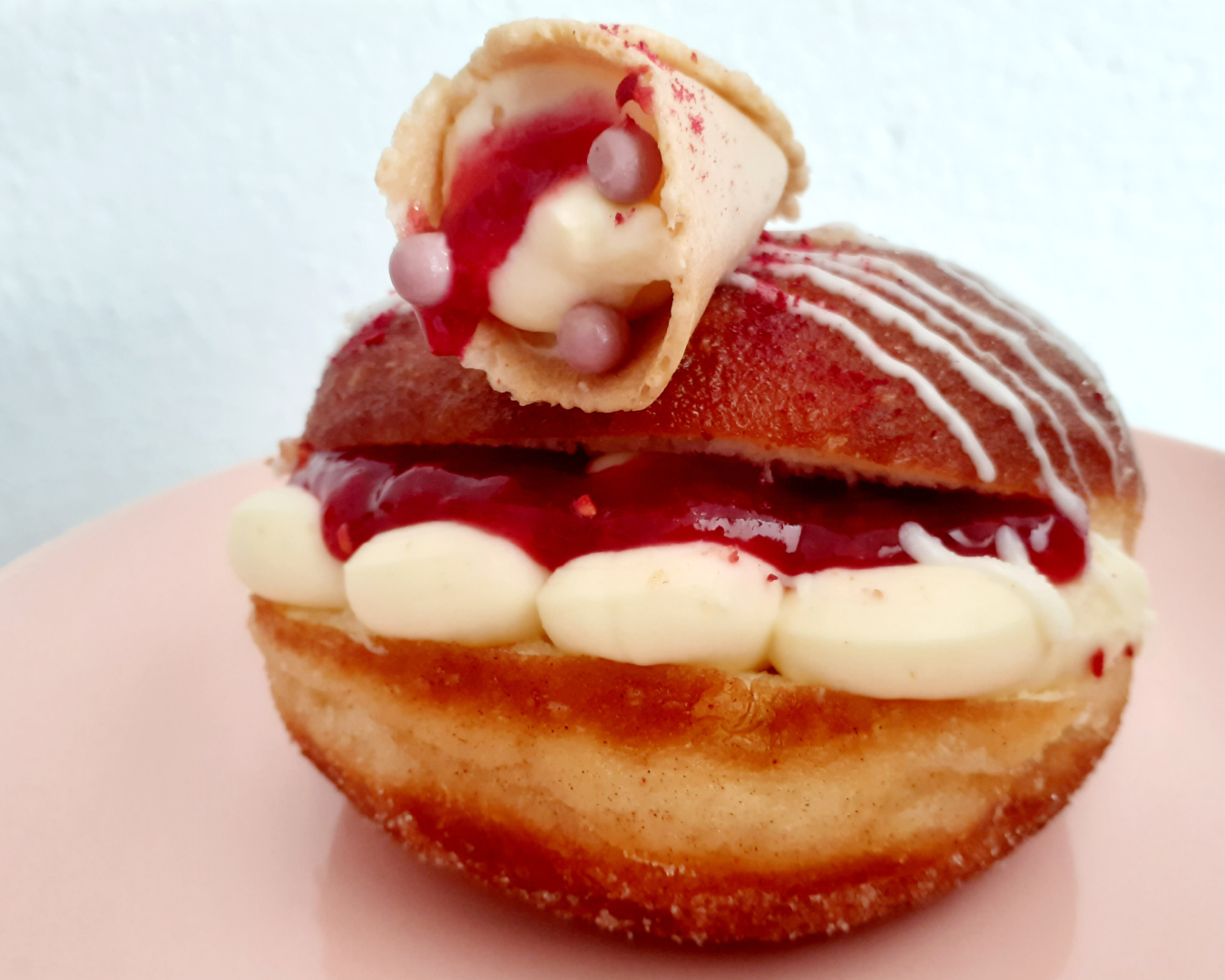 Beaufort + Co
Oteha
If you like your doughnuts on the OTT side (erm, yes), head on over to Beaufort + Co. This North Shore cafe is home to some of the most jaw-dropping doughies you'll ever meet—in fact, we challenge you to find a more 'Grammable lineup. Bursting with mascarpone cream and assorted fillings, then topped with whole cookies, chocolate bars, and in one case, a whole miniature lemon meringue pie—these are unlike anything you've ever seen (or tasted) before. As for the flavours themselves, they change on the reg but have been known to include s'mores, Pimm's, caramel popcorn, espresso martini, and even maple bacon. Oof.
Magnolia Kitchen Sweet Cafe
Silverdale
Many of you will be familiar with Magnolia Kitchen's spectacular cakes, but did you know that they also bake some pretty sweet doughnuts? Yep, these bad boys are as epic as their cake-y cousins and available in your choice of classic cinnamon, chocolate-glazed, or filled brioche (and by filled, we mean bursting to the brim with salted caramel, lemon curd, and vanilla bean custard). Keep an eye out for their DOTM (doughnut of the moment), which changes roughly every two weeks but is always incredible. Props to these guys for also offering allergy-friendly options.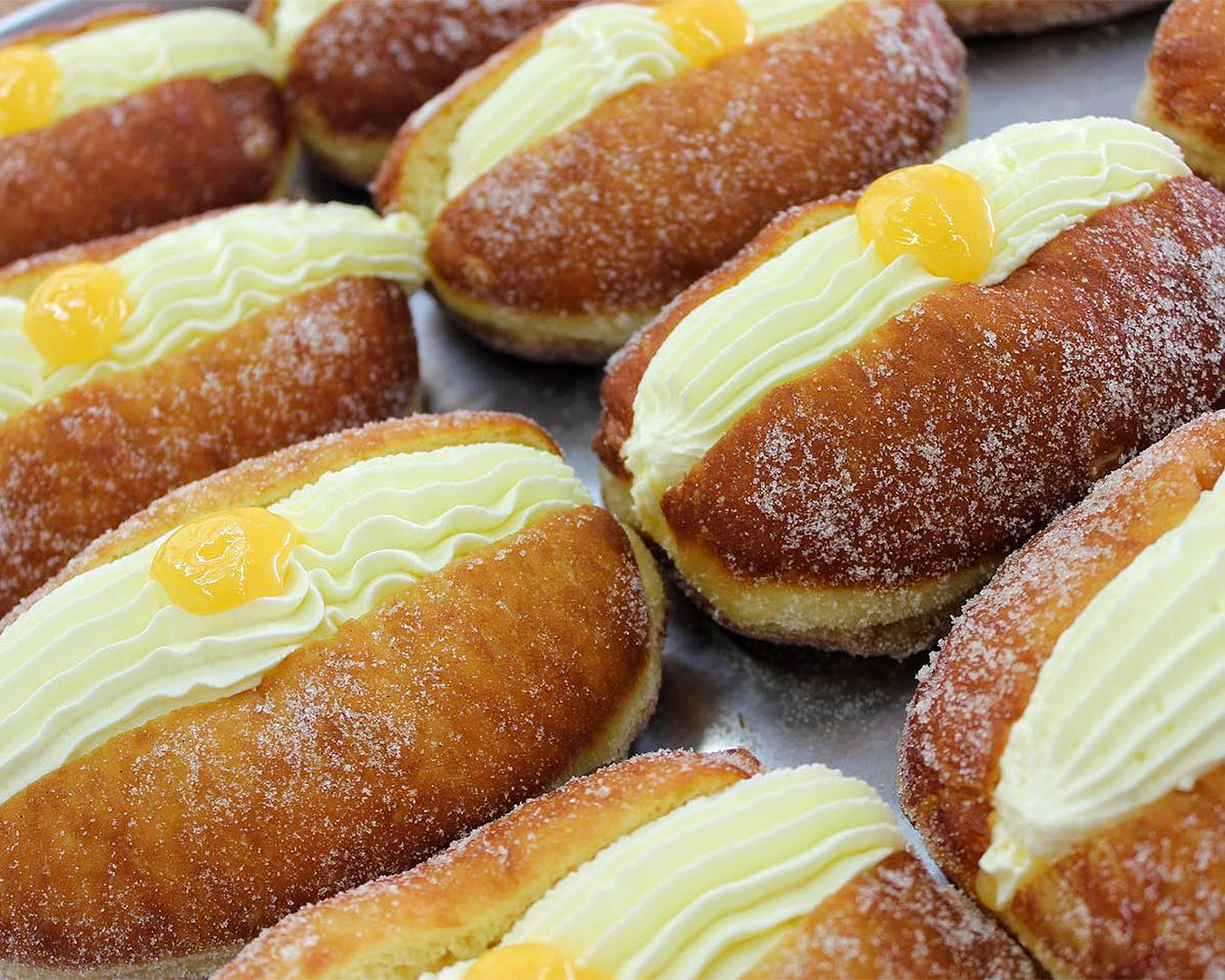 Bam's Bakery
Warkworth
Shout-out to Bam's Bakery, who is repping the beloved doughnut for our friends a li'l further north. They have doughies of every description, including some sublime filled options in flavours like crème brûlée, caramel marshmallow and PB&J—along with special weekend-only offerings like banoffee and Jelly Tip. Who's up for a roadie?
Crafty Baker
Glen Eden, Titirangi
When one of your doughnuts is named an Iconic Auckland Eat, you know it must be pretty damn good (just 100 dishes make the cut every year). Enter the Crafty Baker, whose raspberry and cream concoction is so insanely delicious, it secured a place on the 2021 list. However when it comes to doughnuts, this bakery is no one-trick pony—they also have a range of other equally moreish flavours to get amongst (think salted caramel and chocolate), along with vegan options. Winninggg.
The Real Bread Project
Helensville
For some of the city's lushest doughnuts, make the pilgrimage out west to The Real Bread Project. A haven for all things baked—but especially doughnuts—your tastebuds will be jumping for joy with every bite of their long cream buns (a souped-up version of the classic cream-and-jam number found at practically every bakery across New Zealand), and filled doughnuts in gourmet flavours like key lime cheesecake, white chocolate honeycomb, and caramel macadamia.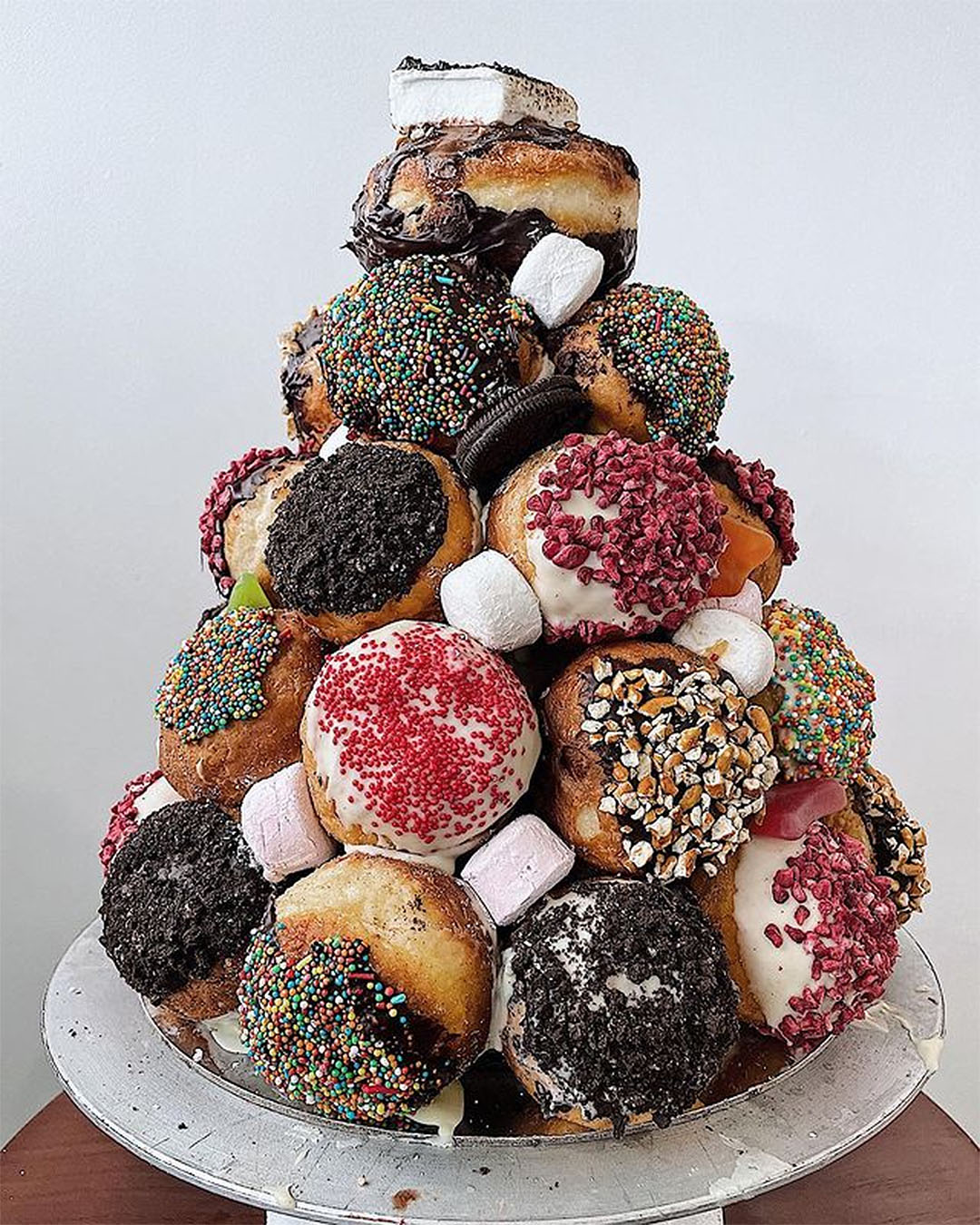 Lunchroom
Onehunga
You know them for their incredible pies, but Lunchroom's doughnuts should also be on your radar. Again taking cues from the traditional bakery-style doughie, these babies are bigger, better and a whole lot bolder on the flavour front, with options known to include orange pumpkin spice, peanut butter and grape jelly, and our personal fave, banoffee. Featuring whipped cream, salted caramel and fresh and brûléed bananas, it's heaven in a mouthful. We'd be remiss not to mention this impressive doughnut tower featured above, available to order for Monday-Friday only, expect a mix of cream, jam, Nutella, chocolate ganache, salted caramel and peanut butter fillings and a whole lot of happiness.
If you can't get enough of those sweet treats, you need to check out Auckland's best cheesecakes, stat.
Image credit: Doe Donuts by Wono Kim, Doubleshot, Mama's Donuts, Wen & Yen, Doughnut Haus, Grownup Donuts, Just Jess, Deputy Donuts, Little & Friday, Pie Piper And Doornuts, Little Sister Cafe, Beaufort + Co by Kathryn Steane, Bam's Bakery, Lunchroom.