It's common knowledge that the two best things in this world are a) cheese and b) cake. So when some joker decided to combine the two, it was a doubly glorious time. And, lucky for us, Auckland knows a thing or two about cheesecake. Whether you like yours topped high with fruit, dense with chocolate or something on the healthier side, there's something for everyone in this cheesecake lovin' city of ours.
We've rounded up the best cheesecakes in Auckland.
4&20 Bakery
Remuera
When it comes to cheesecakes, sometimes you just can't go wrong with a classic. 4&20 Bakery is a top contender for the best baked New York cheesecake in town. The vanilla number is exactly how a good cheesecake should be: dense af and with a perfectly golden top. You can order it by the slice or as an entire cake (we won't judge).
Adela Cake
Online
Made fresh for custom orders only, Adela Cake has an endless menu of different cakes but their baked cheesecake is something else. It's oh-so moreish and creamy and just melts in your mouth. Trust us when we say you won't want to share. Adela Cake showcases the old saying less is more, as their baked cheesecake is straight to the point with no added toppings and is perfection.
Baker & Co
Glendowie
Sweetening up East Auckland is the creative folk at Baker & Co. With a "just like Mum used to make" approach to baking, they have sweet (and savoury treats) perfected. When it comes to cheesecakes, the café is responsible for the likes of lemon curd, Nutella, mocha (is this real life?) and mixed berry and white chocolate. Flavours change on the regular and yes, they're as amazing as they sound.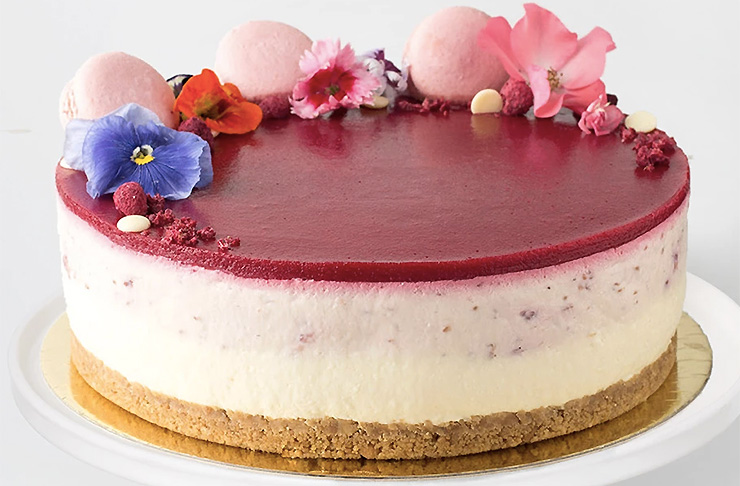 Bluebells Cakery
Hillsborough & Kingsland
Gain popularity at your next bring-a-plate shindig with a cheesecake from Bluebells Cakery. They have four creations available to order: white chocolate and raspberry, lemon, passionfruit and chocolate hazelnut (our fave!). Can't be bothered with all that slicing? They also provide12 white chocolate and raspberry or 12 passionfruit mini cheesecakes for your sharing pleasure. One thing's for sure, the cheesecakes are all so moreish and dense they'll definitely be the star dish at any event.
Circus Circus
Mt Eden
No visit to Circus Circus is complete without dessert. Choose between the likes of banoffee pie, crème brûlée or—of course—cheesecake. Their Crunchie Bar cheesecake is a chocolate cheesecake with a brownie base and served with lashings of whipped cream. You'll be leaving with a big smile on your face with one of these in your tum.
The Fed
Auckland CBD
What better way to finish off a big ol' serve of poutine than with a slice of cheesecake? Make your dreams a reality at The Fed. The friendly folk serve the best New York-style cheesecake in Auckland (big call, we know). Be sensible and order a single slice or opt for the three-way combo and enjoy with serves of pumpkin, banoffee or lemon meringue pie #treatyoself.
Frasers
Mt Eden
Another Mt. Eden gem is none other than Frasers. Open till late in the evening, Frasers has become one of the fave late night dessert spots for anyone within driving distance. The New York baked cheesecake is the Frasers moreish classic but why not branch out and go for their Bailey's cheesecake, they sometimes even have a cookies and cream cheesecake that needs trying and it's AH-mazing.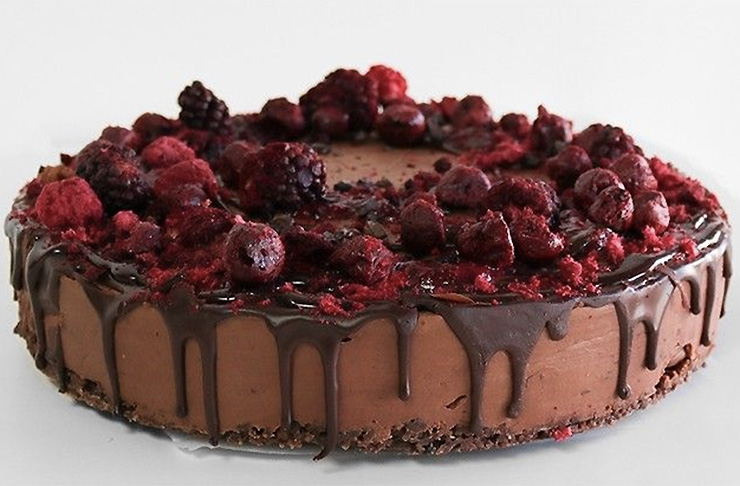 House Of Chocolate
Takapuna
With a name like House Of Chocolate, you'd expect this café to be responsible for some pretty mouth-watering treats—and that they are! While their cheesecakes change on the reg, their decadent creations have included s'mores, matcha espresso and a Belgian chocolate number topped with caramelised bacon—yes, BACON. Also, their biscuit base is THICK so for those who love that crunchy texture, this one's for you. While you're at it, be sure to treat yo'self to some of their handcrafted chocolate bonbons.
Little Bird Unbakery
Ponsonby
Little Bird Unbakery are probably the ones that first proved that cheesecakes didn't necessarily need any cheese to be rich, thick, dense and absolutely delish. It all started from their infamous cacao raspberry cheesecake and now they've evolved in to new levels of creativity with six delicious cheesecakes on the menu to the tune of passionfruit cheesecake, strawberry cheesecake and blueberry cheesecake. Try them all, we'll not judge.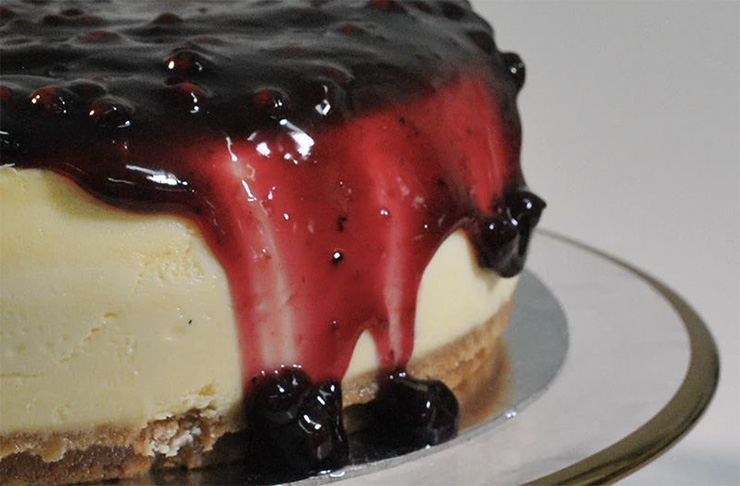 The Pie Piper And Doornuts
K' Road, Mission Bay
Mother and daughter Danielle and Suzanne have shared their family recipe creations from California to the streets of Auckland. Creamy, smooth, dense with an extra sweet and buttery cookie base, The Pie Piper And Doornuts know how to make a damn fine cheesecake. Besides their strawberry cheesecake, they also do a blueberry New York cheesecake (above) which is a serious must try if you're a cheesecake fan. Also spotted (and, consumed) is an out-of-this-world chocolate cheesecake. Load it up.
The Raw Kitchen
City Works Depot
Taking inspo from the famous chocolate bar, The Raw Kitchen's Snickers cheesecake features caramel, peanut, creamy nougat and rich chocolate. The best part? The tasty treat is free from gluten, dairy and refined sugars. The Raw Kitchen must be up to some sort of wizardry because we have nooo idea how something so healthy can be so damn delicious. Magic, methinks.
Sip Kitchen
Newmarket and Rosedale
No cheese was harmed in the making of Sip Kitchen's raw, vegan cheesecakes. These dairy-free delights come in flavours such as lemon rosemary, peanut butter cacao, chocolate orange, passionfruit and vanilla cherry. The dense, flavoursome cakes are not only delicious but also nutritious. Wash down with a turmeric latte and you'll be away laughing.
For more sweet treats, check out where to find Auckland's best doughnuts.
Image credit: Bluebells Cakery, Jaiden Bhaga, House of Chocolate