Every route is a scenic route when road-tripping through Tasmania. Think country roads winding through mountain ranges, ancient forests, coastal beauties, waterfalls, gulches, glittering caves and loads more. So, pack your bags and embark on the adventure of a lifetime with these 10 stunning road trips in Tasmania.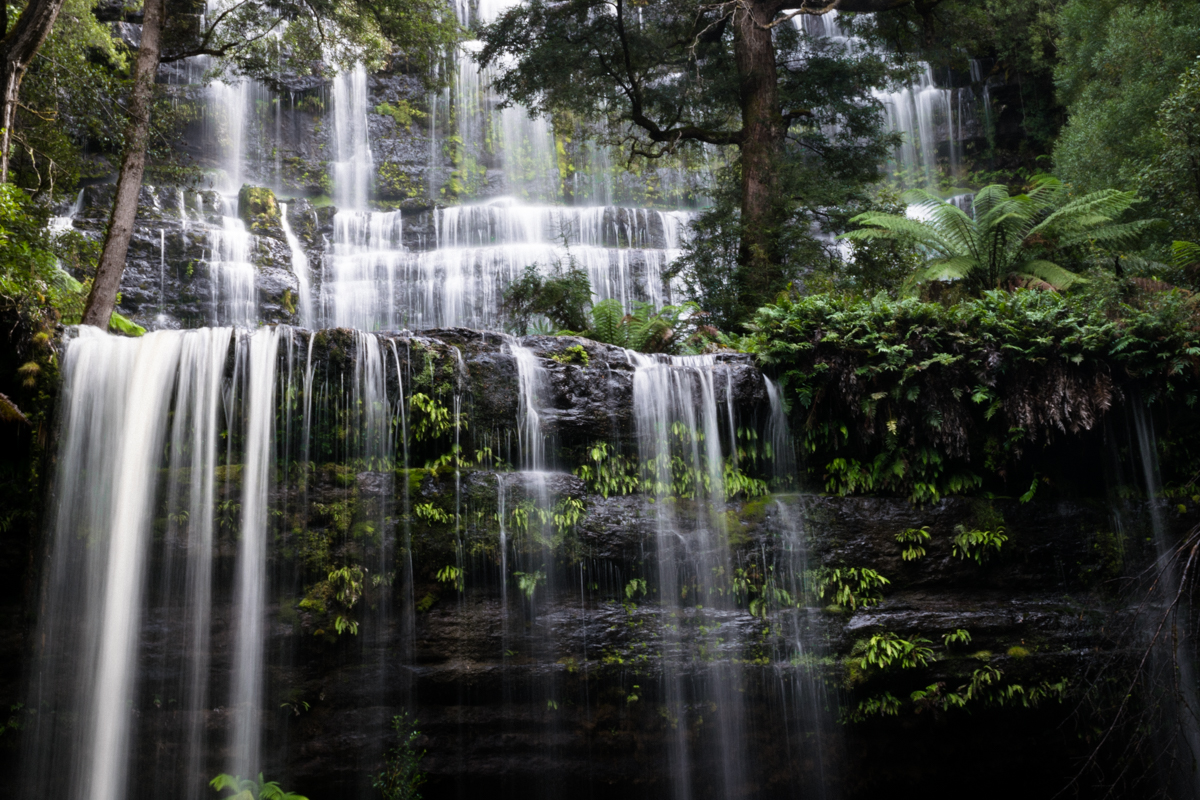 Russell Falls, Mount Field National Park
South West
Russell Falls
Russell Falls is one of the most easily accessible waterfalls in Tasmania; picture an incredible sight with multiple streams of waterfalls cascading throughout lush greenery and rock (you'll want to bring your camera for this one, trust us). The falls are located in Mount Field National Park, which is part of Tasmania's World Heritage Wilderness Area, just over an hour's drive from Hobart. Stop by New Norfolk (it's on the way), explore the antique shops, and indulge in some excellent eats before or after (probably the more sensible option) your hike. Make sure you shack up this stunning 1822 stone cottage. Book a stay here.
The Details
Distance from Hobart: 1h 10 mins (~72km)
See: New Norfolk, Pulpit Rock, Russell Falls, Lady Barron Falls, Tall Trees Walk
Eat: The Agrarian Kitchen Eatery, Tynwald Willow Bend Estate, Willow Court Restaurant
North
Devonport And Deloraine
Deloraine is a pretty regional town in the foothills of the Great Western Tiers and is known for its art, crafts and sculptures. Follow your nose along the Cradle to Coast Tasting Trail to sample delicious fresh produce, from raspberries and chocolate to craft beer and cheese. If you have time to take the 34-minute detour from Deloraine to Mole Creek Caves, do it; you'll see underground streams, glow worms, stalactites and stalagmites. Stop by coastal Devonport for eats, views and plenty of activities such as fishing or kayaking. Outside Devonport, visit Narawntapu National Park and spot wallabies and kangaroos. For a romantic getaway, this tiny home has everything you need inclusing a claw foot bath. Book a stay here.
The Details
Distance Launceston to Deloraine: 39min (~52km). Launceston to Devonport via Deloraine: 1h 12min (~102km)
See: Deloraine, Mole Creek Caves, Narawntapu National Park, Devonport
Eat: Dixie Blue Gelato, Villarett, Laneway, Four Ways Cafe, Verona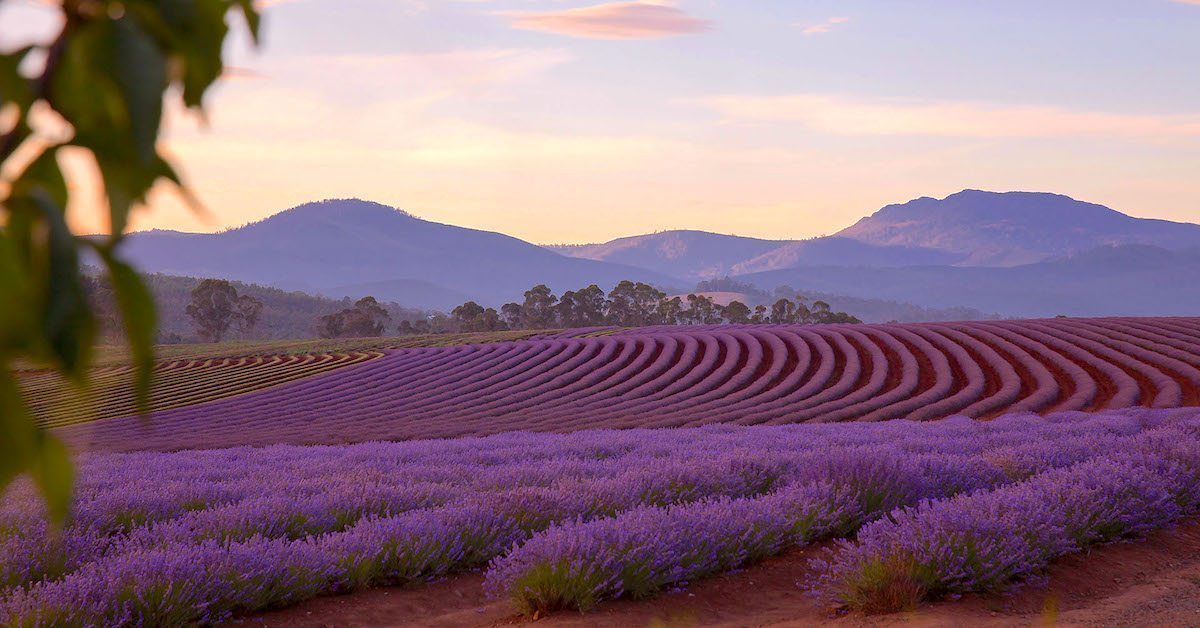 Bridestowe Lavender Estate, Bridport
Bridport
There are some pretty epic vineyards where you can sample wine and sparkling on the way to the coastal town of Bridport and we fully encourage you to do so. Plus, just outside Bridport is the Southern Hemisphere's largest commercial lavender farm, so it would be super rude not to pop in there as well. Once you hit Bridport, you'll want to drop by for some eats or if you're into it, pop into Barnbougle Dunes for the most stunning round of golf you'll ever play in your life. For more vista vibes, this Airbnb sports an open air hot tub that looks over mountain ranges. Book a stay here.
The Details
Distance from Launceston: 1h (~77km)
See: Pipers Brook Vineyard, Clover Hill, Jansz Wine Room, Bridestowe Lavender Estate, Barnbougle Dunes
Eat: Bridport Bunker Club, Bridport Cafe, Delamere Vineyards
South
Huon Valley And Cockle Creek
On the way to Cockle Creek from Hobart, spend some time exploring the picturesque Huon Valley. Follow the cider trail to discover why Tasmania earned the name of The Apple Isle and stop by some roadside stalls to sample fresh local produce. Pause and admire the pretty wooden boats in Franklin and call into Geeveston, a small town packed with art and craft. If you fancy a walk, take a detour to the alpine region of Hartz Mountains. Once you reach Cockle Creek, you'll be at the southernmost point of Australia reachable by car, so it's time to disembark and hit the multi-day South Coast Track in the Southwest National Park, which is Tasmania's largest expanse of wilderness. Stunning!
This rustic shed Airbnb was built in 1946 and is positioned on 10 acres of gorgeous farmland. Perfect for a getaway with a couple of your best mates. Book a stay here.
The Details
Distance from Hobart to Huon Valley: 35min (~39km). Distance from Hobart to Cockle Creek: 1h 50min (~116km)
See: Huon Valley, Cockle Creek, Southwest National Park
Eat: Cinnamon And Cherry, The Old Bank of Geeveston
Mount Wellington
The shortest and easiest drive in this list, Mount Wellington (kunanyi) is a must if you find yourself in Hobart. At 1,271m above sea level, it is an iconic landmark; walk to the peak (you'll find yourself with your head literally in the clouds) and soak in the incredible views. If you don't feel like a walk, you can drive Pinnacle Road all the way to the top.
This cosy and warm mud brick cabin should be top of your bucket list (and we highly recommend you visit during peak snow months from May to September). Book a stay here.
The Details
Distance from Hobart: 27mins (17km)
See: Mount Wellington, Pinnacle Road
Eat: Lost Freight Cafe
Bruny Island
Bruny Island has some of Tasmania's most beautifully preserved natural environments with abundant wildlife and stunning cliff-top views. Best part? It's just over an hour away from Hobart (think short drive and a ferry ride). Besides the gorgeous scenery and wildlife, Bruny is also home to local producers specialising in oysters, cheese and chocolate, so get ready to dig in while taking it all in.
Bruny Island is home to many incredible getaways but this one takes the cake. The lookout cabin is an architect designed cabin for two, nestled high on Bruny's east coast sea cliffs. Book a stay here.
The Details
Distance from Hobart: 1h (~37km)
See: South Bruny National Park, Mavista Falls, Cape Bruny Lighthouse, Bruny Island Cheese Company
Eat: Bruny Island Cheese Company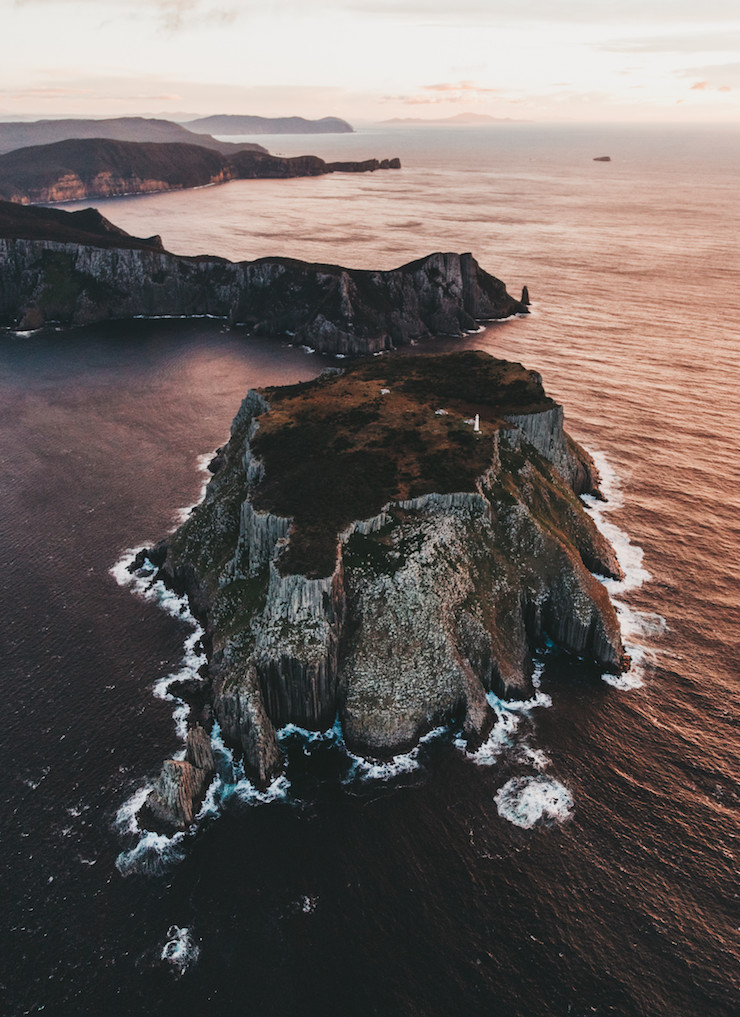 Tasman Island, Tasman National Park
Tasman Peninsula
There's a lot of stuff to do and see on the Tasman Peninsula, which makes it the perfect road-trip destination. Hikers, get excited, 'cause there are plenty of walks to get your heart pumping, like stunning Cape Raoul and Cape Hauy. Slow down for a day or two at Fortescue Bay or White Beach, before immersing yourself in the fascinating convict history at Port Arthur Historic Site (and if you're brave, you can also take one of the ghost tours through the site). We dare you! For an epic budget getaway in Tasmania, this 1940s fishing shack is your jam. Book a stay here.
The Details
Distance from Hobart to Port Arthur: 1h 30min (~95km)
See: Tasman National Park, Cape Raoul, Cape Hauy, Port Arthur Historic Site, White Beach
Eat: The Peninsula Cafe, 1830 Restaurant And Bar, Rosedale Homestead
West
Cradle Mountain-Lake St Clair National Park
You'll want to take several days to explore this gorgeous area because Cradle Mountain is absolutely spectacular. The bushwalks in the area are teeming with local flora and fauna. Hit up Dove Lake at the foot of the mountain and play spot the wombat. Lake St Clair is Australia's deepest natural freshwater lake that stretches over 17km. You can cruise on the lake or do one of the many walking trails around it and then stay at gorgeous Pumphouse Point, a former pump house that has been transformed into a stunning hotel – atop the lake. For 90 acres of dark forest, lofty views and rolling meadows, this stay is a winner. Book a stay here.
The Details
Distance from Hobart to Lake St Clair: 2h 23min (~179km). Distance from Hobart to Cradle Mountain: 4h (~320km)
See: Cradle Mountain, Dove Lake, Lake St Clair, Derwent Bridge Wilderness Hotel
Eat: Cradle Mountain Cafe, Cradle Forest Inn, Derwent Bridge Wilderness Hotel
East
Orford And Maria Island
Orford is a sleepy town on the east coast, surrounded by some stunning beaches, such as Shelly Beach and Spring Beach, which can be accessed along a coastal walk if you feel like a stroll. A bit further north at Triabunna, you can catch a ferry (it's only 30 minutes) to gorgeous Maria Island. Plan a day in this unique national park. You can hire a bike or walk (there are no cars). There is plenty of natural wildlife and historic ruins to explore and you are guaranteed to see a wombat or two.
This self-contained property will literally take your breath away—super modern, super sleek. Book your stay here.
The Details
Distance from Hobart to Orford: 1h 10min (~79km)
See: Orford, Maria Island National Park, Painted Cliffs, Fossil Cliffs
Eat: Spring Bay Restaurant, The Colonial Food & Wine, The Fish Van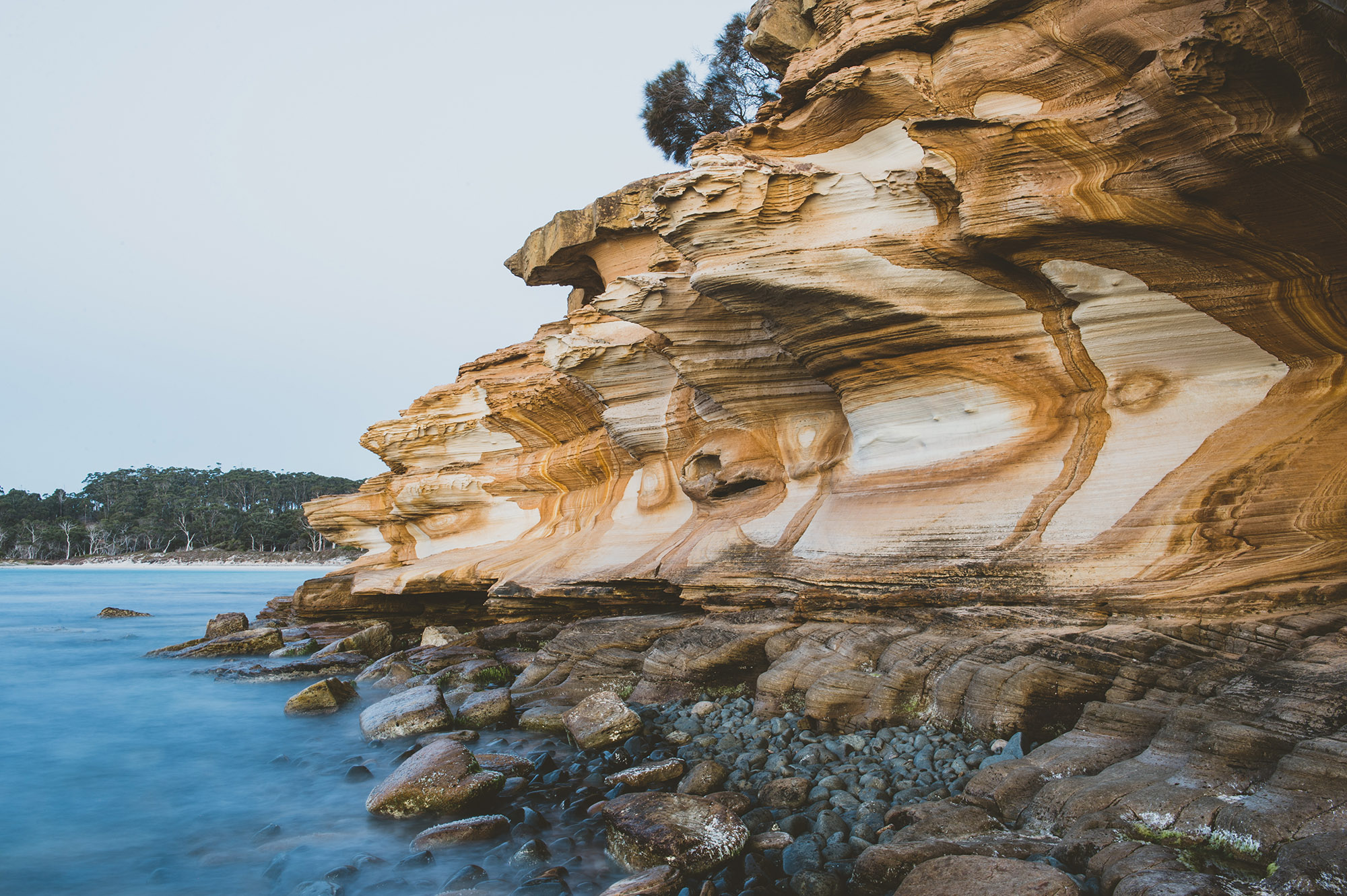 Painted Cliffs, Maria Island
Bay Of Fires
Take the Tasman Highway from Hobart and embark on the Great Eastern Drive. Take it slow, there are many photo opportunities along the way. Stop at one of the cellar doors for a tasting and then take a long walk on a pristine beach. You'll probably have it all to yourself. Go penguin-watching at Bicheno, and explore the Blowhole and the Gulch. Don't miss out on some of the best fish and chips in Australia! Then head further north to St Helens. Expect stunning views, followed by more breathtaking views as you hit St Helens and then the Bay of Fires. Totally worth it.
Cosy up at this surfy bungalow on the edge of Akaroa, it's just minutes from Beer Barrel Beach and Peron Dunes. Book a stay here.
The Details
Distance Hobart to Bicheno: 2h 30 mins (~180km), Hobart to St Helens via Bicheno: 3h 25min (~254km)
See: Bicheno Blowhole, The Gulch, St Helens
Eat: Little Bay Patisserie, The Pondering Frog, Furneaux Restaurant & Comptoir, Meresta Eatery
Falmouth
If you're heading up to the Bay of Fires, you need to book in at least one night in Falmouth first. Top of our accommodation list? The insanely idyllic Whale Song. This architectural two-bedroom cottage has been renovated up the whazoo, and comes with its own firepit, outdoor hot bath, outdoor heated shower and cosy fireplace. More importantly, when you look out the window, you might see humpback whales, dolphins and orcas cruising past your kitchen. Consider this your private luxury guest pass to the Tasman Sea. Did we mention it's only 50-odd minutes from Bay of Fires?
This is lowkey one of the most luxurious waterfront stays in Australia, the villa only sitting about 50 metres from the shoreline. Book a stay here.
Looking for more awesome things to do in Tasmania? Here are 6 of Tasmania's most breathtaking retreats.
Image credit: Mieke Campbell, Andrea Messina, Bridestowe Lavender Estate, Donovan Simpkin, Jarrad Seng (Three Capes Track)
Editor's note: Urban List editors independently select and write about stuff we love and think you'll like too. Urban List has affiliate partnerships, so we get revenue from your purchases.