Tasmania may be the smallest Australian state, but what she lacks in size, she makes up for with a load of remarkable national parks. Tasmania is synonymous with natural spectacles, rugged wilderness and legendary gourmet food, but few of us know that the Apple Isle boasts 19 national parks, covering a whopping 40% of the island. Across Tasmania, the parks are full of untouched ancient rainforests, imposing coastal landscapes and breathtaking alpine moorlands; nature is what Tassie does best.
We've taken it upon ourselves to round up the best of Tasmania's national parks that will secure The Apple Isle a special spot in your heart. Pack your bags, strap on your walking boots and prepare to embark on a wanderlust-satisfying adventure that will help you reset, get in touch with nature and let your wild spirit run free.
Grab your bucket list and start taking notes—here are our picks of the best national parks in Tasmania.
Tasman National Park
Studded with towering sea cliffs and mysterious forests, Tasman National Park is one of Tasmania's finest. Located on the rugged Tasman Peninsula, this dramatically beautiful park is home to Australia's highest sea cliffs, which majestically rise from the Tasman Sea and culminate in towering dolerite spires. Dark forests grow along the coastline, creating a contrasting blanket of green against the raging waves below. If you—like many others before you—fall in love with the Tasman National Park, you can embark on the famous Three Capes Track. Traversing 46 kilometres of untouched beauty, you will wander through a myriad of diverse landscapes and be astounded by one of Tasmania's best national parks.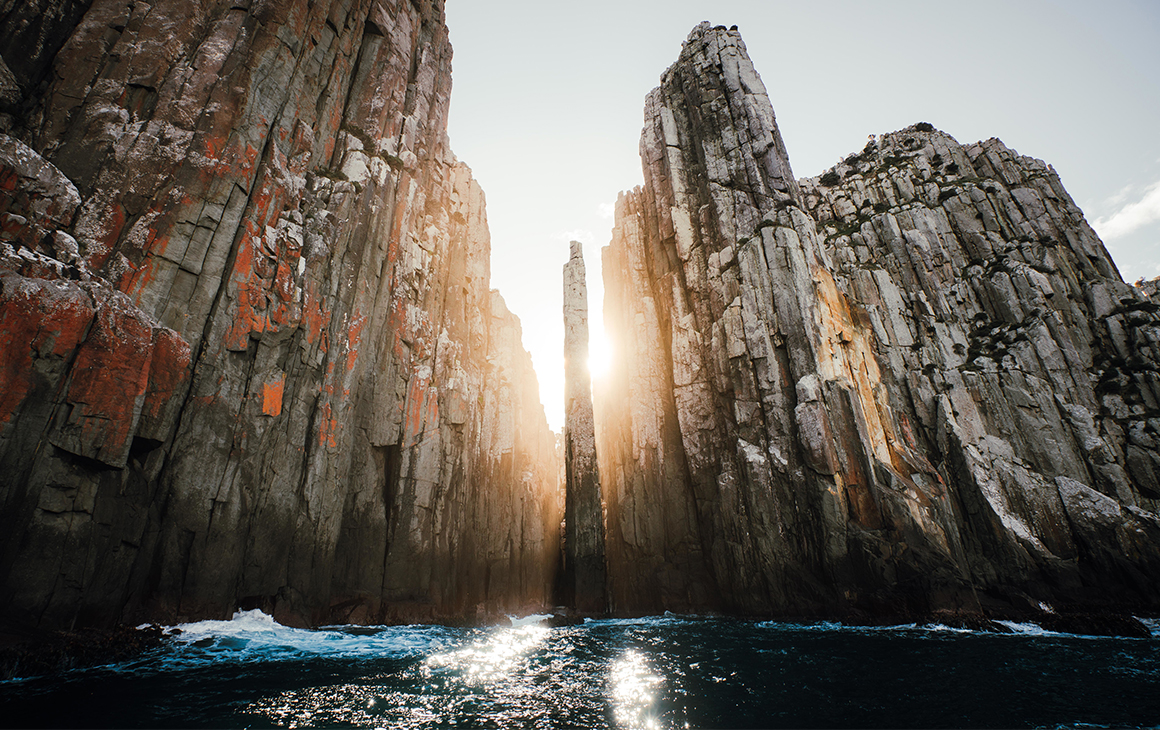 Mount Field National Park
You didn't really think we would have a list of Tasmania's best national parks without including the oldest national park, did you? Mount Field National Park is Tasmania's first national park and is known as the park for all seasons, with its ever-changing landscape and diverse vegetation. During autumn, the mountain slopes come alive with brilliant, fiery colours, while in winter, the snow-dusted slopes transform into ski fields. Make sure you hit the famous, three-tiered Russell Falls, which is arguably one of Tasmania's most impressive waterfalls. It even featured on Australia's first stamp, so you know it's pretty epic. However you like your nature, there's definitely going to be something for you to feast your eyes on at Mount Field.
Cradle Mountain

-Lake St Clair National Park

If a six-day, 65-kilometre alpine hike sounds like your thing, firstly, we aspire to be as motivated as you, and secondly, you'll want to make time for Cradle Mountain-Lake St Clair National Park. The jewel in the national park's crown is the Overland Track, which covers 65 kilometres of the rugged national park and is an unforgettable journey through Tasmania's alpine heart. This legendary track is revered for the diverse landscapes you will traverse and the abundant flora and fauna. Another jewel of Cradle Mountain National Park is the iconic Cradle Mountain. Often shrouded in cloud, the jagged contours of the mountain dramatically frame Dove Lake below. The national park is also home to the mystical Lake St Clair, which is Australia's deepest freshwater lake and certainly one of its most beautiful, fringed by dense forest and a backdrop of jagged mountains.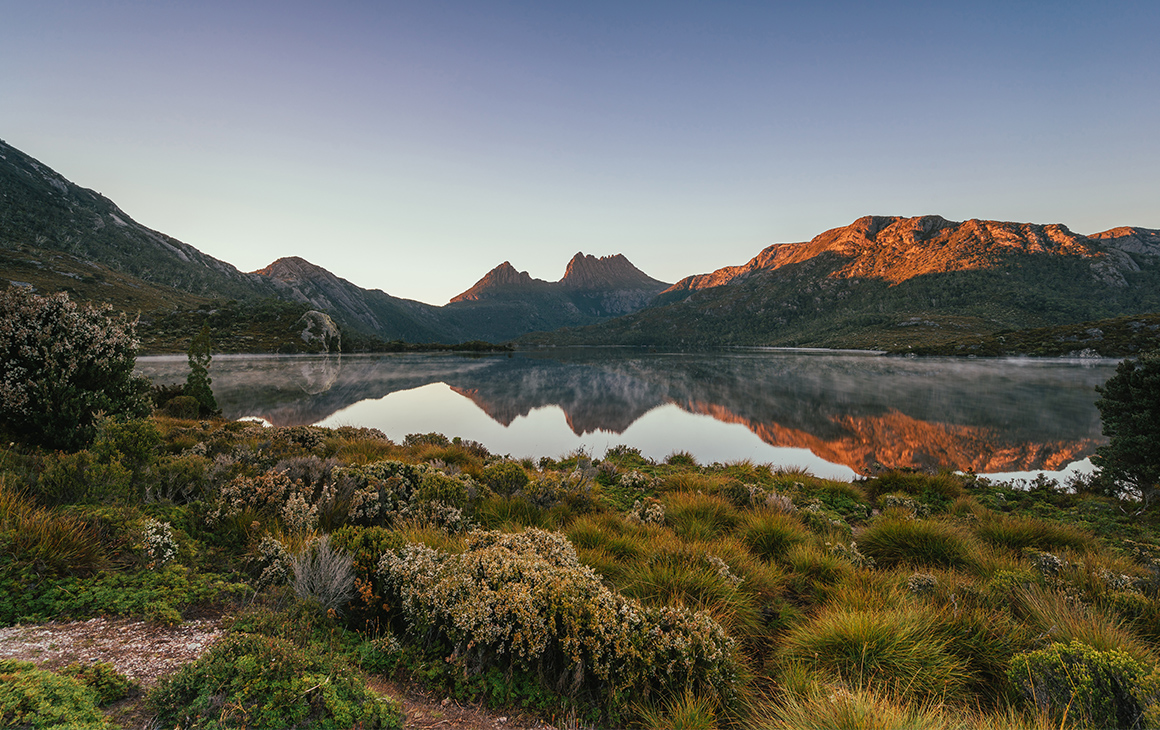 Freycinet National Park
Renowned for its pink granite mountains, pure white beaches and azure bays, Freycinet National Park is truly a place of unparalleled natural beauty. Dramatic pink-hued mountains rise commandingly over the calm, blue waters of Wineglass Bay, making for one of Tasmania's most photographed views, which has graced many postcards covers. The Hazards Mountain Range is a sight to behold, especially at sunrise and sunset when the pink granite stone glows boldly, contrasting the turquoise waters of Wineglass Bay. If you're of the more adventurous disposition, the Freycinet Peninsula makes for a beautiful two-day walk, where you will cover granite mountains surrounded by sparkling bays and white sand beaches. Look no further for one of Tasmania's best national parks.
While you can definitely do this one yourself, it's well-worth teeing up with Freycinet Walking Tour. Your guide will give you a half-day guided tour of The Freycinet Walk (a 10km walk you'll conquer in around five-and-a-half hours) track and will pack a lot of local knowledge you won't be able to pick up on your own. You'll also get morning tea, coffee, hot chocolate, museli bars, antipasto spreads, freshly baked bread and more snacks along the way.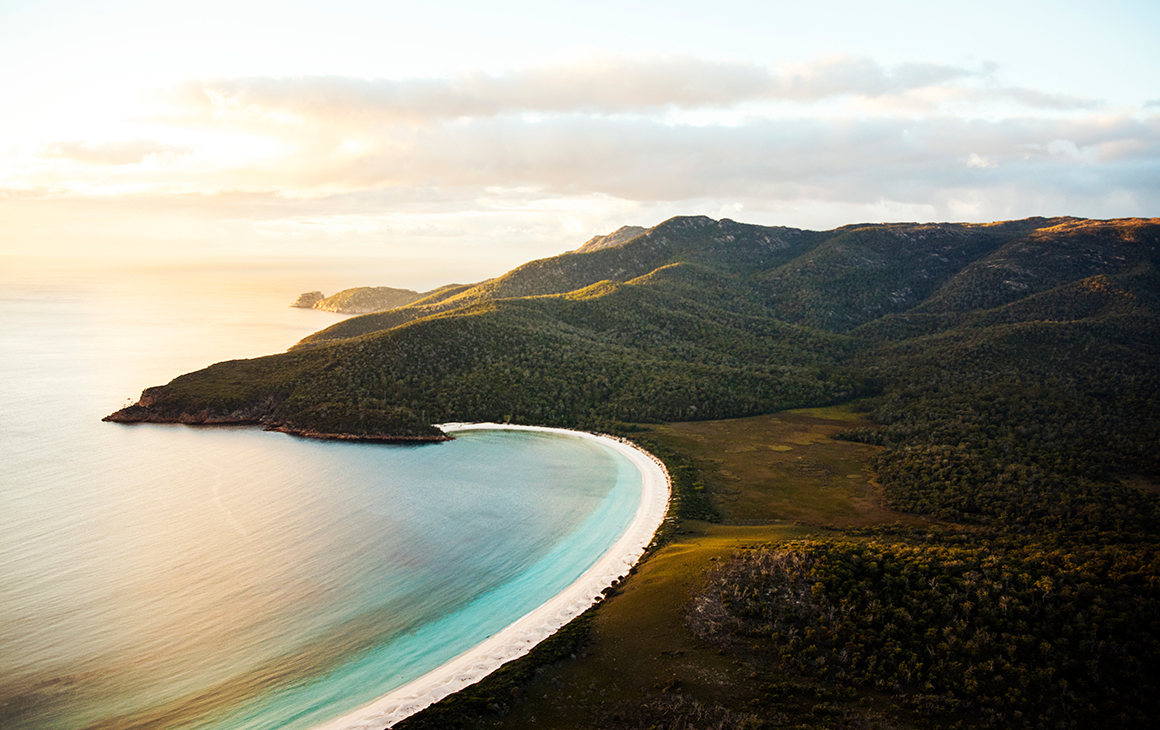 Strzelecki National Park
For those of you who like to choose your holiday destination based on how many cute and cuddly critters you can find, we hear you loud and clear. Say hello to Strzelecki National Park—this remote wildlife sanctuary on Flinders Island is home to a huge resident animal population of wombats, wallabies, potoroos, pademelons and over 100 species of birds. Points for every cute animal selfie you can snap. Aside from its abundance of wildlife, Strzelecki National Park is renowned for its coastal scenery, sapphire beaches and the iconic 756-metre granite summit of the Strzelecki Peaks. We recommend lacing up your boots and embarking on a hike that allows you to appreciate the myriad of landscapes that seamlessly move from blue gum forests to sparkling waters to mountainous peaks. Mother Nature, you've outdone yourself.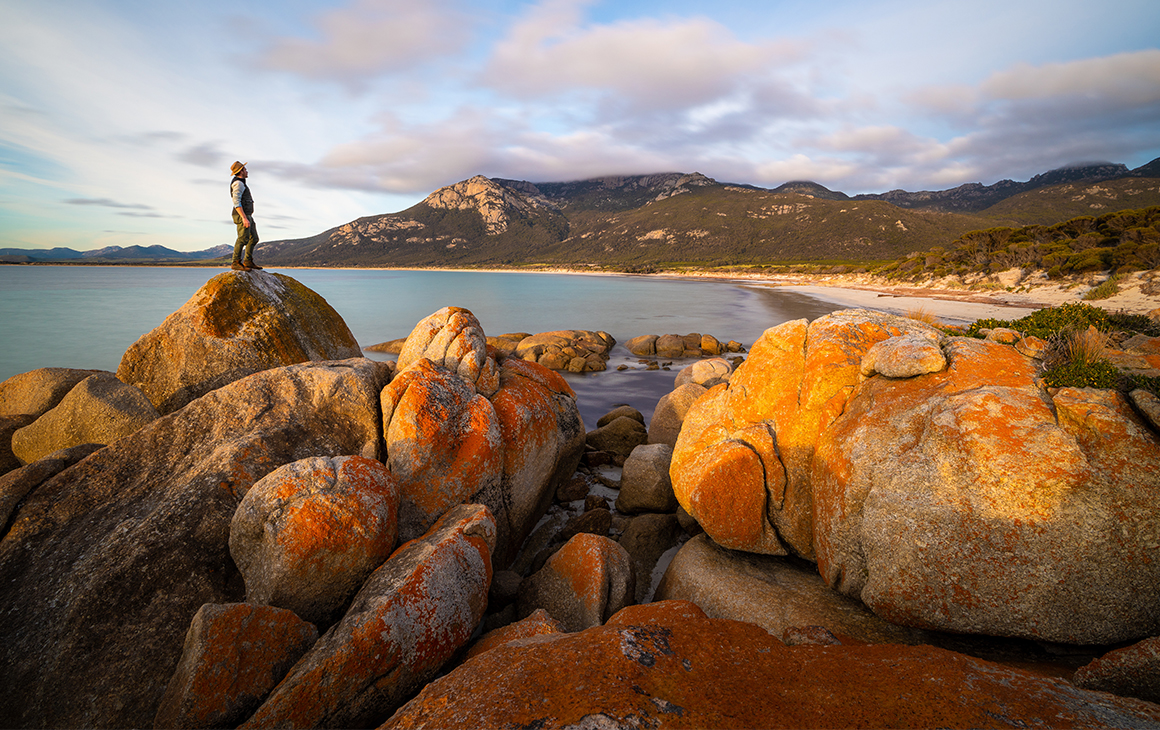 Maria Island National Park
Get your dose of history, wildlife and natural beauty all rolled into one at Maria Island National Park. Now that's what we call bang for your buck. Accessible only by ferry, Maria Island lies just off Tasmania's East Coast and is home to Australia's most preserved convict station. History buffs, unite. The island boasts a wealth of natural spectacles, including the Painted Cliffs, which showcase the power of nature in their weathered contours and beautifully patterned sandstone facade. The island is a bird watcher's paradise, with its spectacular cliffs providing a perfect vantage point for watching birds swoop and dive beneath the waves. Maria Island is a truly special place where rich human history, towering cliff tops and abundant wildlife come together to create a tranquil sanctuary, just beckoning you to explore—and keep coming back.
Ben Lomond National Park
No trip to Tasmania would be complete without a thorough exploration of Ben Lomond National Park. Striking alpine plateaus compete for attention with dolerite cliffs and the stark, treeless landscape will leave you with no doubt that this is one of Tasmania's most magnificent national parks. Ascend the sharply winding alpine road, known as Jacob's Ladder, which will take you to the spectacular summit of Ben Lomond, but be warned—the hair-rising, precipitous road is not for the faint of heart. At 1500 metres high, it is a breathtaking view and you'll find yourself with your head literally in the clouds. Winter is Ben Lomond's time to shine and you can expect snow sports enthusiasts to flock here during the winter months to test their skills of skiing, snowboarding and tobogganing.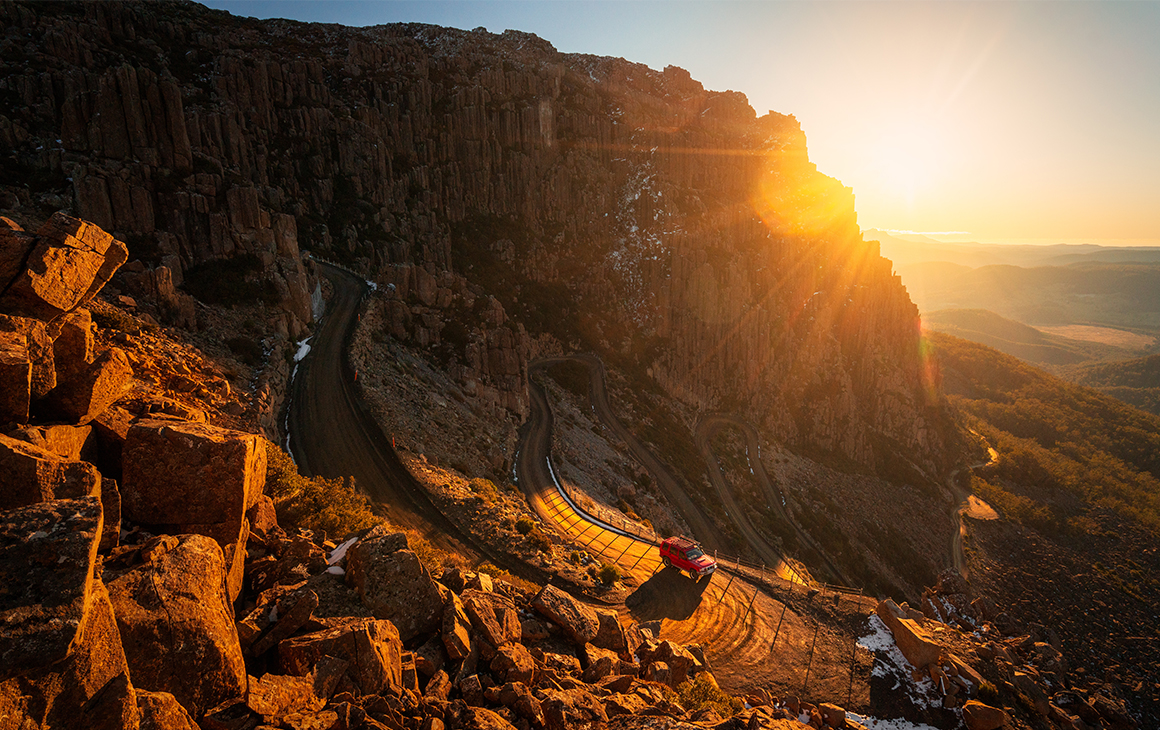 Bay Of Fires Conservation Reserve
She's one of Australia's most famous beaches and trust us, she does not disappoint. Named by Lonely Planet as one of the world's 'Most Beautiful Beaches', there's no doubt the Bay of Fires lives up to—and even exceeds—this reputation. Expect striking orange lichen-encrusted boulders contrasting the sparkling turquoise waters and sugar-white beaches that look almost too pristine to be true. The Bay of Fires Conservation Area covers a series of magnificent bays along Tassie's northeast coast, each boasting many secluded inlets and hidden beaches to explore. Imagine watching the wonders of a fiery Bay of Fires sunrise from your own private beach. Go on, add it to your bucket list.
Southwest National Park
A list of Tasmania's best national parks wouldn't be complete without its largest—and perhaps most wild national park. Covering a massive 600, 000 hectares, Southwest National Park is truly the heart of the Tasmanian wilderness and has long been a favourite of adventurers, thanks to its sprawling mountain ranges, untracked forests and expanses of button grass plains. If you're feeling particularly fit, consider tackling the multi-day South Coast Track. Considered one of Tasmania's most challenging wilderness walks, you'll conquer rocky headlands, wild rivers and challenging inclines, before ending at Australia's southernmost point for a true 'end of the Earth' experience. Do yourself a favour—visit Southwest National Park and immerse yourself in the raw power of this wilderness landscape.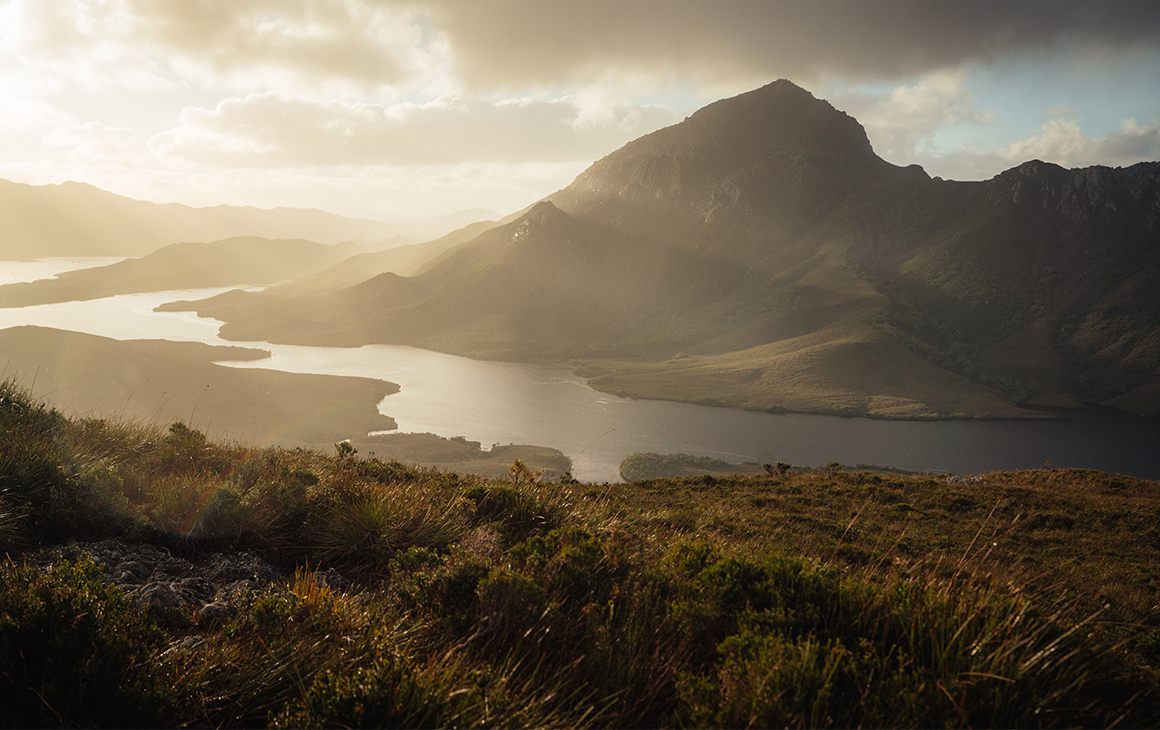 Mount William National Park
If you're out here scoping out a secluded paradise to spend a few days doing very little—or nothing at all—then Mount William National Park is screaming your name. Nestled in the far northeast corner of Tasmania, the park was first established to help conserve Tasmania's coastal heathlands, which come ablaze with colourful wildflowers during the warmer months. It's hard not to fall in love with this slice of paradise when you wander along the seemingly endless powder-white beaches with not another person in sight. If you're feeling like getting the blood pumping, dive below the ocean's surface and explore the abundance of colourful marine habitats. Mount William National Park is ticking all the boxes as one of Tasmania's best national parks.
Now you're feeling inspired to start exploring Tasmania's national parks, but where are you going to rest your head? Do yourself a favour and check out our ultimate list of Tasmania's best hotels to rest your weary walking feet.
Image Credit: Tourism Tasmania/Jason Charles Hill/Jarrad Seng/Luke Tscharke/Lauren Bath/Matthew Donovan