Like NSW is the holy land of ocean pools, Tasmania is brewing mecca dotted with remote lake houses you can actually stay in.
And as Australia's capital of award-winning lake houses located on glacial waters and with cosy reading corners, if Tasmania isn't high up on you travel bucket list this year, you'll want to give it a nudge. Because who doesn't want to stay on private islands and roast up some marshmallows against a Nectre wood stove?
Here are the best lake houses in Tasmania.
Blythe River Boathouse
Heybridge
Not going to lie folks, this is the type of lake house in Tasmania you'll wish you had scooped up yourself. Blythe River Boathouse is a waterfront shack boasting all the wilderness vibes, from sitting right where the river flows into the sea, to backing out onto dense bushland, this super special property, which has been in the owner's family for four generations now, is like something out of a movie (think Love Actually style when Jamie goes to his cottage to finish his novel). Not only are there all the lake house trimmings like large windows, a Nectre wood stove, a Chesterfield lounge and a clawfoot bath but you'll also find an actual rowboat you can take out onto the water.
Coldwater Cabin
Miena
Colourful, secluded and cosy as anything, Coldwater Cabin is offensively stunning. Picturesque at every corner you turn, this worlds-away Airbnb in Tasmania is tucked into The Great Lake, right in the middle of Tasmania's Central Highlands. This uber-romantic accommodation in Tasmania is all about cosying up with a good read, taking a chilly dip in the lake and warming yourself by the fire, digging into cheese boards on the front deck and of course, sipping wine whenever and wherever you please.
The Boathouse
Satellite Island
One of the best luxury Airbnbs in Tasmania? We'd back that. No doubt if you haven't been to The Boathouse on Satellite Island you've definitely seen this one floating around your socials (and in our opinion, you should just take the bait and treat yourself). Satellite Island is just casually a private island which means when you stay here, it's you and your crew only. The Boathouse gives you unlimited views and surrounds of sea cliffs, native bush, ancient blue gums and a whole lot of pebble beaches to explore. On top of this, you'll mostly likely get champagne and smoked fish on arrival because when you're living your best life, why the hell not?
Pumphouse Point
Lake St Clair
At the absolute pinnacle of all lake houses ever, Pumphouse Point is a Lake St Clair accommodation you need to hit at least once in your life. Pinned as an adults-only retreat (we love it already), this gorgeous lodge sits on glacial waters and surrounded by Myrtle forest and if that doesn't spell out a fairytale, we don't know what does. Pumphouse Point is probably the only Airbnb in Tasmania that actually stops time for you, allowing you to try your hand on some electric bikes, go for midday picnics, take bushwalks and hey, even organise an in-house massage if you need it.
The Crayshack
Flinders Island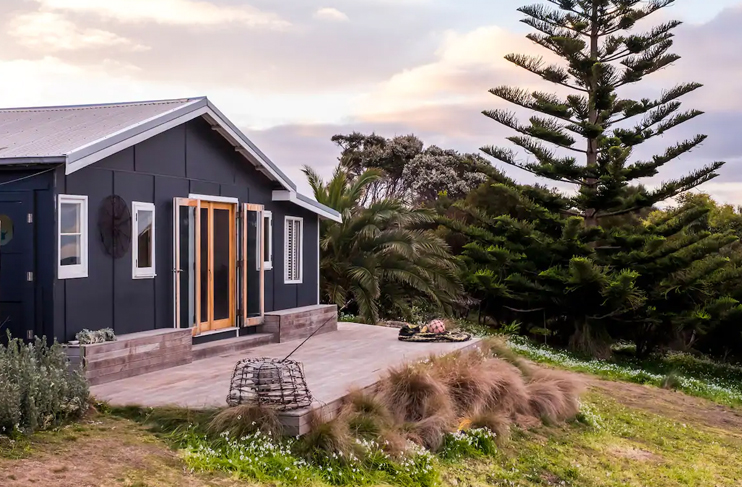 A beachside getaway is always a good time and the secluded feels that come with it just make sense. While this one clocks in as more of a beach shack than a lake house, The Crayshack is still a winning Airbnb in Tasmania you need to hit. Located on the stunning and misty Killiecrankie Beach (which means you'll get sweeping views across the entire bay), this beauty is the perfect barefoot getaway to hit with your closest mates. Here, the beach is your backyard, you have an outdoor bathroom, there's a large wooden deck made for morning coffee, evening cocktails and nighttime board games.
Now check out all the under the radar Aussie towns to visit this year.
Image credit: Coldwater Cabin, Airbnb, The Boathouse, Pumphouse Point, Airbnb