Look, it's a hard feat choosing the best Airbnbs in Tasmania. Kidding—we loved every minute of it.
From cosy cabins and waterfront cottages (standard) to beautifully restored barns and Shepherd's Huts—the Tassies know how to knock up some pretty stellar accommodation.
Read on for the best Airbnbs in Tasmania.
The Best Airbnbs In And Around Hobart
Casa De Flex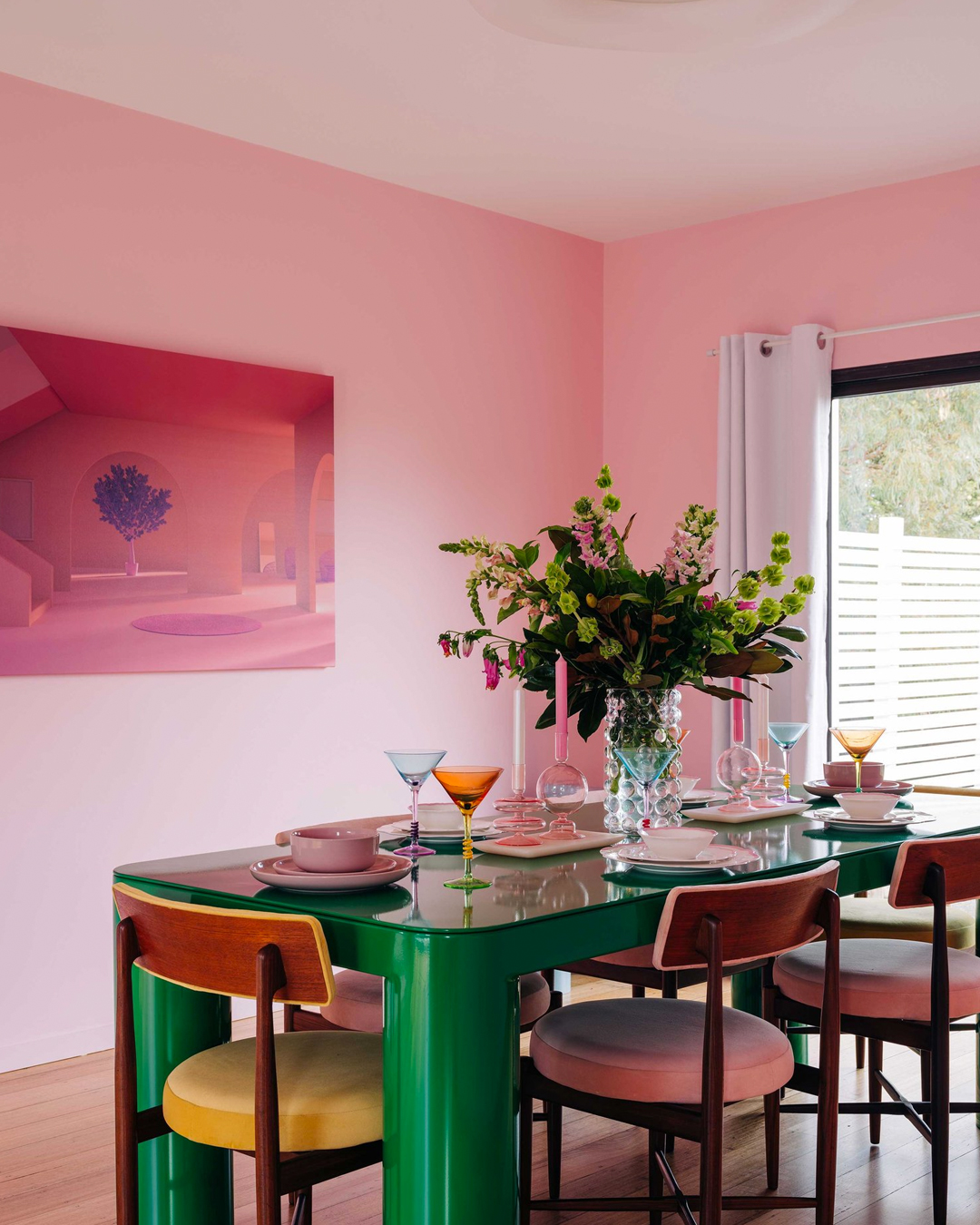 Funky, fresh and freakin' fabulous, this highly curated Airbnb has to be one of the best new getaways in Australia right now. Brought to you by the creative juggernaut that is Flex Mami (are we even surprised?), Casa De Flex is the ultimate holiday home for a weekend away with you best mates. Filled with colour, groovy furnishings and the kind of arty knick-knacks that will light up your soul, this perfectly over-the-top space is nothing less than an absolute delight for your eyes.
Inspired by the mid-century vibes of Palm Springs, Casa De Flex quite literally flexes a huge backyard and stunning entertainment areas with all the natural light. You'll also be just two-minutes from the beach. Case De Flex is about a 30-minute drive from Hobart. Book your stay here.
Stone Flower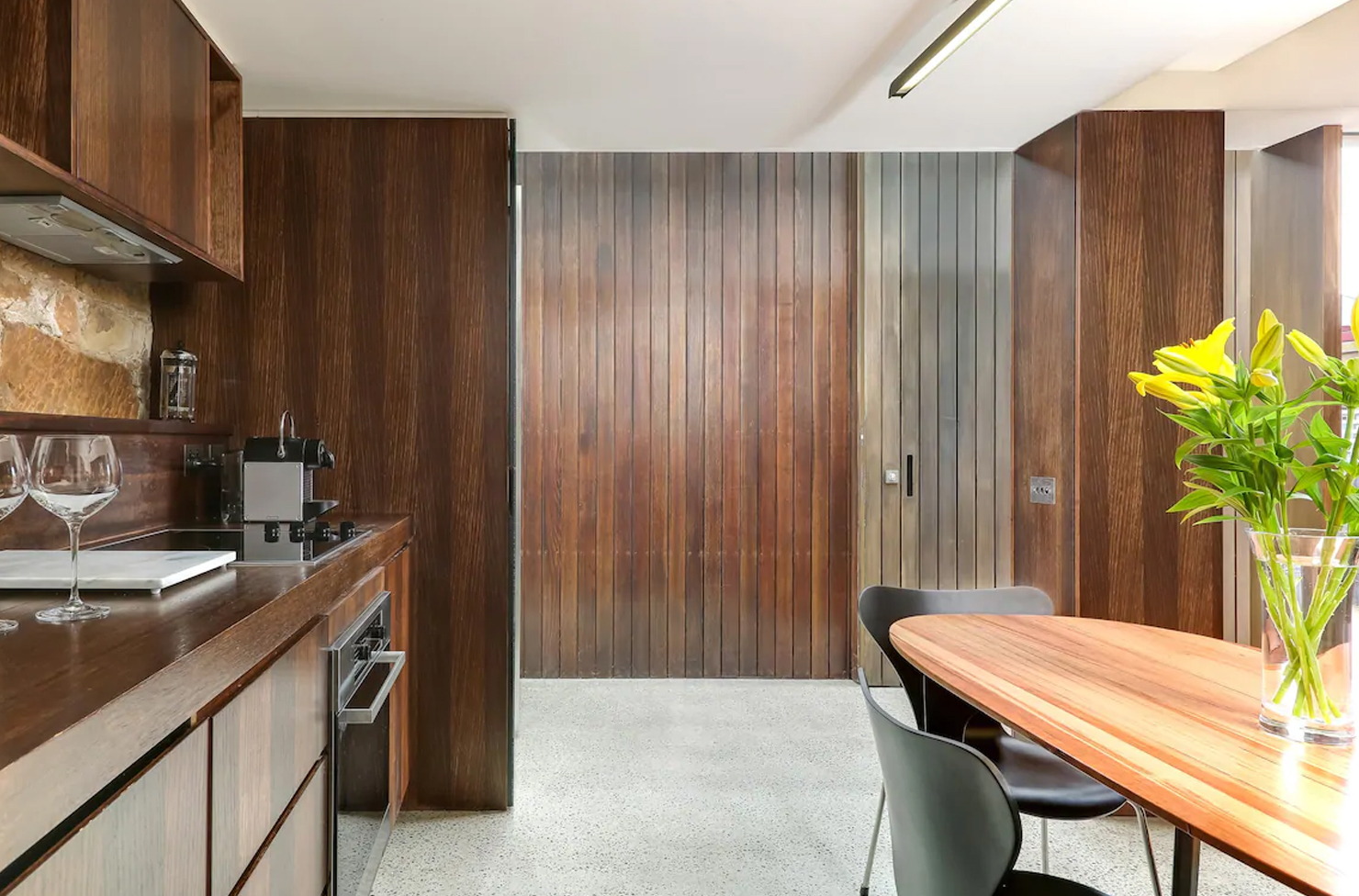 City-living isn't for everyone but if you're on a mission to find the best Airbnb in Hobart then you need to stay in this beautifully restored barn. Stone Flower is an 1830s barn that has been transformed into one of the most luxurious stays in Tasmania. Fully equipped, self-contained and private, this Airbnb is located within minutes of the hustle and bustle of the CBD. Bathed in natural light and featuring a soaring cathedral ceiling, we doubt you'll ever actually want to leave this one. Book your stay here.
The Best Airbnb On Bruny Island
Seagrass On Sunset Bay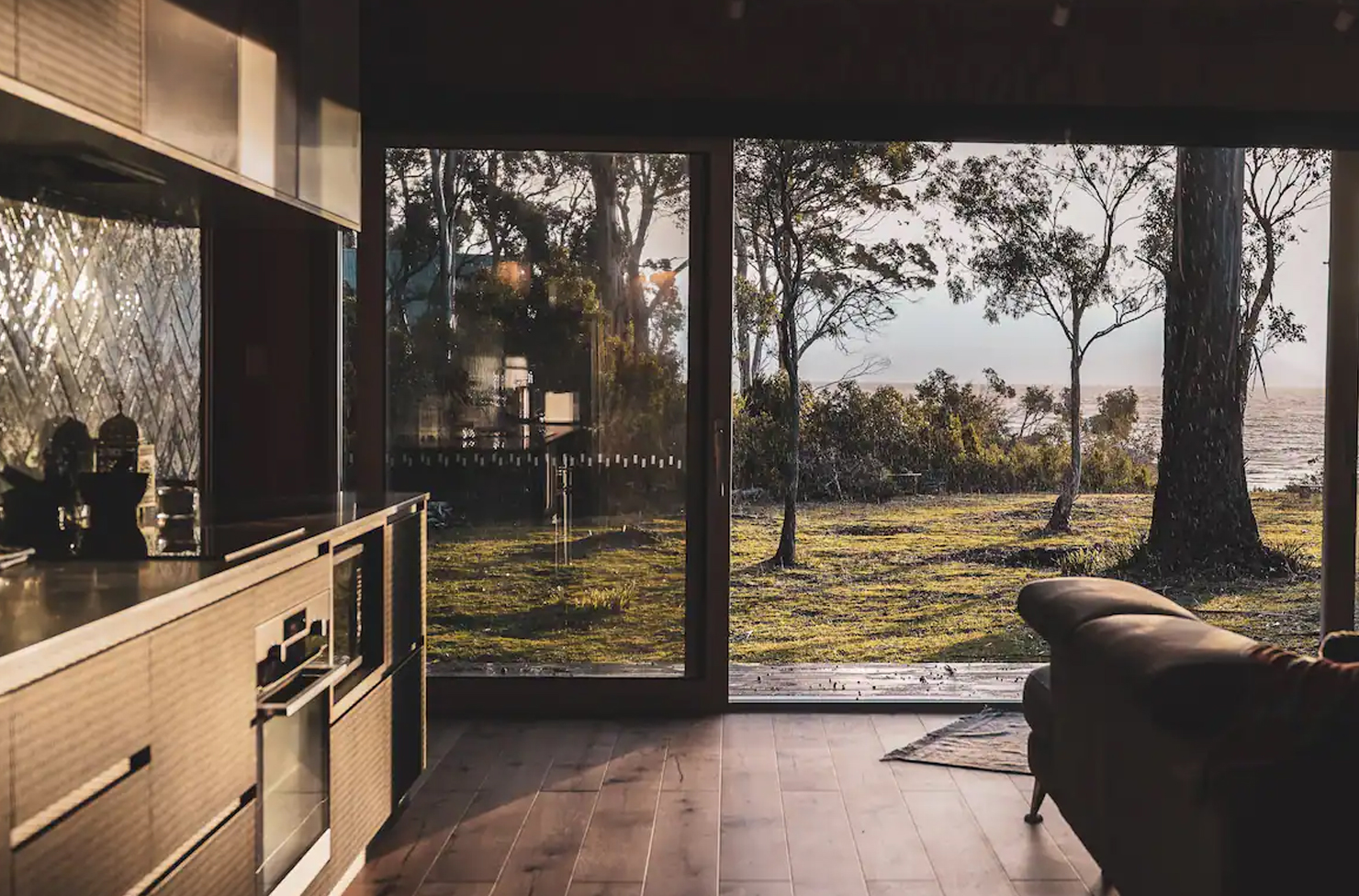 Direct water access, walking distance from restaurants and ultimate seclusion. This Airbnb on Bruny Island is the ultimate package with views over Sunset Bay, Satellite Island and the Harz Mountains. As a newly built shack, you'll find a modern Nordic-style on the interior with a focus on indoor and outdoor living (swoon). Book your stay here.
The Best Airbnb In Huon Valley
Shepherd's Hut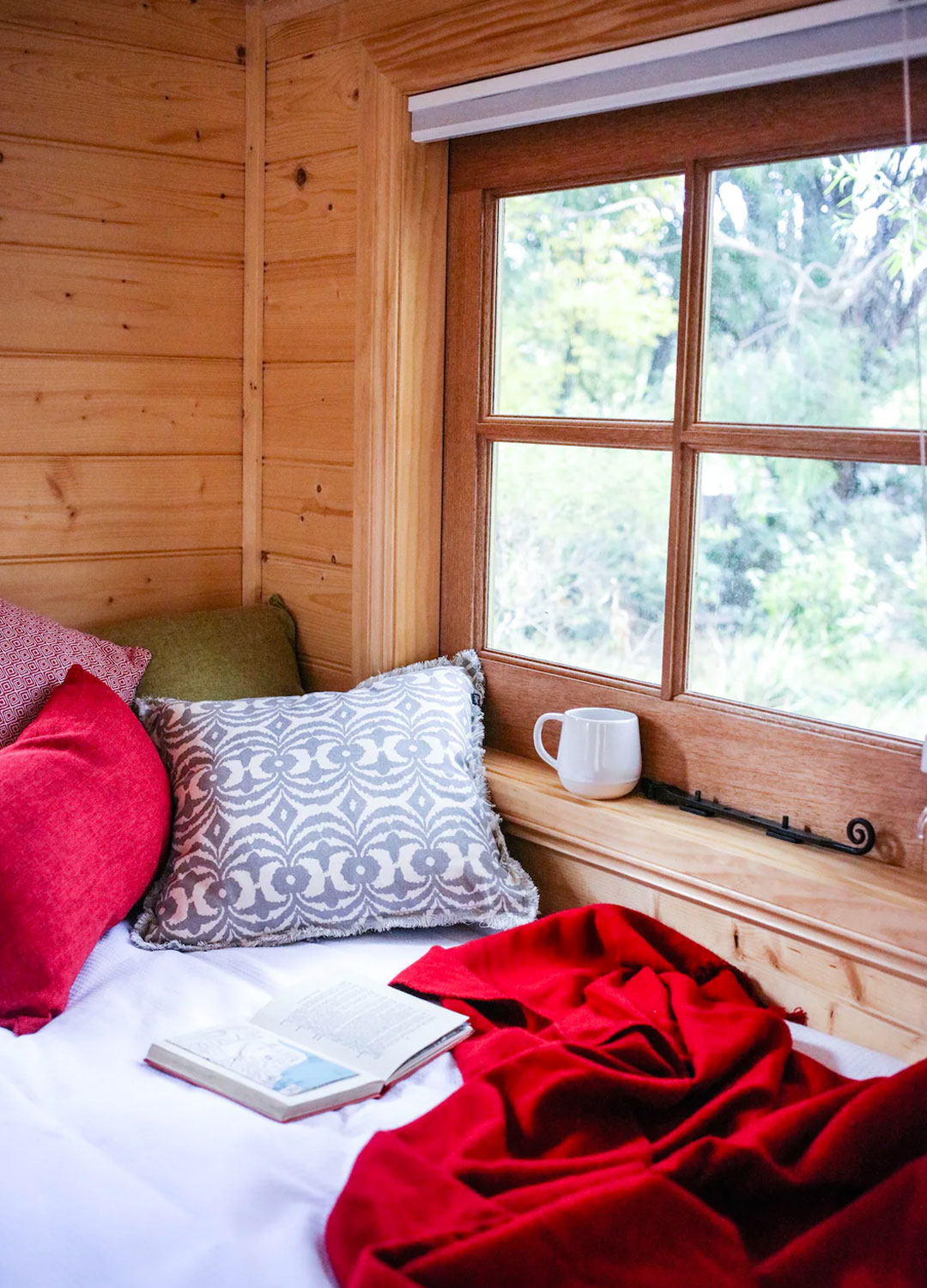 It really doesn't get any more cosy than this quaint little Airbnb in Huon Valley. Shepherd's Hut provides the dreamiest tiny home living experience and located in Huonville, it's your gateway to the stunning Huon Valley. A short walk from local shops and restaurants, it's been designed to be an idyllic stay during the winter and summer. Book your stay here.
The Best Airbnb In Launceston
Birdhouse Studio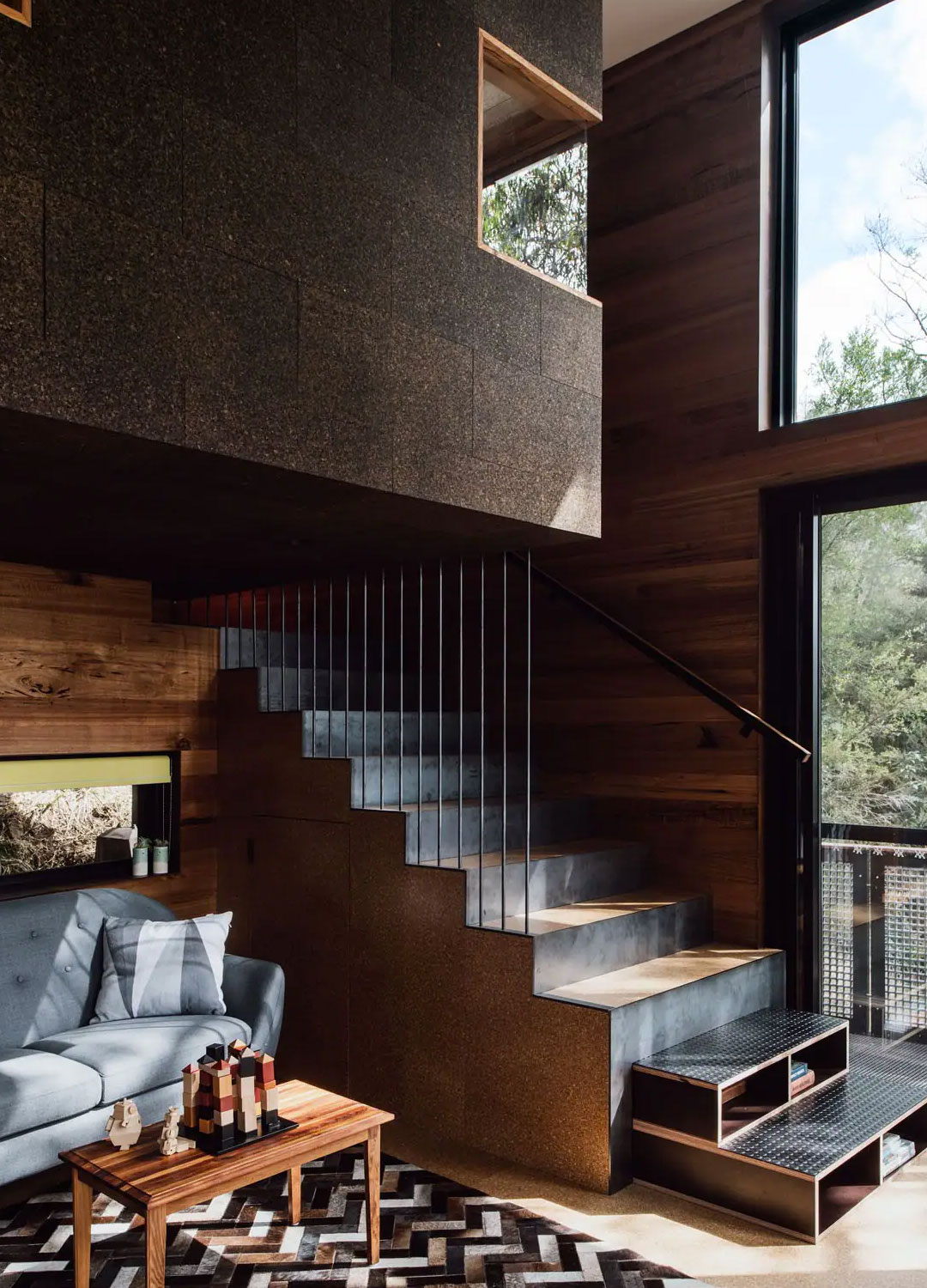 Take it from us, you'll want to stay in Birdhouse Studio more than just once. If architectural brilliance exists, this Airbnb in Launceston is the blueprint. We mean, take a look at that picture. Giving you sweeping views of east Launceston and mountain ranges, this studio is all about sustainable living with no concessions on quality or luxury. With a full kitchen, bathroom, laundry facility, built in study space and dining area—you'll have everything you need right in the one place. Book your stay here.
The Best Airbnbs In Tasmania For Couples
CNTNR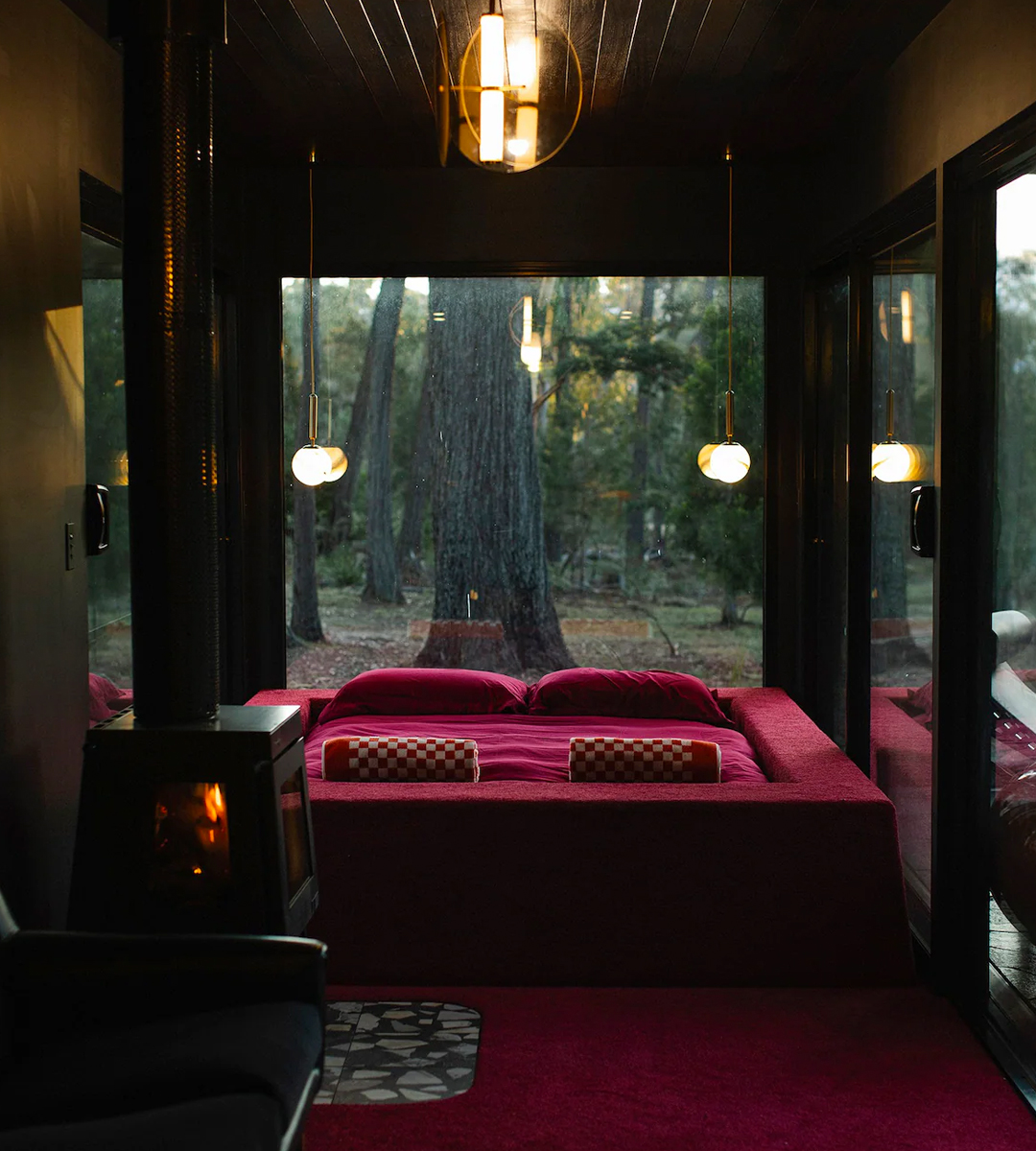 We mean, no other Airbnb really competes. CNTR is unlike any other romantic stay in Australia and looks like the Toiletpaper mag brought to life. Equal parts slick and modern, this 40ft container is nestled in the bush amongst gum trees and quite literally on the gorgeous Scamander River (you'll have a neat little patio with deck chairs so you can soak up all the wildlife sounds). Pink and orange are reoccuring colours here but in the best way possible—there's a stunning plush built in bed and orange grout wherever possible. An absolute must for anniverasries and special occasions. Book your stay here.
Huntingdon Tier Forest Retreat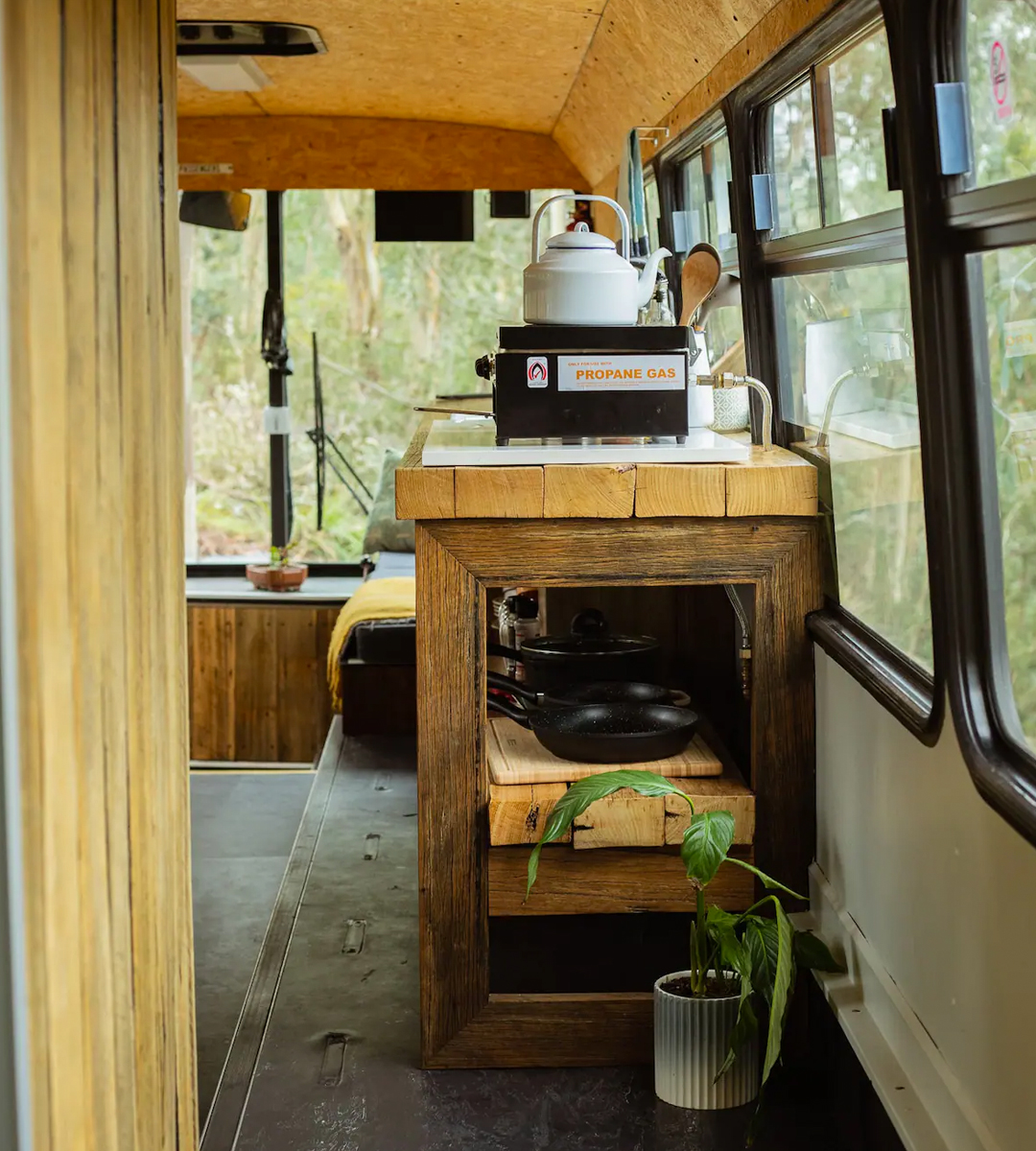 If there's two things we never thought would go together, it would be an old bus and hot tub—yet here we are. Huntingdon Tier Forest Retreat is a mountain top, off-grid converted schoolbus stay, one that lets you lust over the treetops all day longand soak up the best of the bush on its wooden deck and outdoor hot tub (for max romance). About 30-metres below this epic Airbnb in Tasmania, you'll also find a a private natural cave that you can actually use—there's a rug and cushions hidden away for any snuggling or morning meditations. Book your stay here.
Driftwood Cabin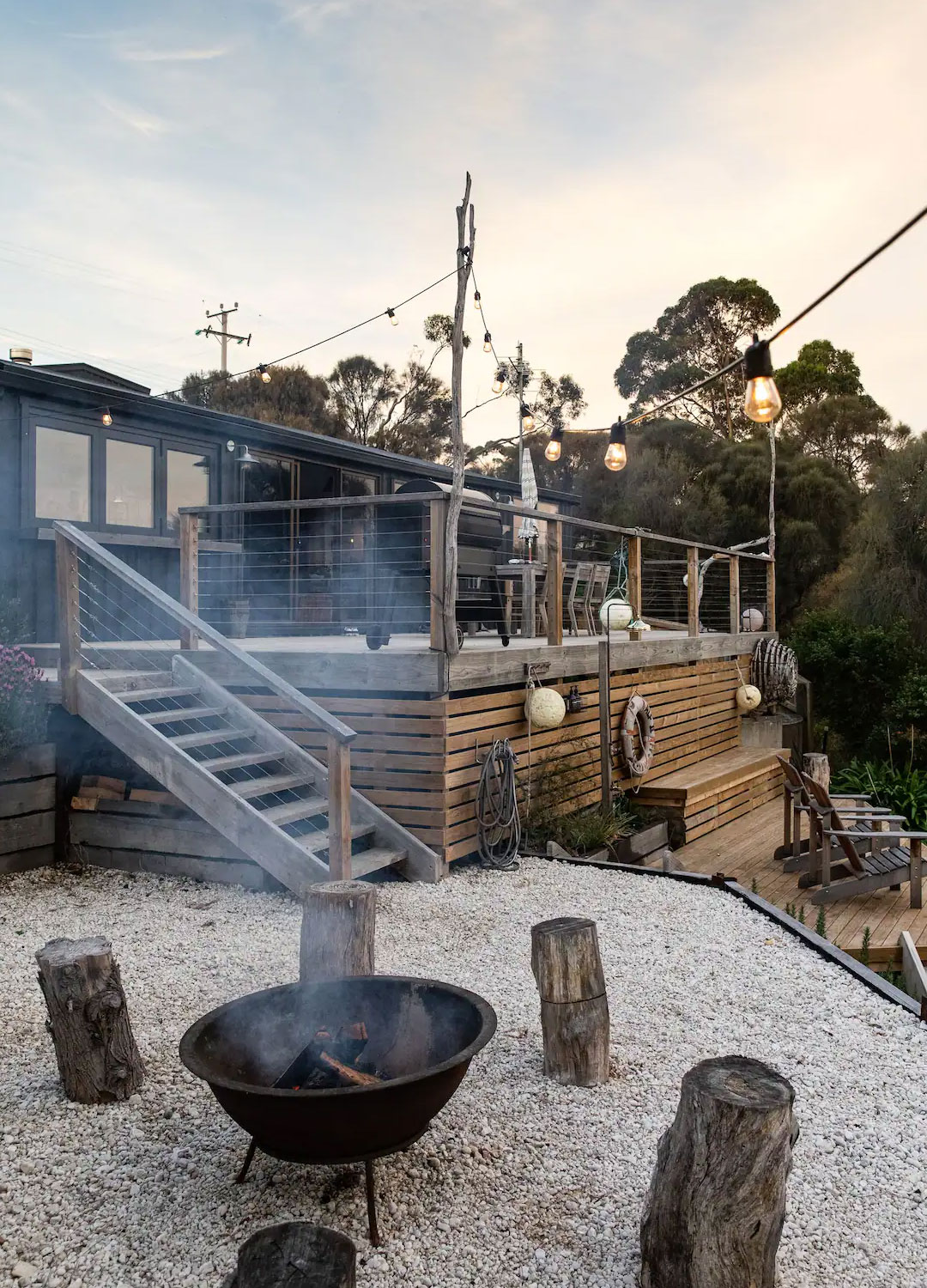 In for a bit of romancing? Driftwood Cabin is THE Airbnb for couples in Tasmania. Home to globally renowned chef Sarah Glover, it's perfect for foodies with everything you need to fulfil your biggest cooking aspirations. Cast a fishing line out the front, go diving for scallops, cook up a feast over the custom fire pit (a Traeger grill) and get creative with a chef's kitchen featuring every single knife, pot and tool you would ever need to whip up a romantic feast for your significant other. Book your stay here.
The Stable Lofts
We mean, can you really go wrong by booking Airbnbs finalist 'Host Of The Year' for 2021? We think not. The Stable Lofts is an adults-only stay all designed to bring you a relaxing getaway that will warm you better than a country hug. Perfect for couples, you'll find a heap of gourmet goodies like ground coffee beans, free range eggs from the chooks, hot cocoa and marshmallows. Also—the lush gardens include a grove of National Trust-listed sequoias so you can clock up some staple nature shots for the 'Gram. Book your stay here.
The Best Airbnbs In Tasmania With An Outdoor Bath
Three Capes Cabin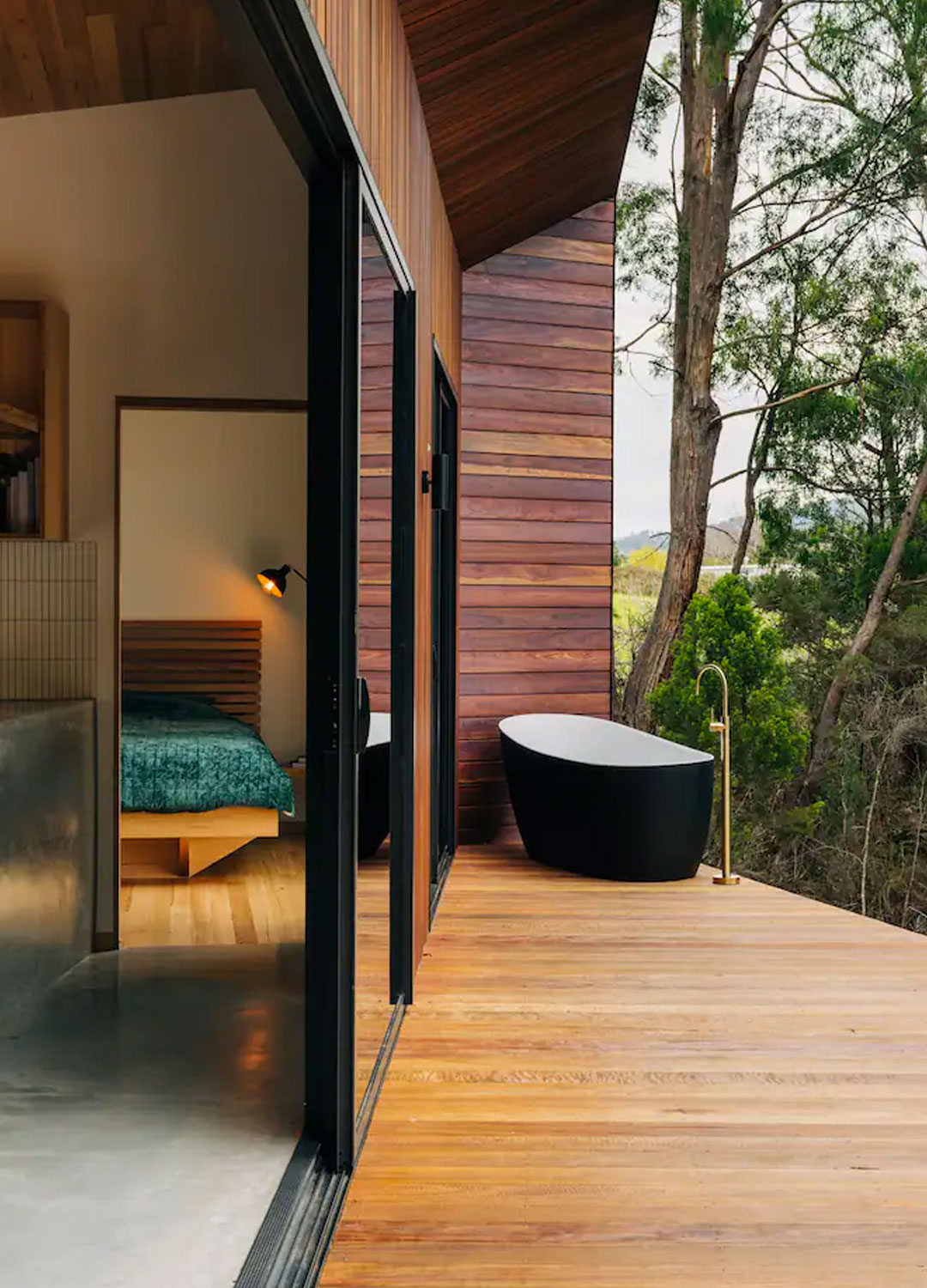 If you're dreaming of stay surrounded by native gum and banksia, an outdoor bath and one that overlooks serene waters (the clear waters of little Norfolk Bay, to be exact), look no further than Three Capes Cabin. Blending in with its surrounds, while we know you may not usually be one to fawn over detailed timberwork, we have to shout out the epic Tasmanian Oak here, giving this cabin the most natural feel. Book your stay here.
Orchard's Nest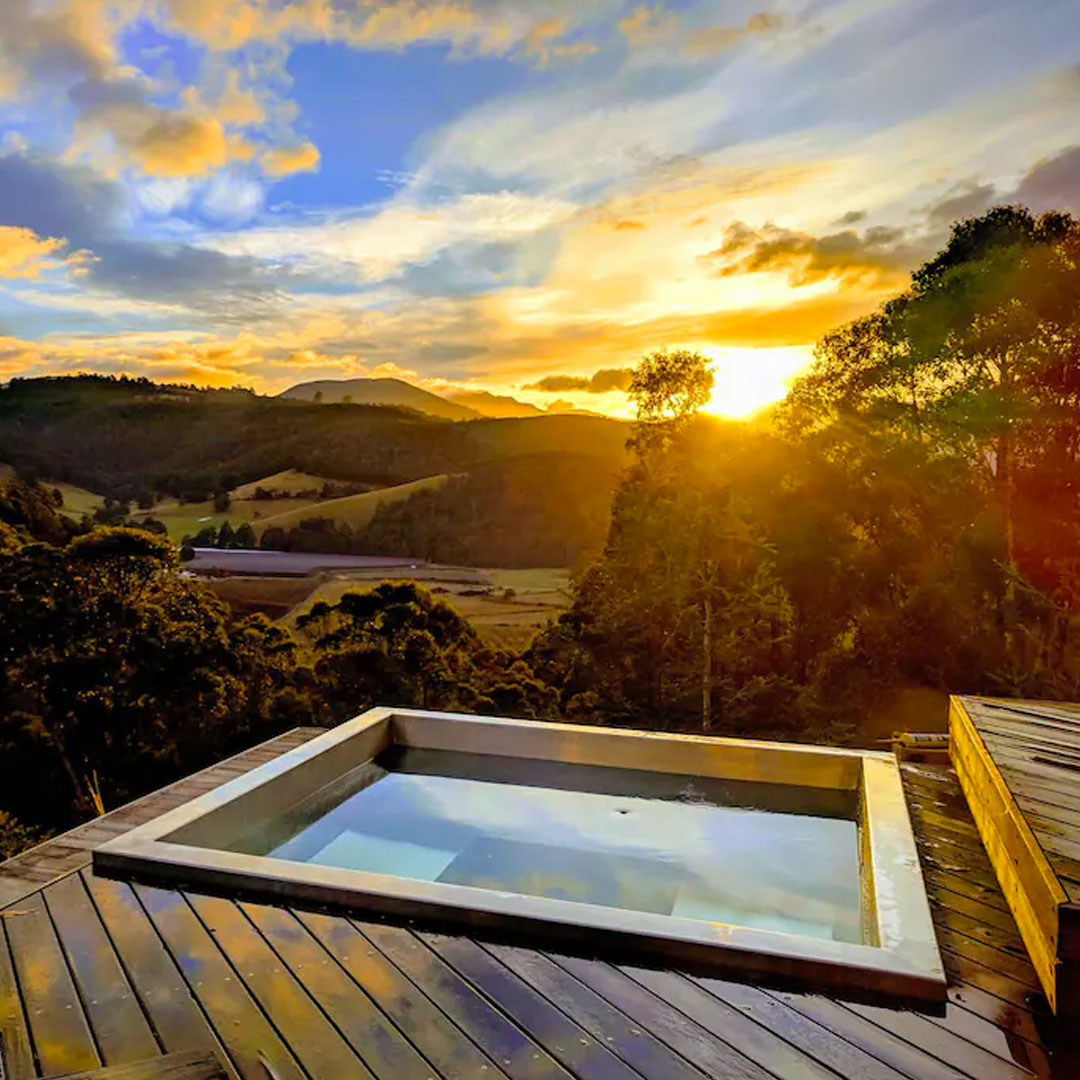 Okay, so it's an outdoor hot tub instead of a bath—pick and choose your battles. Located about a 50-minute drive outside of Hobart and nestled high on a hill overlooking glorious sunrises and sunsets, day in and day out, you can't beat Orchard's Nest. This property has been built using large exposed local stringy bark timbers and filled with recycled and upcycled furniture to make it the most charming Airbnb in Tasmania. Book your stay here.
Naivasha Tiny House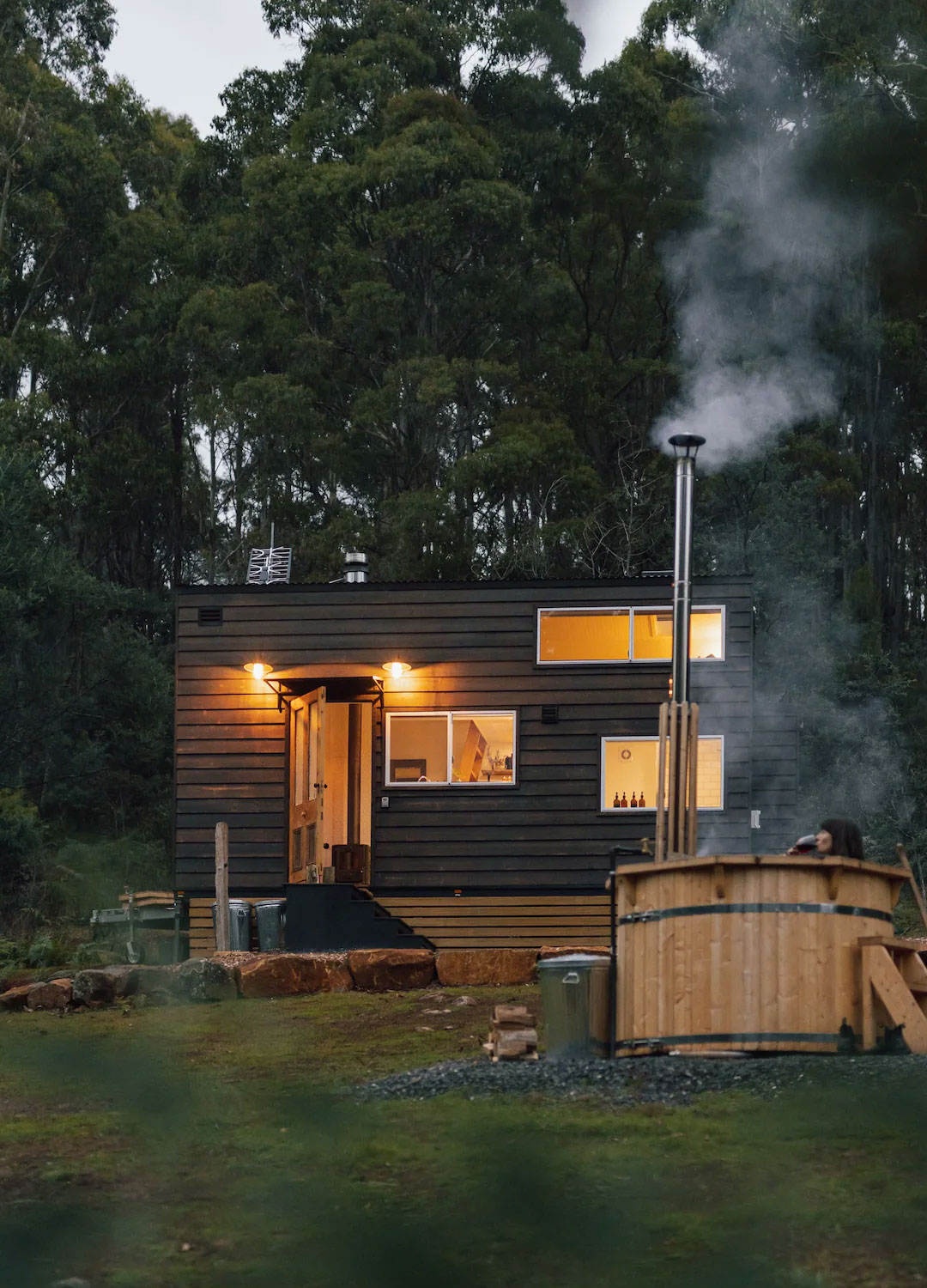 It should come as no surprise that the main affair here is the outdoor wood-fired hot tub. Like, wow. Naivasha Tiny House ticks all the boxes from sporting a claw foot bath, all the bush (and no reception if that's your thing), a fire pit and naturally—a complimentary glass of port because how else would you spend a romantic getaway in Tassie, right? Book your stay here.
Aerie Retreat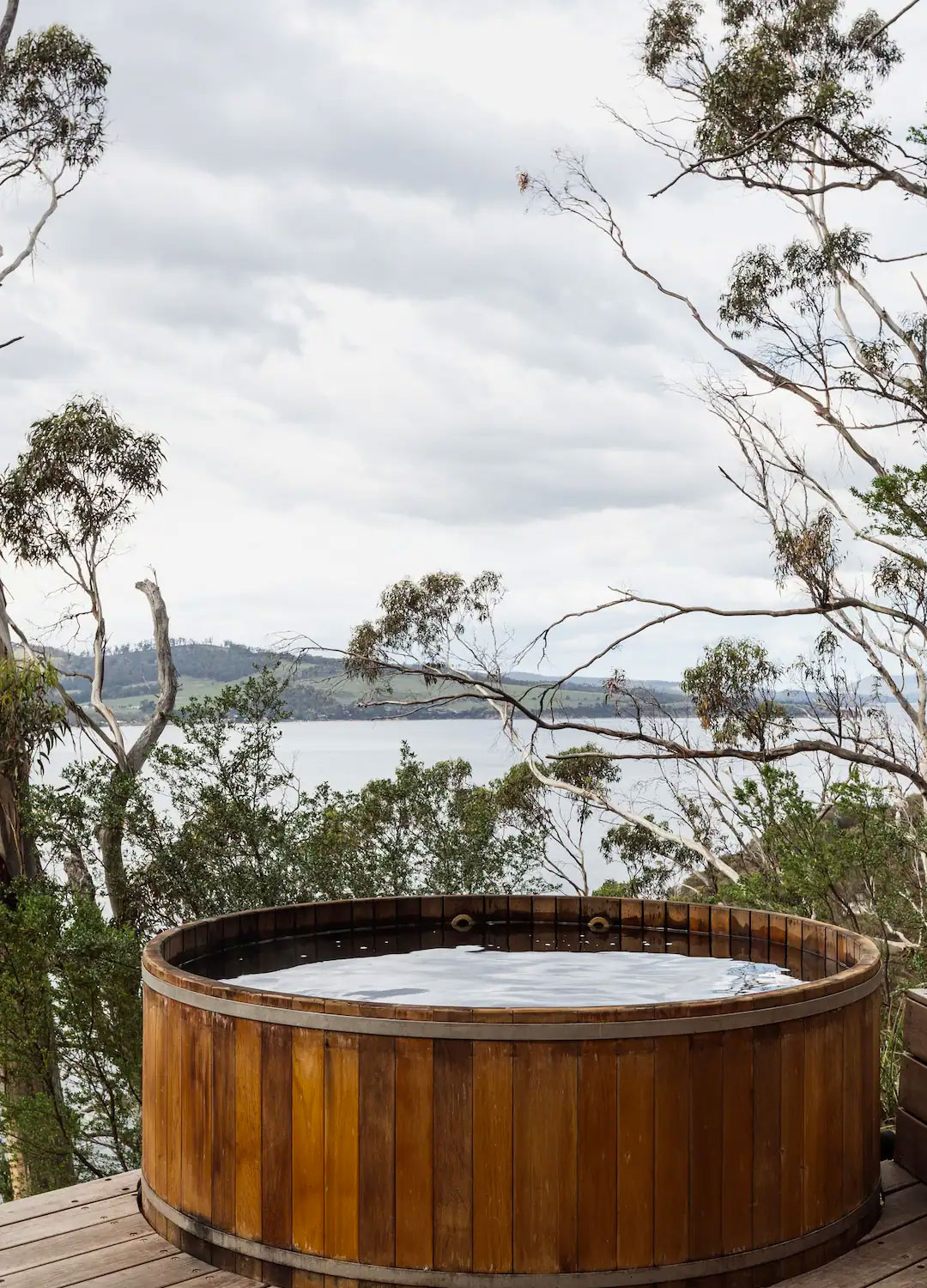 Aerie Retreat is exactly how it sounds, a peaceful wilderness retreat everyone needs to book at least once in their lifetime. There's timber hot tub (tear), a sauna and firepit so we dare you to say you won't leave more relaxed than you've ever been in your life. Book your stay here.
Now scope out the coolest tiny homes in all of Australia.
Image credit: Airbnb, Casa De Flex
Editor's note: Urban List editors independently select and write about stuff we love and think you'll like too. Urban List has affiliate partnerships, so we get revenue from your purchase.