Put down that kale smoothie and get your loose pants on. Despite what most of our news feeds may suggest, there's a reason why the humble pizza is consistently found to be the most 'Grammed food in the world.
Whether you're a margherita purist, a meat lover or into a serious deep-dish, we've found the best pizza in Auckland for you to devour. These joints offer fresh, quality ingredients that can make the experience feel almost healthy (almost).
So without further ado, here are the best pizza parlours in Auckland.
Gorgeous Pizza And Pasta Bar
Mt Eden
Naomi, Gisele, Elle and Kate Moss might not exactly be names that come to mind when we're talking pizza. Enter Gorgeous—making us feel far better about our cheesy gluttony—with all pizzas named after supermodels or other equally enviable ladies. Ok maybe you're not quite going to believe that the Peking duck and hoisin sauce pizza will turn you into Lucy Liu but perhaps it will make you smile. Owner Wayne is constantly innovating and the quality ingredients and out-of-this-world flavours mean you'll always be back to try something new. With four veggie options on the menu for our plant-based friends and even a cheeky calzone, make sure you leave space for some spaghetti on the side, and don't forget the next-level desserts. Easily one of Auckland's best pizzerias.
Barbarino's Spaghetteria
Avondale
New to the Italian food scene in Auckland but already stunning locals and city slickers alike with their authentic Italian food and fun and funky atmosphere comes Barbarino's. Though their pasta is certainly a must-try, their pizza game is also incredibly strong and taste just like nonna used to make. Perfectly cooked, crispy and crunchy bases topped with top notch ingredients—try the cheeky potato, pork sausage, rosemary, bechamel and mozzarella number—and all you need to do is order up a carafe of wine and spaghett about it.
Farina
Ponsonby
Look no further than Farina for a truly authentic pizza experience. Certified by the Associazione Verace Pizza Napoletana—the authority on traditional Neapolitan pizza—you're guaranteed to taste the gold standard in mouthwatering pizza (the Boscaiola is our top pick) and transport your tastebuds straight to the streets of Italy. Don't forget to finish your feasting with a cheeky pannacotta doused in mascarpone citrus for the complete experience.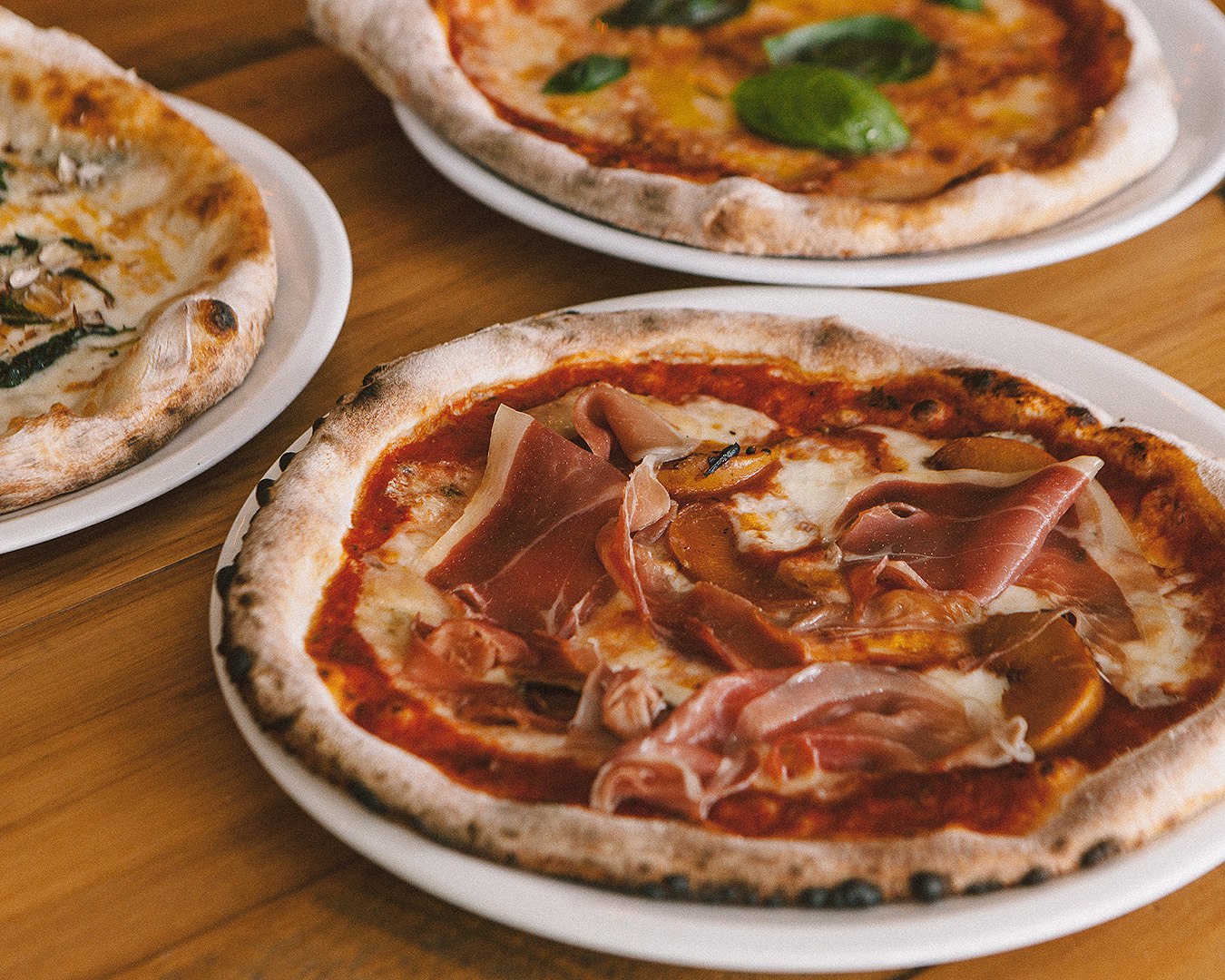 ELMO'S
Ponsonby
Now where would any self-respecting list be without Ponsonby's newest wood-fired pizza bar? ELMO'S has been on the scene since 2019 and their extensive menu is home to 10 doughy, cheesy, delectable pizzas for you to sink your teeth into. And these bad boys aren't just your ordinary pepperoni slice, they're filled with healthy and hearty ingredients that you never would have thought of putting on a pizza. A must-try is the Italian Job with a spicy sausage, turnip leaf, olive cream and smoked cheese topping—it really is the godfather of all pizzas (pun intended). You also must try the Tikka Chance on Me served with Raita, a traditional Indian cucumber dipping sauce and it's literally the pizza of dreams.
Pizza Presto
Auckland CBD
Inner-city gem Pizza Presto is not one to miss. Just follow the aroma of metre-long pizzas to find the wee spot tucked away on Commerce Street. Can't commit to a whole metre? Swing by for a slice from their front cabinet, we recommend the addictive D'oro. With flavours changing daily, you'll be pleasantly surprised with something new and delicious with every visit. A best-kept secret by workers in the CBD, Pizza Presto have fine-tuned the art of a speedy slice on a tight lunch break and will have you back on your way in under two minutes.
Archie's
Newmarket
Often cited as everyone favourite pizza joint in Auckland, you're always in for an enjoyable time at Archie's in Newmarket—just make sure you book prior. The wood-fired pizzas are just as good as the pizza heaven that can be experienced in Italy itself—the Margherita is sublime. This is a great option if you're going out with people who aren't as die-hard pizza fans like yourself, as Archie's also offers an extensive menu of salads, pastas and mains which are (nearly) as good as the pizzas.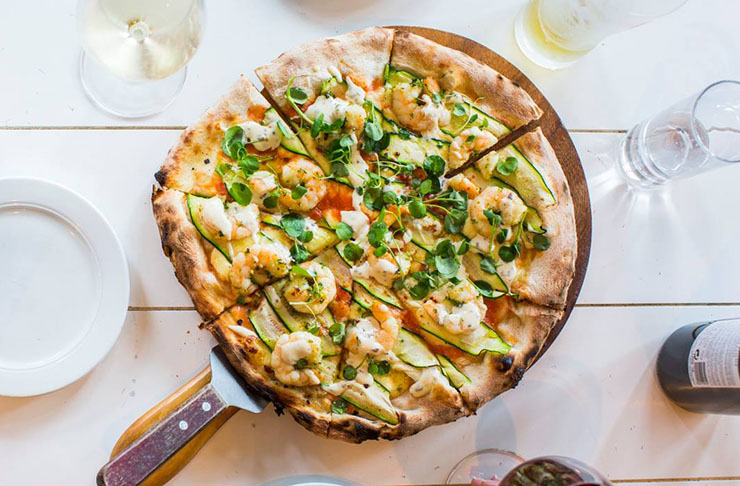 Al Volo Pizzeria
Eden Terrace
For the serious Italiano experience, head to Al Volo Pizzeria in Eden Terrace run by an Italian family showcasing their family recipes. These Neapolitan wood-fired beauties come with simple and authentic toppings and are perfect for takeaway or to be enjoyed on their sunny terrace with a Peroni on tap. Due to the speed of the wood-fired oven, your takeaways will be ready to be scoffed at the top of Mt Eden at sunset in a matter of minutes (after the hike to the top, of course).
Stumpy's Pizza
Mt Eden
Stumpy's draws huge queues when its food truck hits festivals and events around the city especially the Silo Park movie nights. But for those keen to avoid an hour wait in the sun can visit Stumpy's flagship store on Dominion Road. The very affordable menu is divided into 'originals' using premium NZ mozzarella, and 'buffalos' made with imported Italian buffalo mozzarella. Definitely try the Tom & Cheery, generously topped with cherry tomatoes, rocket and fresh basil leaves. Stumpy's also offers delivery if you live nearby, so no need to get out of those pjs, friends.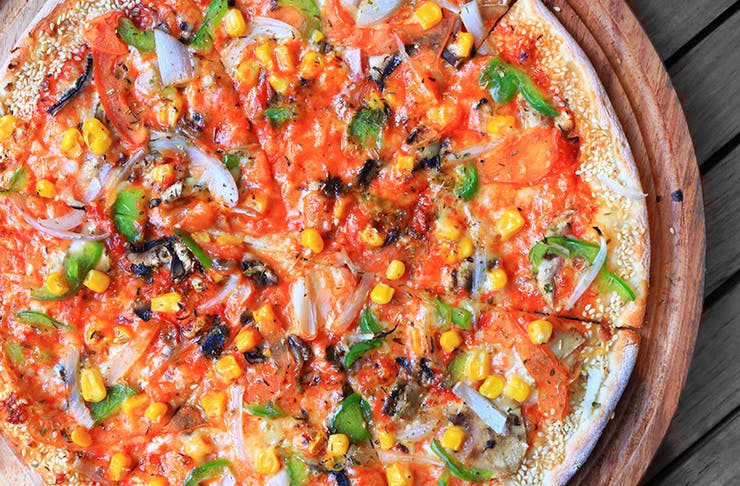 Proper Pizza
CBD
Established in 2018, Proper Pizza has already become one of Auckland's best pizza joints. Found on O'Connell Street, the pizza dough is house-made using the freshest ingredients. What makes their pizzas the real deal is the unique crust. Light, crunchy and sprinkled with sesame seeds, they're a harmonious balance between doughy and crispy. With breakfast options and pizzas up to 60 centimetres wide, there's enough for everyone to get a slice of the action. Our top pick is the indulgent black truffle. Crammed fresh mushroom, scamorza cheese, pecorino, Parmigiano Reggiano, pine nuts, and their special white wine sauce—before you know it half a pizza will have disappeared (guilty).
Dante's Pizzeria
Ponsonby, Takapuna, Queen's Rise and Eastridge
For the real Italian experience look no further than Dante's Pizza. If you've ever eaten pizza in Italy, Dante's is the closest thing to the pizzas you've been dreaming of ever since you left—which is why it makes our list of the best pizza in Auckland. The simple topping options are made with the absolute best available mozzarella, prosciutto, oils and other authentic ingredients. Don't just take our word for it though, Dante's was the first pizzeria in New Zealand to receive the prestigious accolades of the Associazione Verace Pizza Napoletana (VPN), making Dante's one of the best traditional pizzerias in the world. If this isn't the best pizza in Auckland, we're unsure of your judging skills.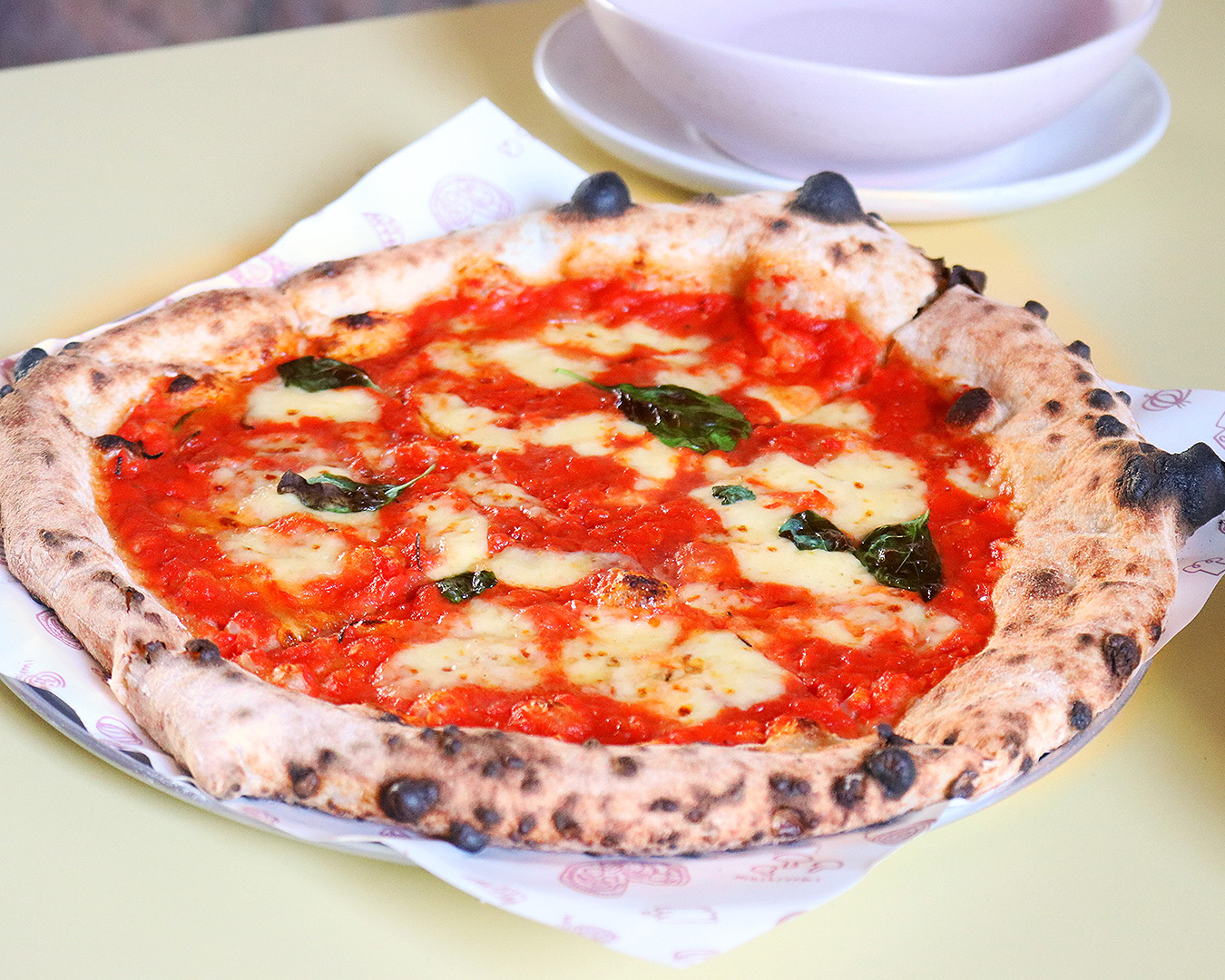 UMU
Kingsland
Since they opened their doors in 2018, Umu Pizza has become a firm Auckland fave. A step inside will have you face to face with an epic wood-fire oven and surrounded by a trendy pastel colour scheme featuring a neon slice. Each pizza is packed with local and free-farmed ingredients with a sourdough base that is simply delicious. With a menu starring eight legendary pizzas, you'll find the choice tough between a range of scrumptious toppings. You can't go wrong with the seven—featuring an irresistible tomato base, mozzarella, chilli flakes, pickled vegetables and smokey goat chorizo.
Prego
Ponsonby
Sometimes the oldies are the best. Prego has deservedly sat on Ponsonby Road since forever, churning out delicious Italian food and remaining one of the best date night spots in the city. Sit outside in the courtyard and enjoy one of Prego's perfect pizzas in the sunshine. Or for something extra, the risotto is the dish of our dreams. You'll be forgiven when one wine turns into three and lunch turns into dinner.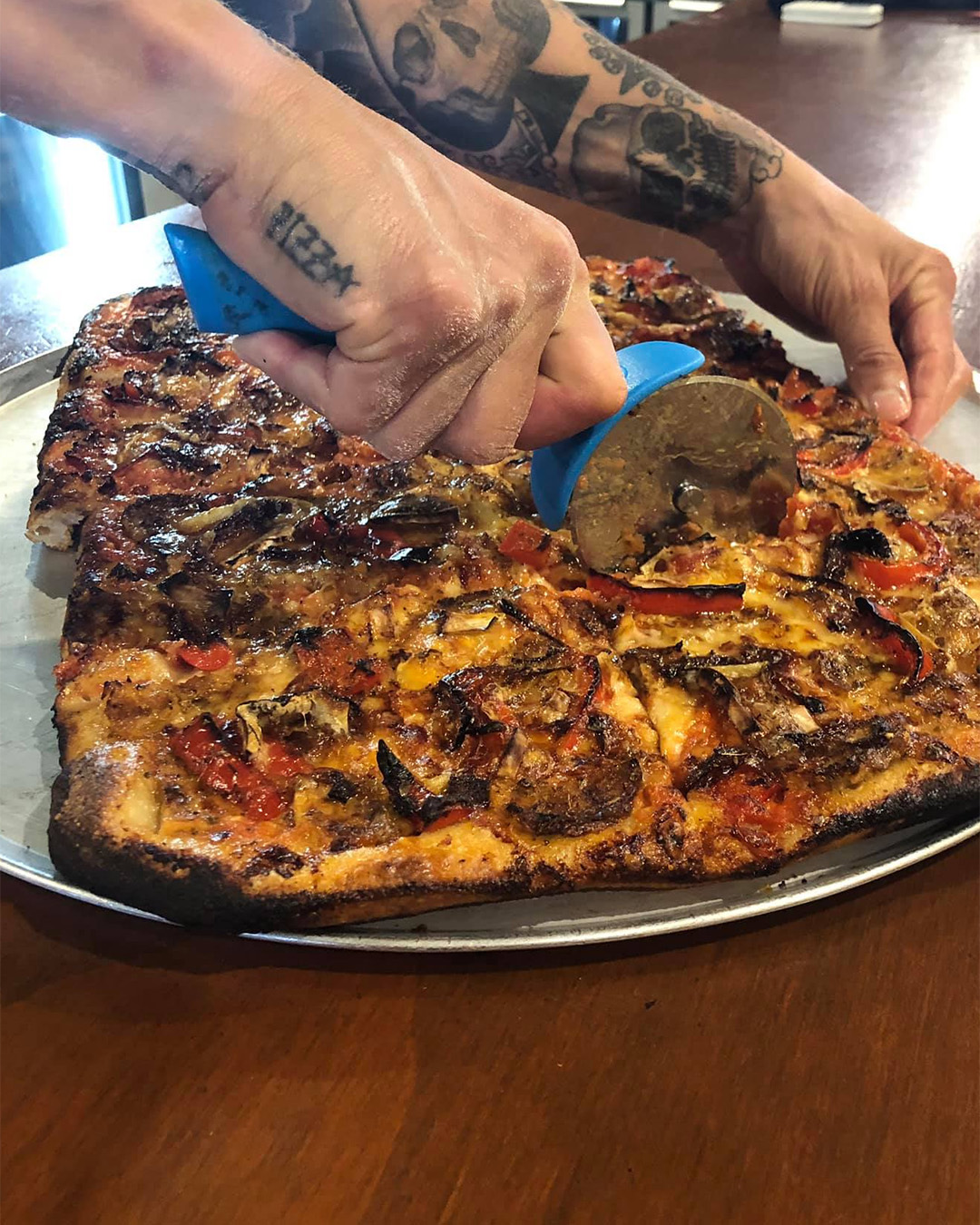 Epolito's
Grey Lynn
Sitting on Richmond Road, Epolito's brings a taste of NYC to AKL. These enormous pizzas are best eaten with the huge floppy slices folded in half. The amount of cheese on these bad boys would make even Action Bronson a happy man. Epolito's differs from most of the others on this list in that their ingredients are locally sourced, making the most of our homegrown bounty. The 'Brooklyn' may just be our favourites; boasting homemade sausage, olives and parmesan—Mmmm.
Nomad
Point Chevalier
Found in Point Chev, Nomad presents perhaps the most interesting pizza menu on this list. As the name suggests, Nomad takes its menu inspiration from across the globe but there are enough Italian-inspired options to keep the traditionalists happy. Try the La Bella Italia—tomato, mozzarella, prosciutto, parmesan and topped with rocket. Vegetarians will love the pizza made just for them—tomato, mozzarella, courgette, mushrooms, peppers, spinach, feta and olives. For a truly delicious meal, treat yourself to a bottle of champagne to wash the dough down. Gluten-free options are available.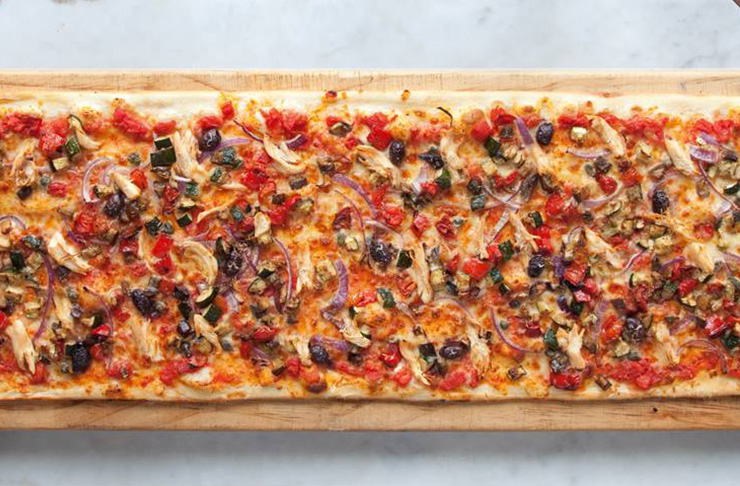 Toto
Auckland CBD
Too much of a good thing? Not possible when it comes to Toto's legendary pizzas. Still peddling their drool-worthy metre long creations, this Auckland pizza stalwart has reopened in Hardinge Street. Every carb-lover's dream is realised in the delicious Doro pizza, made with champagne ham, caramelised onion, potatoes, mozzarella, cream and rosemary. Our vegetarian friends are also well catered for here with the outstanding Boscaiola pizza, whose selection of mushrooms and porcini, mozzarella, fresh cream, spinach, pine nuts and truffle oil will have you salivating before you even take the first bite. Mamma mia.
Settebello
New Lynn
When the pizza is this authentic and tasty, you'll want to return to Settebello all the time. The secret to Settebello's light bases is the 20 hours of rising time, which results in beautiful pizzas that don't leave you feeling like you need to roll out the door. Their wood-fired oven is full of manuka wood, giving a Kiwi twist to the otherwise traditional taste. Pro tip: Try a handmade calzone for a true Italian experience.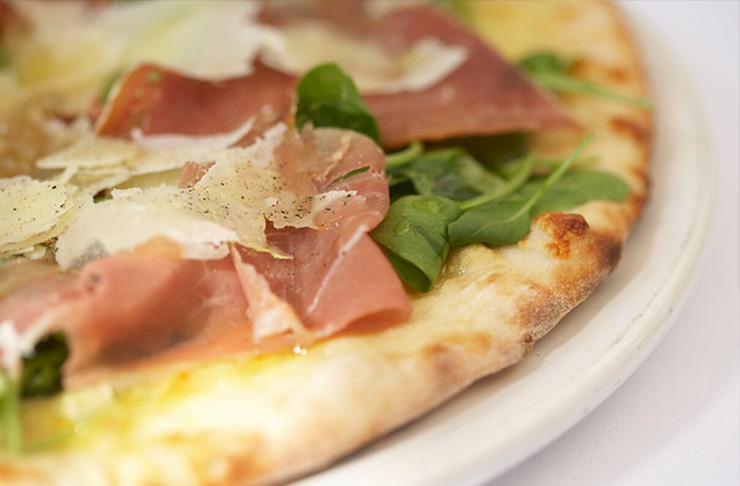 Non Solo Pizza
Parnell
Whether you're going on a romantic date or your parents are shouting dinner, Non Solo Pizza is one of the best pizza restaurants in Auckland. Cloth napkins, impeccable service and a sophisticated atmosphere brings a touch of finesse to your pizza dining experience. If you're not yet cheesed out, why not round off your meal with some of Non Solo Pizza's incredible imported Italian cheeses. Or, opt for the chocolate fondant if you're up for something special.
Papa's Italian Eatery
Kingsland
It's no coincidence that Papa's has been around for over 20 years. The pizza is amazing and Papa's always shows you a good night. It has boutique Kiwi and Italian wines, so of course, that's a great start, and there's a solid menu of traditional and not-so-traditional flavours. Try the pollo al burro which boasts tandoori chicken, yoghurt, cashew nuts and fresh cilantro. While pizza purists may scoff at these inventive flavour combos, given their long reign on the menu they must have a solid following. And keeping up with the status-quo, Papa's offers Gluten Free pizza too.
Craving more Italian goodness? Check out Auckland's best cannoli here.
Image credit: Ponyo Sakana, ELMO'S by Wono Kim, Al Volo Pizzeria, Proper Pizza, Epolito's, Umu by Jaiden Bhaga, Toto Pizza, Non Solo Pizza