Double double toil and trouble, fire burn and cauldron bubble. The most frightful night of the year approaches—it's time to get spooky.
Whether you're out to trick or treat your friends (or maybe both) you're going to need a costume that turns heads so we've peered through the cobwebs and examined every get-up from ghost to goblin to come up with some winning Halloween costume ideas, whether you're after something scary, homemade or classic, plus costume ideas for kids, couples and groups.
Here are 21 actually good Halloween costume ideas. Happy haunting.
Stranger Things Demogorgon
Death flower meets saggy skin in the Demogorgon and this truly ghastly monster can be yours to flaunt with just a click of a button. Want to up the ante? Fashion yourself a nightmarish noggin with this tutorial or this step-by-step, or, if you're feeling particularly creatively inclined you could attempt to create the soul-stealing, light-flickering, boss bitch demon himself, Vecna. *Shudder*
Gluten
One of the most feared substances in the world today (whether rightly or wrongly) gluten makes for one of the scariest and best Halloween costumes. While slapping a piece of bread on your head is the most logical way to go, you may end up being a health hazard at parties so your next best thing is to put in the mahi and whip yourself up a toasty slice of bread. These DIY instructions even feature a nob of butter, for added authenticity. Want to skip straight to the treats? You can buy a whole loaf of bread here, with the added freak factor of being wrapped in earth-choking plastic. Legit.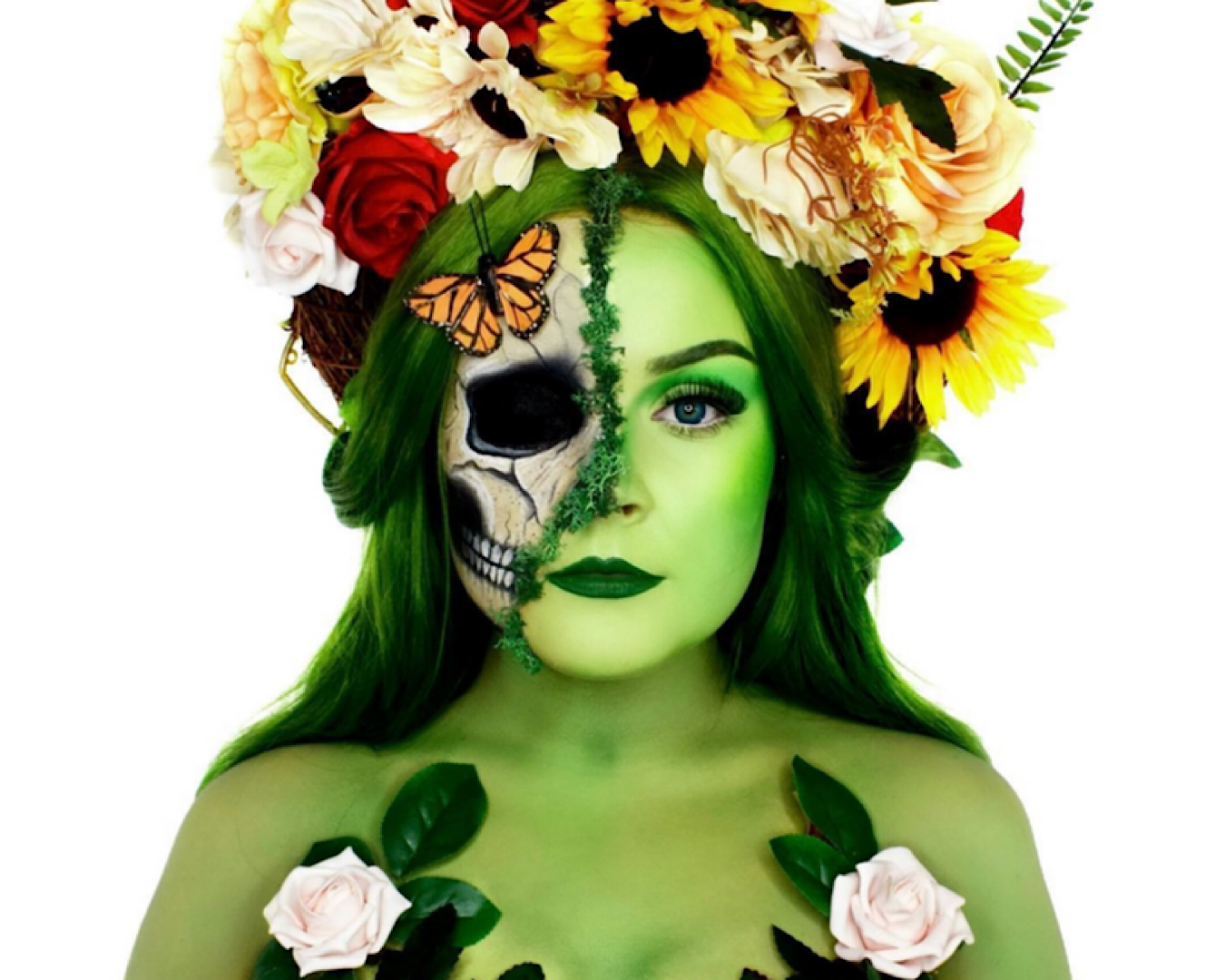 Climate Change
Speaking of earth-choking plastic, perhaps the only thing scarier than gluten, climate change—the slow but steady death of our world as we know it—could be the best Halloween costume yet. We recommend this stunning but also melancholic Mother Nature make-up combined with either this green metallic catsuit dipped in a bit of oozy tar or a DIY job made out of all the plastic you can find lying around the house.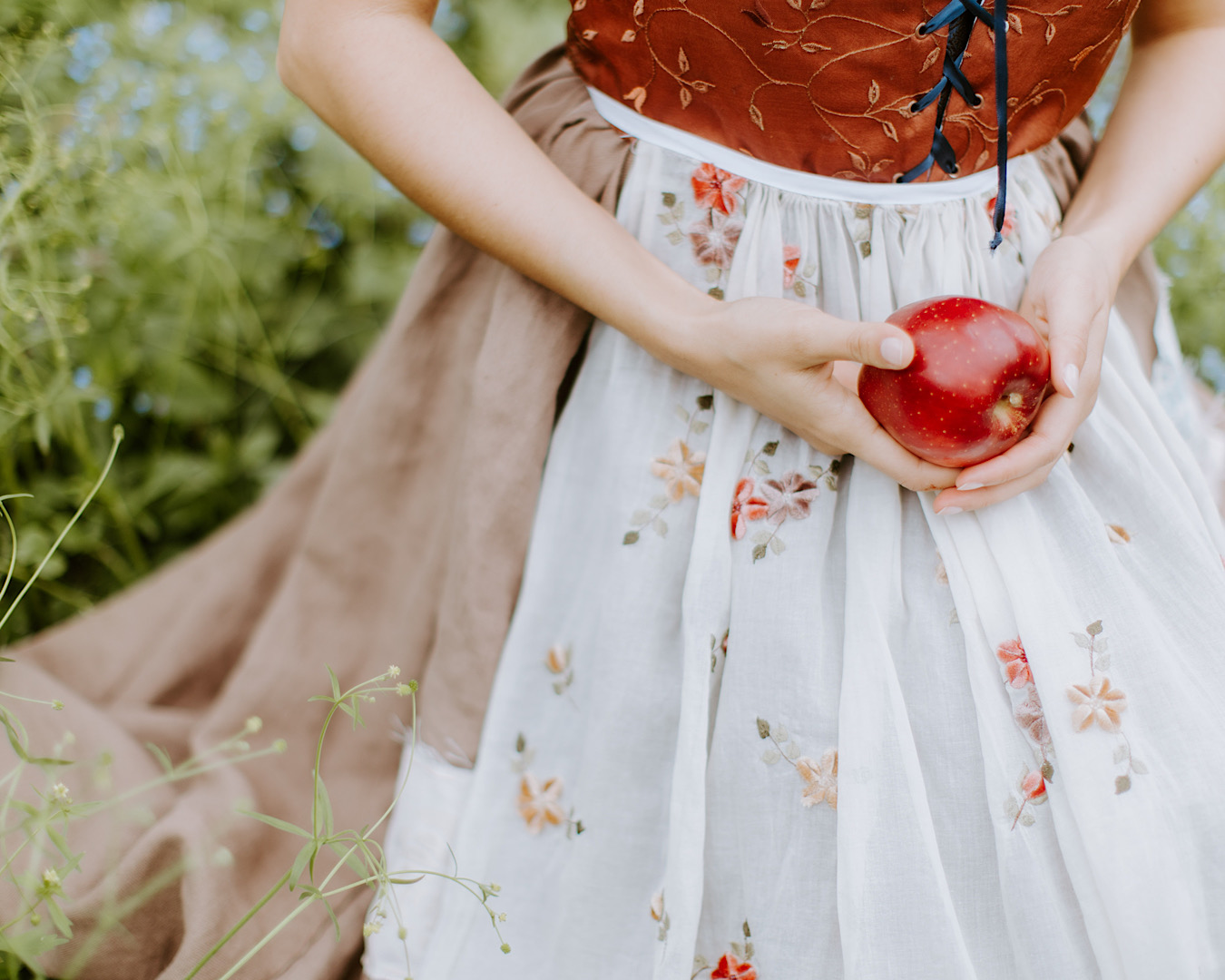 Old School Disney
When it comes to scary Halloween costumes, any of the original Disney Princesses—think Cinderella, Aurora or Snow White—fit the bill. Don't get us wrong, we're here for the new age princesses like Merida and Moana but the old school royals champion patriarchal concepts of womanhood, reinforce narrow stereotypes of beauty and indoctrinate young girls into dreaming only of being, let's be honest, abducted by strange men on horses. Terrifying.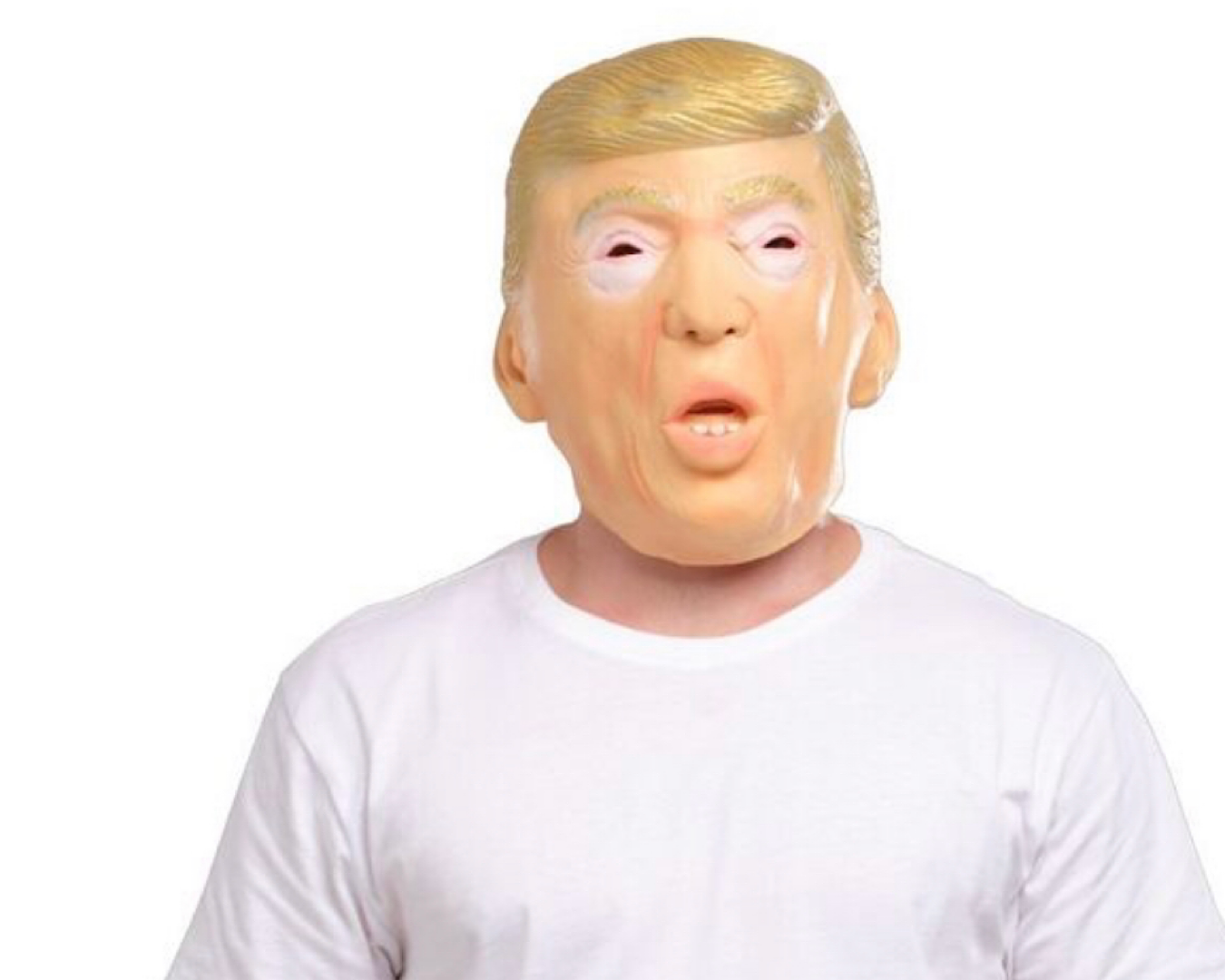 Donald Trump
Unfortunately, the former POTUS needs no introduction but if you must don The Don, Spotlight does a creepy latex mask that'll clear the room faster than you can say "Make America Gr—".
Burnout
Perhaps one of the best Halloween costumes, and certainly the cheapest... dressing up as burnout, depending on how busy you've been recently, requires no effort whatsoever. Rock up to the party in the sweatpants you've been wearing for the last six months and a face that screams 'I have a 9-to-5, a side hustle and a chronic Netflix addiction', and you're good to go. If on the off-chance you've actually managed some self-care recently, this dead makeup tutorial will have you looking the part.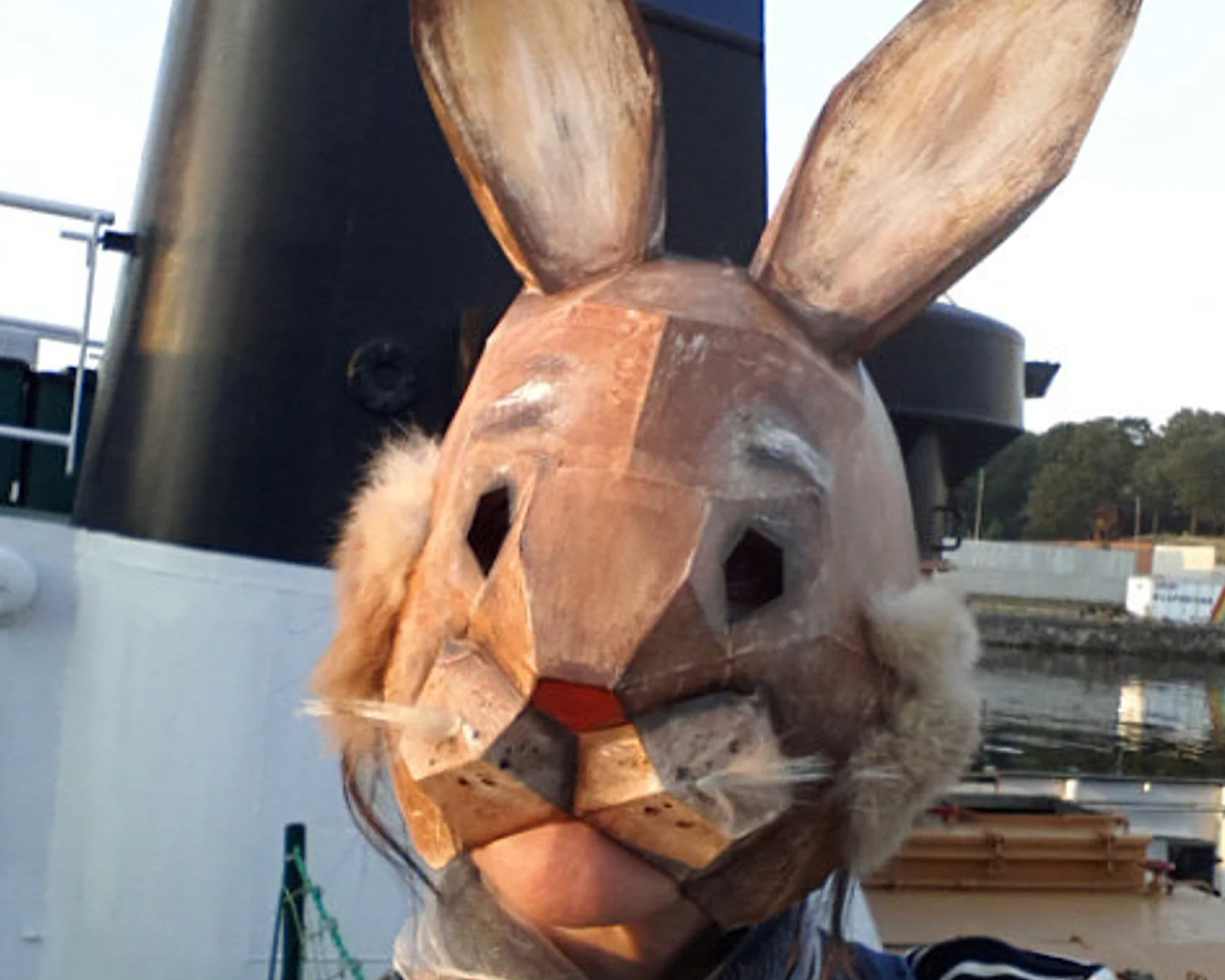 A 3D Cardboard Animal Mask
For something completely different, and in true DIY style, dress up dapper and pair with a dashing yet unnerving paper mask you prepared earlier. Simply print out your animal pattern of choice, follow the instructions and then go to town with paint and any decorations. For extra creep factor, cover the eye holes with a thin black fabric to suggest a lack of soul. We're pretty sure this mask will last you more than a couple of parties but when you're done with it you can pop it in the recycling. Halloween may be a celebration of all things freaky but contributing to global warming is too close to home.
Wednesday Addams
Some of the best Halloween costumes can be created without buying anything which is perfect if you're wanting to take a more eco-friendly approach to Halloween. To summon Wednesday Addams, raid your wardrobe and find an old black dress, beat your face like this and chuck on a long black wig with some streaks of grey or, if you're thirty, no wig required. IYKYK.
Mia Wallace from Pulp Fiction
For a work-to-party look why not channel Pulp Fiction's iconic Mia Wallace? We're betting everything you need can be found in your closet. Pair a white button-down shirt with a sexy bra and black pants. Complete with a red lip and takeaway chopstick painted with a red end for a fake cigarette. To match Mia's hair you'll need to dye your hair black and cut it into a bob (a task a bored colleague or flatmate would surely relish), or shell out a couple of bucks for a wig. And if you can't even, make things extra easy and order the whole shebang here.
Scream
Twenty-six years after the release of the first ever Scream movie, the iconic masked killer took to our screens earlier this year, in January, in the franchise's fifth iteration. This Halloween then, it'd practically be rude not to take up the cloak and mask and go around making unsolicited phone calls to people asking them what their favourite scary movie is. Although, given no one answers their phones anymore, leaving voice notes is probably your best bet.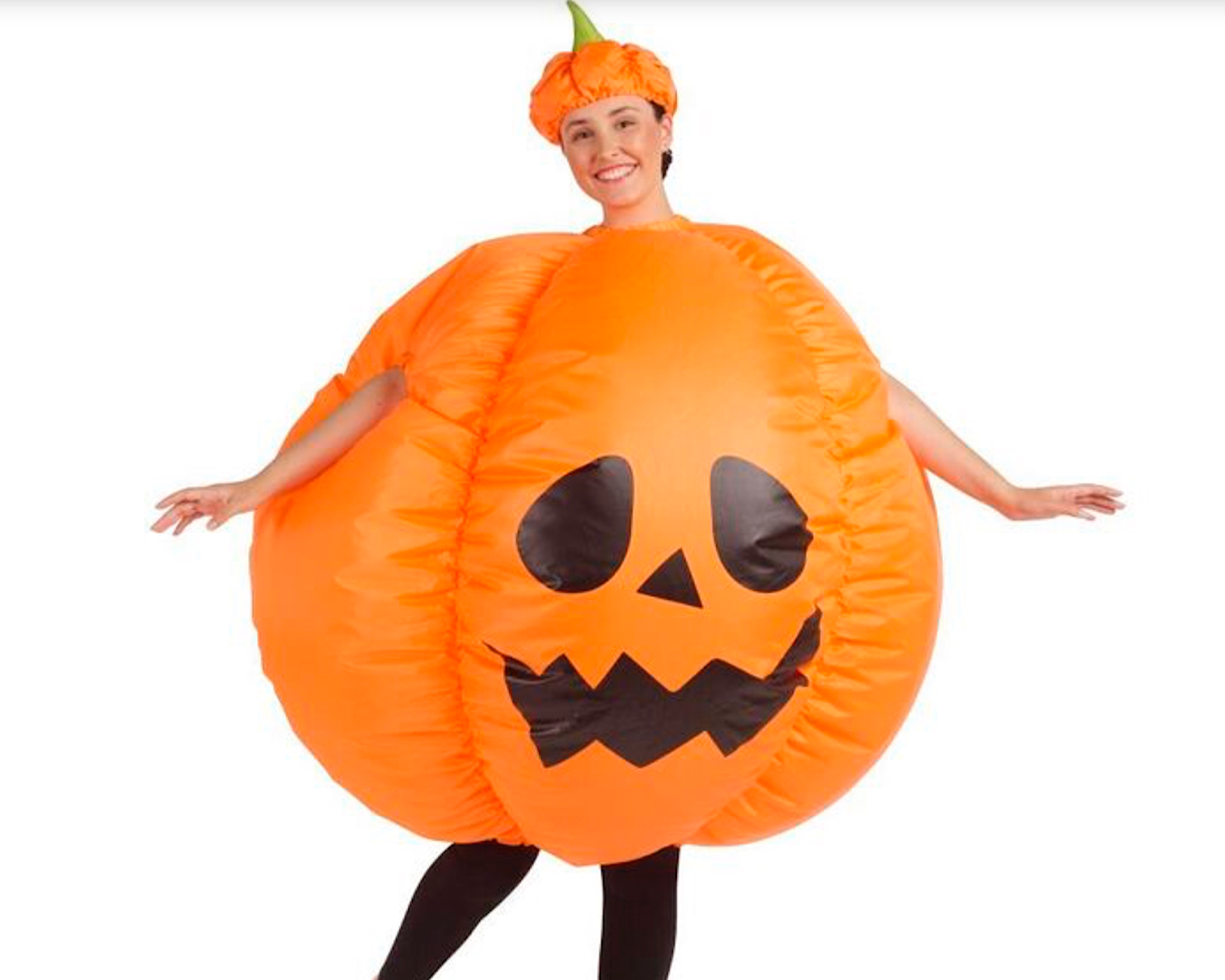 Jack-o'-lantern
One of the most classic Halloween costumes is a pumpkin carved with a demonic face. We're not sure this inflatable pumpkin costume will scare away any devils, in fact, we're pretty sure you'll take out the prize for cutest costume… unless someone shows up wearing this inflatable unicorn. Fun fact: carving jack-o'-lanterns harks back to an Irish myth about a man who tricked the devil but originally it was turnips people carved, only switching to pumpkins when the Irish immigrated to the United States where pumpkins were abundant. The more you know.
Witch
If Salem taught us anything, it's that if you identify as a woman and you dare to speak your truth, then you're a witch, so we say unleash your inner witch this Halloween. After a nostalgic sorceress? Match one of these costumes with this make-up. Feeling a more aquatic take? Transform from head to toe into the deliciously devilish sea witch Ursula complete with this showstopping look and this on-point costume. Alternatively, you could flex your activism and get all dolled up in a fiery demon from the pits of Hell. After all, that's where they sent us back in the day, right?
A Coven Of Vampires
Have each person rocking a cape or whole vampire costume, smear some face paint on until you've achieved the desired pallid complexion, splatter some fake blood out the edge of your mouth for dramatic effect then pop in some contact lenses and you're good to go. For the full Twilight fantasy use a cloud of shimmer dust over your face paint that's loaded with mica. This glittery additive will have you sparkling for days, plus most mica is mined unethically which definitely boosts the scariness. Yikes!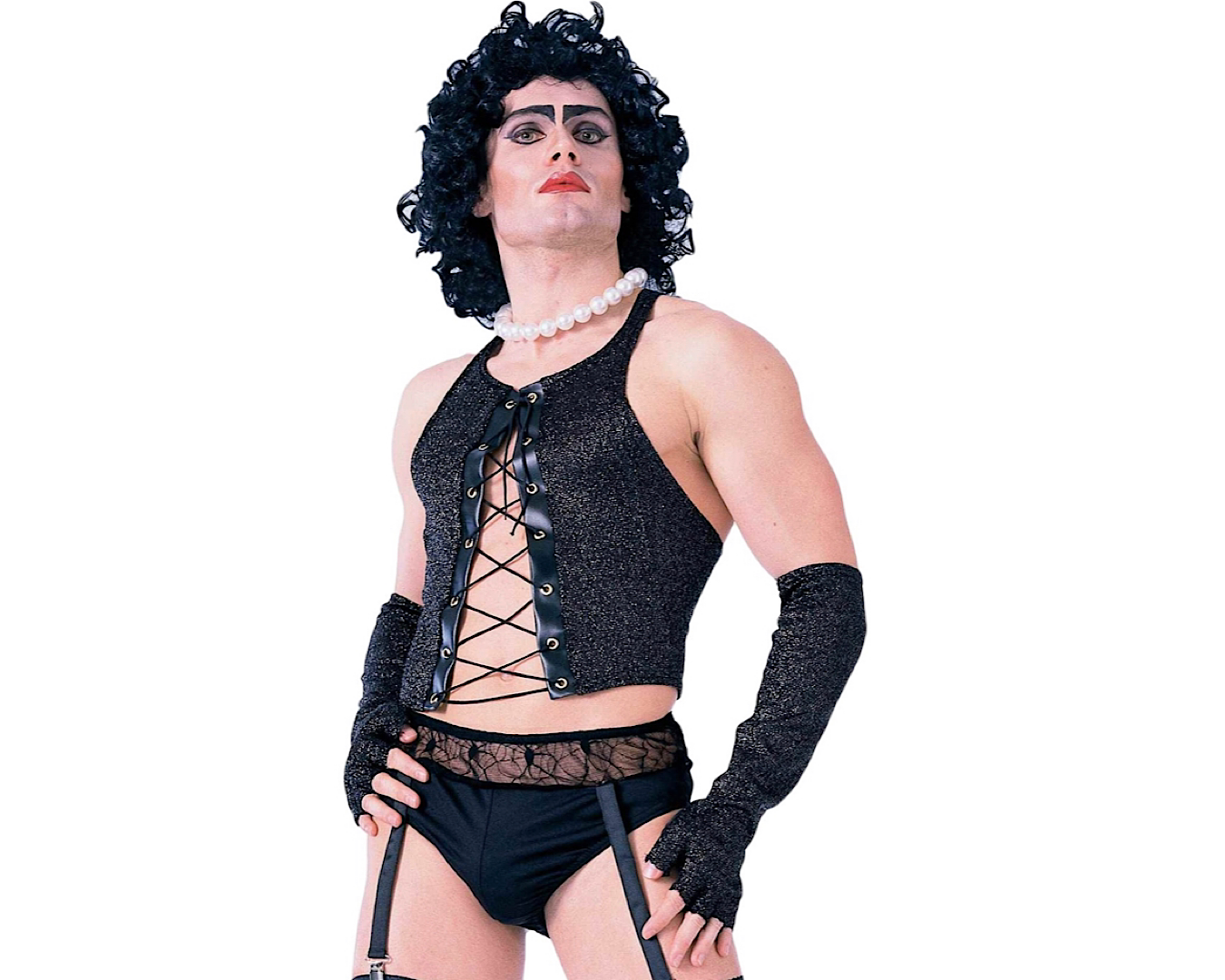 Rocky Horror Picture Show
Your squad will look bangin' decked out in the get-ups of Rocky Horror Picture Show characters. The 1975 musical comedy horror has made its mark in pop culture and has at least seven iconic characters to bring to life. Will you be the eclectic mad scientist Dr. Frank-N-Furter, 'All-American Girl' Janet Weiss, handyman Riff Raff, 'domestic' Magenta, spangled Columbia or Rocky Horror himself? Whoever you end up as, if your night starts with this motley crew, the party's sure to be legendary.
Fruit
For a wholesome take on Halloween look no further than a fruit bowl. Choose from apples, bananas, grapes, pineapples, strawberries, peaches and more—round up your crew and create your favourite smoothie blend. And if it's feeling a tad too wholesome, whip up a smoothie in the same flavour as your 'fit and guzzle it back for a cannibalistic vibe. Hold onto your hats everybody, this fruit bowl just got wild.
A Swan
There may have been a whole ballet devoted to them but swans are as terrifying as they are graceful. Look at a swan the wrong way and a wholesome afternoon at the park can turn deadly—it's all fun and games until someone loses an eye. With potential peril at every turn, transforming your tiny tot, who arguably could also turn your day into a nightmare, this winged creature makes for one of the best Halloween costumes for your baby or toddler.
A Bat
It's safe to say it isn't the fact this vampire bat drinks human blood that has us breaking out in goosebumps. We're pretty sure costume makers, Posh Peanut, didn't create this baby bat outfit to trigger two years' worth of global trauma in all who cross its path but what is done, is done. Rest assured, dress your sprog up in this outfit and they'll be the most frightening costume at the party.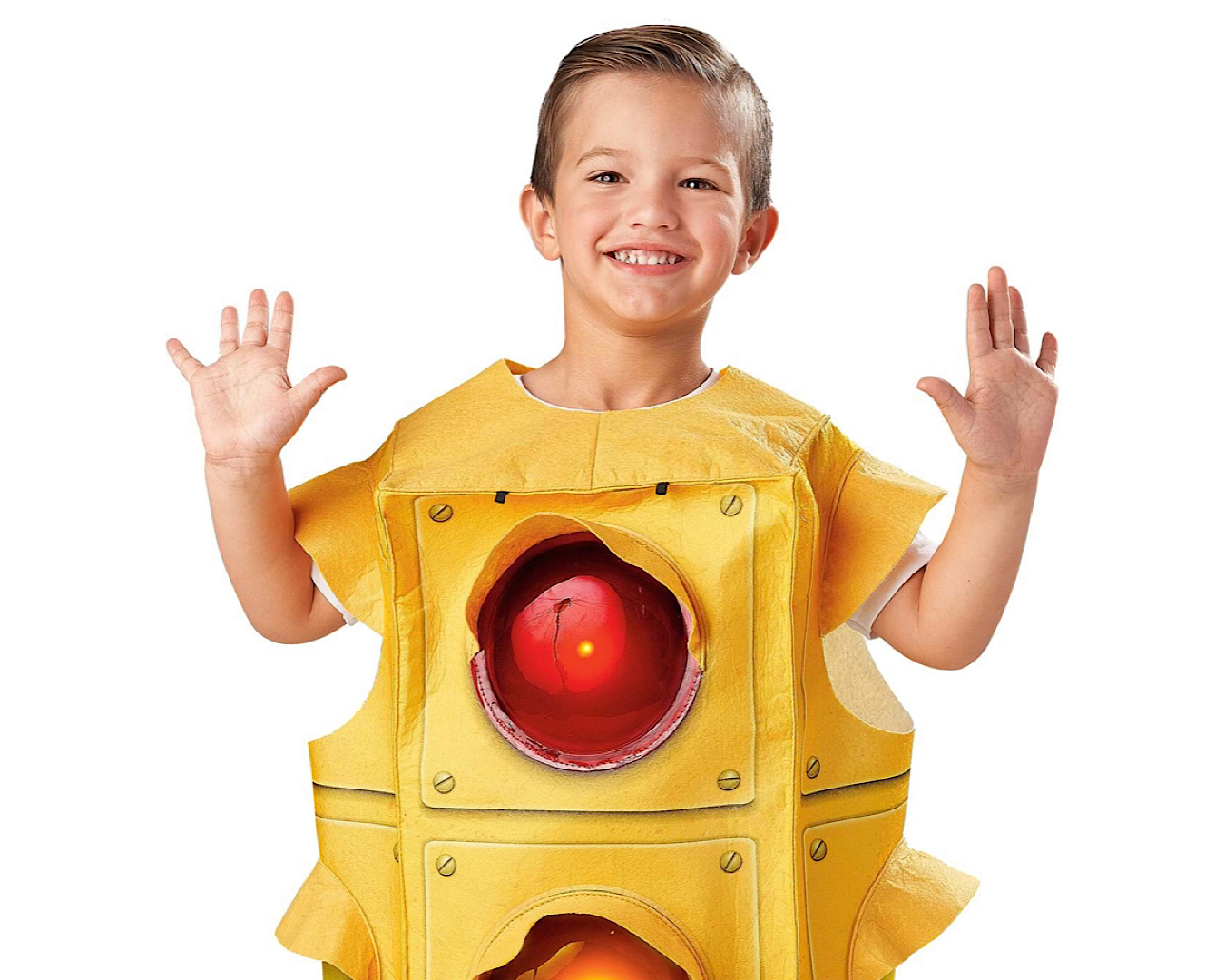 The Traffic Light System
Kit your kid out in a traffic light Halloween costume and you'll have people socially distancing, running indoors, slathering themselves in hand sanitiser and lunging for the nearest mask... too soon?
A Couple Of Clowns
What's more terrifying than a clown? Two clowns. You can't possibly keep track of two clowns at all times meaning you're inevitably in for a fright, and probably when you least expect it. We're breaking out in nervous sweats just thinking about it. Clown costume ideas are as abundant as Instagram algorithm updates so we suggest combining two iconic takes together—kooky carnival attire and an It-inspired face—for an absolutely blood-curdling look for couples (or thrupples).
Skeletons
Striking the balance between dressing the part while still looking hella good, even the most costume adverse can usually be persuaded to bare their bones on Halloween. Besides, it's a great opportunity to breathe life or, er, death, into that boujee suit, ball gown or wedding dress that's been stuffed at the back of your wardrobe for aeons. Need a little inspo? Check out this classic tutorial or this how-to, Dia de Los Muertos style.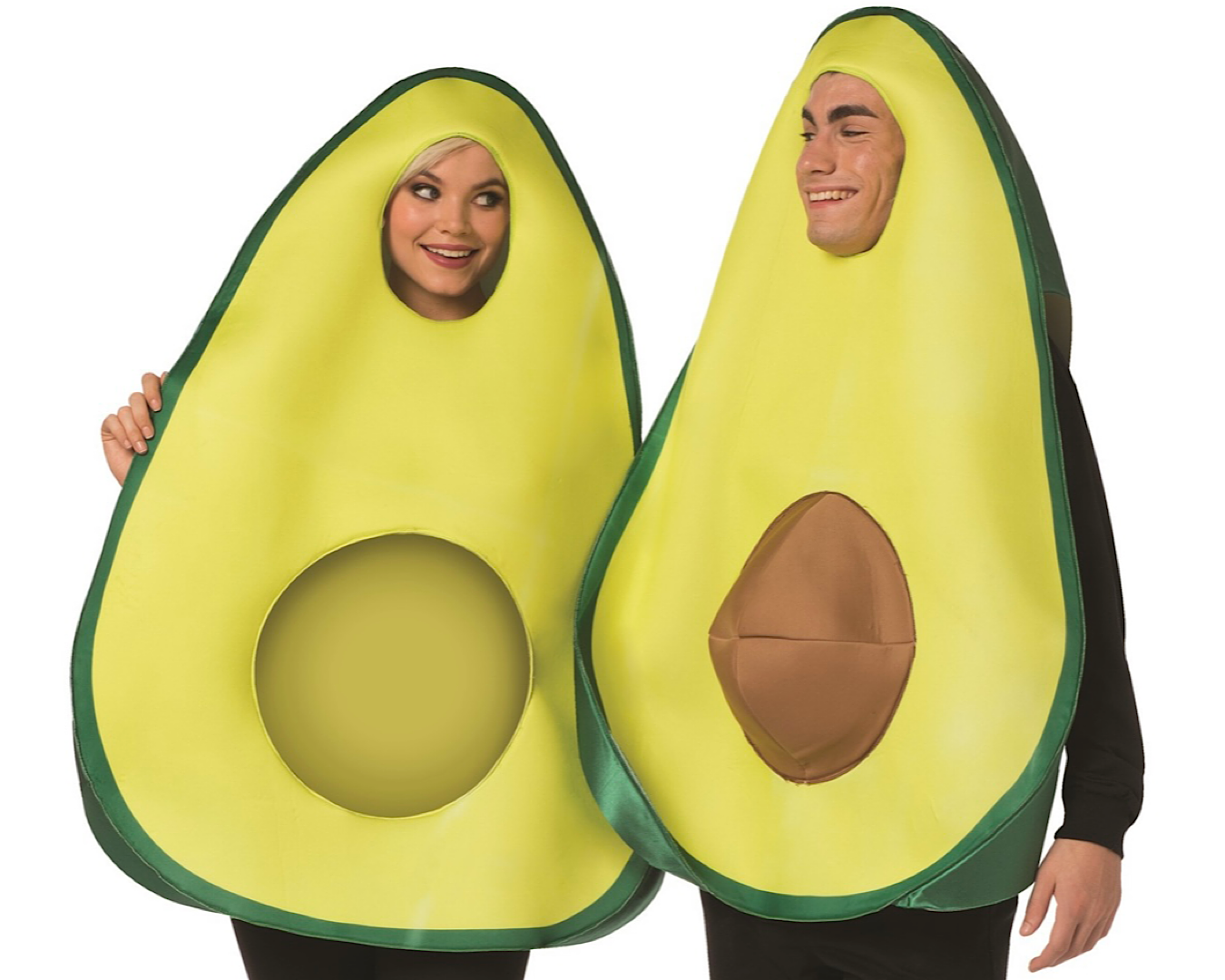 An Avocado
We doubt there's anything cuter than a couple dressed as two halves of an avocado. It'd be disgustingly cute except avocado is too delicious to hate on. Cut through the noise of witch cackles and wolves howling at the moon and brighten up partygoers' night, reminding them that no matter how wild the night gets, the next morning there'll be smashed avocado on toast to make everything alright again. The best part? When the party's all done, you can go home and avocuddle (we had to).
Prefer to try costumes on IRL? Check out Aoteaora's best costume shops.
Image credit: Wyntir Rose | Hello I'm Nik | Alicia Quan, Wyntir Rose, Oh Yay Studio, Ella Grimmant, Leah Kelly, Spotlight, Tara Winstead, GreenMinded Wolf, Lauren Ward, Artem Labunsky, Hello I'm Nik, Spotlight, Ella Grimmant, Renats Marques, HalloweenCostumes.com, Francistogram, Posh Peanut, HalloweenCostumes.com.au, HalloweenCostumes.com.au, Christian Diokno, Thirdman, HalloweenCostumes.com.au.
Editor's note: Urban List editors independently select and write about stuff we love and think you'll like too. Urban List has affiliate partnerships, so we get revenue from your purchase.