Land of volcanoes and geothermal hot spots, Aotearoa's geographic history has truly blessed us with the best. With an abundance of natural hot springs across both the North and South Island, here at Urban List, we've accumulated the finest thermal retreats to lure even the coldest of souls. If man-made hot pools and tubs are more your thing, though, you can check out our list of New Zealand's best hot pools here.
Here is where to find the best natural hot springs and geothermal wonders in New Zealand.
Otumuheke Stream
Taupō
Treat yourself to a gentle (free) massage under the waterfall, or soak in the geothermal hot spring as you watch the crystal-clear waters of the mighty Waikato River race you by. Located amidst the wonders of Taupō's Spa Park, Otumuheke Stream is an easy 25-minute walk from Taupō town centre. Keep an eye out for steam near the shore to find a lesser-known hot spring nestled midway along the waterfront, where you may find spots of warm water to bathe in.
Welcome Flat Hot Pools
Westland Tai Poutini National Parl
Accessed via an 18km tramping track, Welcome Flat Hot Pools are reserved for the most dedicated hot water aficionados. You may need to put in some serious steps to get here, but the snow-capped peaks and native forest surrounds mean you're in for one helluva view once you've made it. Book into the nearby DOC hut or campsite to stay overnight, and always check the weather before heading off.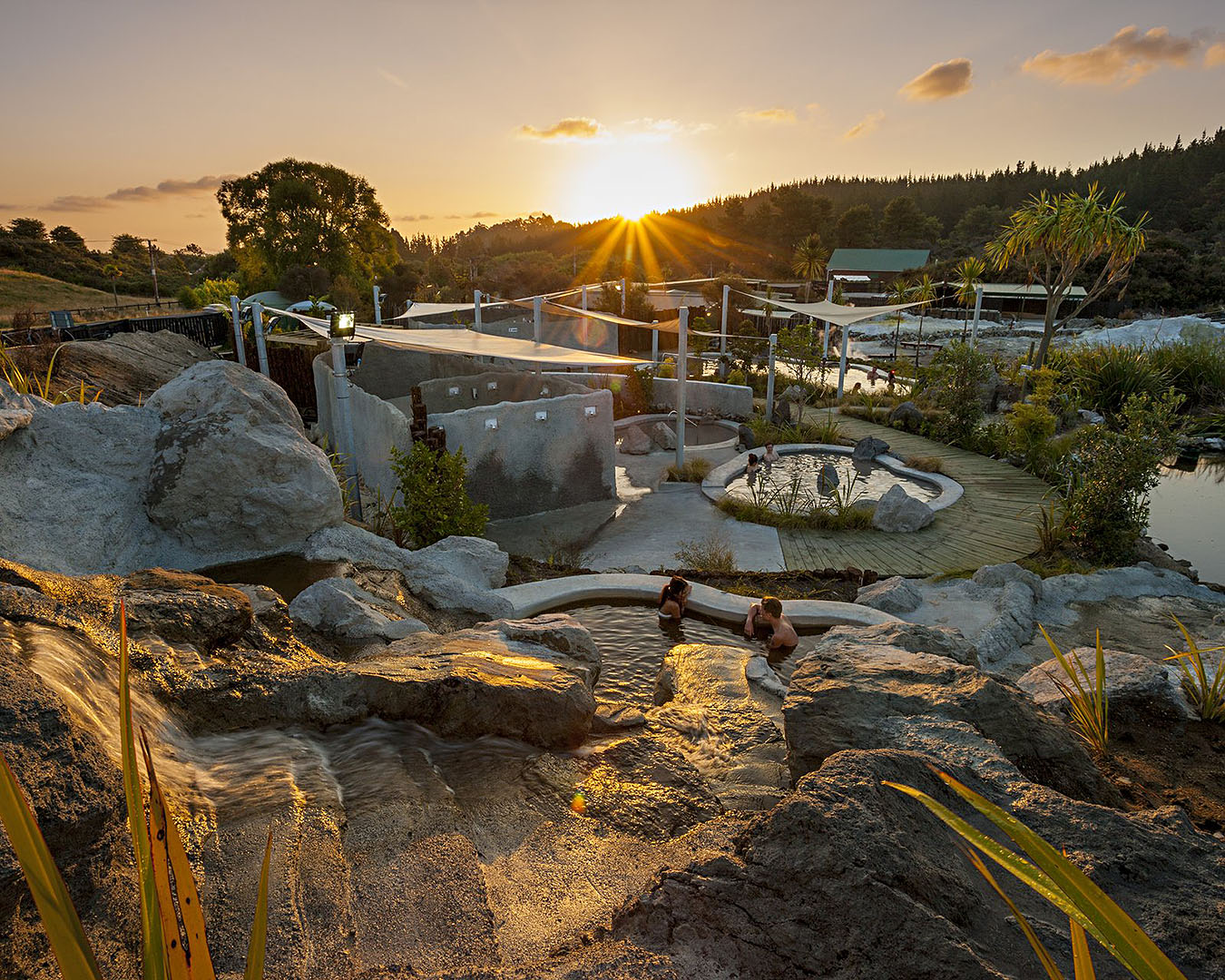 Hell's Gate
Rotorua
Enriched mud and mineral waters bring heaven to Hell's Gate. Marvel at the dramatic landscape—with its erupting waters, land coral and active mud volcano—then take part in an ancient, healing beauty ritual. You'll bathe in geothermal mud then soak in the sulphur mineral spas, finishing off with a refresh in the plunge pool. Bliss.
Orakei Korako Cave & Thermal Park
Ohakuri
Also called The Hidden Valley, Orakei Korako is home to the most active geysers in the country as well as some of the largest silica terraces in the world. It is also home to the only geothermal cave left in New Zealand—the Ruatapu Cave. It is a phenomenal 35 metres of geothermal energy, ending with the crystal clear Pool of Mirrors at its base. The vibrant blue and orange waters, bubbling mud pools and layers of steam are just waiting to be explored up close, or you can marvel from above with a scenic helicopter or floatplane tour.
Wai-O-Tapu Thermal Wonderland
Rotorua
Note: Wai-O-Tapu is currently closed for renovations.
The Wai-O-Tapu Thermal Wonderland has been bubbling for thousands of years. Originating from volcanic land, the spectacular showcase is known for its unique varieties of natural landscapes. The main attraction is The Lady Knox geyser, which erupts 10–20 metres every morning. Sit in the natural amphitheatre and watch Mother Nature at her finest. Surrounding the geyser is the geothermal park and mud pools. The colourful waters and rising steam extend over 18 square kilometres, making it one of the most extensive geothermal areas in New Zealand to explore.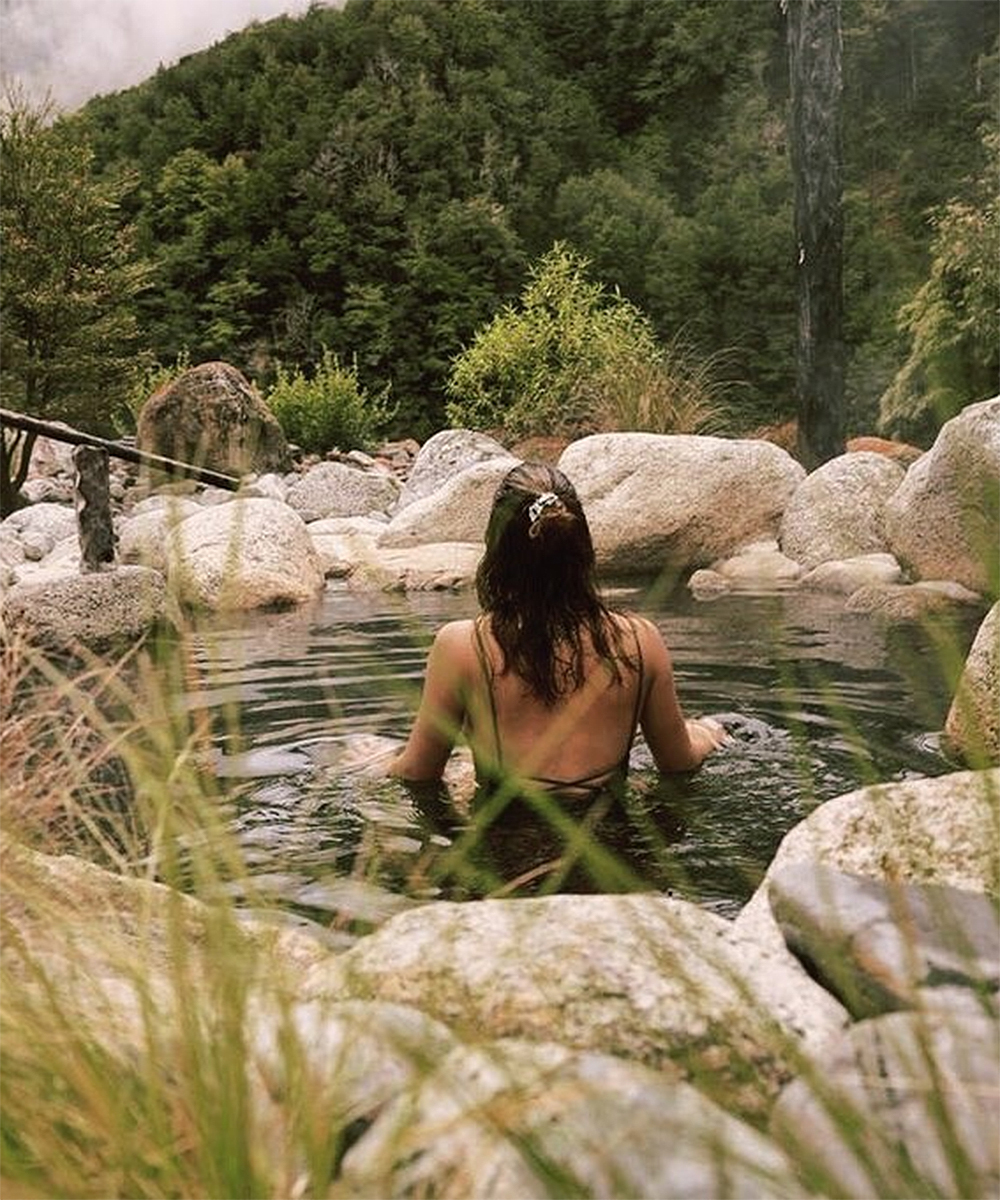 Maruia Hot Springs
Lewis Pass Highway
Located amongst the scenic beauty of Lewis Pass National Park, this thermal eco-wellness spot is the ultimate South Island retreat. Immerse yourself in another world as you relax in nature's very own sanctuary, with breathtaking views of the neighbouring Southern Alps and sounds of the nearby river passing. Maruia Hot Springs is truly an embodiment of mind, body and soul, as you find yourself placed at ease by the gentle thermal waters, soft steam and soothing aromas. What's best? You can extend the good vibes by booking into the accommodation on site, complete with restaurant and cafe.
Kerosene Creek And Mud Pool
Rotorua
Perhaps one of the most popular hot pools in the North Island, Kerosene Creek is well worth the mission (read: adventure) to get there. Enjoy a thermal swim that will ease away your aches and pains, while totally immersed in the surroundings of Mother Nature–a truly zen experience. This naturally formed hot pool sits next to a waterfall of cascading thermal water, also featuring a corrugated iron changing shed—a little piece of good ol' Kiwiana.
Kaitoke Hot Springs
Great Barrier Island
Right off the shore of Auckland, Kaitoke Hot Springs on Great Barrier Island is simply a ferry away. Begin at Kaitoke Hot Springs Track, where you'll wander through beautifully lush New Zealand bush along the edge of the Kaitoke Swamp, and cross the Kaitoke Stream. Dammed at a fork in the Kaitoke Creek, among low-hanging trees and smooth rock clusters, you'll find a series of shallow hot pools awaiting your visit.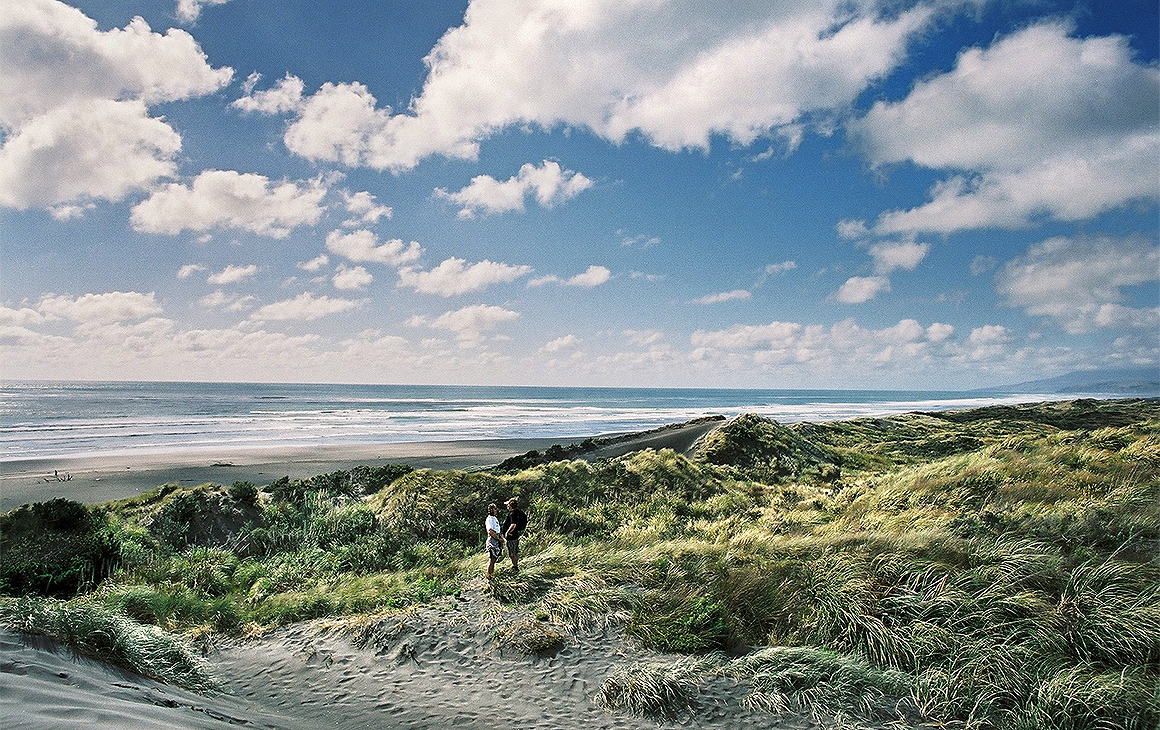 Kawhia Springs
Waitomo
One of Hamilton and Waikato's acclaimed hidden gems, Kawhia Springs offers the likes of Hot Water Beach, where low tide welcomes you to clamber over sand dunes, find a spot on the beach, and start digging your very own natural hot pool—with magnificent views to match. Rich in Maori heritage and an untouched essence of nature—the tranquil beachside town, home of Kawhia Springs, offers the ultimate getaway for visitors and locals alike.
Te Puia
Rotorua
For a guaranteed geyser show, Pohutu Geyser at Te Puia is the largest, and most reliable geyser in the southern hemisphere. The geyser erupts at least 20 times a day, with eruptions lasting anywhere between a couple of minutes and a couple of days. Te Puia is also home to 500 other geothermal phenomena including boiling hot pools, bubbling mud, and other geysers, as well as Kiwi habitats to house, feed, and generally look after our native birdlife. Geyser and Kiwi tours are available throughout the day and into the early evening.
Hot Water Beach
Coromandel
In true Kiwi spirit, you can bring a shovel and dig up your own natural hot pool. Scour the stretch of Hot Water Beach for the best ocean-side spot and dig away to your heart's content—now that's what we call #DIY. Best visited two hours either side of low tide, locals recommend an early get-up to witness a serene Coro sunrise, while also beating the oncoming crowd.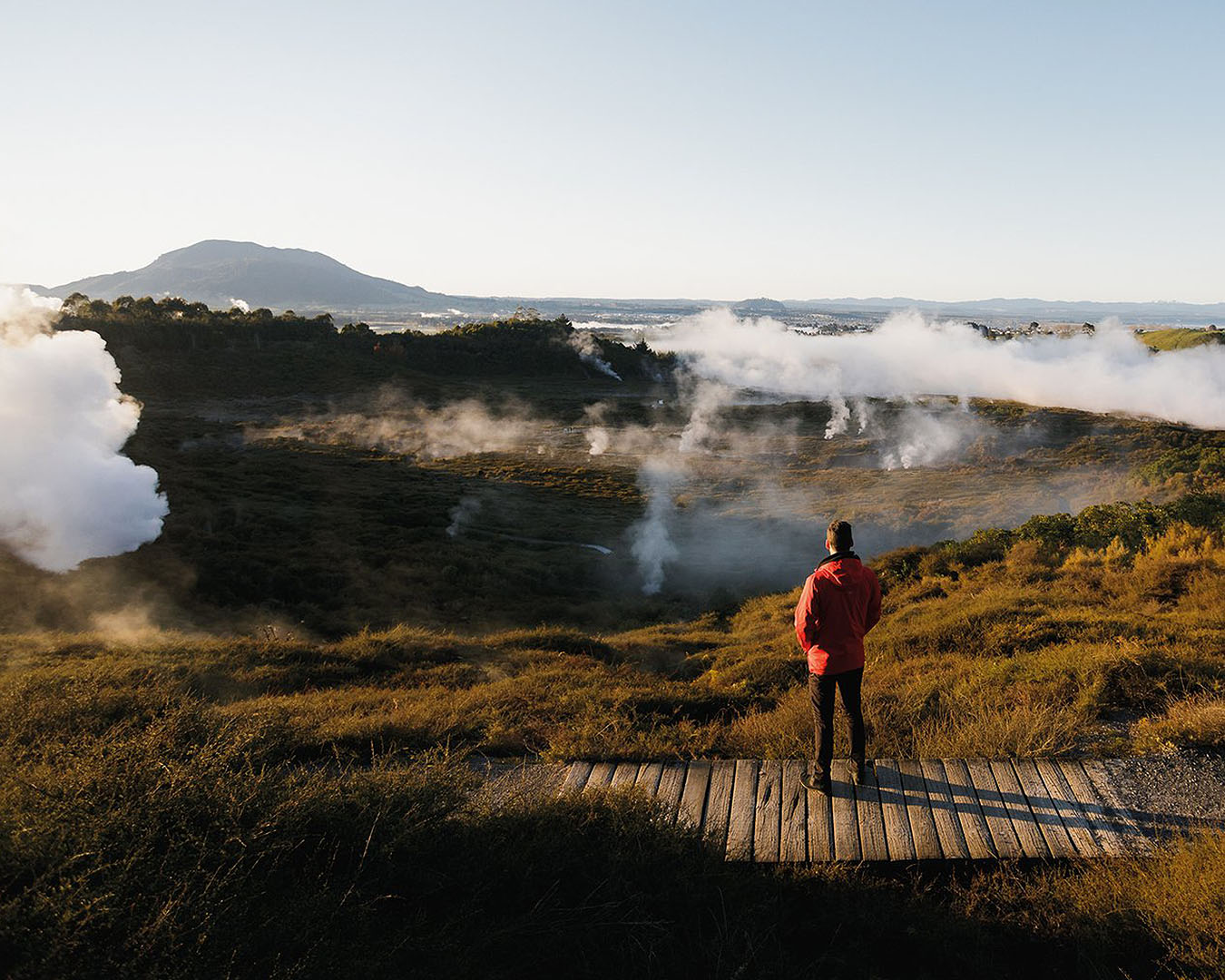 Craters Of The Moon
Taupō
Craters of the Moon is just north of Taupō, and is a bubbling delight of steaming craters and vents. The area is naturally high in geothermal energy but with the recent addition of a power station, the natural gas is now contained and levels have been lowered, making it available for the public to wander through. The two tracks are approximately an hour's walk, with one taking you through the flatlands between the craters, and the longer track taking you to the peak of the craters—the view well worth the few extra steps.
Waimangu Volcanic Valley
Rotorua
The world's youngest geothermal area, Waimangu Volcanic Valley, was created from a volcanic explosion in 1886. Nowadays, it boasts the largest natural hot spring, Frying Pan Lake, with its turquoise-coloured water and soothing nature. Take a self-guided walk around the great lakes and up to the top of Mt Haszard's crater, followed by a boat cruise over Lake Rotomahana with sites of the world-famous pink and white terraces of Mount Tarawera, considered the eighth wonder of the world.
Wairakei Terraces
Taupō
The mud and silica waters found in the Wairakei Terraces have been used for healing purposes by Maori since their discovery hundreds of years ago. The minerals in the pools encourage relaxation and rejuvenation, with some people believing the minerals are particularly healing for people with skin diseases and arthritic and rheumatic ailments. Wairakei Terraces has striking blue therapeutic pools to rest and recover in, as well as self-guided tours around the hissing geysers. There is a human-made geyser, fed by superheated fluids from depths of more than one-and-a-half kilometres with pressures of 250 thousand pounds per square inch. Watch as the water flows into the sparkling blue pools before cascading over the terraces, depositing silica to form phenomenal terraces.
Can't get enough hot water? These man-made hot pools might just hit the spot.
Image credit: Otumuheke Stream by Miles Holden, Hell's Gate by Destination Rotorua, Maruia Hot Springs, Kawhia Springs, Craters On The Moon by Joel McDowell.
Editor's note: Urban List editors independently select and write about stuff we love and think you'll like too. Urban List has affiliate partnerships, so we get revenue from your purchase.