Little else compares to the feeling of drinking a coffee when you so desperately need one. As you're sipping on your daily fuel, it might not occur to you that coffee directly contributes to environmental degradation in a myriad of depressing ways. Deforestation, pollution, pesticides—not to mention all the ethical issues around the exploitation of coffee farmers.
We get it, coffee is one of the simple pleasures in life, a necessity even. But before you embark on the painful process of detoxing, Auckland-based coffee roasters Kōkako are here to save the day with their Fairtrade organic speciality coffee. Not only do we love a solid Kiwi business (break up with Starbucks already) but we love a sustainable one even more.
With detailed sustainability reports, third party verifications from the likes of Fairtrade and BioGro, and a commitment to climate neutral coffee, Kōkako absolutely should be your coffee of choice if it isn't already. We had a chat with Managing Director, Mike Murphy, to answer all the things you didn't know you needed to know about your caffeine fix.
When somebody purchases Kōkako it meets certain environmental and ethical standards as a Fairtrade certified product. What does that actually mean?
The 'third party accreditation' Fairtrade provides means that both us as a licensee and our customers can have confidence that Fairtrade is validating and enforcing minimum standards that the programme sets to ensure that coffee cooperatives we buy from meet environmental and ethical standards. It's not just us asking you to take our word for it! To sell Fairtrade products, farmers have to improve soil and water quality, manage pests, avoid using harmful chemicals, manage waste, reduce their greenhouse gas emissions and protect biodiversity. We are proud to be part of a system that gives small-holder coffee farmers democractic rights through being part of a Fairtrade cooperative. Many farmers who are not part of a cooperative have less rights and less bargaining power when it comes to selling their coffee. You can learn more about the Fairtrade environmental standards here.
You have in depth and transparent sustainability reports available, but if you had to sum it up, what would you say Kōkako's environmental commitments are?
We try to think of people, planet and profitability on an even footing. With people we need to ensure that the way we do business respects the people in the supply chain, so Fairtrade helps to ensure this. With the planet it's about environmental awareness - supporting organic farming that is regenerative which in turn supports healthy soil - and healthy soil equals healthy food, which equals healthy people. Profitability is important, as we have to be financially sustainable to be able to pay our staff, give them opportunities, and choose to work with quality suppliers. This and our commitment to carbon offsetting of every kilo of coffee through the Fairclimate fund.
What's the deal with decaf?
We treat decaf with the same respect that we treat our caffeinated coffee; roasting it using our Cropster roast profiling software and cupping it to ensure it is always optimum quality. We only buy coffee that has been decaffeinated using the "Swiss Water" method, which is chemical free. I toured the factory in Vancouver a few years ago and it made me realise how important decaf is to the market. Some people can't even tell it's decaf, and we are so excited by the decaf category that we have a rotating selection of single origin decaf's available.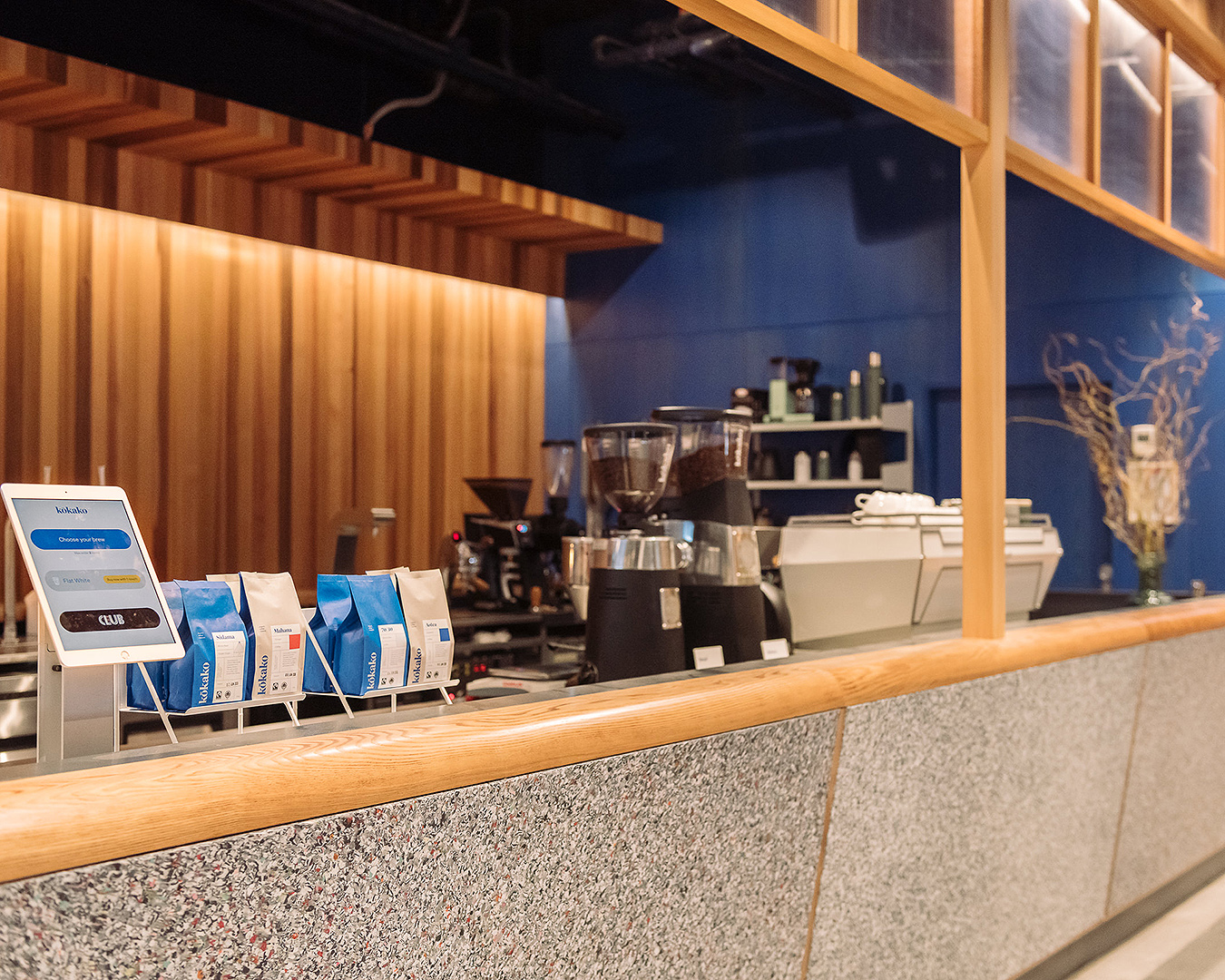 How did sustainability come into play opening your Commercial Bay location?
It was a significant contributor; we wanted to build something with timeless and practical materials that will still look good in five years. You can check out our blog for how we used an innovative mix of over 8000 crushed plastic milk bottles for our main counter.
What is Cascara Kombucha and why will we love it?
In short it's the world's first certified Fairtrade Cascara Kombucha, made with dried coffee cherry skins from PNG and brewed by the kombucha masters at Batchwell. It's something we are deeply passionate about as it has been a long journey to bring to market.
What's your current favourite blend or single origin coffee?
Finca Maria Bonita from Honduras—it's a naturally processed coffee from Honduras and it's perfect for soft brewing on the Chemex at home.
What are some future goals for K

ōkako?

2020 has been big for us—we opened two new coffee bars, Commercial Bay and West Supply, and had to navigate COVID-19 which was a big challenge. So after this year we don't have audacious goals, but we are focused on continuing to influence the industry on sustainable innovation, and having our coffee available in the best cafes across the cities and towns of Aotearoa, and working with people who share our passion for specialty coffee.
How can people get their hands on K

ōkako coffee?

So many ways! Just go to our website, and you can even buy coffee through our Instagram. You can visit our Commercial Bay flagship coffee bar or check out our collaboration with West Supply in Waimauku. Or, check out any of our amazing outposts that stock our coffee at their cafes and restaurants across Aotearoa by searching on our cafe locator.

Once you've sustainably transformed your coffee habit, you can address your wardrobe situation here.

Image credit: Kōkako, Josh Griggs.