Time to let op-shop fever set in. Whether you could easily lose a day browsing pre-loved goodies, or you've come across some of the harrowing stats about the clothing industry, there's no denying the demand for second-hand clothes is growing. Enter stage left : Recycle. We love Recycle Boutique, but it just gets better because they've launched an online store.
Think hundreds of new pieces arriving each week, that you can browse from the comfort of your couch (or sneakily at work, let's be real). Check out the curated selection of designer, vintage and contemporary labels that are exclusive to online shoppers for two weeks before going into stores. You can now set up an account remotely instead of in-store, get notifications when stock is processed, sold, and expiring, arrange an express drop-off and even request a home pick-up service in some locations. What's more, you can use your Recycle balance to buy online, completing the circular fashion model.
We had a chat with Mark Cowie, GM of Recycle Boutique, to get the lowdown on the e-commerce store and some top tips to help you get selling and buying second-hand.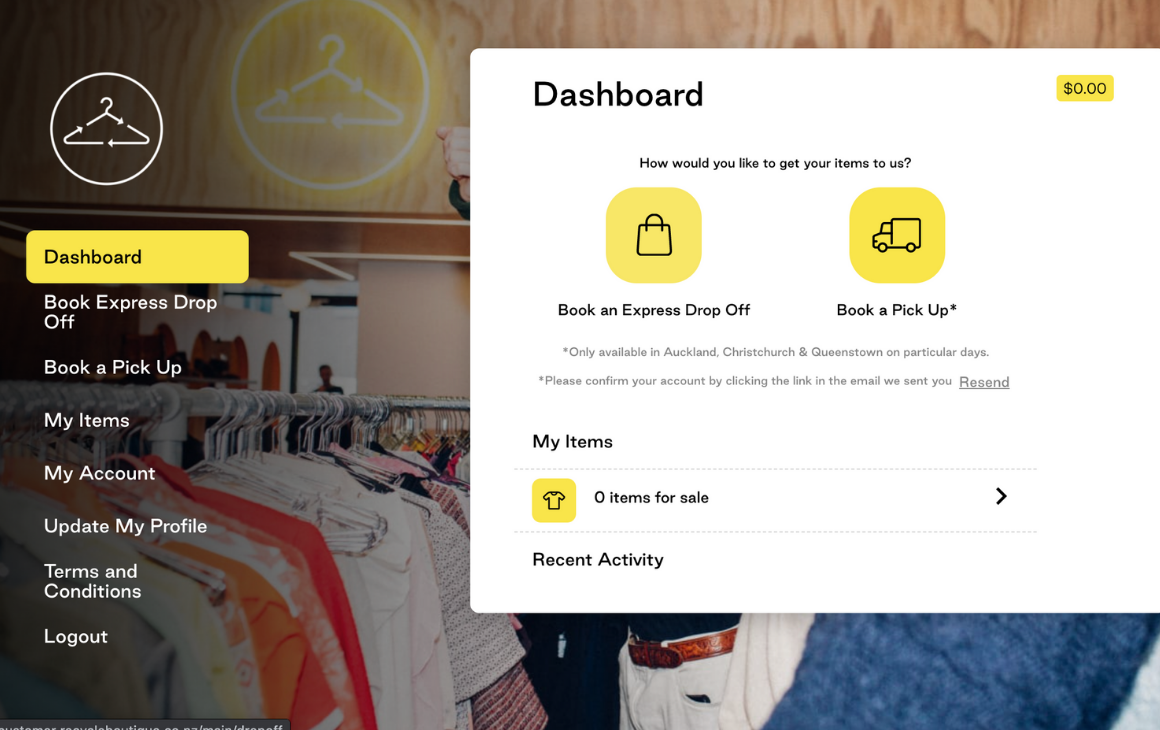 We love a good entrepreneurship story! How was the idea of the e-commerce store hatched?
For us the idea really hatched in a planning session when we started thinking about our name, Recycle Boutique, or just Recycle; both a name and a call to action. We thought about how we could best live up to that and become an all-round 'recycling' company and make it even easier for New Zealanders to take part in a circular fashion economy. That's culminated in us offering new services like our new in-home pick up service, express drop offs, and launching the online store so that Recycle is shoppable for everyone, even in regions that we don't have physical stores in.
Do you have any top tips for successfully selling clothing on the platform? What kinds of acceptance criteria do you have?
My top tip would be to go online and book an express drop off before you come in. You fill out all the information we need at home which speeds up the process in store. Once you get to us, just make sure you have at least five freshly laundered pieces that are of good quality and are in good condition. Don't worry too much about brands – it's more about style and quality; we're looking for pieces that are going to have a long life of reuse. Think about what you would love to find, and remember, if you wouldn't give it to a friend, we probably won't be able to take it either.
Enlighten us in the language of all things recycled. What makes a piece of clothing sought after? The cooler the brand, the more in-demand the item is?
That's definitely true some of the time. It's always a thrill finding those amazing designer pieces and we do have loyal shoppers who come in looking for specific brands. But one of the beautiful things about second-hand shopping is the unexpected things you find, that might not necessarily be branded. On the other side of that, we also find that people come to us for a lot of their wardrobe staples. Surprisingly, labels like Witchery and Country Road are huge sellers for us.
Is there anything we should be looking out for when we buy second-hand?
Shopping through racks full of individual pieces can be tricky. Get to know your fabrics and look out for colours and patterns that catch your eye.
Sometimes brands that aren't even in this country can magically crop up and you know the clothing has had an interesting journey. Do you have any favourite pieces that you've found?
We actually import our own American Vintage into the country and used to do buying trips in America before COVID. It's always really cool finding that genuine pre-90's vintage. You can usually tell its age by the label or if it has single-stitching; before the 90's they had different sewing machines that used a single stitch rather than the standard double we have now. When you come across a super rare band or sports tee it's a bit of a thrill. But it's the non-branded graphic tees that are my personal favourite. You know the ones with the hilarious slogans and niche jokes.
Recycled clothing used to be less in-vogue and more of a last resort. How have you seen the scene grow and change?
The perception of second hand shopping has changed so much in the last 15 years since we started – as more awareness builds around the fashion industry and its damaging effects, people are turning to us as a more sustainable option. It also uniquely satisfies customer preference for variety – customers can frequently turn over their wardrobe without the guilt of fast-fashion practices. Through our company rebrand about a year ago and the new direction of our stores, we've been able to tap into a new area of the market as we remove the stigma around what second-hand shopping looks and feels like. Our in-store and now online experience is a refined and creative retail experience that rivals any other traditional retail space.
You now have 10 stores open which is pretty cool. Do you see a potential expansion in the future to more locations?
Oh, always. We keep saying "okay we'll slow down this year", but if the last few years have been anything to go by, we'll probably be opening and launching a few new things.
If you had to elevator pitch to someone who is unfamiliar with the wonders of op-shopping, what would you most want them to know?
Look, don't start. Because once you do, you won't go back – it's cheaper, it's better for the environment, it's all of your favourite brands in one place that we've handpicked for you. It doesn't get better.
For people who like to do their own digging, is there anything we should watch or listen to so we can learn more about the importance of recycling clothing?
The True Cost is a must watch and really addresses the complex issues surrounding fast fashion. Keep an eye on companies like The Formary and their textile reuse programme. They're doing some amazing things like returning textiles back to their base fibres so that they can be used as a cellulose replacement in city roading.
Got your pre-loved 'fit sorted? Keep up the sustainability efforts with the greenest salons for a fresh chop here.
Image credit : Recycle Boutique