With its bright purple colour and distinctive floral aroma, lavender is a favourite flower for many. And while it may be known to repel moths, there are numerous other benefits and uses for lavender. For starters, it can be distilled into an essential oil to help reduce stress and promote better sleep. The flower is also believed to have antiseptic properties, which can assist the skin to heal naturally. What's more, lavender has been featured in the culinary world for centuries and is still used today—think crispy chicken with herbes de Provence and lavender and elderflower cake.
The warmer weather is here, and that means it's the season for lavender to bloom. Here are the best farms across New Zealand where you can stroll amongst the fields, take a picture for the 'Gram and maybe even pick your own lavender. Hot tip: pop a few flowers into your next glass of champagne.
Wanaka Lavender Farm
Wanaka, South Island
Kicking off our list of New Zealand's best lavender farms, surrounded by towering green mountains and spread out across 15 acres of farmland is the Wanaka Lavender Farm. The property is nestled in the Otago region, 5kms from the local township of Wanaka and about an hour's drive if you're in Queenstown. Explore the farm, drink herbal tea in the garden and say hello to the resident farm animals—there are alpacas, mini donkeys and Shetland ponies. Finish off with a scoop of lavender ice cream. Open seven days a week.

CCT Lavender Farm
Auckland, North Island
Soak up the calming smell of lavender and invigorate your senses at CCT Lavender Farm in Karaka. This family-friendly farm has been certified organic since 2018 and is the perfect place to frolic around in the gardens and capture the perfect picture with your loved ones. After wandering through the lush, purple flowers, treat yourself to a coffee or snap up some delicious food on offer such as fresh pancakes at the delightful Lavender Farm Cafe. Open Tuesday to Sunday.
Lauren's Lavender Farm
Taumarunui, North Island
Devour a freshly-baked scone and hot coffee while overlooking a meadow of purple at Lauren's Lavender Farm, located 15kms outside of Taumarunui in the central North Island. A family-owned and operated business, Lauren's Lavender Farm boasts over 7000 plants and there are candles, creams and body lotions to purchase here, too. After your coffee, stroll on down to the Whanganui River and see the cascading waterfalls—a must-do.
Lavender Abbey
Carterton, North Island
A stunning lavender farm located in the heart of the Wairarapa, Lavender Abbey has been cultivating its spray-free plants on seven glorious hectares for 13 years so they really know their stuff—and have the awards to prove it. At the height of the lavender season in January, Lavender Abbey throws open its gates so you can pick your own bunch or two in the most tranquil (and fragrant) of settings. At just an hour's drive north from Wellington, pack a picnic, leave the big city behind and enjoy a sun-filled day in the tranquil lavender fields. Sounds like the perfect day out to us. The rest of the year you can catch them selling their beautiful products locally in the Wairarapa and throughout the Wellington region so you can get your lavender fix year-round.
Lavender Creek Farm
Kapiti, North Island
"There are 330 different types of lavender at the collection garden," says Vaughan, who owns Lavender Creek Farm with his wife, Susi. As well as lavender, there are grapevines and olive trees at the property, and if you're looking for a romantic weekend away, there's a B&B on site. Lavender Creek Farm is an hour away north of Wellington and is $5 for adults to enter—kids are free. Be sure to take home one of their award-winning oils.
Pihama Lavender Farm
Taranaki, North Island
Wander through luscious lavender fields at Pihama Lavender Farm, located 70km from New Plymouth. The two-hectare lavender farm is laced with historic charm, situated at the old Pihama Dairy Factory. Pihama Lavender Farm also has boutique accommodation options, perfect for those in need of a peaceful weekend escape. Every month there is a Growers and Makers market, so support local and indulge in some fresh produce and homegrown products on offer. All this makes it a worthy addition to our list of New Zealand's best lavender farms.
New Zealand Alpine Lavender
Twizel, South Island
On your way to New Zealand's highest peak, Mt. Cook, you'll find New Zealand Alpine Lavender, the largest organic lavender farm in the Southern Hemisphere and one of the best lavender farms in New Zealand. The lavender farm is 600 metres above sea level and is surrounded by the Ben Oahu mountain range. Depending on when you visit, you may see snow-capped peaks. They grow three main varieties of lavender there including Pacific Blue, Avice Hill and Violet Intrigue.
Lavender Backyard Garden
Hamilton, North Island
Pick your own lavender and plump blueberries at the Lavender Backyard Garden, the only farm of its type in New Zealand and definitely a worthy addition to our list of NZ's top lavender farms. It'll take you five minutes to drive there from Hamilton. The owners, Benjamin and Samantha, love natural products and it's evident in their onsite shop—they sell everything from blueberry and lavender jam to lavender pillow mist. We're also rather partial to their lavender massage oil.
Lavender Hill Farm
Auckland, North Island
Escape the hustle and bustle of Auckland and head to Lavender Hill Farm, a compulsory inclusion on any self-respecting list of New Zealand's best lavender farms. The property is on the outskirts of the city so it's ideal for a day trip with friends or family. If you would like to stay a little longer, Lavender Hill has boutique accommodation options. Sign up for one of their pre-booked tours to see the lavender fields and find out everything you've ever wanted to know about the glorious plant and also meet the resident alpacas. If the walking has made you parched, you can taste (and then totally buy) lavender-infused gin and limoncello to quench your thirst. Sounds like our kind of pick me up.
Lavendyl Lavender Farm
Kaikoura, South Island
Located in Kaikoura in the South Island is Lavendyl Lavender Farm, a tranquil destination with buzzing bees, sheep and native trees. Enjoy a picnic lunch with tea amongst the fields of lavender. During January and February, you're invited to observe the distilling process on the farm as the workers extract 100% pure lavender and rosemary essential oils. If you can't bear to leave there's some quaint accommodation on-site to really fill your wellness cup.
Ben Lomond Lavender Farm
Queenstown, South Island
Concluding our list of New Zealand's best lavender farms, from December to April you can see lavender in bloom at the Ben Lomond Lavender Farm in the Wakatipu Valley—a 10-minute drive from Queenstown. The Manners Wood family own the property and have been growing lavender there since 1998. They say the environment and weather of Queenstown—cold winters, dry and hot summers, free-draining soils and elevation— produce the ideal conditions to grow high-quality lavender. They make their own essential oils too, which are all organic.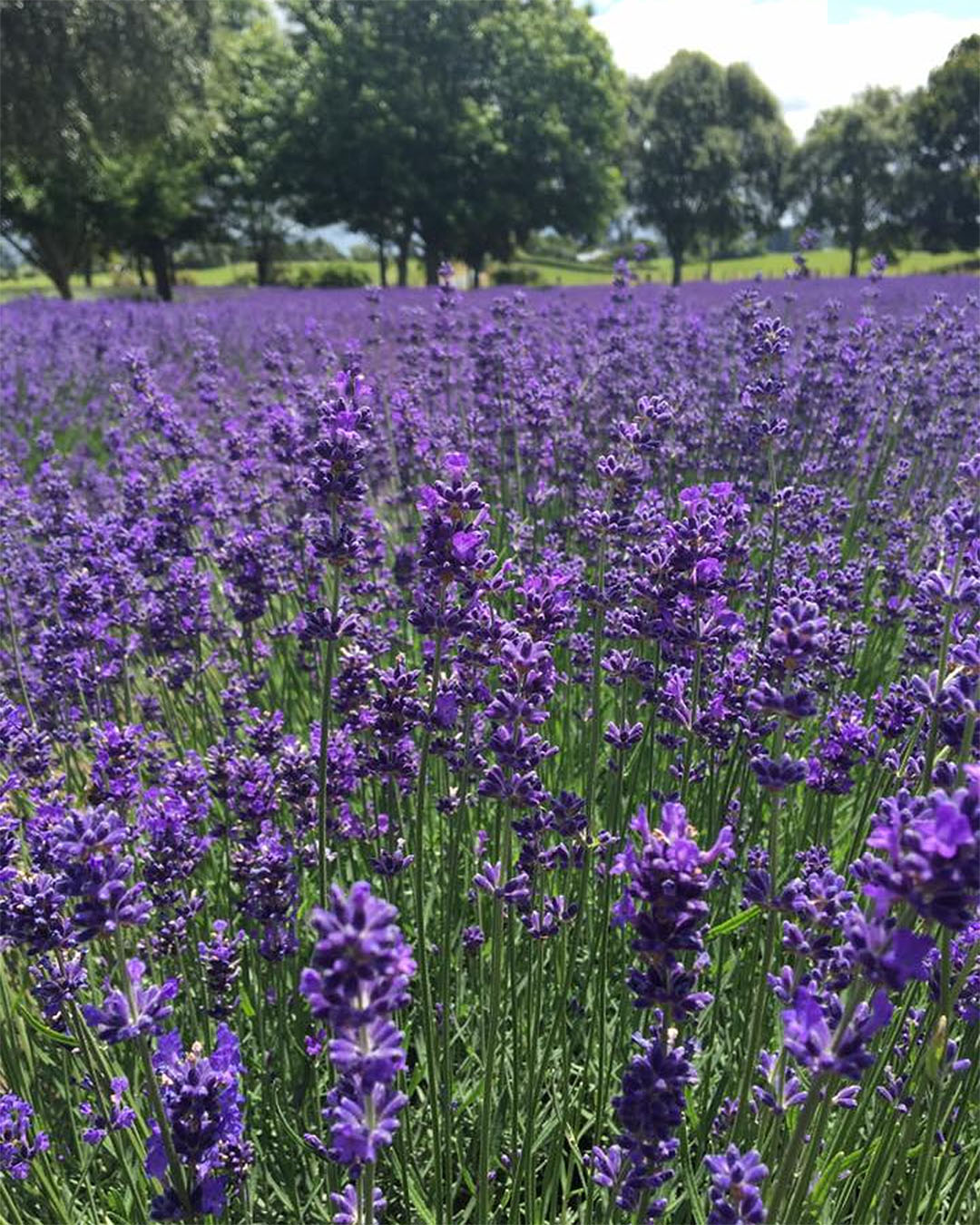 Alphra Lavender
Kihikihi, North Island
Meet Alphra Lavender, the lavender farm based in Kihikihi that has continued to grow its incredible fields for over 25 years! Using their homegrown lavender to create remedies for all problems including soothing sunburn, alleviating stress and sore throats, just to name a few. Visitors are welcome to drop by the property during the open season but the best way to see what the fields have to offer is by taking one of their famous tours. Learn how the lavender is grown, the benefits it will have on your life and enjoy the abundance of colours and scents during the flowering season.
While we're on the wellness tip, why not visit one of NZ's and Auckland's best float studios?
Image credit: New Zealand Alpine Lavender, Wanaka Lavender Farm, CCT Lavender farm, Lauren's Lavender, Lavender Abbey, Lavender Creek Farm, Pihama Lavender Farm, New Zealand Alpine Lavender, Lavender Backyard Garden, Lavender Hill, Lavendyl Lavender Farm, Ben Lomond Lavender Farm, Alphra Lavender.